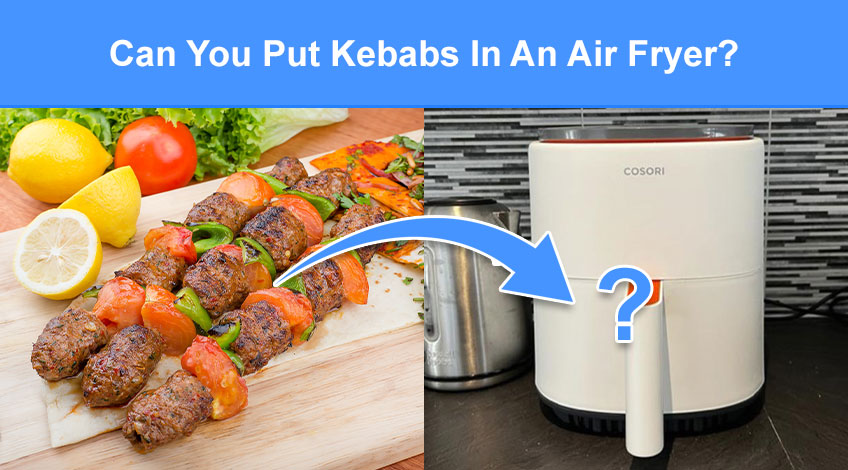 Can You Put Kebabs In An Air Fryer? (read this first)
The air fryer is our "go to" appliance when it comes to cooking all sorts of meals, so naturally we tried cooking kebabs in the air fryer.
We've included a couple of easy recipes to inspire you to cook kebabs using your air fryer. Feel free to substitute your own ingredients to make your own versions of these tasty kebabs.
Most cultures have their own versions of kebabs with probably the best known being the Turkish culture. Of course we aren't skilled Turkish chefs and so we will only be sharing our own versions of these wonderfully tasty foods.
Which Types Of Kebab Are We Cooking In The Air Fryer?
With so many kebabs to choose from, we're going to share the 2 that are the most popular with our family. Which are; 
Chicken Skewer Kebabs
Kofta Kebabs
Let's get started…
How to Make Chicken Skewer Kebabs In The Air Fryer
These air fried chicken skewer kebabs are great to eat on their own or as part of a full meal. They are easy to make and taste delicious.
Ingredients
454g (1lb) Boneless, Skinless Chicken Breast
1 tablespoon of Olive Oil
1 teaspoon Garlic Powder
1 teaspoon Ground Ginger
1 teaspoon of Chilli Powder
1 tablespoon of Honey
1 Red Pepper
1 Green Pepper
1 Courgette (Zucchini)
1 small Red Onion
Method
Cut the chicken, peppers, red onion and courgette (zucchini) into 2.5 cm (1 inch) chunks
Place the olive oil, garlic powder, ground ginger, chilli powder and honey in a bowl and mix
Put the chicken in the bowl with the mixed spices, honey and olive oil and allow to soak for at least 30 minutes (overnight is better)
Assemble the skewers by placing alternate pieces of food on them
Fill the skewers leaving about 4 cm (1.5 inches) at each end
Preheat the air fryer to 180 C (350 F)
Place the skewer holder in the air fryer and lay the loaded skewers on top of the holder
Spray with oil and air fry for 6 to 8 minutes or until the chicken reaches 75°C (167°F)
Remove the skewers from the air fryer and serve
Air Fryer Chicken Skewer kebabs Cooking Tips
You can use any vegetables you prefer like; cherry tomatoes, button mushrooms etc
If you don't have a skewer kit they can be purchased here
You could also use wooden skewers as long as you soak them in cold water first and lay them on the floor of the air fryer basket. You will need to turn the wooden skewers at around the halfway point
How to Make Kofta Kebabs In The Air Fryer
These Kofta kebabs make a nice change and are easy to make. You can cook them with or without skewers. To be honest they're easier to make without using skewers but are more popular to eat if they're on a skewer.
Ingredients
454g (1lb) Lean Minced Beef
1 tablespoon of Olive Oil
15g (¼ cup) chopped parsley
2 Cloves of Minced Garlic
¼ teaspoon Dried Coriander
¼ teaspoon Cardamom Powder
¼ teaspoon cumin Powder
¼ teaspoon Turmeric
Method
Place all of the ingredients in a mixer bowl
Mix all of the ingredients and allow to sit for around 30 minutes in the fridge to let all of the flavours intermingle
Divide the mixture into 4 and roll into long sausage shapes
You can then either struggle to get a pre soaked wooden skewer into the middle of each one or just cook without the skewer
Place the kebabs in the air fryer basket and air fry for 10 minutes at 190 C (370 F)
Check that the internal temperature is at least 63 C (145 F)
Serve
Air Fried Kofta Kebabs Cooking Tips
You could use lamb, chicken, pork or turkey mince instead of beef or a combination of any of the above
If you do use a different minced meat, be sure to check that it reaches a safe internal temperature. We have a downloadable meat cooking temperature chart that takes all of the guesswork away to ensure you and your family and friends stay safe when cooking.
You can cut down on washing up by using a disposable paper liner in the air fryer basket to catch any crumbs, grease or fat. These liners can then be thrown away with your general waste.
Serving Suggestions
You can serve these Kofta kebabs on a bed of rice or with a salad and pita bread.
I ate an off vegetarian kebab for dinner
And now I falafel!
SEE ALSO:
Frequently asked Questions
Can you put wooden skewers in an air fryer?
You can put wooden skewers in an air fryer as long as you soak them in cold water for at least 30 minutes first.
Can you put chicken skewers in an air fryer?
You can cook chicken skewers in an air fryer. Cook at 200 C (400 F) for  6 to 10 minutes or until the internal temperature reaches 75°C (167°F).
How long do skewers take in an air fryer?
Skewers will take anywhere between 6 to 10 minutes to cook in an air fryer. The best way to tell when they are done is by using a meat thermometer to check the internal temperature of the meat.
Can you put frozen kebabs in the air fryer?
You can cook frozen kebabs in the air fryer just add around 8 to 10 minutes cooking time if cooking from frozen.