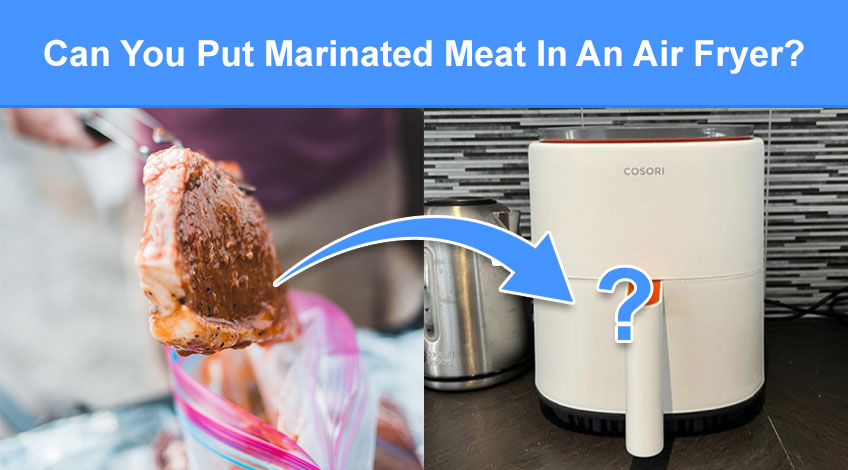 Can You Put Marinated Meat In An Air Fryer? (read this first)
The short answer is yes, you can put marinated meat in an air fryer. For more details on how to cook marinated steak and marinated chicken in the air fryer, keep reading.
If you already cook marinated steak or marinated chicken in a conventional oven, you'll be pleasantly surprised at how much more convenient it is in an air fryer.
How To Cook Marinated Steak In An Air Fryer
We're convinced this recipe will have you coming back for more.
Ingredients
Fillet Steak
8 tablespoons of Worcestershire sauce
2 teaspoons of Dijon mustard
Rosemary
½ tablespoon of olive oil
Method
Place the steak fillet in a resealable sandwich bag
Add the Worcestershire sauce, Dijon mustard, rosemary and olive oil
Squeeze all of the air from the bag, then seal the bag and massage all of the ingredients into the steak
Place the sealed bag into the fridge and leave for at least 2 hours (overnight is best)
Remove the sealed bag from the fridge and allow to reach room temperature for at least 30 minutes to 1 hour
Then place the marinated steak into the air fryer basket
Cook for 5 minutes at 200 C (400 F)
Turn the steak over and cook for a further;

2 minutes for rare
4 minutes for medium
6 minutes for well done

Remove from the basket and allow to rest for 4 to 5 minutes
How To Cook Marinated Chicken In An Air Fryer
This marinated chicken is a perfect tasty treat for any time of year, but it's particularly nice in Summertime.
Ingredients
Skinless, boneless chicken breast
1 tablespoon of olive oil
1 teaspoon Herbs de Provence
1 teaspoon garlic powder
1 lemon
Salt & pepper
Method
Squeeze the juice from the lemon into a bowl and add the lemon zest
Mix all of the other ingredients apart from the chicken
Place the chicken in a resealable sandwich bag
Pour the marinade into the sandwich bag
Squeeze the air from the bag and seal
Massage the marinade into the chicken
Then refrigerate for at least 2 hours (it's best left to marinate overnight)
Preheat the air fryer to 195 C (390 F)
Spray the basket lightly with oil
Arrange the marinated chicken breasts in the basket ensuring there is space around each piece
Cook for 10 minutes
Turn the chicken and cook for another 10 minutes or check that the internal temperature gets to 74 C (165 F) using a meat thermometer
Serve and enjoy
Ways To Save On Washing Up
Using a marinade in an air fryer is always going to create some mess. Air fryers are notoriously easy to clean and usually only need to be washed using warm soapy water.
However, marinades do have a tendency to get burnt on and stick fast to the air fryer basket. There are several ways to prevent this which include;
Using A Disposable Paper Liner
You can find disposable air fryer liners to fit almost every air fryer basket. They are made from reinforced baking paper and fit into the basket. 
The food is then placed in the liner which prevents any juices, grease, fat, crumbs or in this case marinade leaking into the air fryer basket and beyond.
Once the food is cooked the liner can either be disposed of in the general waste or in some areas, they can be recycled (check with your local authority).
Using A Silicone Liner
These silicone air fryer basket liners work in the same way as the disposable paper liners except they can be washed and reused over and over again.
They are made from food grade silicone and are non-stick, non-toxic, waterproof, grease proof and environmentally friendly.
SEE ALSO:
Frequently Asked Questions
Can you put marinated meat in an air fryer?
You can cook marinated meat in an air fryer, marinated chicken breasts take around 20 minutes and marinated steaks take around 10 to 12 minutes.
How can I prevent the air fryer basket from getting covered in marinade?
The best way to prevent the air fryer basket from getting covered in marinade is to place the marinated meat into either a disposable air fryer liner or a reusable silicone air fryer liner.
How long should steak be left to marinate before cooking?
You should marinate steak for at least 2 hours before cooking; however, marinating overnight is best.
Can I reuse marinade a second time?
It is not recommended that you reuse a marinade a second time. This is because any pathogens or bacteria that were present in the first lot of meat could have grown and become stronger in the bag. This will then be passed onto the fresh meat.