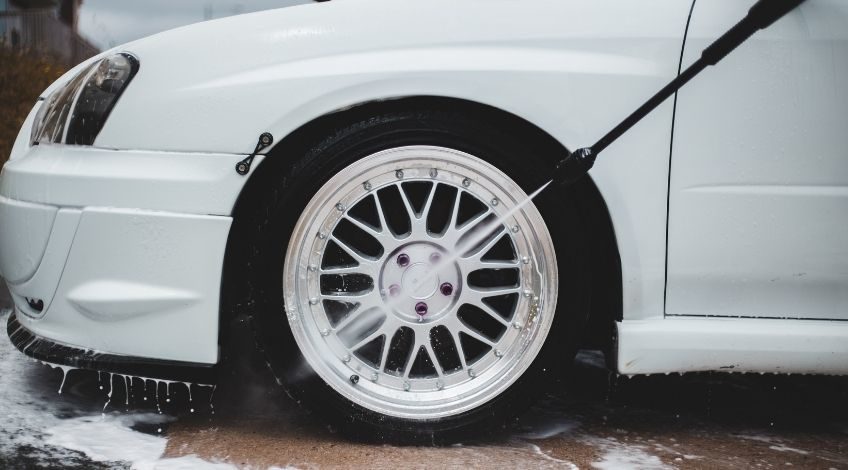 Last

Updated: Nov 2023
Best Nilfisk Pressure Washers 2023
The Nilfisk company has been around since 1906, founded in Denmark they originally produced electrical engines for ventilators, drilling machines and kitchen elevators. In 1910 they produced the Nilfisk vacuum cleaner which went on to sell over 1 million by 1954. When buying a Nilfisk pressure washer you can be sure you are buying a quality product from an old established company.
Best Selling Nilfisk Pressure Washers UK
Sale
Bestseller No. 1
Sale
Bestseller No. 2
Sale
Bestseller No. 3
Bestseller No. 4
Nilfisk Core 140 Power Control, Car Edition, Blue, (128471303)
On-Board Storage: 6m flexible hose is safety stowed away in the internal reel, so no twisting, wrapping, or mess. Also includes storage for high-pressure lance, trigger gun, foam sprayer, mains cable, and accessories.
Ideal for cleaning your bike and car with adaptable nozzles and pressure settings
Bestseller No. 5
Nilfisk Pressure Washers Range
The Nilfisk range of pressure washers are split into 3 groups, they call them
 The Compact range,  which is their small models range with features like a small machine with easy to connect "snap couplings" to join the hose and handle. The "click and clean nozzle" for changing accessories quickly, wall mounting option, full manoeuvrability and easy to use design. 
The Excellent range, which is their mid-range selection. These models have more power than the compact range, features include a telescopic handle, "snap couplings"," click and clean" and wall mounting ability to save space when storing.
The Pro Range is their premium range. Featuring higher power, all the features of the lower 2 ranges like "snap couplings" and "click and clean" plus a steel-reinforced hose, and a brass cylinder head making them much more robust. They class this range for semi-professional use.
Why Buy A Nilfisk Pressure Washer?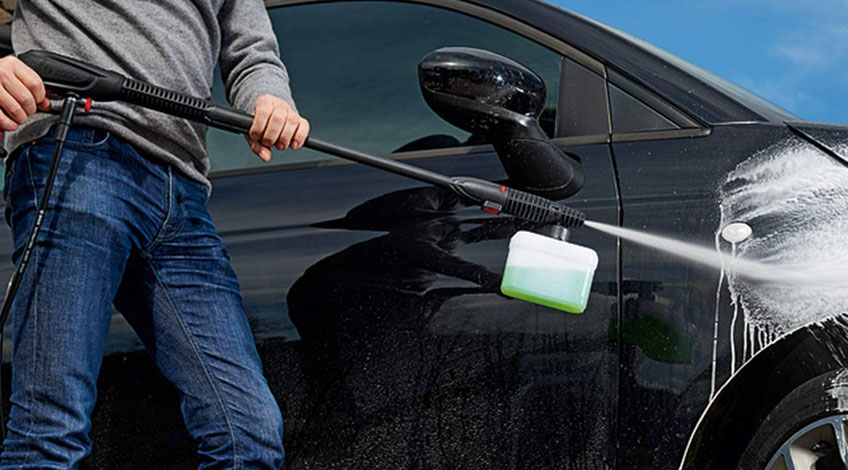 Nilfisk has many years of engineering experience and expertise in the manufacturing of pressure washers. The 3 ranges have a model to suit every budget and every household's individual requirements. Regardless of which pressure washer you buy, Nilfisk offers a 2-year guarantee on all domestic models.
Nilfisk Pressure Washer Buyers Guide
With 3 ranges and over 15 models to choose from let's look at which features are going to make your life easier. Here are the main things to consider before making your decision.
Water Flow
This is the way the rate of water is measured and as a rough guide, the higher the water flow-the more water and the quicker it cleans.
Water Pressure
Models with higher water pressures tend to be more powerful. The way it works is the higher the water pressure, the more energy the water will have. Water pressure is measured in bars. With 1 bar equal to the amount of force needed to raise water 10 metres high.
As a guide, high-pressure water systems in the home tend to be anywhere between 1-2 bar. Nilsfisk pressure washers start at 100 bar to 130 bar for their compact range, their excellent range is between 130 bar to 140 bar and their pro range is 150 bar. The higher the bar rating, the more power the pressure washer can exert on dirt and stains.
Ease Of Use
This is not a hard criterion to satisfy with any of the Nilfisk range of pressure washers, as they have all been designed for their ease of use. Most have the quick release and recoupling function, the quick change nozzle system, and an automatic start/stop.
Design 
Depending on the model you go for some design features include:
Telescopic handle
Quick-release and recoupling function
Quick change nozzle system
Foam sprayer
Power speed nozzles
Easy onboard tool storage
Soft grip gun
Pressure regulation
Reliable metal pump
Automatic stop/start
Wide wheels
Steel-reinforced pressure hose
Ease Of Storage
When you're not using your pressure washer you need to consider how and where you'll be storing it. The Nilfisk range comes with a wall bracket specifically designed to hang the pressure washer on the wall for storage. Apart from the Pro models which are much larger than the other 2 ranges.
Cleaning Ability
From the compact and right up to the pro range of pressure washers, all Nilfisk machines will satisfy your cleaning needs. Obviously, the bigger models have more power but even the lower end of the compact range have enough power to tackle the average home cleaning needs.
Power
You need to consider how much cleaning power you will need. Sometimes too much power is a bad thing. Pressure washers can exert a tremendous amount of power, which is capable of damaging property and causing serious injury.
So look at the whole range and think about how you will be using your model. The compact range is perfect for the smaller home, and smaller cleaning tasks. The excellent range is more suited to larger homes and is capable of completing all the cleaning tasks you'd expect a mid-range pressure washer to be able to. The pro range is described by Nilsfisk as a semi-professional model.
It is more robust and capable of meeting the most demanding workload.
Accessories
Nilfisk makes a large range of accessories that are not supplied as standard and will need to be purchased separately. As they are made specifically for their own pressure washers there are no problems with compatibility. They include:
Powergrip – This has a variable control button on the wand allowing you to adjust power settings without having to return to the power washer whilst using. This is achieved wirelessly.
Multi brush – This is suitable for all Nilfisk pressure washers and has 3 different brush settings allowing greater cleaning scope. From cars to windows, wheels to wooden garden furniture the multi brush can handle it all. Also features a built-in tank for detergents.
Roof cleaner – This comprises a telescopic lance that extends to a maximum length of 4.2 metres, and can spray up to 11 metres high. This gives a total working height of up to 15 metres which is more than enough to reach and clean the average roof.
Patio plus – Suitable for cleaning patios, flagstones, fences, wells and other large areas.
Water sandblasting set – For fast effective removal of paint, rust, etc on hard surfaces.
Drain and tube cleaner – This attachment clears blockages in drains, gutters, and pipes.
Click and clean multi-angle adapter – Perfect for hard to get places. Can be angled up to a 90-degree angle.
Water suction kit – Useful for draining ponds and dealing with flood water etc. 
Garden brush – Specifically designed for cleaning garden furniture, wooden fences and anywhere that's awkward to reach.
Wall bracket – Can be used while operating the pressure washer to save space and also perfect for storing the pressure washer after use.
Click and clean auto nozzle – This high-pressure nozzle is perfect for cleaning cars and boats. The 80-degree angled spray allows fast, gentle cleaning without damaging the car or boat surface.
Rim brush – A cone-shaped brush that rotates, excellent for cleaning bicycle wheels and car wheel rims.
Rotary brush – This brush rotates as it cleans.
Click and clean auto brush – Includes split bristles, swivel in connection and squeegee to remove excess water. This brush is perfect for window cleaning too.
Underchassis lance – Great for reaching those hard to reach dirty under chassis parts of the car. Also works well for clearing rain gutters too.
Click and clean under chassis nozzle – This low-pressure nozzle is set at a 90-degree angle to gently blast the underside of the car.
Click and clean foam sprayer – This handy spray bottle is optimised to provide a rich foam reducing the need for extra foam. Compared to the basic foam sprayer the click and clean sprayer uses 30% less detergent.
The Hose
The hose is an integral part of a pressure washer and should be looked after to prolong lifespan. The Nilfisk Pro range has a Superflex steel-reinforced pressure hose to prevent early wear and tear and keep the pressure constant. Is this something you feel you need?
If not you'll probably do better with a mid-range model.
The Price Of A Nilsfisk Pressure Washer
Nilfisk pressure washers are available from many good retailers and prices can vary from model to model, and a particular company's offers. As a basic guide, the compact models start at around £85  and the pro models can top out at £650.
Warranty
Nilsfisk guarantees their pressure washers for 24 months subject to the usual terms and conditions.
How Much Does A Nilfisk Pressure Washer Cost?
Basic compact models cost between £85 to £180 depending on the model and specifications.
Excellent models cost between £250 to £500 depending on model specifications and retailer.
Pro models cost between £350 to £750 again depending on the model and the retailer.
It's worth doing your homework as prices can vary by £150 for the same model in some cases.
Frequently Asked Questions
Are Nilfisk pressure washers good?
Nilfisk pressure washers are very good, they are tough, robust and durable. They can generate high power and have a wide range of attachments available for even easier cleaning.
Is Nilfisk compatible with Karcher?
Karcher accessories are compatible with Nilfisk pressure washers as long as you have the Nilsfisk ALKA adaptor. Just fit the adaptor into the Nilfisk bayonet and attach your Karcher accessory to the adaptor.
Are pressure washers worth it?
Pressure washers are definitely worth it if you have a lot to clean in a short time. Be sure to get the correct machine for your needs.
Where is Nilfisk manufactured?
Nilsfisk pressure washers are manufactured in Denmark.
What is the best time of year to buy a pressure washer?
The best time of year to buy a pressure washer is just before you need it. There always seems to be sales on, so just do your research and find the machine that suits you at the best price available.
What does Nilfisk mean?
In Danish, the word Nilsfisk actually means fish of the Nile, but it is an amalgamation of the company's 2 founders names-Nielson and Fisker.