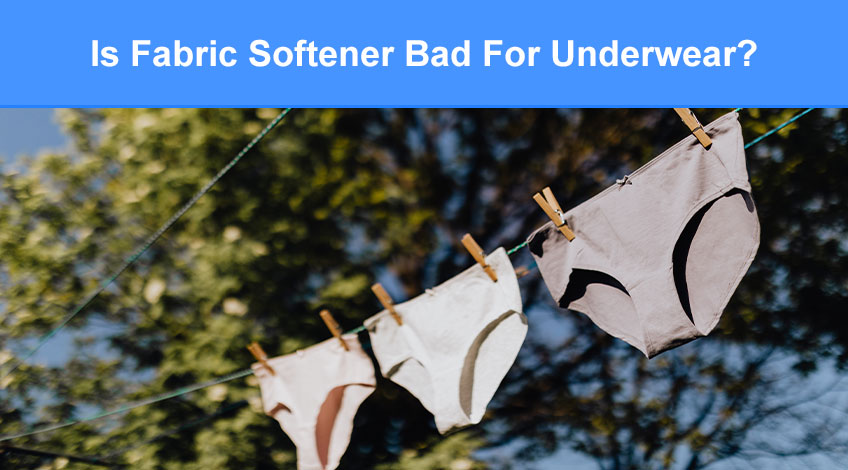 Is Fabric Softener Bad For Underwear?
Fabric softener is bad for your underwear and not only your underwear, it's bad for your health, your clothes and the environment. 
That's a pretty bold statement, keep reading as we expound on it in more detail.
What Is Fabric Softener?
Fabric softener was introduced in the 1960s because detergents, dyes and tumble dryers were too harsh for the fabrics and left them feeling hard, rough and scratchy. They're made from a combination of multiple chemical compounds that soften fabrics, emit a pleasant fragrance and reduce static.
Fabric softeners are sold in two forms; liquid which is used in the washing machine and dryer sheets which are used in the tumble dryer. The dryer sheets are non-woven plastic sheets that are coated in liquid fabric softener that is only released when temperatures get hot enough in the dryer.
They're made from the same or very similar chemicals so exposure is the same whether you use liquid or sheet type softeners.
What's Wrong With Using Fabric Softeners On Underwear?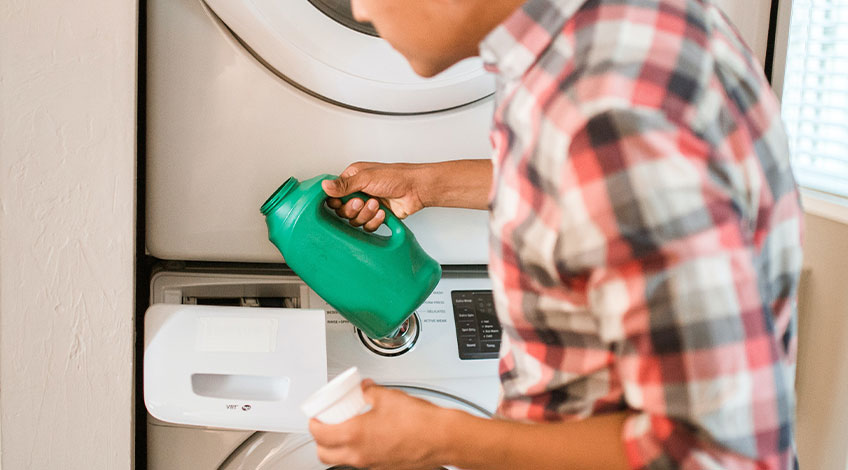 You're probably thinking that if fabric softeners reduce static, soften fabrics and leave a pleasant fragrance behind, why can't they be used on underwear?
To answer that fully we need to look at some of the various chemicals used to create fabric softeners, these include;
Benzyl Acetate
Which has been linked to pancreatic cancer.
Benzyl Alcohol
This has been linked with many respiratory problems including coughs, breathing issues and asthma.
Ethanol
Ethanol has been linked with disorders affecting the central nervous system.
Glutaraldehyde
This chemical, also known as glutaral, is said to have been the cause of many skin allergies as well as asthma.
Hexylene Glycol
There have been links with certain skin allergies, eye irritations and breathing problems when using hexylene glycol and it is one of the main irritants associated with fabric softeners.
The above sounds bad enough but it doesn't end there. Also found in fabric softeners are compounds called Quaternary ammonium compounds better known as "quats". They are used for their anti-static properties but also have serious health implications. Which include;
Allergic Skin Reactions
Respiratory Problems
Anaphylactic Shock
Reproductive Issues
Would you really want to expose your skin in some of the most delicate areas of the human body to chemicals linked with any of the above?
Environmental Damage
As if that wasn't bad enough, the residue from washing machines gets rinsed away and reaches our waste water. From there it ends up in our streams, rivers and oceans and because many of these chemicals don't biodegrade, they remain in the water for many years.
They cause harm to aquatic life including fish, algae and invertebrates and can destroy entire ecosystems in extreme cases.
Fire Retardant Fabric
The way fabric softeners work is by coating the fibres of the material and then drying onto them. This builds up over time and if the garment was treated with a fire retardant, it also gets coated in fabric softener.
The problem is many of the chemicals used in fabric softeners are flammable. This counteracts the fire retardant chemicals and causes the items to be more flammable than they were before a fire retardant was applied.
Clothes Don't Get Clean
The way washing clothes with water works is that the water soaks into the fabric and loosens dirt, sweat and bacteria. As the water passes through the material, it loosens then removes all of the dirt, sweat and bacteria. Leaving the fabric clean, germ free and ready to be worn again.
One of the ingredients in fabric softener is a silicone based oil which coats the fabric and makes it softer. The problem is, that same chemical builds up and prevents water from passing through. This means your underwear or other clothes don't get washed at all.
Fabric Softeners That Are Eco-Friendly 
So all in all it's not a good idea to use fabric softener at all, but if you do like to use it, you should definitely keep it away from your underwear. There are several eco-friendly fabric softeners available which include;
Eco-Mate Fabric Conditioner
Eco-Mate Lavender Concentrated Fabric Conditioner, Plant-based, 100% Biodegradable Paper Bottle & Contents, Natural, Hypoallergenic, Plastic Free, Lavender Essential Oil, Pack of 3
【 LAVENDER CONCENTRATED FABRIC CONDITIONER】: Our 100% plant based, Lavender fabric conditioner has a sweet and calming scent, delicately fragranced with pure lavender essential oil. Protects fibres and leaves laundry soft and static free. Our best-selling fabric conditioner!
【 POWERFUL AND EFFECTIVE PLANT BASED CLEANING 】: For Automatics, just follow the manufacturer's recommended programme, adding 50ml of Conditioner to the machine dispenser. For Twin Tubs, just add 50ml of Conditioner to a 1L jug of water, pour over the wash and spin. For Hand Rinse, just add 50ml of Conditioner to a 1L jug of water and pour over the wash. Allow to soak before rinsing thoroughly in clean water.
This product is plant based, 100% biodegradable (including the packaging) and hypoallergenic.
Miniml Eco Fabric Softener
Sale
This product is derived from plants and is all natural. It is designed to protect fibres and is also hypoallergenic.
Tru Earth Eco-Strips Fabric Softener
Tru Earth Eco-Strips Fabric Softener 32 Strips. Eco-Friendly, Plastic Free Packaging, Ultra-Concentrated, Pre-Measured Strips, Easy Storage. For Machine & Hand Washing, Fresh Linen Scent Booster
IN-WASH FABRIC SOFTENERS: Enjoy a happier, healthier, and cleaner home with the Tru Earth Fabric Softener+ Eco-Strips that give you the softest, clean laundry with reduced wrinkles. Add a pleasant scent with the Fresh Linen Scent Booster version
NO MORE MESS: Tru Earth's fabric softener strips have also helped eliminate the unwanted mess from powders and liquid softener spills that leave a mess all over counters, cupboards, and floors. Comes in easy-to-use and easy-to-store packs of 32 strips
This product comes supplied in dose sized strips which are biodegradable, hypoallergenic, paraben-free, phosphate-free, and cruelty-free.
What Are Natural Alternatives To Fabric Softeners?
There are a number of safe alternatives which use natural ingredients and will not cause any of the frightening problems associated with fabric softeners. These include;
Using White Vinegar
Sale
Distilled white vinegar has many uses and one of them is a natural fabric softener. All you need to do is add ½ a cup of white vinegar to the rinse cycle of your washing machine.
Don't worry about your underwear smelling like a chip shop because the vinegar smell dissipates in the wash.
Using Bicarbonate Of Soda
Grow Chem Baking Soda, Sodium Bicarbonate (1KG Bucket) UK MADE Pure Baking Soda for Cleaning, Baking, Bath Bombs, Odours and Teeth
ECO-FRIENDLY: Sodium Bicarbonate / Baking Soda is one of the top eco-friendly , safe and inexpensive cleaning, baking and household products available.
CLEANING: Baking Soda is particularly useful in food preparation, cleaning surfaces, ovens, grills, microwaves and fridges whilst also deodorising and freshening without leaving any harsh chemical smells.
 This versatile ingredient is found in most households and it has many good uses around the home. One of which is helping to soften clothes, underwear included.
Just add ½ a cup in with the wash to soften the water and the laundry.
Wool Dryer Balls 
Use wool dryer balls Instead of dryer sheets in the tumble dryer. These will bounce around the drum colliding with the laundry and naturally break down any clumps of hard fibres. Using wool dryer balls will also cut down drying times by around 25%.
If you want your underwear to have a nice fragrant smell, you can add a few drops of your favourite essential oils to the wool balls.
If you don't have wool dryer balls, you can use clean tennis balls instead, they'll do exactly the same job.
How To Wash Underwear To Make It Last Longer
It seems that everything you buy nowadays is more expensive than it was just a few weeks ago. This makes it even more important to make our clothes last longer. This is especially true of our underwear, once you find comfortable underwear you want it to last.
By following these simple tips, your underwear will last for a long time.
Use A Mesh Laundry Bag
By using a mesh laundry bag to separate your underwear from the rest of the washing you will prevent any unnecessary damage. This in itself will increase the life of your underwear.
Use A Cold Wash & Delicate Cycle
By using a cold wash you will prevent any colour bleed or shrinkage in your underwear. It's also better for the environment and your pocket as well. 
Using the delicate cycle prevents the laundry from getting any rough treatment. The delicate or gentle cycle uses less agitation to prevent any damage to delicate items including underwear.
Don't Overload The Drum
Overloading the drum when washing underwear is a surefire way to get it damaged. The clothes need room to move and allow water to penetrate in order to get clean. Too many items in the drum will lead to some items not getting washed correctly and more delicate items, like underwear getting damaged.
Use A Gentle Detergent
You should never use a harsh detergent when washing underwear. Also you will not need as much detergent as is recommended on the container.
Using too much detergent, even gentle detergent can lead to a buildup which can damage the fabric over time.
Use A Laundry Sanitiser
Dettol Laundry Sanitiser Lavender 2.5L
KILLS 99.9 Percent BACTERIA AT 20C – Dettol laundry cleanser liquid disinfectant is proven to work in rinse cycle temperatures as low as 15C saving energy and money whilst preventing colour fading and leaking
12 HOUR FRESHNESS GUARANTEED – Dettol laundry sanitiser eliminates odour causing bacteria for a hygienically clean laundry that stays fresh for 12 hours
To be sure that all germs and bacteria have been removed whilst washing underwear, you should add a laundry sanitiser to the wash. These laundry sanitisers work at low temperatures to kill 99.9% of all germs and bacteria.
Never Use Fabric Softener
We would recommend not using fabric softener for any of your laundry but definitely not for your underwear. Not only will it reduce the absorbency of the fabric which leads to the garments not getting clean properly. But more importantly, do you really want all of those unknown, potentially dangerous chemicals getting that close to your skin?
Air Dry Your Underwear
One of the main causes of underwear shrinking, fading and becoming misshapen and worn out is the heat of a tumble dryer. If you want your underwear to last, you should air dry it. Either on a clothesline outdoors or on a clothes airer indoors.
SEE ALSO: Is Fabric Softener Bad For Your Washing Machine?
Frequently Asked Questions
Is it safe to use fabric softener on underwear?
We would not recommend using fabric softener on underwear. The chemicals used to make fabric softener can cause allergic skin reactions, respiratory problems, and has even been linked to some cancers. Added to which, the fabric softener coats the fabric making it lose its absorbency. This prevents the fabric from becoming clean.
What should you wash your underwear with?
You should always use a mild, gentle detergent when washing underwear. It's a good idea to use a mesh laundry bag to prevent any damage to the underwear in the washing machine and never overload the drum.
What is the most hygienic way to wash underwear?
It is advisable to use a laundry sanitiser when washing underwear to be sure that all germs and bacteria have been removed.