Can A Washer Dryer Be Used To Just Dry Wet Clothes?
Yes, a washer dryer can be used to just dry wet clothes! In fact, most models have at least 2 drying settings: high heat and low heat. 
But there's more to learn about using your washer dryer just for drying, so let's take a look into everything you need to know before you try to use your washer dryer as a tumble dryer.
What Dry Only Settings Do Washer Dryers Have
Washer dryers typically provide 2 primary drying settings: high heat and low heat. However, it's worth noting that the specific options can vary depending on the manufacturer and model. 
Here are some examples of what you'll find on some of the common washer dryers available in the UK:
Beko Washer Dryers
These machines often feature synthetic drying and cotton drying functions. These settings are tailored to different fabric types, allowing you to dry your clothes efficiently, while caring for their specific needs.
Hoover Washer Dryers
Hoover models commonly offer high heat and low heat options. This lets you select the appropriate heat level based on the garments you're drying, ensuring optimal drying results.
Hotpoint Washer Dryers
Hotpoint takes a slightly different approach by including a "Dry Only" button. With this feature, you can skip the washing phase altogether. Simply select the relevant washing cycle option, and then press the "Dry Only" button for a dedicated drying cycle.
When Should You Use Low Heat?
You should use low heat when drying:
Polyester 
Acrylics
Linen
Yoga Pants
Gym Wear
Lycra
Leggings
Baby Clothes 
Sequins
Cashmere
When Should You Use High Heat?
You should use a high heat setting when drying the following items:
Cotton Items
Towels
Some Denim/Jeans (depending on the item)
Some T Shirts (medium heat is usually best)
Please note: You should always check your wash care label before putting anything into a high or low heat dry only cycle. And also read your washer dryer's manual to find out what temperature it uses for these settings.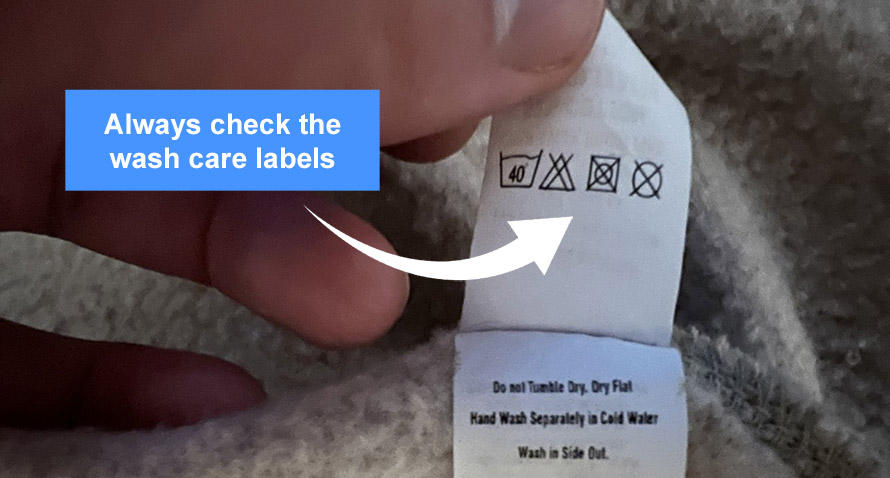 What You Need To Know Before Drying Clothes In A Washer Dryer
However before you start considering getting a washer dryer instead of a washing machine and tumble dryer, there are a few key points to consider:
They Use A Lot Of Water To Dry Clothes
Surprisingly, washer dryers use a lot of water during the drying process. This might seem counterintuitive, but it's a factor to keep in mind, especially if you're concerned about water consumption. 
This is because washer dryers use cold water during the condensation drying process to cool down the steam that's created when your drum heats up. This cooling down process makes the steam turn into water droplets, which are then collected in the condenser tank and drained out.
There are heat pump washer dryers available that do not use water in this way, but these tend to come with a higher price tag.
You Can Only Use Half The Drum Size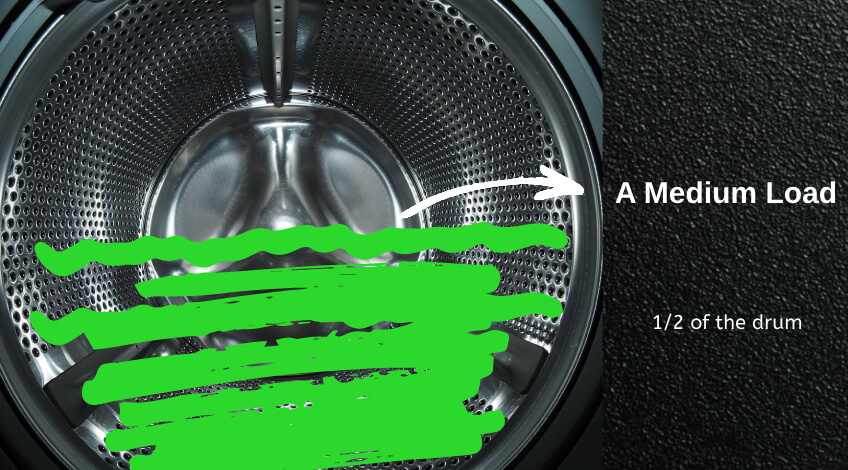 While washer dryers are versatile appliances, it's important to remember that you can typically only dry about 50% of the machine's maximum load capacity. While some newer models might handle more, this is a general rule to prevent overloading and ensure efficient drying.
This might not be a problem if you live in a small household that doesn't do much washing, but it can be a real pain if you're in a busy house with lots of people.
Unless you don't mind dedicating a big part of your day to doing the laundry!
It Takes A Long Time To Dry
Be prepared for longer drying times when using the dryer settings on a washer dryer. The duration can vary based on the garments you're drying, but it is a lot slower than a tumble dryer. 
Plus, if you're using the appliance for both washing and drying, keep in mind that the entire process will take longer compared to having separate washing and tumble drying appliances.
They're Not Intended To Be Used As Just A Dryer Long Term
While you can use a washer dryer for drying clothes, some manufacturers recommend running a regular washing program every 15 or so consecutive drying cycles. This practice helps maintain the overall functionality of the appliance and ensures that it remains effective for both washing and drying.
So if you were considering getting one and just using it as a dryer, you'd be better off buying a tumble dryer.
It Has Far Less Drying Options (compared to a tumble dryer)
Unlike dedicated tumble dryers, washer dryers have fewer drying options. 
This means that you might not be able to dry as wide a range of items as you would with a tumble dryer. 
It's important to think about your laundry needs and consider whether a washer dryer's drying capabilities will be good enough for your home.
They're Not As Good At Drying As Tumble Dryers
It's important to understand what you're getting from a washer dryer: washer dryers usually don't perform as good at drying as dedicated tumble dryers. 
Even models that come with automatic drying programs that utilise sensors might not leave your clothes as dry as you'd ideally want them to be.
It's More Expensive To Dry With A Washer Dryer Than A Tumble Dryer
It's also important to consider how much it'll cost to dry your laundry in a washer dryer too. 
Drying clothes with a washer dryer tends to be more expensive than using a dedicated tumble dryer. The increased water usage and potentially longer drying times contribute to higher energy bills.
Other Ways To Dry Clothes When You're Short On Space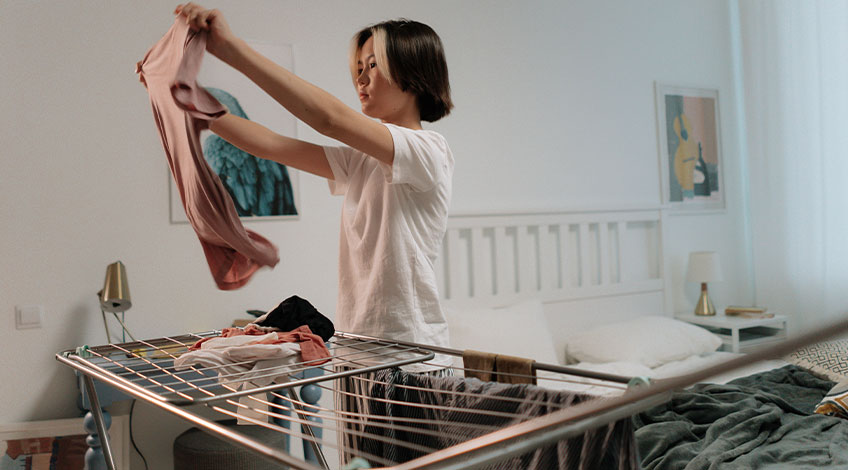 If the above limitations of using a washer dryer for drying have you looking for alternatives, there are several other options to consider:
Clothes Airers
Sale
A clothes airer is a simple, space-saving solution. These are collapsible racks or frames that allow you to hang clothes indoors, allowing you to dry your clothes naturally. 
They're especially useful for smaller items like socks and underwear, but you can also fit your shirts and trousers on there too.
Heated Airers
Sale
A heated airer takes the concept of a clothes airer to the next level. It's equipped with a low-energy heating element that speeds up the drying process. This is an energy-efficient option that can significantly reduce drying times. And we highly recommend them!
Dehumidifiers
12L/Day Dehumidifier with Digital Humidity Display & Control, Childlock, Laundry Dry, and Timer for Home/Basement/Office, 2L Water Tank & Drainage Hose for Damp & Condensation
【Removes 12 Litres of Water Per Day】 Built-in with a high-quality air compressor, ARIBIO dehumidifier reduces moisture & water efficiently up to 12L per day. Whether at your home, office, or in the basement, it effectively eliminates water in the air, helping reduce mildew & damp and protecting your walls and furniture from water damage.
【Real-Time Moisture Display & Control】 The dehumidifier for bedroom comes with a digital display that shows the relative humidity (RH) in percentage and a 3-color light ring to show the humidity range: blue (<45%), green (45%~65%), and red (>65%). It supports setting a target humidity from 30% to 80%, enabling you to keep the room cozy or just to customize your dehumidifying needs.
Dehumidifiers can help remove excess moisture from the air, which aids in drying clothes indoors. While not as quick as a tumble dryer, this method is effective and particularly useful during humid weather.
Electric Fans
Using an electric fan strategically can speed up the drying process. By placing the fan near your clothes, you can improve air circulation, helping damp items dry more quickly.
Retractable Clothes Lines
Sale
A retractable clothesline/washing line is a convenient solution if you have a bit of outdoor space.
Install it between two points, like walls or posts, and you'll have an easily accessible line for hanging clothes to dry in the fresh air.
This might not always be practical if you live in the UK, but it is a good option during the summer months.
SEE ALSO: 12 Tumble Dryer Alternatives: How to dry clothes indoors without a Dryer
Frequently Asked Questions
Can you just dry clothes in a washer dryer?
You can use a washer dryer to just dry clothes. They generally have at least 2 settings on the appliance for this: high heat and low heat. Although some other models have far more. It's always worth checking the user manual before you buy a washer dryer to make sure it has the dry only settings you need. 
Why are my clothes still damp after drying in the washer dryer?
Your clothes might still be damp after putting them in the washer dryer due to factors like overloading, using the wrong settings or not giving the garments long enough in the washer dryer. Check your load size, settings and extend the drying time if needed. It's also worth pointing out that a washer dryer is not as good at drying clothes as a standalone tumble dryer is.
Is a tumble dryer better than a washer dryer?
Tumble dryers do usually perform better at drying laundry compared to washer dryers. Tumble dryers have more drying options, faster drying times and often leave clothes much drier than washer dryers do.
How can I dry my clothes without a tumble dryer?
You can dry clothes without a tumble dryer using options like: airers, retractable clotheslines, heated airers, electric fans or dehumidifiers.
Where does the fluff go in a washer dryer?
In washer dryers, the lint or fluff is removed through the drain pump rather than through lint filters. There are no separate lint filters in washer dryers. Regularly cleaning the drain pump helps maintain efficient drying and prevents lint buildup.
How long does a washer dryer take to dry clothes?
Generally speaking it can take anywhere between 1-3 hours to dry clothes in your washer dryer combo, depending on the type of load you are trying to dry. Please note: washer dryers do not dry laundry as fast as standalone tumble dryers do.