Last

Updated: Nov 2023
Dehumidifier Vs Air Purifier – What Is Best?
Do you wake up in the morning sneezing and suffering from allergies associated with dust mites? Or do you have an itchy throat and struggle to get enough oxygen? It could be that your home is suffering from one of 2 things.
You could have high humidity. High humidity levels can cause respiratory problems, trouble breathing, asthma, irritation due to dust mites. It can also cause condensation, mould, musty smelling air, black stains on the walls, and rotting wooden window sills.
Or it could be that the air in your home is full of pollutants. Minute particles like dust, smoke, mould spores, pet dander (tiny skin or hair) bacteria and other allergens. These particles can also aggravate any respiratory problems including asthma, so either way, something needs to be done.
How Does A Dehumidifier Work?
There are 2 main types of dehumidifier and they are refrigerant (also known as compressor) dehumidifiers and desiccant dehumidifiers. They work in different ways, but both remove humidity (moisture) from the air, and return dry air back into the room. As the moist air passes through the dehumidifier, a filter removes minute particles of dust etc.
The moist air passes through the dehumidifier, gets cooled and the water from the cooled air drops into a storage tank in the unit. The remaining air is released back into the room (usually feeling warmer) without the high moisture that has been trapped in the dehumidifier.
They can be preset to a particular moisture level, and will keep working until the level of moisture in that area reaches the preset range. The dehumidifier will then stop working until the humidity rises to a point above the preset figure, when it will cut back in again. 
How Does An Air Purifier Work?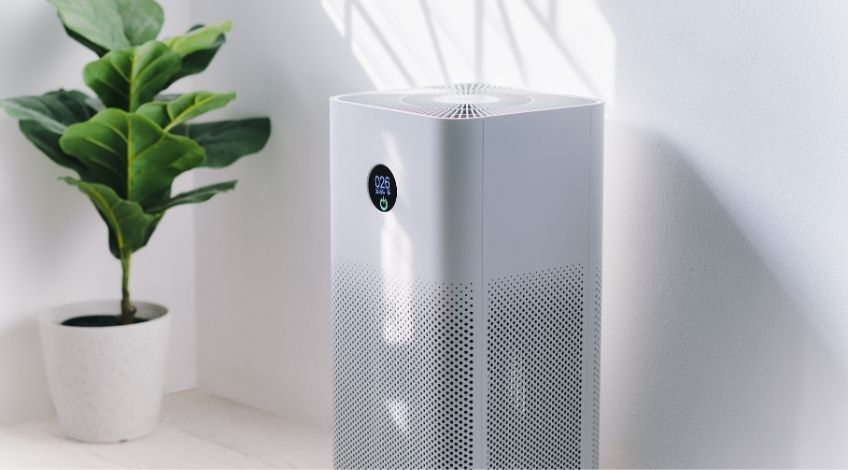 Air purifiers remove dust and harmful airborne contaminants from the air in the room in which they are placed. They work by trapping the particles in a series of internal filters. Again there are 2 main types of air purifier, they are HEPA (high-efficiency particulate air) and carbon. The hepa filters can remove 99.97% of all particles as small as 0.3 microns in size. Just to clarify that, one micron is 1/25,000 of an inch, or to put it another way the human eye can only see particles that are 25 microns and above.
The other most common air purifier uses a carbon filtration system, that is made from activated carbon, that absorbs: gases, smells, chemicals and other volatile organic components. Both types can be enhanced with other features including ultraviolet (UV) light which destroys the molecular DNA structure of bacteria, moulds, fungi, and pathogens. Another feature often used is negative ionization, this system emits charged ions into the air that attach themselves to pollutants making them heavier and easier to trap in the relevant filter system.
What's The Best, Air Purifier Or Dehumidifier?
As you can see air purifiers and dehumidifiers work in similar ways, but do a completely different task. Let's compare the 2 and take it from there.
| Function | Air purifier | Dehumidifier |
| --- | --- | --- |
| Purpose | Filter the air by removing allergens etc. | Remove excess moisture from the air |
| Benefits | By reducing dust, smoke, and other airborne particles relieves allergies and asthma | By reducing mould, dust mites, mildew and excessive moisture relieves allergies and asthma |
| Humidity levels able to operate in | Variable | Higher than 50% |
So what's best? That very much depends on your situation, if your room is very damp and has the obvious signs of dampness, like mould, condensation, rotting window sills etc. Then you need a dehumidifier.
If on the other hand your room has no damp, but you suffer from allergies associated with dust or pollutants, you need an air purifier. If you have a room where you've solved a damp issue, removed any mould etc, it would benefit you to invest in an air purifier to remove all mould spores etc.
We've had a quick look at how dehumidifiers and air purifiers work and mentioned the various types in passing. Let's now take a closer look at the various types in more detail.
Types Of Dehumidifiers
Bestseller No. 1
Bestseller No. 2
ANSIO Dehumidifier 500ml Pack of 5 Condensation Remover Moisture Absorber Dehumidifiers for Damp, Mould, Moisture in Home, Kitchen, Wardrobe, Bedroom, Caravan, Office, Garage, Bathroom, Basement
DAMPNESS / HUMIDITY REMOVER: Ansio Interior Dehumidifiers are designed to remove dampness & humidity from the air. For domestic purposes only.
EFFECTIVE IN REMOVING DAMPNESS: These disposable Dehumidifier tubs contain unique hydrophilic crystals that are specifically formulated to draw and retain moisture from the air. This helps combat condensation, damp rooms, allergens in the air, mould, mildew and neutralises odours. The dehumidifier tubs act as good condensation absorbers for windows.
Sale
Bestseller No. 3
CONOPU Dehumidifier 1000ml, Dehumidifiers for Home, Auto Off&Coloured LED Light, Peltier Technology Update, Portable and Ultra Quiet, Dehumidifiers for Drying Clothes, Bedroom, Bathroom, Wardrobe
EfficienStrongly Removing Moisture: With Peltier technology (no compressor needed), the water tank volume of our small dehumidifier is up to 1000 ml. And it can remove up to 450 ml of water per day at 30 ℃ and 80% RH. Dehumidifiers for drying clothes and It is perfect for bedroom,office,bathroom,caravan.
Ultra-Quiet&Low Energy Consumption: The dehumidifiers used Peltier technology, the operating sound is about 39 dB that's suit for sleeping, and the dehumidifier can run all day long without loud or annoying noises.
There are 4 types of dehumidifiers: some household and some industrial, let's take a look at what they are and how they work.
Refrigerant (compressor) dehumidifier
These are the most commonly used dehumidifiers in homes. They work by drawing moist air over a refrigerated coil using a fan. As the air condenses the water drips into a reservoir and the air is redistributed into the room via a vent in the machine.
Desiccant Dehumidifier
These work by drawing the air into the unit where the moisture is adsorbed (stuck to surface) of a rotor coated in a desiccant material. The rotor is then subjected to heat from a heat exchanger to remove the water which then drips into a reservoir. This type of dehumidifier is best suited for use in cooler conditions as the internal heat exchanger allows cooler working temperatures.
Peltier dehumidifier
This type uses a heat pump to generate a surface cool enough to condense water vapour from the air. As there are no moving parts, the Peltier is quieter than the others, but it uses more power so costs more to run.
Window dehumidifiers
These are the cheapest and least effective type of dehumidifiers available for domestic use. They consist of a sealed plastic container, filled with hydrophilic crystals that absorb water from humid rooms that enters through a vented top.  Once all the crystals are full of water, the unit is discarded and replaced with a new unit.
Types Of Air Purifiers
Bestseller No. 1
LEVOIT Air Purifier for Bedroom Home, Ultra Quiet HEPA Filter Cleaner with Fragrance Sponge & 3 Speed for Better Sleep, Allergies, Dust, Pet Dander, Odour, Smoke, Office, Desktop, Core Mini
【Worry-free】Solve most of the air quality problems in your life, such as pollen, dust, smoke smell, pet dander, etc. Easy to move at a weight of only 2.2 lbs
【Personal HEPA Purifier】Core Mini adopts 360° VortexAir 3.0 technology and a 3-stage filtration, which can purify 17㎡ in 30 minutes
Bestseller No. 2
CONOPU Air Purifier for Home Bedroom with Hepa H13 99.97% Filter, Air Cleaner portable for Allergies, Dust, Odors, Pet, Pollen
【HEPA H13 Filter】With 3-layer filter structure, pre-filter, HEPA H13 filter, Activated Carbon, this air purifier for home bedroom guards the health of you and your family. Hepa H13 Filtration technology can effectively filter 99. 97% of particles, including pollen, pet odour, dust, odour, powder, PM2. 5 and more, give you fresher air.
【Optionanl Mode Speed & Strong Purification】If you want to change air quickly or use this air purifier for bedroom in a new house, long-time idle room, you can choose Strong Speed Mode; for daily use, you can set the Normal Speed Mode.
Sale
Bestseller No. 3
There are effectively 3 types of air purifier, but we'll be looking at 4, why? Because there are 2 significantly different filter types that both need explaining.
HEPA Filtered air purifiers
These use High-Efficiency Particulate Air (HEPA) filters to remove dust and other particles of more than 0.3 microns from the air. As we said earlier these particles are much smaller than can be seen by the human eye, which makes HEPA filters highly effective.
Adsorbent filtered air purifiers
The difference between adsorbent and absorbent is, adsorbents stick to the surface of a substance and absorbents allow the particles to enter the substance. Most adsorbent air purifiers use activated carbon as the filter medium. Activated carbon is carbon subjected to high pressure steam to create minute holes that allow gases and chemicals to adhere to.
Ionizing air purifiers
These work by electrostatic attraction, where the air borne particles become charged as they attract charged ions from the ioniser. There are 2 types of ionizing air purifiers, fanless and fan based. The fan circulates the air rapidly whereas the fanless relies on a slower distribution process-Taking longer to purify the air. Fanless are silent in operation and more energy-efficient.
Ultraviolet light air purifiers
Ultraviolet or UV light air purifiers work by using the UV to change the DNA of the bacteria molecule, as most bacteria are single cell entities, with their primary function disabled they die. This type of air purifier is not as effective as the filtration system filters so are usually used in conjunction with either the HEPA or carbon air filters.
Disadvantages Of Each Type Of Air Purifiers
There are pros and cons with every system and air purifiers are no different, let's look at the faults and failings of each type.
HEPA filtered air purifiers
HEPA filters are great at removing minute particles but they don't remove gases, smells, chemicals or fumes. They have to have the filters changed regularly, and these filters can be expensive depending on the make and model you own.
Adsorbent filtered air purifiers
Activated carbon filters cannot trap particulates like dust and pollen. The filters also get clogged over time and will need replacing (usually every 3 months). 
Ionizing air purifiers
These are not very effective against dust, dirt and pollen. There is also some discussion about the use of ozone which can have negative health effects on people especially people with underlying health conditions like asthma. But ionic air purifier manufacturers are quick to point out that there is very little ozone in their purifiers.
Ultraviolet light air purifiers
UV air purifiers don't remove gases, smoke, fumes, or small particles and it's quite expensive to replace bulbs once they burn out (usually every year).
The Best Type Of Dehumidifier
To find the best dehumidifier for your specific needs you have to identify the area it's going to be used in and the average temperature of that space. In colder rooms, a desiccant dehumidifier will probably be your best choice. In warmer rooms a refrigerant (compressor) dehumidifier is the best type to go for.
The Best Type Of Air Purifier
This is also dependent on the functionality you need and where it's going to be used. If you can only choose one, try going for a dual filtered, HEPA/carbon system with an integrated UV light.
Air Purifier And Dehumidifier – Which Is Better?
This is really an unfair contest, as they both perform different functions. A dehumidifier cannot remove chemicals, pollutants, dusts, fumes, or smoke. But an air purifier cannot remove moisture. So it's a case of finding the best dehumidifier for your home, and adding the best air purifier to clean that dryer air and create the perfect living environment for you and your family.
Frequently Asked Questions
Do I need an air purifier and a dehumidifier?
You do need an air purifier and a dehumidifier if you have a problem with dampness in your home. The dehumidifier will remove the damp, and the air purifier will remove the mould spores, dust, and pollutants from your home.
Can you use a dehumidifier and air purifier in the same room?
You can use a dehumidifier and an air purifier in the same room, at the same time. Just position them a few feet away from each other.
Is it OK to leave an air purifier on all night?
It is OK to leave an air purifier on all night, in fact, it's recommended.
Why are air purifiers bad for you?
Air purifiers are not bad for you unless they emit ozone. Ozone is known to cause long-term health problems to the lungs.
Can air purifiers make the air dry?
Air purifiers cannot make the air dry because they have no mechanism for removing moisture from the air. For that you need a dehumidifier.
Do air purifiers work with windows open?
Air purifiers do work with windows open, they just don't work as effectively as they do when the window is closed.
Does an air purifier help with stuffy nose?
An air purifier does help with a stuffy nose because it removes other allergens that can exacerbate the problem.