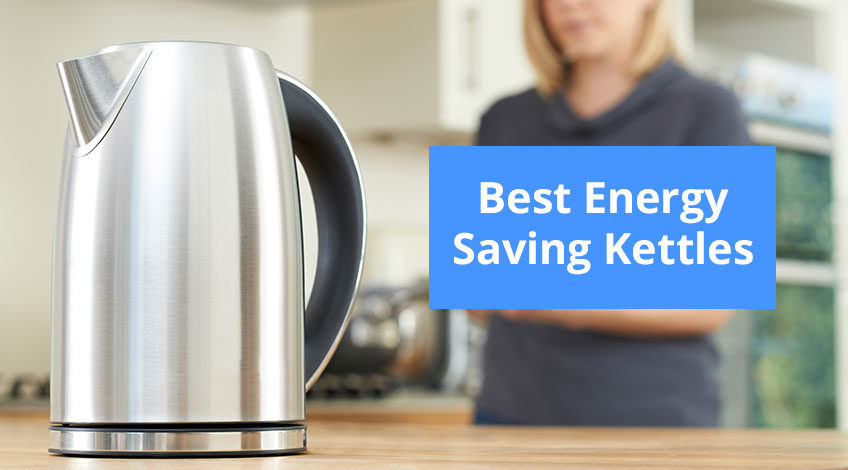 Last

Updated: Nov 2023
Best Energy Saving Kettles 2023
It's safe to say that we are a nation of tea drinkers, the average Brit drinks 884 cups of tea per year. The electric kettle was even invented here by the Russell Hobbs company in the 1950s. Since its first inception, the electric kettle has undergone a number of changes.
The principles remain the same, but more and more designers have tinkered with the design to improve either the look, speed, or energy usage. The shape, for instance, the early electric kettles copied the shape of stove top kettles, this has changed to more upright, cylindrical kettles that take up less space on the worktop.
In all honesty, the kettle design industry had reached the end of the road, or so we thought. Then they introduced the energy efficient kettle. These are similar to look at (in most cases) as a standard electric kettle, but they have features for saving energy and money. One feature that saves time, money, and water, is the ability to boil just enough water for one cup.
Most people boil at least twice as much water as they need, which wastes water, energy and of course time. So having a water level indicator that shows precisely how many cups of water you are boiling is an asset in the war against waste.
For many years electric kettles were unreliable, slow to boil, with little or no safety features, but today's energy saving kettles have many features and functions to make your life easier. Read on for all the information you'll need to make an informed choice on the best energy saving kettle for you
Best Selling Energy Saving Kettles UK
Bestseller No. 1
Duronic Electric Kettle EK30 BK | 3KW Variable Temperature Control | BLACK | 1.5L Fast Boil 3000W Eco Kettle | Keep Warm Function | Energy Efficient | Insulated Cool Touch | Cordless 360 Base
ECO-FRIENDLY FAST BOIL: Not all tea and coffee drinks require water at the highest temperature of 100°c, however with a standard kettle you have no choice but to boil your water to the higher temperature (using more power) and then have to either make your drink with water that destroys the taste of the cup and also wastes power unnecessarily. With the EK30 electrics kettle you can boil water to the temperature you need, saving you time and money at the same time
VARIABLE TEMPERATURE CONTROL: Easy to reach buttons on the handle of this kettle allow you to alter the temperature of the water you want to heat. Choose from 40°c, 60°c, 90°c or 100°c depending on what beverage you are making. 40°c is ideal for Lemsips and hot water bottles, 60°c is for unique coffees, 80°c is ideal for tea and coffee, and 100°c is for black tea and other herbal teas
Sale
Bestseller No. 2
Bestseller No. 3
Sale
Bestseller No. 4
Sale
Bestseller No. 5
How Do Energy Saving Kettles Work
All electric kettles work on the same principle, the water is heated via an electric heat source, either an element or base plate that's powered by electricity. When boiling point is reached the kettle cuts out and the water is ready to use for making tea, coffee etc.
Energy efficient kettles work on a similar principle but with an all important upgrade. The base plate heats the water in the same way but, and here's the important bit, the amount of water you boil is much more controllable. Many allow you to heat up 300mls of water, that's just enough for a standard cup.
A much more impressive feature is temperature control, it's a well known fact amongst tea enthusiasts that different teas require different temperatures to release the flavours from the leaves. As a rough guide,
Green tea should be brewed at 75-80C
Instant coffee should be 80-85C
Oolong tea should be brewed at 85-90C
Black tea should be brewed at 100C
Most energy efficient kettles allow you to heat the water to preset temperatures which means you can enjoy your favourite hot beverage at exactly the right temperature and appreciate the full flavour.
What Are The Benefits Of Energy Saving Kettles
An energy efficient kettle is an upgraded electric kettle, in terms of design and energy saving. The benefits include,
Saving Money
By using just the amount of water you need to make your drink, you save water and electricity. Which means less financial outlay.
Time Saving
Energy efficient kettles boil faster than conventional electric kettles giving you more time to get on with your day.
If the element never touches the water, it will not build up calcium deposits from the water supply. This means the time to heat ratio will remain constant.
Environmentally Friendly
Energy saving kettles use less water and less power which makes them the best choice for lowering your carbon footprint.
Convenience
No need to keep watching the kettle as an energy efficient kettle will automatically turn itself off once it reaches the desired temperature. Plus many have temperature control settings which allow you to get the water at the optimum temperature for the beverage you are preparing.
Heat Saving
Energy saving kettles have much more insulation to stop heat escaping from the kettle. This allows faster boiling and keeps the water hot for longer if you get called away or distracted.
Temperature Presets
If you drink green tea for example, the water temperature should only be between 75-80 degrees C. This can be hard to ascertain with a conventional electric kettle. Energy saving kettles however, have a temperature control so you can preset your water temperature for optimum brewing.
Green Materials
Most energy saving kettles are manufactured from either glass or metal (usually stainless steel) these have much less impact on the environment than kettles made from plastic. Also many plastic kettles contain BPA, a truly harmful chemical.
What Are The Disadvantages Of Energy Saving Kettles
The only real disadvantage of using an energy efficient kettle is also a disadvantage of using any electric kettle. That is if you lose electricity, you can't use it. Whereas a kettle on a gas hob would still work in a power outage. 
Energy Saving Kettles Buyers Guide
Energy efficient kettles are definitely the way forward, we know it and so do manufacturers, that's why there are so many models and designs out there. Whatever energy saving kettle you go for you need to consider the following points.
Quick Boil
Some models of eco friendly energy efficient kettles have a quick boil function that allows you to boil one cup of water in less than a minute.
Keep Warm
Many energy saving kettles have this function, which will keep water at the same temperature for between 20 minutes and 2 hours depending on model and make.
Built In Filter
If you live in a hard water area, limescale build up is inevitable. This not only affects the amount of time it takes to heat up the water, and the energy consumed. It also affects the taste of your beverage too.
Many energy efficient kettles have built in filters to prevent the build up of limescale, and keeps your kettle working as efficiently as ever.
One Cup Indicator
This eco friendly feature saves energy, water, money and allows you to just boil the exact amount of water you need.
Water Level Indicator
The water level indicator is usually located on the side or handle of the kettle.This feature ensures you only boil the amount of water you need. Saving water, time, energy and money. 
Rapid Boil
This feature saves time if for instance, you like a hot drink in the morning but often get up later than you should.
Temperature setting Control
This feature allows you to set the exact temperature the water heats to. Essential if you are a tea aficionado. 
Safety
Energy efficient kettles come with a variety of safety features, here are some of the important ones to look out for.
Auto Shut Off
Once the water reaches the desired temperature, the kettle will automatically shut off. Saving energy and preventing the kettle from boiling dry.
Slow Release Lid
This prevents water from splashing, preventing spillage and scalding.
Boil Dry Protection
When in a hurry, it's so easy to turn the kettle on without checking the water level first. If it boils without having any water, you can damage internal components and/or the heating element. Boil dry protection prevents this from happening.
Design
Some energy efficient kettles look like conventional electric kettles, but there are also other designs. Some look like water dispensers,some like jugs, there are even some models that look like the old fashioned stove top type kettles.
The choice is yours, it depends on your personal taste and lifestyle.
Brand
It is always best to opt for a well established, well known brand when it comes to buying any electrical appliance. This is because established companies have a proven track record for reliability, customer service and safety.
Warranty
Any guarantee or warranty is only as reliable as the company that offers it. This is why it's best to buy from a reputable retailer and well known brand.
How Much Is An Energy Saving Kettle
Energy saving kettles start at around £15 for a basic glass bodied, fast boil kettle with auto shut off and boil dry features. With top of the range models including the following features, fast boil, insulated body, stainless steel construction, touch screen operation, one cup, boil dry, and more costing around the £450 mark. 
Frequently Asked Questions
Do Rapid Boil Kettles Save Electricity?
Rapid boil and one cup features save up to 66% energy.
Why Do Kettles Use So Much Energy?
Over filling (boiling more water than needed) and limescale build up make kettles much less energy efficient.
Are electric kettles worth it?
Yes, they heat water quickly and efficiently saving time and money.
Why Shouldn't You Boil Water Twice?
The chemistry of water changes when it boils, reboiling can concentrate volatile chemicals in your water.
Should I empty Kettle After Use?
Kettles should always be emptied after use to help prevent limescale build up and the risk of concentrating dangerous chemicals present in water.
Are Stainless Steel Kettles Safe?
Yes stainless steel and glass kettles are safe. Plastic kettles can contain BPAs which are harmful to humans.
Is Stainless Steel Or Glass Better?
Stainless steel lasts longer than glass because of its durability, however, it does generally cost more than glass.
Are Glass Kettles Better Than Stainless Steel?
Stainless steel kettles are better as they do not stain and give off no odour or taste.
Is Boiling Water In Stainless Steel Safe?
Yes of all the cookware materials, stainless steel is one of the safest.
Is It OK To Reboil Water For Tea?
Water should never be reboiled to make tea, according to a leading tea expert.
Why Should You Descale Your Kettle?
To keep the inside of the kettle clean and also reduce boiling time. As scale builds up it takes longer for the kettle to heat to boiling point.
Are Glass Kettles Better Than Plastic?
Yes glass does not leach out any chemicals into water under heat. Plastic can.
Is Kettle Water Safe To Drink?
Yes, it's safer to drink boiled water, because boiling water removes many water borne bacteria like giardia and cryptosporidium.
Is Stainless Steel Toxic?
No stainless steel is made from nickel and chromium neither of which is toxic.
How Do I Prevent Limescale In My Kettle?
Limescale is caused by calcium in the water building up after being heated. The only way to prevent it is to use soft water or install a water filter.