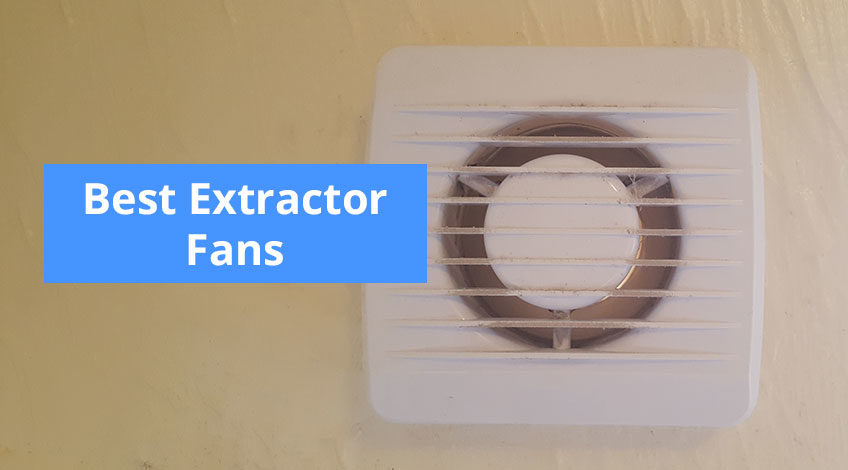 Last

Updated: Nov 2023
Best Extractor Fans 2023
In our opinion, all bathrooms will benefit from having an extractor fan fitted. They remove damp air, which in turn hinders the growth of harmful mould, and keeps the room much more comfortable. However, did you know that extractor fans are not only found in bathrooms? There are also extractor fans specifically designed for kitchens too.
As with all products some are better than others, although with extractor fans they pretty much all work in the same way. With that said, there are many things to consider before purchasing an extractor fan. First and foremost is, it is now law to have an extractor fan fitted into the home.
Under the Homes (Fitness for Human Habitation) Act 2018 it states that all homes must have adequate ventilation. The amount of ventilation is determined by many factors, including the size of the home and the number of bedrooms.
In this guide, we'll give you the rundown on both kitchen and bathroom extractor fans, and provide you with all you'll need to know to make the best, informed decision for your home. We'll look at design, installation, power, safety, positioning, noise and much more.
Read on for your information-packed guide to the best extractor fans. Let's start with the basics.
Best Selling Extractor Fans UK
Sale
Bestseller No. 1
Bestseller No. 2
Bestseller No. 3
Sale
Bestseller No. 4
Xpelair C4TS 4"/100mm Simply Silent Contour Extractor Fan Timer Delay
Sleek, smooth facia can be easily be wiped clean for So Simple maintenance
The quietest intermittent bathroom fan on the market. They are ideal for bathrooms, shower rooms, cloakrooms and toilets. So Simple installation features enables the fan to be fitted easily in walls, ceilings and panels
Bestseller No. 5
How Do Extractor Fans Work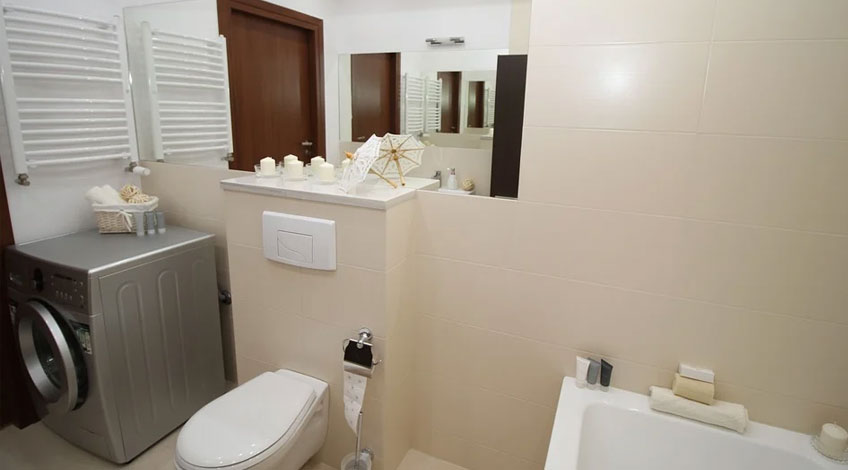 An extractor fan is usually fitted to a hole in an outside wall, or window and it extracts damp, stale air from the room. This is transferred to the outside and replaced in the room via another opening (usually an open window). Extractor fans have a simple design, a fan is connected to a motor powered by electricity. As the fan spins it draws air from the room and expels it outside via a hole in the wall/window/ceiling.
What Are The Benefits Of An Extractor Fan
The benefits of an extractor fan are not all as obvious as you might think, here in no particular order are the benefits of having an extractor fan installed.
Keeping Mould In Check
A build-up of black mould is a sure sign your home is too damp. Many homes suffer from this problem and in most cases, it can be solved by having an adequately powered extractor fan. Mould thrives in warm, moist conditions so the kitchen or bathroom are the usual places where mould is most evident.
There are many products that remove mould, but to keep it away you need to deal with the problem of how it grows. By installing the right extractor fan, you will remove moist air, steam, and humidity. As the room dries out you will notice a marked improvement in the amount of growth of mildew and mould.
Less Steam, fumes, And Smells
It's not just steam and moist air that is removed by an extractor fan, it's also any fumes and smells. Particularly handy for kitchens but also very useful for bathrooms too.
Improved Air Quality
Less smells, less moisture, and fresh air. These will all be achieved by installing the correct extractor fan.
Keep Homes Cooler In Summer
Extractor fans can be used in the Summer to expel hot air from the home, although this is not as good as air conditioning, it can make a difference to the overall temperature of the home.
Money-Saving
If mould and mildew are allowed to spread unchecked, it will damage your possessions. Which will need to be replaced, costing money. Plus if the problem is not dealt with correctly, it will be a continuous process.
A Comfortable Environment
As the air quality improves in your home and feels fresher, you will notice your overall outlook will be more positive. A comfortable environment makes for a peaceful mind.
Removal Of Harmful Gases And Pollutants
Especially with kitchen fans, every time you light a gas cooker, gas is released into the room. If there is a smoker in the home, extractor fans will help to remove the pollutants associated with smoking.
Protecting Walls And Furniture
Again cigarette smoke contains harmful tar and other chemicals that over time, build up on walls and furniture fabric. Extractor fans will remove some of these chemicals and preserve your fabrics and walls, giving you longer between redecorating and replacing furniture.
Law Abiding
Since 2018 in the UK it is law that an adequate extractor fan is installed in every home. Most homes have an extractor fan but is it powerful enough?
What Are The Disadvantages Of An Extractor Fan
The main disadvantage of an extractor fan is it is not powerful enough to cope with the condensation and steam that build up in the average bathroom. This is of course easily remedied by installing the correct fan.
Another disadvantage is that to work properly, extractor fans need ventilation, usually in the form of an open window. This is fine in Summer but in the middle of Winter, it's pretty uncomfortable.
Most extractor fans are wired into the light switch, this means every time the bathroom light is turned on, the extractor fan comes on whether it's needed or not. Of course, the better quality extractor fans have humidity sensors that only cut in when excessive moisture is detected.
Extractor Fan Buyers Guide
Here are the main points to consider before purchasing an extractor fan, in no particular order:
Noise Levels
Sadly all extractor fans become noisy over time. This is due to the motor bearing wearing down. Even cheap extractor fans are quiet straight out of the box, but these will get noisy quicker. Most decent extractor fans will last at least 2 years before they get too noisy to bear.
At some point though you will need to replace your existing extractor fan.
Power
The higher the power, the better the extractor fan works. Under UK law extractor fans have to extract 17 litres per second and most range between 17-25 litres per second.
Method Of Fixing 
Most extractor fans can be reinstalled by the average DIYer, obviously, if you're not comfortable messing with electrics, or if it's a first-time installation you should employ a professional. If you are going to fit one yourself, consider how much effort will be needed to reinstall it.
Some fittings are easier than others. Most makes and models show their specifications online.
Run On Timer
This is almost like a delay switch in reverse, what happens is you turn on the light, and the fan clicks on. When you turn off the light the fan stays on for a preset time. Not all units have this feature, and it's well worth having as it helps to remove extra moisture.
Humidistat
A humidistat (hygrostat) is used to measure the levels of moisture in the air, if fitted to an extractor fan, it allows the fan to cut in as soon as moisture levels rise. It will also cut the extractor fan out when humidity levels fall below the desired levels.
Sighting
Where is the most effective position to situate your extractor fan? The choices are window fans, wall fans, and ceiling fans. It's probably best to get expert advice on where to place an extractor fan for maximum moisture control.
How Much Is An Extractor Fan
Bathroom extractor fans start at around £14 for a cheap and cheerful model, you can expect these cheap models to be noisier than some of the more expensive models. Fairly decent models can be purchased for around £50, but the most expensive models can be well over £700.
It's not just the cost of the unit though, if you don't feel confident enough to replace your extractor fan yourself, you'll need the services of an electrician. A fully qualified electrician will charge on average between £150-£300 to install an extractor fan.
Frequently Asked Questions
Do extractor fans work?
Extractor fans remove humid, stale air and moisture from the home.
How long should an extractor fan stay on for?
The industry standard for the extractor fan to stay on is 10-15 minutes after the light is turned off.
Can you put an extractor fan above a shower?
Extractor fans can be placed directly above the bath or shower, but it's usually fine to just have the extractor fan in the same room.
Do extractor fans use a lot of electricity?
This is dependent on the length of time it is operated but an average extractor fan uses around 8 times less electricity as the average fridge freezer.
Is an extractor fan a legal requirement?
In the UK it is a legal requirement that all kitchens and bathrooms must have an extractor fan fitted to an outside vent.
Does a bathroom fan help with smell?
Bathroom extractor fans are the most efficient way of removing smells, bad odours and moisture from your bathroom.
Where should an extractor fan be placed?
It is recommended that any extractor fan should be situated as far away from any air replacement source like an open window. This is to prevent the fresh air being immediately removed from the room. It's best to place the extractor fan as high as you can near to the nearest steam or smells.
Can you put an extractor fan in a window?
There are extractor fans specifically designed for fitting into windows and this is the type to use in a window. The other 2 designs are wall-mounted or ceiling mounted extractor fans.
Do bathroom fans really work?
The easiest way to test if your bathroom extractor fan is working is to hold a piece of toilet paper in front of the fan. If the paper is drawn onto the fan, it's working properly.
Can you leave the bathroom fan on all night?
Most experts agree that it is unnecessary to leave the bathroom fan on for more than around 20 minutes after you finish showering. Leaving the fan on for extended amounts of time will wear the fan out faster, making it less efficient and less powerful.
Can extractor fans cause fires?
The main cause of fires in extractor fans is a build-up of lint in the fan and vent. Regular removal of this lint will prevent this from becoming a problem.