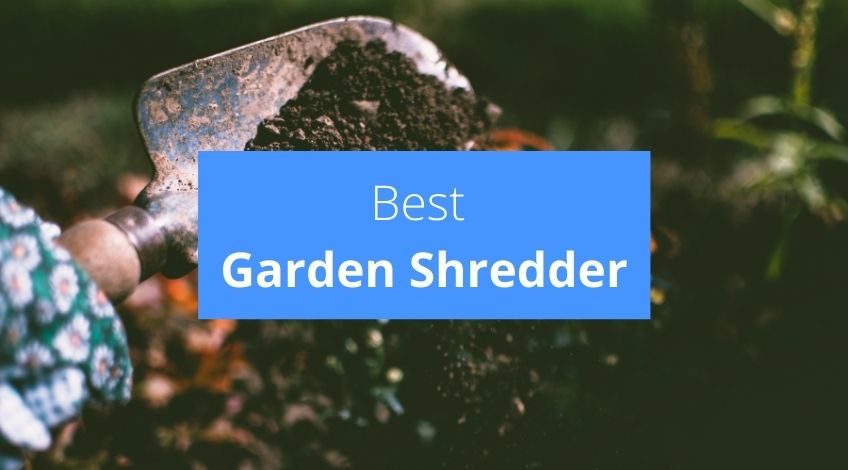 Last

Updated: Nov 2023
Best Garden Shredder 2023
Giving the hedgerow a tidy up in late winter is one of those satisfying garden chores that we put off until the very last minute. The same goes for pruning fruit trees, we know that once they're done not only will the garden look better, but we're more likely to get a decent crop next season. So, it's beneficial from a productivity point of view and it tidies up the borders making our gardens much more pleasant to look at.
What makes us put it off,when we know the benefits and the satisfaction of seeing the instant results? The main reason for shying away from pruning trees and bushes, is dealing with the twigs and branches we're left with afterwards. The solutions are either a bonfire, a skip, or a couple of trips to the council tip. None of which is much fun – Time consuming, costly, a waste of perfectly good compostable material, unhealthy and in some cases illegal.
Best Selling Garden Shredders UK
Bestseller No. 1
Sale
Bestseller No. 2
Sale
Bestseller No. 3
Sale
Bestseller No. 4
Bestseller No. 5
Dealing With Cuttings
Our "local" council tip is a 20-mile round trip, and we usually have enough branches to fill our car 3 times, that's a total of 60 miles just to throw away our prunings. If we decide to have a bonfire, we first have to check with the local bye-laws to see if it's legal, then we have to spend 2 or 3 hours tending the fire. All the while breathing in smoke and ash which can't be doing us any good at all.
If you decide to hire a skip, you could be looking at around £200 to £300 plus the prospect of it magically filling up overnight with someone else's rubbish Some councils have a brown bin scheme, that entails a yearly charge for a service you only use a couple of times per year. More importantly, those plants took nutrients from your garden – Nutrients that other plants could've benefitted from.
A Garden Shredder – The Perfect Solution
For less than the cost of hiring a skip, you could buy a garden shredder. Granted it won't get used too often during the course of a year, but that should mean it will have a longer than average lifespan.There are a few different types of shredder out there so you'll need to do some research to find the right fit for your garden, and lifestyle.
How Do Garden Shredders Work?
The principle behind how garden shredders work is simple. You put twigs and branches into the top, the inner workings (powered either by petrol or electricity) shred those branches and chippings come out of the bottom. There are 2 types of shredder, impact or drum, and they work in different ways.
Impact Shredders
Impact shredders are more popular because they can deal with more types of tree waste. They work using fast spinning, sharp blades that can handle a large selection of twigs, branches, hardwoods, greenwoods, leaves etc.
Drum Shredders
Drum shredders work by crushing the branches etc, against a solid plate before cutting it with a slow rotating sharp bladed wheel. Due to the way they work, drum shredders aren't very effective against leaves and green materials.
What's Best Drum Or Impact Shredders?
Drum shredders are far quieter in operation than impact shredders, but they can't get to grips with leaves and green branches as well as impact shredders can.The best type of shredder for you depends on what type of cuttings you produce in the main.Impact shredders are certainly more versatile, but they are considerably noisier than drum shredders.
What Are The Benefits Of A Garden Shredder?
Whatever type of garden shredder you choose, you will reap the benefits from the very first time you use it. 
No more trips to the dump
No more loading the car, driving to the tip, queuing up to gain access, and no extra work.
No need for bonfires
Sometimes, bonfires are a pleasure. But more often than not, they involve standing in a cold, wet garden breathing in smoke for hours on end. Plus getting it in the neck when you finish because the washing couldn't be dried on the line and the house smells of smoke.
No expensive skips
Skips aren't cheap, they average at around £250 to hire, plus they almost always attract fly tippers surreptitiously filling your skip with their waste under cover of darkness. 
No need to pay for a service you don't use regularly
Council garden waste collections are charged annually so once you sign up, you are paying for the service whether you use it or not.
Extra composting material
Greenwood, leaves etc make great additions to the compost bin and will compost much faster if in smaller pieces.
Wood chippings readily available
All the chippings you create in the shredder, can be used as pathways, or mulch.
Time saving
No more wasted time travelling to and from the tip. Plus the shredder creates wood chippings at a very fast rate. 
Environmentally-friendly
No adding to the carbon footprint, no polluting the air with wood smoke, and you're reusing the plants in the way they work in nature.
What Are The Disadvantages Of A Garden Shredder?
Using a garden shredder can be a great addition to your tool shed. But they do have a few disadvantages, they are:
Slow
The opening at the top of the shredder, where you load the branches into is quite small. This can mean getting rid of branches can be quite time consuming.
Can Jam
Whether you buy an electric or petrol powered shredder they can, and often do jam. This is not too much of a problem as shredders can be run backwards to free any jammed in wood.
Noisy
Both types of shredders are noisy. Of the 2, the drum shredders are quieter but they are both loud.
Flying debris Can Be Dangerous
You can't control the bits that fly out of the top of the shredder, these can cause injury. Flying debris can cut your skin, hit your eyes etc.
Difficult To Load
Due to the small aperture of the loading area, it can be difficult  to slot branches in.
Garden Shredder Buyers Guide
Before buying a garden shredder, read this first to be sure you buy the machine best suited to your needs.
Electric Or Petrol Powered?
There are pros and cons to owning both types of garden shredder, the main salient points are listed below.
Why Buy An Electric Garden Shredder?
 Electric shredders tend to be more compact, this is handy when they're not being used as it cuts down on storage space. They're also lightweight making them easier to transport. Many electric shredders come with a lower price tag than their petrol driven counterparts.   
Why Buy A Petrol Powered Garden Shredder?
Petrol powered shredders offer considerably more power than electrical shredders. As they are not tied down with a power cable, petrol shredders can be used anywhere they're needed.  
Which Type Of Garden Shredder?
 There are 2 types of garden shredder, impact and drum.The type of garden waste you generate most will determine which type is best suited for your garden.
Impact Shredders
Impact shredders are the most noisy but they can deal with greenwood, leaves, and hardwood. They are fast working, lightweight, but the blades are more likely to blunt.
Drum Shredders
Drum shredders are quieter, great for more fibrous woods, fast, and the broken down material is compost ready. However, they have a tendency to clog,and due to their design, are top heavy too, making them more difficult to move.
Length Of Power Cable (Electric Shredders)
How long the cable is will determine where you can situate your shredder. Obviously the closer to your compost heap or wood pile you can be, the easier the job will be.
Branch Diameter
Garden shredders can only deal with branches up to a certain thickness (usually just shy of 2 inches) but some can cope with thicker than that. Check before you buy if you need to deal with thick branches.
Collection Box
The collection box is situated at the bottom of the shredder on some models. Others don't have a collection box. They either just drop the chippings onto the floor or you can place a debris bag to collect the chippings. Some models supply a debris bag that is fitted onto a hook.
Wheels
Some models come with wheels making them easier to maneuver around the garden or to and from the shed. There are different types of wheels too, pneumatic tyres, or solid tyres. The pneumatic tyres are easier to handle, but run the risk of getting punctured.
Motor Circuit Breaker
Some garden shredders have  a circuit breaker installed to prevent any overloading or motor burn out.
Removable Funnel
When not in use, the funnel can be removed to decrease the overall height of the shredder. Not all models offer this feature, but it can prove very handy Some models feature a hinged funnel or fed hopper as they are often called.
Weight
Generally, electric shredders weigh less than petrol shredders. But there are even variations in the weight of electric shredders, check that you can handle however much weight your chosen shredder will be.
Reverse Gear
It is an inevitable part of garden shredding that at some point the shredder will jam. Many models have a reverse gear to help unclog the wood jam.
Automatic anti-block system
Some manufacturers feature this function, it's very handy and saves a lot of time and frustration.    
Assembly And Maintenance Tool Kit
Petrol driven shredders have many working parts and need some maintenance. Some manufacturers include a free tool kit to make any maintenance or build-up a much easier task.
Easy To See Fill Level
Many companies have developed their own methods for the user to see how full the collection box is. The most common is through slits in the side of the box.
Plunger
Many shredders supply you with a plunger to help the branches on their journey through the hopper. Check that the handles are easy to hold, and that the plunger is the correct size for you when operating it.
Safety Stop Switch
Your safety is of paramount importance, so the model you buy should have integrated safety settings that cut in automatically. A large, prominent switch off button, and a hopper that's too deep to get your hands in.
Material Throughput
This is how much material can be passed through the shredder per hour., and is usually quoted as something like 80 kg/h.
Spare Parts Availability
As long as you buy from a well-known manufacturer this shouldn't be a problem. Even some of the unheard of bands use generic parts. It's worth checking how easy it is to get spare parts before you buy.
Warranty
Most shredders come with 2 or 3 year guarantees. These can often be extended with the manufacturer on registration. Any guarantee or warranty is only as good as the company issuing it. We recommend buying a well-known brand as their warranties will be honoured and of course parts will be easier to obtain too. 
Brand
Buy from a well known retailer and always buy a well-known brand too. Chances are if the company has been making shredders for many years they will have perfected any faults in design or manufacture.
Garden Shredder Cost 
With so many makes and models to choose from, plus the choice of either petrol or electric powered, there will be a model to suit your needs and budget.
Electric Garden Shredder Price
Electric garden shredders start at around £100 and rise to around £700 depending on the make, model and features. It's well worth shopping around as there are always sales and deals to be had, including some great 0% finance deals.
Petrol-powered Garden Shredder Price
Petrol shredders are pricier than electric models to begin with. They also have a longer life expectancy and can often have worn out parts replaced etc. Prices of petrol  shredders start at around £400 and can rise to over £1800.
Frequently Asked Questions
What is the best garden shredder to buy?
The best garden shredder to buy depends on how many trees/bushes you have to deal with. Impact shredders can deal with greenwood and leaves whereas drum shredders are best suited for more fibrous wood.
Is it worth buying a garden shredder?
It is worth buying a garden shredder if you have a lot of pruning and lopping to do. It costs around £100 per day to hire a shredder. So for the price of hiring a shredder for 1 day you could buy an electric shredder.
How do I choose a garden shredder?
It's best to look for a model with more than one blade. Single bladed shredders tend to blunt and wear out quite quickly.
Will a garden shredder shred leaves?
Impact shredders will shred leaves, if you have mainly leaves it's best to choose an impact shredder as opposed to a drum shredder