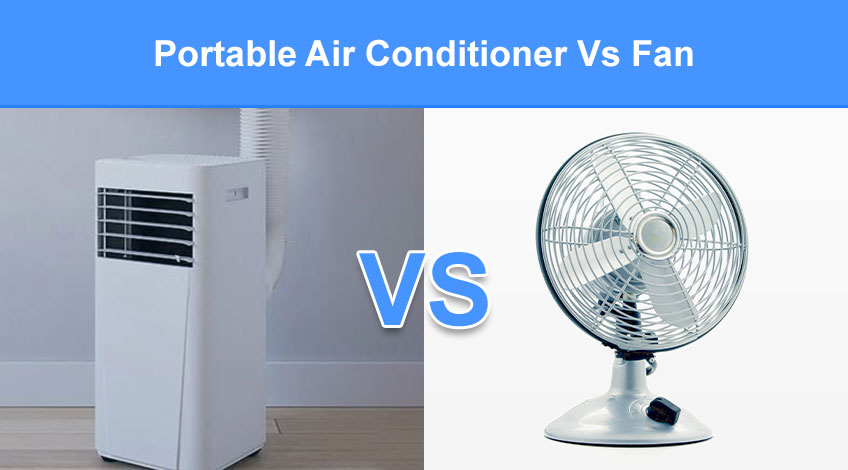 Portable Air Conditioner Vs Fan (which is better?)
As the temperature starts to rise again this Summer, many people start looking for ways to get cool. And while a trip to the beach is a great way to cool down, it's not always practical. 
With many of us working from home nowadays, we need to find a way to keep cool indoors. Which leads many of us to ask which is the best way to cool down at home, a fan or a portable air conditioner?
If you want to find out which works better for cooling you down indoors; a portable air conditioner or a fan, keep reading.
What's The Difference Between A Fan And A Portable Air Conditioner?
Apart from the obvious differences in appearance, the main difference is the way both of these appliances work. Let's take a closer look at each product and see how they work and whether a fan or a portable air conditioner is better at cooling down your home.
What Is A Fan?
Sale
Bestseller No. 1
Sale
Bestseller No. 2
Igenix DF1655 Pedestal Fan, 16 Inch, 3 Speed Settings, Quiet Operation, Oscillating, Adjustable Height, Cooling Fan, Ideal for Home and Office, 40 Watts, White
VERSATILE THREE SPEED SETTINGS: Tailor your cooling experience with ease using three adjustable speed settings – high, for a refreshing blast of air on hot days, medium, for a comfortable and consistent airflow, and low, for a gentle breeze that keeps you at ease.
OSCILLATING FAN WITH ADJUSTABLE HEIGHT AND TILT ANGLE: Experience optimal air circulation throughout the entire room with the oscillating feature. Additionally, adjust the fan's height and tilt angle to target the airflow exactly where you desire, delivering personalized comfort for any situation.
Sale
Bestseller No. 3
Bestseller No. 4
Electric fans have been around since 1886 when Dr. Schuyler Skaats Wheeler invented them. They all work in much the same way apart from air multipliers that employ the laws of thermodynamics to actually increase the amount of airflow produced compared to that drawn into the fan.
How Does An Electric Fan Work?
An electric fan uses rotating blades to push air in one direction under force. As the fan blades rotate, air is drawn from behind and is then pushed in front of the rotating blades. There are a number of different types of electric fans which include;
Desktop Fans
Desktop fans tend to be relatively small and can be set on top of a desk to cool you as you work.
Floor Fans
Floor fans are like desktop fans only far bigger in size and are designed to sit on the floor of the room.
Pedestal Fans
Pedestal fans have large, heavy bases to keep the fan upright as the powerful blades rotate at the top of a roughly 3 ft (91 cm) pedestal.
Tower Fans
Tower fans are tower-like structures that house a cylindrical container with an impeller. The impeller's blades draw air into the tower, the air is then pushed towards the vents of the fan.
Bladeless Fans
Bladeless fans do have fan blades in the form of an asymmetrical impeller which draws air in through the base and forces it up to the top ring where it is pushed out of a slit and over the edge which is aerodynamically shaped. The air that leaves this ring is around 15 times more than was drawn in by the base due to the laws of thermodynamics.
Ceiling Fans
Ceiling fans are suspended from the ceiling and push air downwards.
What Are The Pros Of A Fan?
The main advantages of a fan are;
More Energy Efficient
An electric fan uses far less electricity to operate than a portable air conditioner. 
Cheaper To Run
As an electric fan uses less electricity to run than a portable air conditioner, it costs less to run.
Cheaper To Buy
Depending on the type of fan you buy, you could pay as little as £25 for an electric fan. A decent portable air conditioner will cost at least £300.
Take Up Less Space
Electric fans are much neater and smaller than a portable aircon unit.
Easy To Move
Moving a fan to another room entails no more than unplugging it and carrying it into the next room and plugging it in again. Moving a portable air conditioner entails, removing the exhaust hose from the window, removing the window kit from the window, then unplugging it. Added to which is the actual weight of the aircon unit. You then have to do exactly the same in reverse order.
Easier To Use
Electric fans are incredibly simple to operate. All that it usually entails is pressing the on switch and then adjusting the speed. Portable air conditioners are far more complicated to operate.
Easier To Clean
An electric fan will need cleaning every 3 months or so whereas a portable air conditioner will need its filters cleaned every 2 weeks.
What Are The Cons Of A Fan?
There are a few disadvantages to owning a fan which include;
Fans Don't Cool The Air Temperature
A Fan will not change the temperature of the air at all. The way a fan cools us down is by spreading air over a larger area of our skin. Our body's natural cooling system involves producing sweat which evaporates in the warm air. A fan supplies extra air, giving us a larger area of evaporation which is why we feel cool standing in front of a fan.
You Need To Be Close To A Fan
To feel the cooling effect of a fan, you need to be close to it. Leaving a fan on in an empty room is a waste of time as the air will still be at the same temperature.
What Is A Portable Air Conditioner?
Portable air conditioners work using the same technology and principles as refrigerators. They even use a refrigerant to cool the air.
Sale
Bestseller No. 1
Portable Air Conditioner 9000 BTU 4-in-1 Dehumidifier, Cooling Fan with 2 Speeds, Digital Display & Remote Control, and 24 Hour Timer for Rooms Up to 215ft
【Powerful Cooling Efficiency】 Employing an advanced air compressor, this portable air conditioner features 9000 BTUs high cooling efficiency in its compact size. It fits rooms up to 215 square feet, which allow it to condition your bedroom, office, or cabin near your home efficiently.
【4-in-1 Multifunctional】 To improve your room environment, the air conditioner sports 4 essential modes: cooling mode to cool down your room while the weather is hot; fan mode to deliver either gentle or powerful winds; dry mode to dehumidify the air and keep the room humidity from 40 to 60% (This mode will not work when the temperature is lower than 15 ℃ or the humidity is exceed 85%); dark light mode let you sleep well without dazzling lights. Air conditioner makes your room cozy all the year.
Bestseller No. 2
Portable Air Conditioner, 4-In-1 Air Conditioning Unit 7000 BTU, Dehumidifier, Cooling Fan with 2 Fan Speeds,Digital Display, Remote Control, 24 Hour Timer & Window Venting Kit for Rooms Up to 215ft
【Portable Air Conditioning, Powerful Air Cooling】Benefiting from the advanced air compressor, the portable air conditioners have a cooling capacity of up to 7,000 BTU, instantly lowering room temperature for rooms up to 215 ft3. Adjust the room temperate to create coolness and comfort in your bedroom, living room, office, basement, or workplace.
【4-In-1 Multifunctional Air Conditioner Unit】To enhance your indoor air environment, we give two more roles to this air conditioner unit portable to play as a fan/dehumidifier. Drop the temperature to 16℃ when it gets hot, improve the indoor air circulation with two fan speeds, or dehumidify the indoor air to keep the humidity between 40% and 60%.
Bestseller No. 3
How Does A Portable Air Conditioner Work?
A portable air conditioner contains two radiators connected by copper piping in a continuous loop. The piping contains the refrigerant which absorbs heat from the room. The refrigerant then passes through a compressor which heats it up more as it becomes pressurised.
It then flows to a condenser where the heat is ejected outside via the exhaust hose. This lowers the temperature of the refrigerant which then passes through an expansion valve where it becomes an extremely cold gas. The process is then repeated continuously.
SEE ALSO: How Does A Portable Air Conditioner Work? (UK portable aircon explained)
What Are The Pros Of A Portable Air Conditioner?
There a number of advantages to owning a portable air conditioner which include;
Portable Air Conditioners Need No Installation
Unlike central air conditioners, a portable A/C needs no installation apart from fitting the window kit and exhaust hose.
Can Be Moved From Room To Room
Portable air conditioners have castors fitted to enable a relatively easy way to move them from room to room.
Dehumidify The Air
A Portable air conditioner actually removes moisture from the air. Unlike a fan which just moves the same air around the room faster.
Low Maintenance Costs
Compared to a central air conditioner, a portable aircon has lower annual maintenance costs.
Cheaper Than Central A/Cs
The purchase price and installation costs of a central air conditioning system can be quite expensive. Portable aircons have no installation costs and are considerably cheaper to buy than a central aircon system.
Cools Rooms Fast
A portable air conditioner can reduce the temperature of the room in a short time. Whereas a fan doesn't alter the room's temperature at all.
What Are The Cons Of A Portable Air Conditioner?
There are a number of disadvantages to owning a portable air conditioner which include;
Noisy
There's no getting away from it, portable aircons are noisy. An electric fan can be quite noisy but a portable aircon is far louder.
Running Costs Are High
Due to the number of components, a portable aircon unit uses quite a lot of electricity. This makes them far more expensive to operate than an electric fan.
Need Regular Cleaning
The filters in a portable aircon unit will need to be cleaned every two weeks whereas an electric fan will usually only need to be cleaned once every three to four months.
Water Reservoir Needs Regular Emptying
Some portable air conditioners have water reservoirs that collect moisture. These reservoirs will need to be emptied regularly. 
Difficult To Move
Even though they are sold as "portable", many are difficult to move and as they weigh an average of 25 kg it can be difficult to carry a portable aircon upstairs for example.
Which Is Better Electric Fan Or Portable Air Conditioner?
If you want to actually cool the room, you're going to need a portable air conditioner. However if fitting window kits and exhaust fans sounds like too much fuss, then an electric fan will be your best bet.
Portable Air Conditioner Vs Electric Fan Price Comparison
Let's look at the purchase price of both items now. 
Portable Air Conditioner Price
Portable air conditioners range in price from around £300 up to £1000. 
Anything significantly less than £300 will be an evaporative cooler and not an air conditioner at all.
Electric Fan Price
A desk fan will cost around £25 with a pedestal fan starting at around £30. 
Floor fans tend to be more expensive and can cost anywhere from around £120.
Tower fans cost around £50 and bladeless fans are the most expensive starting at around £100 and rising to around £700.
Should I Buy An Electric Fan Or A Portable Air Conditioner?
There are many factors that come into play when considering whether to buy an electric fan or a portable air conditioner. These include;
Budget
The cost of purchasing a portable air conditioner can be 10 times more expensive than buying an electric fan. 
What You Need It For
If you really want the whole room to be cooler, then you'll need to go to the expense and trouble of a portable aircon unit. However, if you just want to feel cooler, an electric fan can achieve this in a much cheaper and easier way.
Your Geographic Location
The south of the UK tends to be the hottest and most humid and therefore the most likely place to need a portable air conditioner. Whereas the North of the UK is generally cooler and less humid which means an electric fan will probably be your best choice.
Level Of Ability
Although portable air conditioners are not the most technically challenging of appliances to set up, they do take some physical ability. You will need to install a window kit and then fit the exhaust hose. All that's needed to get an electric fan running is a power socket and the ability to press the on switch.
SEE ALSO: How Much Does It Cost To Run A Portable Air Conditioner? (UK prices)
AND SEE: Portable Air Conditioner Vs Dyson Fan (differences compared)
Frequently Asked Questions
Is a fan better than a portable AC?
A fan is a less expensive cooling device compared to a portable A/C. However a fan cannot alter the air temperature, all it does is force the air at room temperature in your direction. To actually cool the room you'll need a portable air conditioner.
Is it cheaper to run a fan or portable AC?
It is considerably cheaper to run a fan compared to a portable A/C. It has been calculated that an electric fan uses 1% of the energy used by a portable air conditioner.
Do fans actually cool the air?
Fans do not cool the air. All a fan can do is direct that air at speed in your direction which allows your skin to cool by evaporation.
Why is my room so hot even with the fan on?
Your room will stay at the same temperature even with a fan running. This is because fans do not alter the air's temperature, only redirect that air under pressure. In other words. A fan cannot cool a room. To cool a room you will need a portable air conditioner.