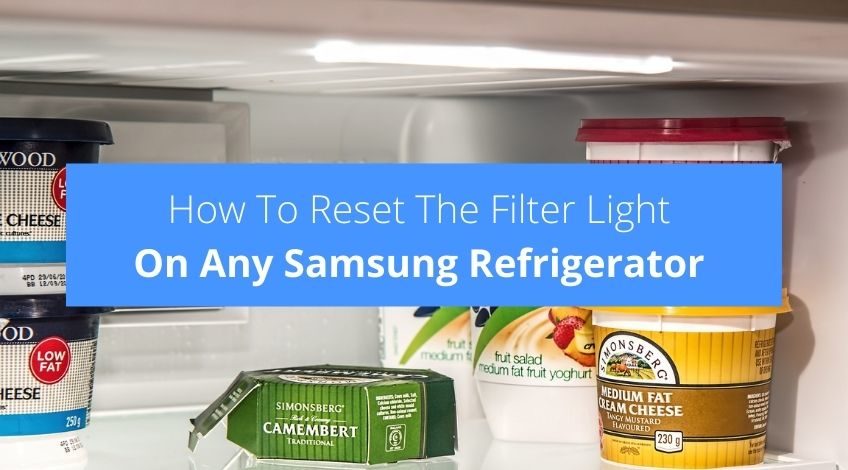 How To Reset The Filter Light On Any Samsung Refrigerator (easiest way)
If the filter light is red on your Samsung display panel it's time to change the water filter. If you don't you're likely to get water that doesn't taste too good and has bits floating in it. If after changing the filter the light is still showing red you'll have to manually reset the filter light.
Why Is It Important To Replace The Water Filter Regularly?
The way Samsung water filters work is by way of activated carbon which traps any impurities in the water and prevents them getting into your drinking water. Once the activated carbon becomes ineffective those particles which had been trapped can pass through the filter and into your drinking water. You should never leave the filter in place once the red light has appeared.
After successfully changing the filter, resetting the filter light is going to be a walk in the park. The hardest part will be identifying which buttons to press to effect a reset.
How Does The Water Filter Indicator Work?
Once the filter is reset the display light should be either green or blue depending on the model refrigerator you have. It will change colour to an orange colour after 450 gallons of water have passed through it or 5 months (whichever occurs first). Then after 500 gallons or 6 months it will change colour to red. Immediately it turns red, it's time to change the filter to avoid foul tasting water and the presence of minute particles in your water.
In hard water areas you might just find your water filter needs replacing sooner than 6 months. It could be that after just 4 or 5 months you need to replace your water filter. As the filter light system works on how many gallons of water has passed through the system or how much time has elapsed, if you are in a hard water area you will not be able to rely on the display screen to notify you it needs replacing.
How To Reset The Water Filter Light On your Samsung Refrigerator
Once you've changed the filter There's a strong possibility the red light will still be on display. That means you'll need to reset the display yourself. This is a simple task to perform but there are various ways to do it depending on the model you have.
We have found that different models have totally different systems when it comes to resetting the water filter light.
| Model Number | Buttons To Press | Result |
| --- | --- | --- |
| RF28K9070SR | Ice-Maker for around 3 seconds | Filter light will be reset |
| RF23J9011SG/AA  | Crushed/Hold  for around 3 seconds | Light Will Go Off |
| RF260/BEAESR/AA | Alarm/Hold For 3 Seconds | Red Light Will Go Off |
| DA29-00003G | Alarm/Hold | Red Light Will Go Off |
| RF24R7201SR/AA | Filter Reset For 3 Seconds | Reset Signal Will Go Off |
| RF28K9070SR/AA | Crushed Ice For 3 Seconds | Water Filter Message Will Clear |
| RF263BEAESR | Ice Type/Water For 3 Seconds | Water Filter Light Will Reset |
| RF23J9011SR | Crushed/Hold For 3 Seconds | Alarm Will Reset |
| RF28R7351SG | Crushed For 3 Seconds | Warning Signal Will Reset |
If after implementing one of the above resets on your Samsung refrigerator the filter light does not reset, check that the buttons are not locked. If any buttons are locked the reset function will not work.
How To Unlock The Control Panel
To unlock the control panel hold the lock button (which should be flashing) down for 3 seconds or until flashing stops. There are other ways to unlock the control panel depending which model refrigerator you own. Consult your hand book for more information.
Filter Alarm Light Still Flashing?
If, after completing the reset function your Samsung water filter light is still flashing check the following;
Is the filter fitted correctly?
Did you use a genuine Samsung replacement filter?
Was the correct filter for your fridge used?
If any of the above apply you might have to restart with a new, correct water filter and fit it correctly.
Frequently Asked Questions
I live in a hard water area, how often should I replace my Samsung water filter?
If you live in a hard water area it is advisable to replace the water filter in your Samsung refrigerator every 3 to 4 months instead of the recommended 6 months.