Are Dehumidifiers Expensive To Run?
This is a question we often get asked, and to answer it fully, we need to know the type of dehumidifier, any energy-saving factors included by the manufacturer, and the size of the room it's being used in. We also have to take into account how much moisture is present in the room, the temperature and the cost per unit of electricity charged by your supplier.
That said, it is possible to get a rough estimate of how much it costs to run a dehumidifier before you go out and buy one. Another factor that's needed to estimate the running cost of a dehumidifier is its power rating.  The type is another factor that affects running costs, let's have a quick look at both types.
The Pros And Cons Of Both Types Of Dehumidifiers
| Feature | Desiccant | Refrigerant (compressor) |
| --- | --- | --- |
| Warm temperatures | Not so well | Best choice |
| Cool temperatures  | Best choice  | Not so well |
| Cheaper to run | Not so cheap to run | Cheaper to run |
| Create heat | Yes | No |
| Quickest moisture removal in cooler conditions | Yes | No |
As you can see there are pros and cons for each type of dehumidifier but from a running cost perspective, the desiccant can benefit from saving on heating bills as it creates heat as it works.
Popular Dehumidifiers
How To Calculate The Running Costs For A Dehumidifier
This calculation is quite easy to work out once you have the relevant figures. You'll need to find out the power rating (in Watts), the amount of time the unit is running and how much you're paying for electricity. Then we can apply a simple formula to get the average running costs.
The Power Rating Of The Dehumidifier
The power rating will be in Watts, we need to convert the Watts to Kilowatts because that's how electricity companies charge for their power. To convert Watts to Kilowatts just divide the wattage rating by 1000 for instance, 250 (Watts) ÷ 1000 = 0.25 (Kilowatts).
The Cost Per Unit Of Electricity
Check on your latest electricity bill, but the average cost in the UK is around 15.5 pence to 17 pence per hour (kW/h). Once you've established the cost per unit you're ready to work out the running cost from your dehumidifier.
How To Calculate The Running Cost Of Your Dehumidifier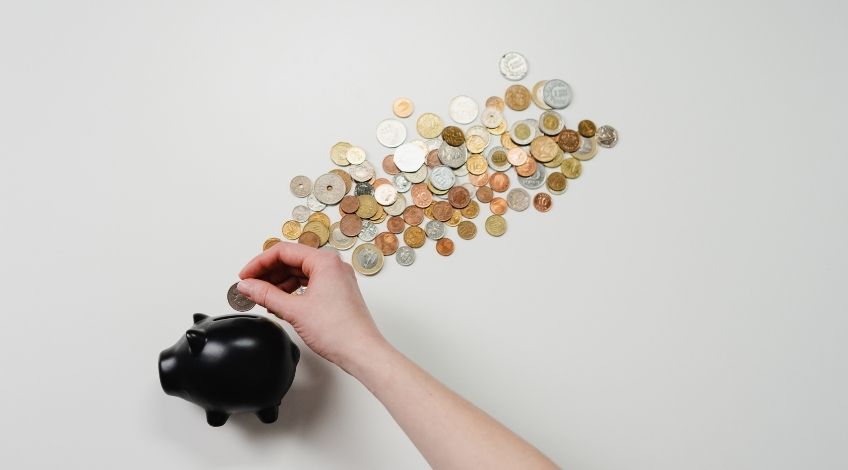 This simple formula will make it so easy to calculate how much it costs to run your electric dehumidifier that you'll soon be using it to see how much other appliances cost to run as well.
The formula looks like this:
kiloWatts x time used x cost of power (kW/h) = cost for time used
So let's assume electricity costs 15.41 pence per kilowatt/hour, and our dehumidifier is 250 watts (0.25 kilowatts) our calculation would look like this:
0.25 x 1 x 15.41 = 3.8525 
That means the average cost per hour for running a 250-watt dehumidifier at 15.41 pence per kw/h is 4 pence. 
To make this example even easier here's a chart for increasing power ratings per hour.
| Power rating | Average cost per hour |
| --- | --- |
| 250 Watts (0.25 Kilowatts) | 4 pence |
| 500 Watts (0.50 Kilowatts) | 8 pence |
| 750 Watts (0.75 Kilowatts)  | 12 pence |
| 1000 Watts (1 Kilowatt) | 16 pence |
So how does the running costs of a dehumidifier compare with the running costs of other electrical appliances around the home? Let's compare a few appliances and see how they fare compared to our dehumidifier.
| Appliance | Cost per hour (on average) |
| --- | --- |
| TV | 2 pence |
| Dehumidifier | 4 pence |
| PC | 7 pence |
| Iron  | 10 pence |
| Electric oven | 14 pence |
| Washing machine | 16 pence |
| Kettle  | 40 pence |
All of these prices are subject to make, model, and power rating. The costs shown are averages, some will use more and some less energy and prices will rise or fall in relation to that power usage.
What Features Can Improve Energy-Efficiency In Dehumidifiers?
There are features that some dehumidifiers have that can help to reduce overall running costs. Look out for:
Fast water extraction
The higher the flow rate of extraction the less time it will need to be operated. Which will cost less to run. Choosing the correct type of dehumidifier for the environment it is going to be used in will result in faster water extraction.
Hydrophilic coil coating
This is a coating used on the coils of refrigerant dehumidifiers to speed up water extraction.
Humidistat & smart control
These machines monitor and identify the humidity level in the room and will only operate when the humidity is high. Obviously, if the machine is not operating it will not be using any power.
Having these extras on the dehumidifier will increase the purchase price, but over time, the added functionality will save on running costs. It's a case of costing less doesn't always mean saving money, in the long term.
Frequently Asked Questions
Do dehumidifiers use a lot of electricity?
Dehumidifiers don't use a lot of electricity, in fact, a dehumidifier uses less electricity than a PC, an iron, or a washing machine.
How much does it cost to run a dehumidifier all day in the UK?
The cost to run a dehumidifier all day in the UK depends on the make and model and how much you are charged for electricity but the average is between 4 to 8 pence per hour which would cost 48 pence to 96 pence per day respectively.
Do dehumidifiers use a lot of electricity in the UK?
Dehumidifiers don't use a lot of electricity in the UK, on average it costs between 4 to 8 pence per hour to run a dehumidifier.