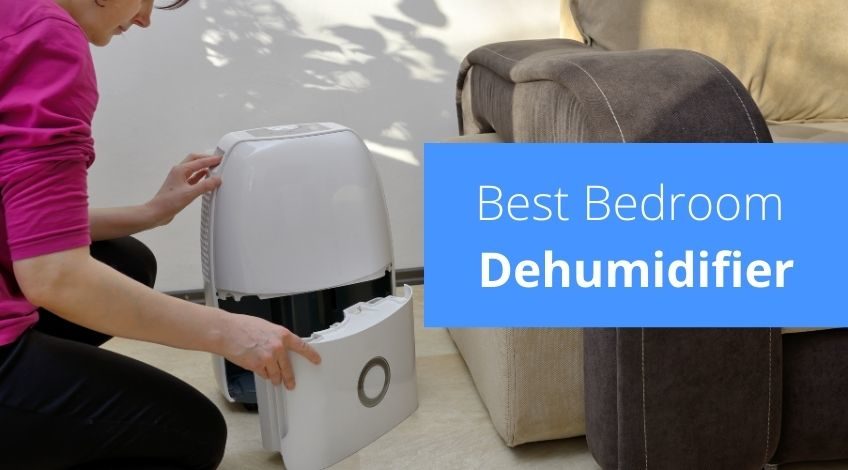 Last

Updated: Nov 2023
Best Dehumidifiers For Bedrooms
It is important to keep high moisture levels at bay in your bedroom. Excessive moisture can cause mould, mildew, rotting wood, condensation and aggravate health conditions like asthma. The obvious solution is buying a dehumidifier, but which one?
The type of dehumidifier isn't so important as the size, but let's have a quick look at the 2 main types just to get an idea.
Sale
Bestseller No. 1
Bestseller No. 2
ANSIO Dehumidifier 500ml Pack of 10 Condensation Remover Moisture Absorber Dehumidifiers for Damp, Mould, Moisture in Home, Kitchen, Wardrobe, Bedroom, Caravan, Office, Garage, Bathroom, Basement
DAMPNESS / HUMIDITY REMOVER: Ansio Interior Dehumidifiers are designed to remove dampness & humidity from the air. For domestic purposes only.
EFFECTIVE IN REMOVING DAMPNESS: These disposable Dehumidifier tubs contain unique hydrophilic crystals that are specifically formulated to draw and retain moisture from the air. This helps combat condensation, damp rooms, allergens in the air, mould, mildew and neutralises odours. The dehumidifier tubs act as good condensation absorbers for windows.
Bestseller No. 3
CONOPU Dehumidifiers for Home Drying Clothes Damp, Portable Dehumidifier for Bedroom with 7 colors Light, Ultra-quiet, Auto Shutoff, Energy-saving Dehumidifier for Caravan Office Garage
【Energy Saving, but Efficient】The dehumidifier effectively remove most of the humidity and avoid mould in the room, up to 300ml/Day. Dehumidifier for home run well at temperature range of 15-40°C. Besides, with 23W rated power and auto power-off function, it saves you lots of power.
【Ultra Quiet, More Reassuring】Dehumidifier for home damp operates quietly and without disturbing you, whenever you are sleeping, working, or reading. Low to unobtrusive 40dB, this dehumidifier for drying clothes is ideal for daily, suitable for 10-15㎡ room like bedroom, office, bathroom, laundry room and so on.
Sale
Bestseller No. 4
CONOPU Dehumidifier 1000ml, Dehumidifiers for Home, Auto Off&Coloured LED Light, Peltier Technology Update, Portable and Ultra Quiet, Dehumidifiers for Drying Clothes, Bedroom, Bathroom, Wardrobe
EfficienStrongly Removing Moisture: With Peltier technology (no compressor needed), the water tank volume of our small dehumidifier is up to 1000 ml. And it can remove up to 450 ml of water per day at 30 ℃ and 80% RH. Dehumidifiers for drying clothes and It is perfect for bedroom,office,bathroom,caravan.
Ultra-Quiet&Low Energy Consumption: The dehumidifiers used Peltier technology, the operating sound is about 39 dB that's suit for sleeping, and the dehumidifier can run all day long without loud or annoying noises.
Sale
Bestseller No. 5
Pro Breeze 12L/Day Dehumidifier with Digital Humidity Display, Sleep Mode, Continuous Drainage and 24 Hour Timer - Ideal for Damp, Condensation and Laundry Drying
LOW ENERGY CONSUMPTION - This Energy Efficient 12L/Day Dehumidifier by Pro Breeze uses an ultra-efficient compressor, a 24-Hour on/off timer and an energy saving auto shut-off system - helping you to reduce power consumption and energy bills. It is ideal for damp, mould, condensation and moisture in homes, basements and bathrooms. Running cost as low as 7p per hour (October 2022).
QUIET DEHUMIDIFICATION - This powerful dehumidifier for home uses the latest ultra-quiet compressor technology to combat damp without disturbing you in the kitchen, bedroom, bathroom, conservatory or garage.
Sale
Bestseller No. 6
Pro Breeze Dehumidifier 1500ml Portable Air Dehumidifier for Damp, Mould, Moisture in Home, Kitchen, Bedroom, Caravan, Office, Garage, Bathroom, Basement
REMOVES MOISTURE: This 1500ml dehumidifier for home by Pro Breeze is perfect for removing damp, mould and moisture from your home, kitchen, bathroom, bedroom, caravan, garage or basement. This energy efficient dehumidifier has a running cost as low as 1p per hour (November 2022)
SMALL & COMPACT: Lightweight, compact & portable dehumidifier for home capable of removing up to 500ml of moisture per day with 1500ml tank capacity.
Types Of Dehumidifiers
The 2 main types of dehumidifiers are:
Refrigerant dehumidifiers
Also known as compressor dehumidifiers, these work in a similar fashion to your fridge. There's a refrigeration process that cools a metal plate. The moisture drawn into the machine condenses on the metal plate and drips into a water reservoir. The air is then pushed back into the room moisture-free.
Desiccant dehumidifiers
Desiccant dehumidifiers work by absorbing the water from the air using a desiccant. The easiest way to describe this is like one of those silica gel packs found in electrical products. It works by having a rotating disc coated in a desiccant material, as the disc slowly spins high moisture-laden air is passed across the disc. The disc absorbs the water, and then the disc rotates through a warm air stream that reactivates the desiccant and the water drips off into a reservoir.
Desiccant dehumidifiers can operate at much cooler temperatures compared with refrigerant dehumidifiers that are more suited to warmer conditions. 
How To Choose A Dehumidifier For The Bedroom
Choosing a dehumidifier for use in a bedroom is slightly different from choosing a dehumidifier for any other room. The main things to consider are as follows.
How Noisy Is The Dehumidifier
As you are going to operate the dehumidifier in your bedroom, its noise level is pretty important. Even though most manufacturers have clever marketing departments that have ways of making loud sound quiet, most dehumidifiers are quite loud. A typical dehumidifier will produce between 33 to 50 decibels. That's the difference between a whisper and a normal conversation.
During our research, we have discovered that the noisiest type of dehumidifier is the refrigerant type (with some exceptions). There is one particular model made by a British based company that produces only 35 decibels – That's lower than many desiccant models.
Size Of The Dehumidifier
The size of the actual unit is an important factor and needs due consideration. You don't want some monstrous unit sitting on your bedside table, or a massive obstacle that you trip over in the middle of the night on your way to the toilet. There are many small-sized dehumidifiers available so you can take your pick and select the best one for your room.
Capacity Of The Dehumidifier
The capacity of a dehumidifier refers to the amount of water the unit can extract in a 24 hour period. Plus the amount it can hold in the same time-frame. So, unless your bedroom is particularly damp, an 8 to 12-litre dehumidifier will probably be sufficient for your needs. Anything with a higher capacity would be overkill and just up your running costs for no reason.
Additional Features To Consider
Dehumidifiers have come a long way in the past couple of years, with more beneficial features being added as often as the boffins can introduce them. Let's have a look at some of the more useful features.
Antibacterial Filters
Some dehumidifiers include an antibacterial filter to remove bacteria and mould spores from the air. Some even have an ioniser, these release hydrogen and oxygen ions into the air, which attach to the dirt and dust making them too heavy to flow on the breeze. They fall to the floor to be vacuumed up when you get the vacuum out.
Laundry Feature
Not necessarily an essential feature for dehumidifying the bedroom, this is a useful feature. It is well known that dehumidifiers are useful for drying washing in general, but those with the laundry mode are particularly useful during the winter months when it's not so easy to dry the washing outdoors. Not only will you get your washing dry, but you'll keep condensation at bay as well.
Timer
If you're out all day, a timer can be a very handy function. It allows you to preset when the dehumidifier will come on, the length of time it's on for and when it will shut off.
Humidistat
This function goes under many names depending on the company that manufactures the dehumidifier, but what they all have in common is the function. How they work is you preset the desired humidity level, the dehumidifier starts up until the correct humidity is reached then the unit shuts down. It then periodically checks the humidity and cuts back in if it rises above the preset amount. This obviously saves energy as the power is only used whilst the dehumidifier is in operation.
How Big Does The Dehumidifier Need To Be For The Room Size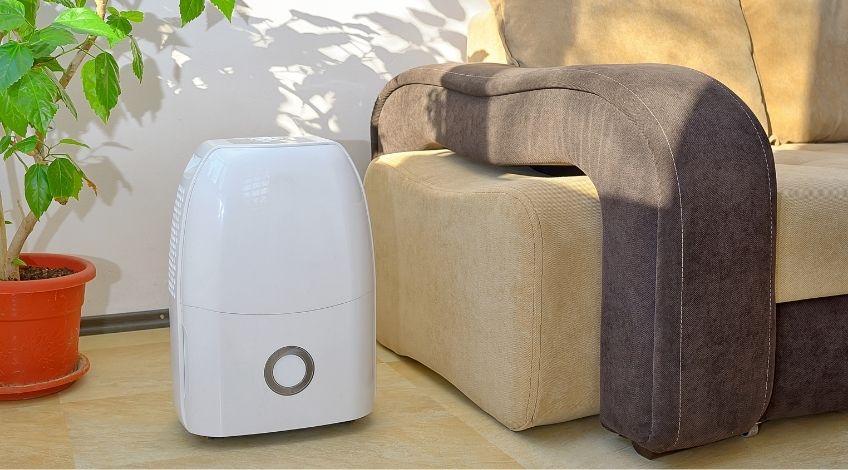 Obviously, there are a few factors here that need considering. How damp the room is and how large it is are the main 2. So let's have a look at how to know which capacity is needed for each room size
| Moisturepercentage | 45 square metre room | 90 square metre room | 135 square metre room | 180 square metre room  | 225 square metre room |
| --- | --- | --- | --- | --- | --- |
| 50 to 60% | 5.5 litre | 8 litre | 10 litre | 12.5 litre | 14.5 litre |
| 60 to 70% | 6.5 litre | 9.5 litre | 12.5 litre | 15.5 litre | 18 litre |
| 70 to 85% | 7.5 litre | 11.5 litre | 14.5 litre | 18 litre | 21.5 litre |
| 85 to 100% | 8.5 litre | 13 litre | 17 litre | 21 litre | 25 litre |
This is based on one 24 hour period and is also based on what particular models claim. It might be necessary to get a slightly larger capacity than quoted, this is just for guidance. Other factors that can affect your calculations include:
If there is a washer/dryer in or near the room
Add 3 litres to the total.
If you live in a humid climate
Add 5.5 litres to the total
If the room has multiple windows/doors
Add 3 litres to the total
If multiple people use or spend time in the room
Add 3 litres to the total
What Size Dehumidifier Do I Need For A Bedroom?
Unless you live in a massive house or you sleep in a barn, you'll probably only need an 8 to 12-litre capacity dehumidifier for your bedroom or check our handy guide above. Of course, if you want all the latest gadgets and features, you'll probably have to buy a larger machine. But generally, an 8 to 12-litre dehumidifier will be sufficient for the average bedroom.
Frequently Asked Questions
Where is the best place to put a dehumidifier in a bedroom?
The best place to put a dehumidifier in a bedroom is near the centre of the room. This gives an unhindered airflow.
Does a dehumidifier cool down a room?
A dehumidifier can cool a room down if it is very humid because as the moisture levels drop so does the temperature.
Is it OK to leave a dehumidifier on all day?
It is OK to leave a dehumidifier on all day. The average length of time it takes to clear moderate moisture is 12 hours.
Should I close the door when using a dehumidifier?
You should close the door when using a dehumidifier to lessen the amount of moisture entering the room. Windows should be shut too.
What is the ideal humidity for sleeping?
The ideal humidity for sleeping is between 30 to 50% according to the Environment Protection Agency.
Do I need a dehumidifier if I have air conditioning?
You do need a dehumidifier if you have air conditioning and you have a problem with dampness in your home. Even though A/C units do remove some moisture, it will not be sufficient to remove heavy condensation.
Is 30 Humidity too low?
30% humidity is the lowest percentage humidity should be to be comfortable. The optimum range is between 30 to 50% anything lower or higher is considered to be uncomfortable.
Why do my bedroom windows steam up overnight?
Your bedroom windows steam up overnight because the moist air in the room hits the cold glass and condenses.
Is too much humidity bad for your lungs?
Too much humidity can be bad for your lungs because high humidity causes mould, and mould spores can cause respiratory illnesses.