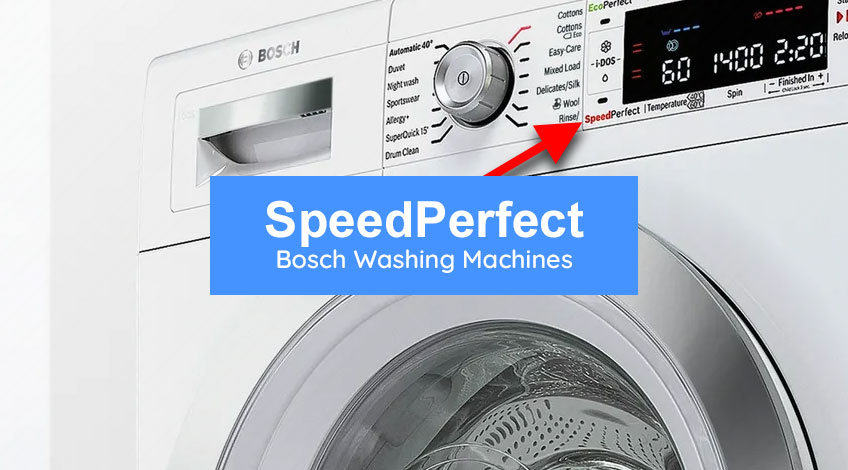 What Is SpeedPerfect Tech? (Bosch Washing Machines)
If you're in the market for a new washing machine, you may have come across the term "SpeedPerfect" in relation to Bosch washing machines.
But what exactly does it mean, and how can it benefit you?
In this article, we'll explore the concept of SpeedPerfect technology in Bosch washing machines and its advantages.
What Does SpeedPerfect Tech Mean?
SpeedPerfect is an innovative technology developed by Bosch for their washing machines.
It is designed to shorten the duration of your wash cycles, allowing you to get your laundry done faster and more efficiently. By incorporating rapid drum movements, SpeedPerfect ensures that your clothes become wetter and evenly coated with detergent quickly, resulting in reduced washing times.
How Does SpeedPerfect Work?
When using a Bosch washing machine equipped with SpeedPerfect, you have the option to select this function alongside your chosen wash program.
By activating SpeedPerfect, the washing machine intensifies its drum movements, accelerating the washing process. This technology allows you to wash your clothes up to 65% faster without compromising the quality of the results.
What's special about SpeedPerfect is that you can use it on a variety of different programs (which we'll explore more later in this article).
The Benefits Of SpeedPerfect Tech
SpeedPerfect technology in Bosch washing machines offers 2 main advantages:
1. It Saves A Lot Of Time (65%)
By using SpeedPerfect, you can significantly shorten the duration of your wash cycles.
This feature is particularly useful when you're in a rush or need to refresh lightly soiled clothes quickly. With the ability to wash up to 65% faster, you'll have your laundry ready in no time.
There's a lot of scenarios this is useful in, for example: you need to clean your laundry ready for tomorrow, but you don't want to leave appliances on over night – no worries, just use SpeedPerfect and get it done a LOT quicker.
2. It Gives You A Lot More Versatility
SpeedPerfect can be combined with various wash programs and is suitable for different loads and fabric types (you're not just stuck with one).
Whether you need to quickly freshen up your everyday cotton garments or reduce the washing time for other textiles – SpeedPerfect provides the flexibility to accommodate all your laundry needs.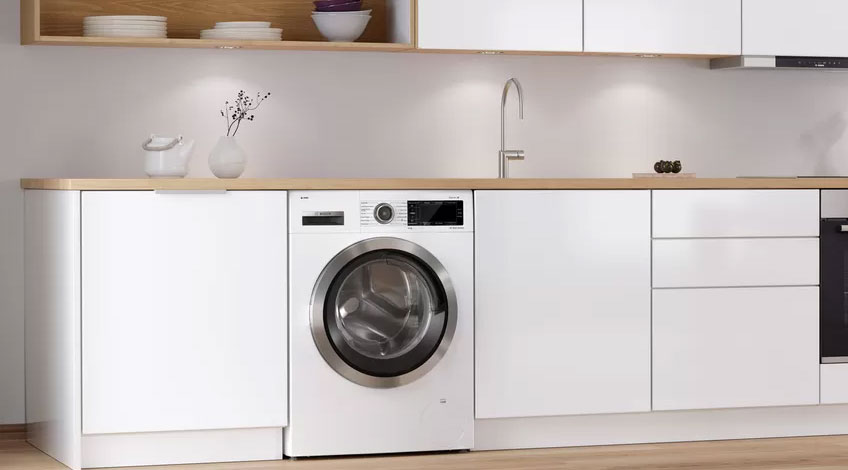 How to Use SpeedPerfect Tech
Using SpeedPerfect in a Bosch washing machine can vary depending on the model, however here's a step-by-step guide that explains the most common way to activate it:
Select your desired wash program. You do this first, before selecting SpeedPerfect.
Look for the SpeedPerfect button or option on your washing machine's control panel
Press the SpeedPerfect button to activate the feature. A light should come on to illustrate that it's been activated
Press start and enjoy the shortened wash cycle and the time saved in completing your wash
Remember to adhere to the recommended maximum load capacity and guidelines provided in your washing machine's user manual to ensure optimal performance and results when using this setting. On most Bosch washers, it's half the maximum load.
Is SpeedPerfect Worth It?
If you value time savings and the convenience of getting your laundry done quickly, SpeedPerfect technology in Bosch washing machines is certainly worth considering.
It allows you to complete your wash cycles in less time without compromising the cleanliness and freshness of your clothes.
The downside is that it may increase energy consumption slightly, however, because it's Bosch – it's still not going to be anything too extreme.
We're personally impressed with this function as you can have your clothes ready to wear sooner than you would in other washers. And that to us, makes it 100% worth it.
Got A Question?
We hope this helped, if you have any comments or questions be sure to leave them below.
And if you're looking for help finding the best Bosch Washing Machine, make sure to check out our article here.