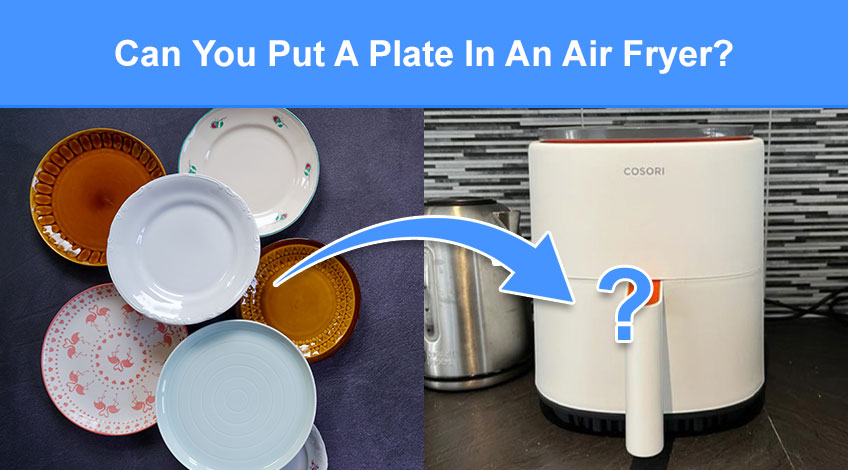 Can You Put A Plate In An Air Fryer? (read this first)
The short answer is yes, you can put a plate in an air fryer. However, not all plates are created equal and there are some that should never be used in an air fryer. Keep reading for the full story.
What Do You Need To Consider Before Using A Plate in An Air Fryer?
The most important factor to consider before using a plate in an air fryer is the material used to make the plate (see below). Then there's the size of the plate. This is because air fryers work by forcing hot air all around the food.
If the plate is too big and it blocks the perforations in the air fryer's basket or shelf, the food will not cook evenly.
You also need to consider whether the plate is oven safe or not.
What Type Of Plates Can Be Used In An Air Fryer?
You should only use oven safe plates in an air fryer these include;
Ceramic Plates
Oven safe ceramic plates can withstand the high temperatures produced in an air fryer without breaking. The colours and designs are sealed onto the ceramic plates in a kiln at extremely high temperatures and will not leach into the food being cooked.
Stainless Steel Plates
Betinyar 2 Pieces 8 Inch Stainless Steel Round Plate, Metal Camping Plates, Stainless Steel Plates, Reusable Metal Dinner Plates for Outdoor Picnic Camping(Silver, 20cm)
【Premium Material】The mental dinner plates are made of quality and reliable stainless steel material, thick and sturdy, durable and not easy to bend.
【Perfect Size】The diameter of the metal dinner tray is about 8 inch/20 cm, proper size for home daily use to hold steak, pancakes, fruits, dessert and salad.
Stainless steel plates are easy to wash after use although they will become extremely hot in the air fryer during cooking. This could affect the time needed to cook your food.
You might find food takes less time to be cooked in an air fryer if using stainless steel plates.
Enamel Plates
Dicunoy Pack of 5 Enamel Plates, 9.5" Unbreakable Enamelware Dinner Serving Platter Trays, Retro White Round Shallow Bowls with Blue Rim for Pasta, Salad, Camping, Outdoor, Picnic, BBQ
Specification - You will get 5 enamel plates. Size: 24cm W x 3cm H. Our well made nice enamel plates would be widely used in your daily life.
Enamelware Plates - Dicunoy enamelware deep dish is made of heavy, food grade enameled steel. These salad plates are well coated with white ceramic coating, non-stick, non-residue, BPA free. It is designed for good heating and optimal cooking performance, smooth surface is easy to clean, wide rim is easy to grip. Due to the special material, please note that the chip of side is normal.
Enamel plates give the best of both worlds, steel plates coated with ceramic porcelain. They are non-stick, non-toxic, and easy to clean after use.
Pyrex Plates
No products found.
Pyrex is the brand name of borosilicate glass, which is tough enough to withstand the high temperatures produced in an air fryer. They are dishwasher, freezer, microwave, oven and air fryer safe.
Porcelain Plates
As long as the porcelain plate has an oven safe sticker it is safe to use it in an air fryer. Porcelain plates are dishwasher, microwave, oven and air fryer safe.
Stoneware Plates
Dessert Plates, Stoneware Serving Dishes Set of 4 for Cake Salad Dessert Fruit - 20cm, Oven Microwave Dishwasher & Refrigerator Safe - Blue
𝐖𝐡𝐚𝐭'𝐬 𝐬𝐩𝐞𝐜𝐢𝐚𝐥 𝐚𝐛𝐨𝐮𝐭 𝐨𝐮𝐫 𝐭𝐚𝐛𝐥𝐞𝐰𝐚𝐫𝐞? -- Reactive glaze ceramics are our Henten Home's specialty. Every dinner plate is unique. The special glaze color collides the colors to the extreme within the scope of craftsmanship. It extremely decorate your table, and the dessert plate 8 inches blue will be very attractive on your table.
𝐈𝐝𝐞𝐚𝐥 𝐬𝐢𝐳𝐞 𝐚𝐧𝐝 𝐜𝐨𝐦𝐛𝐢𝐧𝐚𝐭𝐢𝐨𝐧! -- Nordic style dessert plates set of 4 - 21cm dinner plates blue, each plate measures 21*21*2.5 CM, a standard size for everyday. You can also freely combine your Combination Sets, Dinner Sets. The set of plates for 4, plates & serving dishes, is ideal for Christmas, Wedding, Housewarming.
Stoneware is made from a clay-like material and can withstand temperatures far in excess of any air fryer. Cooking food on a stoneware plate will ensure an even cooking temperature.
Always make sure that the stoneware is oven safe before using in an air fryer.
Silicone Moulds & Plates
Sale
Made from food grade silicone these plates and moulds are safe for use in the air fryer. They are non-stick, non-toxic, dishwasher safe and reusable. 
Which Types Of Plates Should Not Be Used In An Air Fryer?
There are several types of plates that should not be used in an air fryer these include;
Plastic Plates
Plastic is not designed to withstand the high temperatures produced in an air fryer and will begin to melt or even catch fire. Plastic could also leach harmful chemicals into foods if subjected to high temperatures.
Paper Plates
Paper plates are highly flammable and so lightweight that they're likely to be pushed onto the heating element by the high powered fan in the air fryer. They also have a thin waxy coating to help them remain relatively waterproof when food is placed on them. This waxy coating can melt and is highly flammable also.
Glass Plates
With the exception of borosilicate (Pyrex) glass, glass plates are very likely to crack and break when subjected to the high heat produced in an air fryer.
Cardboard Plates
Like paper plates, cardboard plates are not designed to withstand temperatures produced by air fryers. They are extremely likely to catch fire in the air fryer.
How To Tell If A Plate Is Oven Safe
All oven safe plates will display their status somewhere. Usually on the back of the plate you will find either the words "oven safe" or a symbol of a flame inside a circle.
Never use microwavable safe plates in an air fryer because air fryers work in a different way to microwaves and microwavable plates will almost certainly melt in an air fryer.
Are There Any Alternatives To Using A Plate In An Air Fryer?
There are several alternatives to using plates in an air fryer. These include;
Baking Paper
Baking or parchment paper has many small perforations to allow the heat to pass through it with ease. The perforations are small enough to prevent grease or fats from leaking through but large enough to allow hot air to circulate.
You simply cut the baking paper to the size of your air fryer's basket and throw it away after use.
Air Fryer Paper Liners
Air Fryer Liners, 100PCS Disposable Air Fryer Parchment Paper Liners, Air Fryer Accessories for Ninja AF300UK AF400UK, Salter, Tower Dual Air Fryer
🍖HEALTHY AND RELIABLE QUALITY - Our air fryer accessories is made of food-grade double-sided silicone oil paper, which has good heat resistance, waterproof, oil-proof, and non-stick. It will not affect the taste of food, ensuring the original taste of the food itself.
🍟 KEEP THE AIR FRYER CLEAN - These air fryer paper liners disposable can effectively keep food residues away from the frypot, making it as clean as unused, air fryer paper parchment liners protect your steamer and air fryer from food residues And keep the air fryer clean, making the cleaning time faster and easier.
Made from reinforced baking paper, these liners are available in many shapes and sizes to fit most air fryers. They are waterproof, grease proof, non-stick and non-toxic.
After use, they can be discarded in the general waste or some local authorities accept them in the recycling.
Aluminium Foil Trays
Sale
50 Small Aluminum Foil Trays Containers with Paper Lids 500ml | Great for Meal Prep Baking Food Storage Takeaway Tins | by Caterserve
AFFORDABLE FOIL CONTAINERS WITH LIDS - Economical to use foil pans set that are cheap and can accommodate your serving needs. These aluminum foil containerss with lids are perfect for any type of food business such as catering services, meal prep, buffets, banquets, and many more. A must-have cooking ware. 

CONVENIENT PRACTICAL FOIL DISHES - No more time wasted washing a bunch of dishes after a party or celebration with these aluninium pans. A life saver when throwing a birthday party, bridal shower, baby shower,wedding,receptio and other special occasion. You can store and freeze leftovers easily.
These foil trays are a great alternative to using plates in an air fryer. As long as they can fit comfortably in the basket without blocking too many perforations.
Aluminium should never be used when cooking any acidic foods however, as there has been some links between aluminium and Alzheimer's.
What did one plate say to another plate?
Dinner's on me! 😂
SEE ALSO:
Frequently Asked Questions
Can you put a ceramic plate in an air fryer?
You can put a ceramic plate in an air fryer as long as it is oven safe.
Can I warm up a plate of food in the air fryer?
You can warm up a plate of food in an air fryer as long as the plate is oven safe.
What is the symbol for an oven safe plate?
The symbol for an oven safe plate is a flame in a circle.