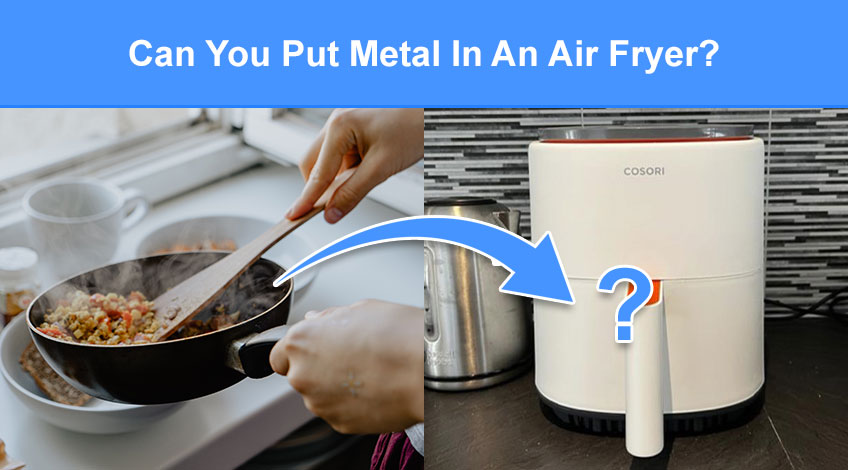 Can You Put Metal In An Air Fryer? (metal pans, cake tins etc.)
The short answer is yes, you can put metal in an air fryer, but there are some limitations. Air fryers are one of the newest kitchen appliances and in our opinion, one of the best.
Air fryers often look slightly like microwave ovens (especially the toaster oven type air fryers) which is probably where the question about using metal pots etc originated.
Before we get into which metals are safe to use in an air fryer, we need to get a basic understanding of how an air fryer works.
How Does An Air Fryer Work?
Air fryers are basically convection ovens. They rely on electrical elements to heat the air which is then forced around the air fryer using a powerful fan.
The hot air passes over the food at all different angles to crisp the outside and seal all of the juices inside the food.
Air fryers rely on hot air to cook the food which is why air fryer baskets are perforated to allow that hot air to circulate around the food as it cooks.
What Metals Can Go In An Air Fryer?
Most air fryer owners had a conventional oven before getting an air fryer. Which means most air fryer owners already have a bunch of oven trays and other cookware.
The good news is, the majority of your existing metal cookware can be used in an air fryer.
Oven Safe
You will need to check the instruction label that came with the metal pan. Either on the packaging or on the base of the actual pan, there should be the words "Oven Safe".
This means the pan is suitable for use in a conventional oven and can be used in temperatures up to 260 C (500 F). This means they will be safe to use in an air fryer.
Can You Put Cast Iron Pans In An Air Fryer?
Sale
Cast iron pans can be used in an air fryer and they are a great choice because they last for years and as cast iron conducts heat so well, it makes it non-stick and cooks food evenly.
Plus, due to their versatility, cast iron pans can be used to cook almost anything.
Can You Put Stainless Steel Pans In An Air Fryer?
Baking Tray,Oven Tray,Stainless Steel Baking Sheet,Nonstick Baking Pan for Cookies and Cakes,Durable,Oven-Safe,Non-Toxic,Easy to Clean
QUALITY- The non-stick cake pan is made of heavy duty high quality stainless steel, No chemical coating or any other materials, Non toxic for your healthy cooking.
SIZE- 16.2'' x 12.6'' ; Please refer to the pictures for specific sizes;Easy Clean & Dishwasher Safe, The bakeware set oven baker safe up to +446℉.
As long as it says "oven safe" it is perfectly fine to use stainless steel pans in an air fryer. 
Stainless steel cookware is the choice of many chefs because it is long lasting, non-toxic and able to withstand high temperatures. It also retains heat really well.
Be warned; Stainless steel pans can become discoloured if they become too hot. 
Can You Put Aluminium In An Air Fryer?
Oven safe aluminium can withstand high temperatures, it is lightweight and inexpensive. 
Disposable aluminium trays can be used in the air fryer basket (or shelf) to cook foods and any grease or mess is contained within the tray which can be thrown away once the food is cooked.
The only downfall with aluminium is it is reactive with acidic foods. If aluminium comes into contact with any acidic food the chemical reaction allows aluminium to leach into the food.
Whilst nobody wants to consume aluminium (or any other metal), there have also been scientific studies that link aluminium with Alzheimer's.
Never cook any acidic foods in aluminium foil, acidic foods include;
Tomatoes
Peppers
Citrus Fruits/Juices
Vinegar
Wine
Or any sauce or marinade containing any acidic foods.
What Metals Should Never Be Put In An Air Fryer?
There are a number of metals that can't be put in an air fryer, they include any containers made from or containing;
Or any other metal that can leak toxins into food or cause harmful fumes if exposed to high temperatures.
Painted Pots
There are many pots which have designs painted on them. These should never be used in an air fryer because the paint can be toxic either the fumes or if it gets into the food.
Pots With Wooden Or Plastic Handles
Many metal pots which are technically air fryer safe, have wooden or plastic handles which could burn, melt or catch fire due to the extreme heat produced in an air fryer.
Pots That Are Too Big
Due to the way an air fryer cooks food, (by circulating hot air all round the food) the basket or shelf will be perforated. 
To cook food evenly you need to keep as many of these holes clear to allow the hot air to circulate freely.
This means using as small a pot as possible to allow a free flow of hot air. Large metal pots will block a significant number of holes and thus prevent the food from cooking.
Personal Safety
Remember that metal pots and pans will become extremely hot when used in an air fryer. You will need to use oven gloves when removing metal trays from the air fryer after cooking has completed.
Trivets for Kitchen Worktops, NWFHTD Silicone Trivets for Hot Pans - Trivet Mat/Heat Resistant Mat/Heat Proof Mat Kitchen/Hot Pot Trivet/Hot Dish Plate Pot Holder for Table & Counter, N Blue
👍 Nonslip and Safe Silicone Trivets for Hot Dishes - The trivets for hot pans is made from 100% food-grade silicone and are free from BPA, BPS, PVC, Lead & Phthalates. These hot plate holder are No smell, non-toxic, soft and flexible. Our trivets silicone have multiple uses ranging from silicone trivet mat, hot plate trivet, hot plate mat, hot dish pads, retro trivet and so on. and there are many beautiful colors available to choose and customers like navy blue trivet and black trivet most
👍 Heat Resistant Trivets for Kitchen Worktops - The hot plates to protect table are heat resistant up to 482°F! The trivet for kitchen counter / trivets for table can protect your countertops from the heat of hot pots / pans & other cooking vessels coming out from the microwave or stove, giving you superior protection. These countertop pot holder can also be used as counter hot pads. Our thick and flexible trivets for quartz countertops guarantee long lasting durability in your household
It is also a good idea to place the pan onto a trivet to prevent burning your countertop. You can get metal trivets which are quite heavy or silicone trivets which are far lighter.
Are There Any Alternatives To Metal Pans That Can Be Used In An Air Fryer?
There are several alternatives to metal pots and pans that can be used in an air fryer.
These include;
Ceramic Dishes
MALACASA, Series Bake, Rectangular Baking Dish Set of 4 (9"/11"/12"/13.3"), Oven to Table Baking Dish with Ceramic Handles Ideal for Lasagne/Pie/Casserole/Tapas, Red
✔ SAFE AND HEALTHY - Made of food Pro-grade safe porcelain, environmental and non-toxic Ceramic, never worry about harmful toxins leaching into your food. These porcelain baking dishes set are suitable for all types of people, both for children and for the elderly,safe and healthy.Perfect compatible with cold & hot food without worry about chips, nicks, cracks and scratches. Available in five colors (Blue, White, Red, Orange and Green)
✔ CONVIENCE DESIGN - Features design with textured stripes and handle on both sides, making it easier for you to pick it up from the oven or freezer. Also, the nice color smooth surface and fluent lines, exquisite and decorative, make these baking dishes never get out of style and makes you more outstanding in food and impress your guests!
You can use ceramic ramekins, casserole dishes or bowls in an air fryer as long as they are "oven safe".
Ceramic dishes are typically durable, heat resistant and easy to clean. As well as being good conductors of heat to help to cook food evenly.
Pyrex Dishes
Pyrex is the brand name for a type of glass that is heat resistant. It is actually called borosilicate glass and is handy as it is see through which allows you to monitor your food as it is cooking.
Before using a glass dish in your air fryer, be sure it is borosilicate glass because standard glass is likely to shatter if exposed to extreme temperatures.
Air Fryer Accessory Sets
Air Fryer Accessory Set, 5piece Air Fryer Accessory Set, Cake Bucket, Pizza Pan, Metal Stand, Multi-Purpose Tilting Rack, Silicone Mat, Non-Stick Pan, Washable.
What you will receive: 5 pieces of air fryer accessories, 1 cake bucket, 1 pizza pan, 1 metal stand, 1 multipurpose tilting rack, 1 silicone mat, simple and practical for your air fryer's basic needs.
Quality materials: The air fryer accessories are made of stainless steel and food grade silicone, it is hard wearing, durable, rust free, safe and fast, heat resistant, enjoy cooking and they are easy to clean through the dishwasher.
There are several of these sets available, all of which typically consist of a cake bucket, a pizza pan, a metal rack, a metal stand and other useful utensils.
They are typically durable, dishwasher safe and heat resistant as well as being designed exclusively for use in an air fryer.
Silicone Oven Dishes
Silicone Pot Fits for Ninjas Dual Air Fryer, Air Fryer Accessories,2Pcs Replacement of Parchment Liner Paper, Basket (Black)
Waterproof & Oil-Proof & Non-Stick : Our reusable air fryer liners are made from high quality silicone material, it is waterproof, oil proof, non-stick bottom, and the raised edge of the air fryer liner protects the sides of the air fryer from food grease Splash, saves us cleaning time tremendously.
Reusable Silicone Material:Made of safe food grade silicone, non-stick, non-toxic, odorless, heat resistant up to 464°F (240°C), reusable, save money, better than disposable parchment
There are various size silicone dishes available for use in an air fryer. They are a great way to cook your food without getting the air fryer greasy.
They are made from top quality grease proof, waterproof, non-stick, non-toxic silicone. Silicone oven liners are also dishwasher safe too.
Disposable Liners
Sale
Made from reinforced baking paper (parchment paper) these liners are designed to fit into the basket of your air fryer.
They are quite versatile as they can be used in air fryers, microwave ovens and steamers and can withstand temperatures up to 220 C (428 F).
They are grease proof, waterproof and non-stick and can either be disposed of in your waste bin or in some areas they can be recycled (check with your local council).
SEE ALSO:
Frequently Asked Questions
Can you put metal takeaway containers in the air fryer?
You can put aluminium foil containers in an air fryer as long as you remove the cardboard lid first.
Can I put a cast iron pot in the air fryer?
You can put a cast iron pot in the air fryer as long as it does not have wooden or plastic handles as these are likely to melt under the intense heat produced in an air fryer. Also, be sure that the pot does not cover all of the perforations in the shelf or basket as this will prevent the hot air from flowing all around the food which will result in some of the food being undercooked whilst the rest is overcooked.
Can you put stainless steel in an air fryer?
You can put stainless steel in an air fryer as long as it is oven safe stainless steel. If stainless steel becomes too hot, it is likely to become discoloured.
Can I use my painted pot In my air fryer?
You should not put a painted pot in an air fryer because the paint could give off toxic fumes as it melts or burns due to the high heat produced in an air fryer.
Are there any metals that are not safe to use in an air fryer?
You should never use any pots, pans or utensils containing any of the following metals in an air fryer; Lead, pewter or zinc. As these could leach harmful chemicals into your food.