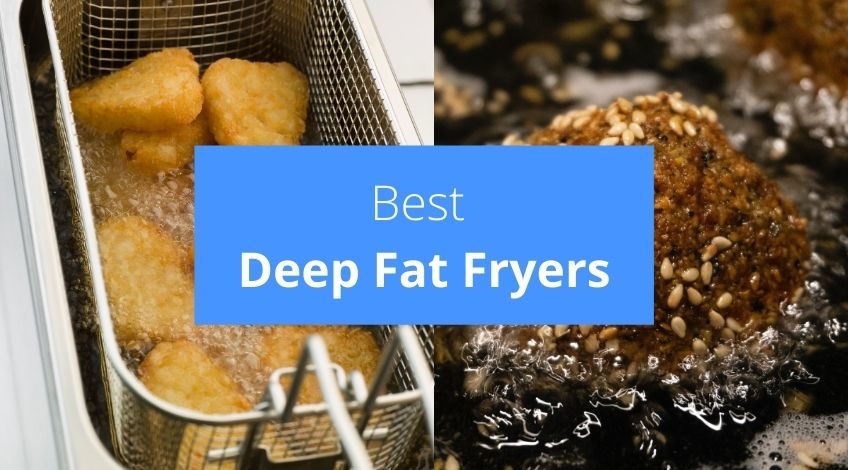 Last

Updated: Nov 2023
Best Deep Fat Fryers 2023
Back when we were young, the only way to get chips at home was in a chip pan. The chips tasted great but the pans were dangerous, large saucepans full of boiling oil, on an open stove. It sounds like a medieval torture, but the chips were wonderful.
Housewives always had a wet tea towel on standby in case the oil caught fire, and the house stank of fried food for days after chip night. Slowly over the years the chip pans disappeared, replaced by oven chips and air fryers. But nothing can beat the taste of home-made chips cooked in deep fat.
We don't have to reminisce anymore, because we can now buy a deep fat fryer. Not only can we cook chips in the old fashioned way, but modern deep fat fryers are a much safer way to cook them.
Best Selling Deep Fat Fryers UK
Sale
Bestseller No. 1
Swan 2.5 Litre Deep Fat Fryer with Viewing Window, Adjustable temperature controls, Easy Clean, 1800 W, Black, SD6080BLKN
A fully adjustable thermostat allows you to take complete control over your cooking, letting you adjust the temperature according to whatever it is that you may be cooking. An easy to use four gear temperature function is on hand making it simpler than ever to select the appropriate temperature, letting you create delicious dishes for the whole family in moments.
Great for cooking a wide variety of items, the Swan Square Fryer is an incredibly versatile cooking option. Creating deliciously crisp savoury items like onion rings, chips, fish or chicken, the fryer is also great when you want to experiment with something a little more exotic like spring rolls, samosas or crispy noodles. For those with a sweet tooth, the fryer makes sweet treats like doughnuts, fritters and churros quick and easy to create at home, ideal for curbing that dessert craving!
Sale
Bestseller No. 2
Breville VDF100 2000 W, 3 liters, Black, Stainless Steel
Deep Fat Fryer1L Capacity Stainless Steel 2000w Features Power (watts): 2000 watts Food Capacity (kg): 1Oil Capacity (litres): 3Colour: Brushed Stainless Steel Type Deep Fat Fryer Dimensions W x D x H510 x 245 x 230 mmWeight2. 6 Kg
Removable, immersed heating element
Sale
Bestseller No. 3
De'Longhi F 28533 - deep fryer - white
Surface coating:Non-stick coating
Special features:Easy clean system, rotating fry basket, programme ending audible signal, adjustable thermostat, cool-touch housing, removable lid, ex
Sale
Bestseller No. 4
Sale
Bestseller No. 5
Swan SD6040N 3 Litre Stainless Steel Deep Fat Fryer with Viewing Window and Safety Cut Out, Non-Slip, Easy Clean and Adjustable Temperature Control, 2000W, Silver
A FULLY ADJUSTABLE THERMOSTAT: with indicator lights to control temperature allows you to cook a whole variety of different foods perfectly, every time. With 7 different temperature functions, it's easier than ever to cook delicious foods for the whole family.
WITH AN INCREDIBLY GENEROUS 3 LITRE OIL CAPACITY: allowing for 1kg of food The Swan deep fat fryer is ideal for cooking large portions of all your favourite foods. From deliciously crisp chips and fries, croquettes, onion rings, tempura, fried chicken and battered fish, spring rolls and samosas, to tasty sweet desserts like doughnuts, churros and fruit fritters.
What Does A Deep Fat Fryer Do?
Deep fat fryers do just that, they fry food using deep fat, the same way the fast-food joints fry chips. So it's basically a container full of oil subjected to a heat source, that you lower a wire basket of food into. Close the lid, set the timer and temperature, and remove the food once it's cooked.
How Does A Deep Fat Fryer Work?
The fryer is filled with oil, which is heated to between 160 to 200 degrees C. Food is placed into a wire basket that's lowered into the oil. The hot oil drives any moisture out of the food, which causes the food to cook and creates bubbles in the oil.
Once the bubbles stop, which indicates the food has no moisture left, the food is removed from the oil, allowed to drain and the deep fat fryer is turned off. The oil remains hot for some time so never pour it out straight after cooking.
What Are The Benefits Of A Deep Fat Fryer?
The benefits of using a deep fat fryer are many, we've set them out in no particular order.
Fast cooking time
As the deep fat fryer has quite a large cooking capacity, you are able to cook a large quantity of chicken for instance, at least twice as much as you could fry in a pan at one time. Plus there's no need to turn the meat to cook either side, once it's immersed in the hot oil, it all cooks at once.
Easy to operate
All you do is fill the tank with oil, and allow it to heat up, it will alert you when it's ready to start cooking. You then just lower the basket full of food into the oil and it will fry it at the correct temperature for the correct amount of time. You just set the temperature, close the lid and it gets on with cooking automatically. No need to watch it, turn it, add more oil just walk away and leave it to get on with the cooking.
Uses less oil
When frying food in a pan, it's often necessary to add more oil, and once cooking is finished that oil has to be discarded. With a deep fat fryer, the oil gets filtered so it can be used on more than one occasion. Saving oil and money.
Safer frying
Cooking with hot oil is never 100% safe, but with a deep fat fryer, once the food is in the wire basket, you close the lid and leave it until it's cooked. There's no need to open the lid to check on the progress either, just peek through the viewing window. So no chance of hot oil splashing at you. Plus you can regulate the temperature so if things look a little too hot you are able to adjust the heat setting. If overheating did occur there is a warning light to notify you of any problems.
Crispier fried foods
Perfectly cooked food every time, chips, chicken, doughnuts and much more all cook crispy and taste delicious using a deep fat fryer.
Freedom from the stove
While the deep fat fryer is in operation, there's no need to be watching it, or turn the food etc. You are free to go and do whatever you want to. Once the food is cooked the deep fat fryer will turn off automatically and an alarm will notify you it's done.
No nasty smells hanging around
Fried food tastes great, but it leaves a nasty smell in the house for hours afterwards. Not so with a deep fat fryer. Deep fat fryers have odour filters to remove that unpleasant fried food/oil smell.
Easy to clean
Once finished cooking, most parts of the deep fat fryer are dishwasher safe, so even the washing up is easy. The outside surface can be wiped over with a damp cloth and that's all there is to it.
What Are The Disadvantages Of A Deep Fat Fryer?
In the interest of equilibrium let's look at the flip side of deep fat fryers now, there are a few disadvantages, and they are:
Nutrition loss
If oils are not heated to the correct temperature, the food will not lose all of its moisture, causing the food to be undercooked. This can also leach certain nutrients from the food. Plus if the oil is reused over and over, it can begin to break down and release carcinogenic compounds that can attach themselves to the food. These carcinogenic compounds can hinder the body from absorbing certain vitamins and nutrients.
Unhealthy
Depending on the type of fat used, deep frying can be unhealthy and lead to heart disease, strokes, obesity, diabetes and cancer.
Difficult to dispose of used cooking oil
Used cooking oil has to be disposed of responsibly, it can't be poured down the drain, or put out with the refuse. It should be taken to a recycling centre where it will be dealt with properly. In many cases, it's converted into biofuel.
Burn hazard
Although deep fat fryers are much safer than using open pans on stovetops, the oil is still extremely hot and can cause serious burn injuries. Also if oil catches fire it needs a non-water extinguisher to deal with it. Pouring water onto an oil fire will cause the flames to get higher.
Difficult to clean up
Even if you are using a deep fat fryer with dishwasher safe components, there is still the risk of oil spillage. This can be hard to clean up and dangerous if even a little is left on tile or linoleum floors. These surfaces remain very slippery for some time.
Deep Fat Fryer Buyers Guide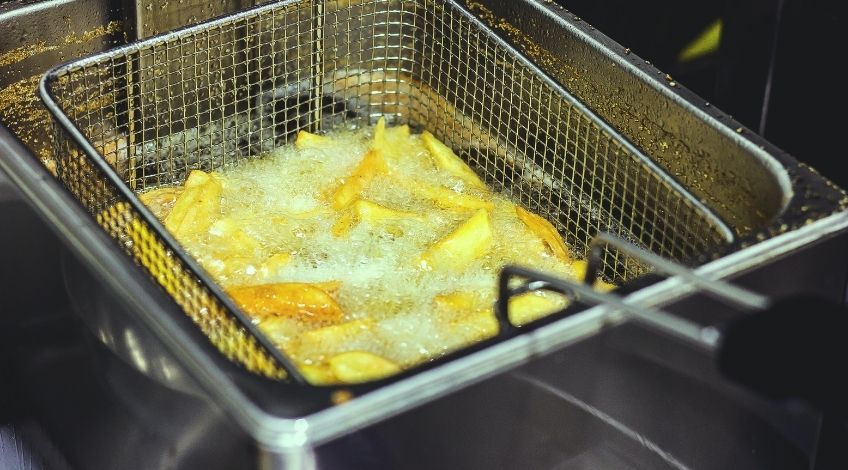 Before buying a deep fat fryer, there are some things that you should consider. Although they are relatively inexpensive, if the model you purchase doesn't meet your needs, it makes an expensive ornament.
Timer
Most models will have a thermostat to control the cooking temperature, but a timer is a useful feature to have.
Multi-Compartments
Some models have 2 or more wire baskets allowing you to cook more than one item at a time. This is handy if, for instance, you are cooking chicken and chips etc.
Foldable Baskets
These are handy for storage and cleaning, as are removable handles.
Capacity
Deep fat fryers come in different sizes from 1 to 4 people and more. The capacity is often listed as oil capacity, and range from 1 litre to around 3.5 litres of oil capacity.
Safety Features
Many models have features like insulated walls, cool-touch handles, lockable lids (handy if you have young children) and overheating cut out functions.
Food Capacity
Many models will have a maximum food capacity number as well. These can range anywhere between 800-grams and 2-kilograms of food. You might notice in the specifications something like capacity 3.5 litres and/or food capacity 1.2 litres.
Filters
Many deep fat fryers have oil filters to keep the oil fresher longer, minimising the need to replace the oil too often. Some have odour filters which prevent that frying/old oil smell permeating your home.
How Much The Deep Fat Fryer Cost
Deep fat fryers are relatively inexpensive with models starting at around £25 and top of the range models going for around £100. The more expensive they are, the more features come as standard. It's not so much about the capacity when it comes to price, you can expect to pay around £50 for a large capacity deep fat fryer.
Maintenance Requirements
As you might expect deep fat fryers need regular cleaning. So look for any labour saving features like removable lids, stainless-steel bowls or leak prevention if the unit is accidentally tipped or moved when full.
Brand
As with any electrical appliance, it's always best to buy a well-known brand from an established company. Their products are less likely to develop any faults but if they do, the company will probably have a decent customer service department to help you with the problem and also to honour any guarantee.
Warranty 
Any warranty is only as good as the company that issues it. That's why we recommend buying from a reputable retailer and purchasing a well-known make. The average warranty is 2-years, but some can be extended with the manufacturer.
Easy To Clean
Many models can be fully dismantled allowing for easy cleaning and many are supplied with dishwasher safe parts for even easier cleaning. Some have non-stick coatings for your convenience.
Weight
Deep fat fryers are surprisingly lightweight (when empty) many coming in at under 2kilograms. But remember every litre of liquid weighs 1 kilogram so it will be considerably heavier once you have filled it with oil.
Deep Fat Fryer Cost To Run 
Running costs depend on the wattage and the cost per unit of electricity charged by your provider. As a rough guide, a 1-litre 1000 watt deep fat fryer will use 1 kilowatt of energy per hour. If we take an average cost of 16 pence per kilowatt per hour (kW/h) our 1 litre 1000 watt model will cost 16 pence per hour to run. But many deep fat fryers can cook crispy fried chicken in 15 minutes so using our 1000 watt model that would cost 4 pence.
Where To Buy A Deep Fat fryer
In the UK deep fat fryers can be bought from Wilkinsons, Amazon, Argos, Currys, TJ Hughes, Robert Dyas, Lakeland, ASDA, AO.com, and many more reputable retailers.
Deep Fat Fryer Cooking Guide
Here's a handy guide for quick reference for cooking common foods in a deep fat fryer. You'll notice 2 temperatures, one is the oil temperature to cook in, and the other is the internal temperature of the cooked food (for safety).
| Food | Oil Cooking Temperature | Cooking Time | Internal Temperature Of Cooked Food |
| --- | --- | --- | --- |
| Chips | 160 C(325 F) And then 200 C (400 F) | First 3 to 4 minutes at 160 c and then another 4 minutes at 200 C | Not/Applicable (N/A) |
| Chicken wings | 190 C (375 F) | 8 to 10 minutes | 75 C (165 F) |
| Chicken strips | 175 C (350 F) | 3 to 5 minutes | 75 C (165 F) |
| Crispy fried chicken | 190 C (375 F) | 12 to 15 minutes | 75 C (165 F) |
| Turkey | 190 C (375 F) | 3 to 5 minutes per pound (500 G) | 75 C (165 F) |
| Onion rings | 190 C (375 F) | 2 to 4 minutes | N/A |
| Samosas | 175 C (350 F) | 8 to 10 minutes | N/A |
| Crisps | 190 C (375 F) | 8 to 10 minutes | N/A |
| Vegetables | 190 C (375 F) | 1 to 2 minutes | N/A |
| Battered fish  | 185 C (365 F) | 3 to 5 minutes | 62 C (145 F) |
| Doughnuts | 190 C (375 F) | 2 to 4 minutes | N/A |
All leftover foods should be refrigerated within 2 hours of deep frying, cooked foods left unrefrigerated for longer than 2 hours run an extremely high risk of bacterial growth.
What Type Of Oil Is Recommended For Deep Fat Fryers?
All cooking oils have a point where the oil breaks down leaving a foul taste and/or smell. This is commonly known as the "smoke point". The smoke point is the temperature at which the oil stops working and begins to burn. Hence the name and the taste/smell. Many oils have been discovered to have high smoke points and some of them are listed below with their relevant smoke point.
| Oil Type | Smoke Point – Average Temperature |
| --- | --- |
| Walnut oil | 160 C (320 F) |
| Corn oil | 210 C (410 F) |
| Olive oil | 210 C (410 F) |
| Sesame seed oil | 210 C (410 F) |
| Sunflower oil | 210 C (410 F) |
| Rapeseed oil | 220 C (435 F) |
| Grapeseed oil | 230 F (445 F) |
| Soybean oil | 232 C (450 F) |
| Peanut oil | 232 C (450 F) |
The above are approximate average smoke points and should be treated as the absolute maximum temperatures.
Frequently Asked Questions
Is it worth buying a deep fat fryer?
It is worth buying a deep fat fryer if you want to cook crunchy chip shop style chips in your own home.
Are deep fat fryers healthy?
Deep fat fryers are not particularly healthy, but as a once a week treat they are fine.
Does a deep fryer use a lot of electricity?
A deep fat fryer doesn't use a lot of electricity, a 1000 watt deep fat fryer takes around 15 minutes to cook crispy fried chicken and this will cost an average of 4 pence to cook.
How often should you change deep fat fryer oil?
You should change the oil in a deep fat fryer every 8 uses for non-breaded foods and every 4 uses for breaded or fatty meats and fish.
Is rapeseed oil healthier than vegetable oil?
Rapeseed oil is healthier than vegetable oil because it contains less saturated fat than vegetable oil.