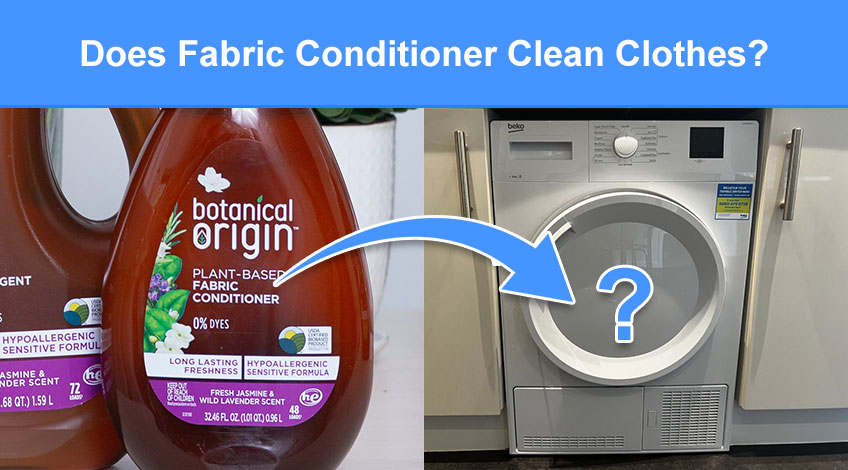 Does Fabric Conditioner Clean Clothes? (what does it do)
We pretty much rely on our washing machines nowadays to get our clothes looking and feeling clean and fresh. Sometimes, many items can become hard and scratchy especially if they're washed regularly. Which is when we start to think about fabric conditioners.
But have you ever wondered what a fabric conditioner actually does? And does it clean clothes? If these are questions you've had, keep reading.
Do Fabric Conditioners Clean Clothes?
Fabric conditioners and fabric softeners, which are different names for the same thing, do not clean clothes. That's not what they're designed for. Fabric conditioners are designed to soften fabrics and make them smell nice. 
Think of a fabric conditioner like a hair conditioner, you still need shampoo to wash your hair, but a conditioner will keep it tangle free. That's exactly the same thing a fabric conditioner does to the fibres that make up your clothes… 
It detangles them which helps to reduce the abrasive action found when clothes rub together in the drum of the washing machine.
This all helps to prevent your clothes from wearing out too quickly and makes them feel softer as well as smelling nice too.
What Are The Pros & Cons of Fabric Conditioners?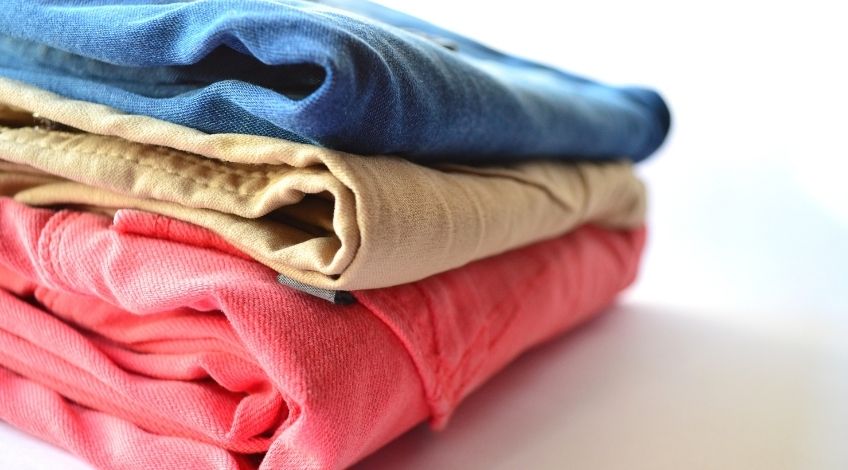 There are several pros & cons when it comes to fabric conditioners, let's start with the pros.
The Benefits Of Fabric Conditioners
The benefits of using a fabric conditioner include;
Keeps fabrics Soft
The primary function of a fabric conditioner is to soften the fabric. Making it feel soft against your skin.
Reduces static
As the fibres of the clothes are coated in a type of lubricant, there is less friction as they rotate in the drum which leads to less static buildup.
Keeps clothes colourfast
Using a fabric conditioner is said to lock in colours and maintain the brightness of your clothes.
Prevents creases
As the fabric is more relaxed it is less likely to crease or wrinkle.
Reduces shrinkage
The clothes are less likely to shrink because the fabric conditioner gives the clothes the ability to stretch more.
The Disadvantages Of Fabric Conditioners
The disadvantages of using a fabric conditioner include;
Can cause allergic reactions
Many of the chemicals used to create the fragrance of the conditioner can trigger allergic reactions as can many of the dyes and preservatives used to make fabric conditioners.
Can cause pollution
Many of the chemicals used to make fabric conditioners can cause harm to aquatic life.
Bad for the environment
Many of the chemicals used in fabric conditioners are not biodegradable. This means they will not break down for many years. This can be detrimental to the environment.
Can damage certain fabrics
There are certain fabrics like; cashmere, wool, swimming costumes, microfibres, towelling and down filled items that can be damaged by fabric conditioners.
Not good for towels
Using a fabric conditioner on towels can feel great but over time it makes the towel less absorbent.
Can prevent clothes from cleaning
Regular use of fabric conditioners leads to a buildup on clothes which can prevent the items from absorbing water. Clothes get washed by absorbing water to release the dirt particles. If the clothes cannot absorb water they cannot get clean.
Where Should You Put Fabric Conditioner?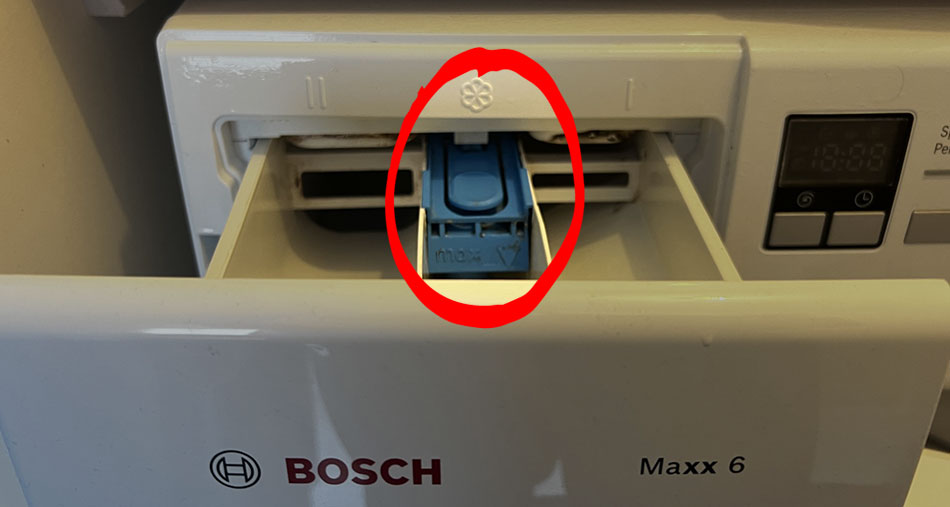 If you decide you want to use a fabric conditioner in your washing machine, it needs to be put in the right place, at the right time. You should always add fabric conditioner at the start of the wash cycle, when you add the detergent.
In the detergent dispenser drawer you'll see a compartment that has a flower symbol, this is the fabric conditioner dispenser. If your machine doesn't have the flower symbol consult your washing machine's hand book for more instructions.
Can You Use Fabric Conditioner Instead Of Detergent?
You should never use a fabric conditioner instead of detergent because detergents contain certain enzymes that ensure that your laundry is clean. These enzymes are not present in fabric conditioners.
Although fabric conditioner might make clothes smell fresh, they will not be clean just by using a fabric conditioner.
When Should You Not Use Fabric Conditioner?
As we said earlier, it's not necessary to use a fabric conditioner as it doesn't clean clothes. With that said many of us like to soften our clothes and using a fabric softener (conditioner) is a good way to do this.
However, there are certain fabrics and types of laundry items that can become damaged when using a fabric conditioner. These Include;
Wool
Silk
Linen
Newborn Clothes
Swimwear
Sportswear
Down or Feather Filled Coats
It's also not a good idea to use a fabric softener every time you wash towels either. This is because the conditioner coats the fibres making them less able to absorb moisture. Towels that don't absorb moisture are pretty useless so you should limit the use of fabric conditioner on towels to at least every other wash.
How To Make Clothes Smell Good Without Using A Fabric Conditioner
There's no denying it, using a fabric conditioner does make clothes smell great. However, there are other ways to make clothes smell good without resorting to the use of a fabric conditioner. These include;
Essential Oils
Sale
SALKING Essential Oils Set, 100% Pure Fragrance Oil AromatherapyGift, Premium Scented Oils for Diffusers 6 x 10 ML - Lavender, Rose, Jasmine, Cherry Blossom, Gardenia, Chamomile
✅ Premium Floral Essential Oils Set - This essential oil gift set is a collection of the 6 most popular scents that include lavender, rose, cherry blossom, gardenia, chamomile, and jasmine essential oils. Extracted from natural plant, nothing added. We offer the purest form of essential oils that you can find. Diffuser this collection in your home to enjoy the Intensely floral scent and a soothing aromatic experience.
✅ Aromatherapy - Add a few drops to your diffuser, vaporizer, or humidifiers, then you get an Intense and long-lasting fragrance. Whether you adore notes of aromatherapy or want to put some pep in your step, this set is a fruitful pick. Diffusing our floral essential oils at home, turning your entire space into a garden oasis. Each scent and method will unlock your senses in its own special way.
All you need to do is add a few drops of your favourite essential oils in a spray bottle with water. Then spray the clothes before washing.
This can also be done with rose or lavender water just spray before washing in the machine.
A Good Detergent
There are many decent detergents on the market all of which have a great fragrance. These include;
Fairy Non-Bio
This product is non-biological and is better for the environment and will help to prevent any skin allergies.
Ariel
This product will clean your clothes and make them smell great too. It's very popular in the UK, and for good reason!
Persil
This product smells great and gives outstanding cleaning power even at low temperatures.
How To Soften Clothes Without Using Fabric Conditioner
Using a decent detergent on your laundry is often enough to get the clothes clean and smelling great. But sometimes they need some extra softness. Try the following;
White Vinegar
Sale
There are a few ways to add white vinegar to the wash load to soften the clothes up. You can either;
Spray white vinegar onto a tea towel and add this in with your wash.
Add ½ cup of white vinegar into the rinse cycle.
You should check that the clothes will not become damaged by using vinegar and only ever use white vinegar, as regular vinegar will stain clothes.
Bicarbonate Of Soda
Grow Chem Baking Soda, Sodium Bicarbonate (5kg Bucket) UK MADE Pure Baking Soda for ECO Friendly Cleaning, Baking, Bath Bombs, Odour Removal and Teeth Cleaning
ECO-FRIENDLY: Sodium Bicarbonate / Baking Soda is one of the top eco-friendly , safe and inexpensive cleaning, baking and household products available.
CLEANING: Baking Soda is particularly useful in food preparation, cleaning surfaces, ovens, grills, microwaves and fridges whilst also deodorising and freshening without leaving any harsh chemical smells.
Simply add ½ cup of bicarbonate of soda to the wash cycle to soften the water and the fabric.
Do We Need Fabric Conditioners?
Fabric conditioners are unnecessary for getting our clothes clean. But they can make some clothes feel softer and less scratchy. Having said that, there are many types of laundry that should not be treated with a fabric conditioner.
Towels for example can be made useless by a buildup of fabric conditioner. Although fabric conditioners have their place in the wash, they're not needed, they're not really necessary and they can cause damage to some clothes.
SEE ALSO: 
Frequently Asked Questions
Can I wash clothes with just a fabric conditioner?
You should not wash clothes with just a fabric conditioner. Fabric conditioners make clothes smell clean and fresh but they do not have the necessary enzymes to clean your clothes properly.
When should you not use fabric conditioner?
You should not use a fabric conditioner for down or feather filled coats or sleeping bags, swimwear, sportswear, microfibre or newborn baby clothes.
What happens if you wash your clothes with only fabric softener?
If you wash your clothes with only fabric conditioner, they will smell fresh but they won't be clean. Fabric conditioners do not contain the cleaning agents and enzymes that detergents do to get clothes clean.