Last

Updated: Oct 2023
Best Electric Log Burner 2023
Nothing looks as inviting and cosy as a log burning stove. They cost a substantial amount of money to buy and install, plus the logs can prove to be expensive too. Electric log burners give the effect of logs burning without the mess, cost or fuss of installing a log burning stove. 
No chimney to clean, no ash to clear every morning, plus they're portable too. Any room in the house can have that log fire feeling at the flick of a switch. Also, did you know in some areas of the UK it's illegal to burn a log fire? So buying an electric log fire gives you that cosy glow, the warmth but none of the hassle and it's completely legal.
Best Selling Electric Log Burners UK
Sale
Bestseller No. 1
Bestseller No. 2
Bestseller No. 3
Bestseller No. 4
Sale
Bestseller No. 5
How Does An Electric Log Burner Work?
Electric log fires work in one of 2 ways, they are:
Fan heaters
Fan heaters work by sending an electric current through a metal coil that heats up and a fan blows that heat into the room. They often have 2 different heat settings and 2 fan speeds to increase/decrease the heat.
Infrared fires
These work by emitting invisible rays of light that heat up any object they touch. This does mean that unless you are directly in front of the infrared fire, you won't feel any heat at all.
How About The Flames?
The flame effect from an electric fire is produced in any number of ways. Some have a video displaying onto a screen set in the fire itself, others use light bulbs that have their light refracted and this looks like flames. Some even use a mist of water to look like smoke.  The least convincing-looking of all are the ones that use a ribbon flapping in a breeze that's supposed to look like flames dancing.
What Are The Advantages Of An Electric Log Fire?
There are a few advantages to buying an electric log burner here they are in no particular order:
Instant Heat At The Touch Of A Button
Unlike a real log burner that takes ages to fill and then light the fire, wait for the logs to catch and then it eventually throws out some heat. Electric log burners produce heat from the instant they are turned on. Even the smallest electric log burner can heat an average size room in minutes.
No Messy Or Costly Installation 
To fit an electric log fire, all you need is a plug socket. No chimney, no vents, no planning permission no one walking all over your roof, and no mess.
Smoke-Free Heat
Unlike log burners, electric log fires don't produce any smoke either outdoors or leaking into the room. No need to worry about carbon monoxide poisoning, or carbon dioxide emissions with an electric log burner.
Heat Any Room
As they are portable, they can be installed in any room in the house. As long as there is a power socket you can have an electric log burner running in the room in seconds.
Cool The Room Quickly
With a log burning stove, once it's hot it's going to stay hot for quite a while. Electric log burners can be switched off and the room will cool in no time. Many modern electric log burners have thermostats to control the temperature with greater efficiency.
No Need For Messy Log Piles In The House
Even though some electric log burners use real logs for effect, they don't get burnt. So there's no need to replace them. That means no log pile indoors or out.
Are There Any Disadvantages To Electric Log Burners?
The only disadvantages are running costs that are probably more expensive than if you owned a forest and the noise of the fans. Apart from that, it's all pretty much plain sailing.
How Much Does It Cost To Run An Electric Log Fire?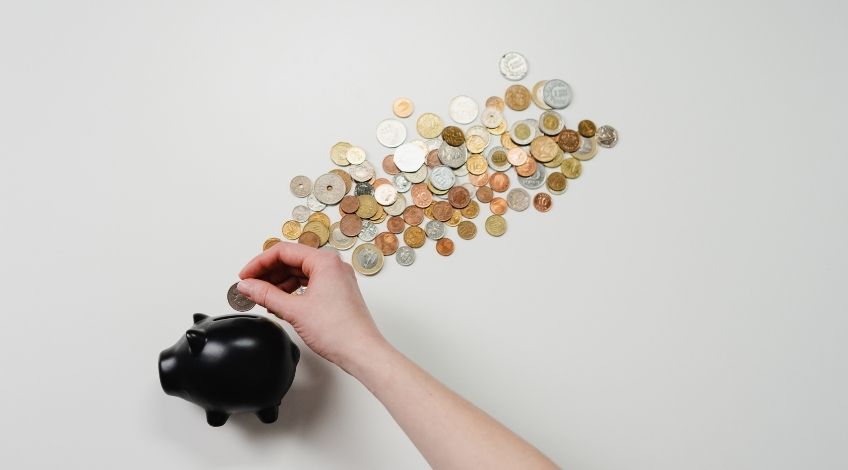 Here in the UK, a unit of electricity costs more than a unit of gas, the average price of a unit of electricity costs around 17.78 pence per KW/h whereas that same unit of gas will cost you 4.5 pence per KW/h. So on the face of it, the log fire is going to cost more than a gas fire, but you don't have the log fire on all day.
Let's look at how much it costs to run an electric log burner, depending on the total wattage.
| Total Wattage | Electricity costs per hour | Electricity costs per day (6 hours) |
| --- | --- | --- |
| 500 Watts | 8.89 pence | 53 pence |
| 1 Kilowatt (1000 watts) | 17.78 pence | £1.07 |
| 1.5 Kilowatts (1500 watts) | 26.67 pence | £ 1.60 |
| 2  kilowatts (2000 watts) | 35.56 pence | £2.13 |
| 3 kilowatts (3000 watts) | 53.34 pence | £3.20 |
How To Calculate The Size Of Electric Log Fire You Need
This takes a little bit of brainpower, but it's really simple once you get your head around it. You need to work out the total area of the room you want to heat, to get this all you do is multiply the length by the width, this gives you the area in square feet. 
Now the general rule is 10 watts of power for every square foot of room space, so a room with a total area of 50 square foot will need a 500-watt heater. So let's look at the calculation. Say your room is 10 foot long and 12-foot wide, that gives us an equation of  10 x 12 = 120 That's 120 square feet to see how powerful the heater needs to be, just multiply by 10.  120 x 10 = 1200
That's 1200 watts or if you then divide that wattage by 1000 you get the kilowatt figure.
That sounds a bit much, let's break it down, firstly get the area of the room by multiplying the total length by the total width, then multiply that total by 10 to see how many watts you need to heat it. Then divide that total by 1000 to get the kilowatts. Why do we need kilowatts? Because that's how electricity companies charge for their power. So the equation would look like this:
10 x 12 x 10 = 1200 watts or 1200 ÷ 1000 = 1.2 Kilowatts
 Length X Width X 10 = 1200 watts    
Just to add even more confusion into the mix, some companies don't quote kilowatts or watts, they quote British Thermal Units (BTUs) if you encounter BTUs don't worry just divide the BTU figure by 3.41 to get the value in watts.
5000 BTU ÷3.41 = 1466.27 
Which we'd round up to the next available wattage which is in this case 1500.
Electric Log Burner Buyers Guide
There are a few points to consider before buying an electric log burning fire, let's have a look at them in no particular order.
Type Of Log Burning Fire
There are 3 types to consider the most common are:
 The free-standing fire
These are the most popular type because of their easy portability and movement. They can be placed in any room with a plug socket. 
Wall-Mounted Log Burning Electric Fire
These are secured to the wall so lose the flexibility of room to room movability. However, they usually have a modern look that some find more appealing than the traditional style of the free-standing models.
The "suite" (or fireplace) fire
These are fitted into a fake fireplace including a mantlepiece above the fire. Also fixed into position so can only be used in that one room, they sometimes look the best overall due to the traditional fireplace.
Timer
This function is useful if you're coming home late and want the room to look welcoming and warm as soon as you walk in. Or maybe you like to doze in front of the fire but don't need it on all night.
Lights Only Function
This is useful when it's mild but you want the ambience of a log fire in the room. Also handy once the room reaches the temperature you want but still like to see the logs burning.
Remote Control
If you happen to be sitting away from the fire, and it turns colder all of a sudden, you can increase the heat setting. Or even just turn the heater on from the comfort of your armchair.
Real Fire Effect
Some electric log burning fires are more realistic looking than others. Check before you buy to avoid disappointment.
Noise Level
Not all electric log burners are equal when it comes to operating noise levels. Some sound like whispers, others are more like shouting, check the decibel level before making your final decision.
Various Lighting Options
Some come with this option, you can set the mood with up to 13 different mood lighting options. Some only have one.
Realist Electric Log Burner Effect
Some actually use real logs, others use just an image and some have a 3 D effect to appear life-like. There are even models that have a video playing with realistic sounds too. But some sadly look fake choose wisely.
Overall Design
Some log burning electric fires have a sleek modern design. Others are more traditional looking and some are downright old fashioned. Whatever style you like, you'll be able to find an electric log burning stove to provide the look you want.
Size
Some models are larger than others, for instance, if you have a fireplace that's particularly small you might struggle to find a model short enough but there are short models available and tall models too.
Power
Most electric log burning stoves/fires come in a range of wattage sizes starting at around 800 watts and rising to 2500 watts. So depending on the size of your room, you will definitely find one that will heat the room sufficiently.
Energy-Efficiency
Many electric log burning stoves boast their green credentials but be wary of any outlandish claims – if it sounds too good to be true, it probably is too good to be true.
Electric Log Burning Stove Price
You will probably have a budget, and there will definitely be a log fire to fit into that budget. They tend to start at around £23 for a single function, 1 Kw plus remote control and rise to around £4000 for a 3 D realistic flame, log fireplace with mantlepiece and remote control. With many mid-range priced models available, there will be something to suit everyone's budget.
Weight
As many models are sold as portable, check the weight before you buy to be sure you can carry it without a struggle.
Brand
All electrical appliances should be purchased from a reputable retailer and made by a recognised brand. Buying electrical goods from a  well-established and respected company might cost slightly more, but it's cheaper in the long run. Not only will their products be more reliable, but if you do get a problem, they are more likely to have a decent customer service department.
Warranty
Any guarantee or warranty is only as good as the company that issues it. That's why we always recommend buying from a well-known brand. It's no good getting a cheap model with a 3-year warranty from an unheard of company that will probably not be around in 3 months never mind 3 years.
Frequently Asked Questions
Are electric log burners expensive to run?
Electric log burners are more expensive to run than say gas central heating, but as they are not on for as long, and they are energy efficient, that price balances out.
Do electric fireplaces look fake?
Some electric fireplaces look fake, but there are an increasing amount that look pretty realistic too.
Are log burners bad for your health?
Log burners triple the harmful chemical levels in your home, and should not be used where there are children.
Are electric fireplaces worth it?
Electric fireplaces are worth it if you want a realistic-looking fire, that heats up quickly without putting any harmful chemicals into the room.
Will log burners be banned?
Log burner owners will be banned from using wet wood and coal under new British government legislation.
Can you get carbon monoxide poisoning from a log burner?
You can get carbon monoxide poisoning from a log burner, but not from an electric log burner.
Where Can You Buy An Electric Log Burning Fire?
Many hardware stores and retailers sell electric wood burners including, AO.com, Amazon, Argos, Wayfair.co.uk, Dunelm, Robert Dyas, and many more. It's well worth taking the time to compare prices as some models have remarkably different prices depending on where you shop.