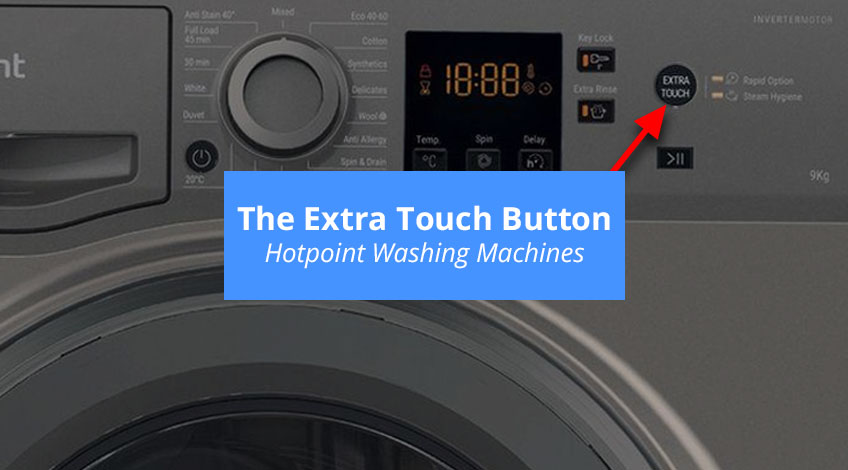 What Is The Extra Touch Button On Hotpoint Washing Machines?
With so many features promoted on modern day washing machines, it can be hard to know what they all mean and whether they're worth getting excited about. One of those features you may have seen is the Extra Touch Button.
To be clear, we're referring to the Extra Touch Button on Hotpoint washing machines like these that feature the button.
And so in this article we're going to look at what it is, how to use it and whether it's any good.
What Does The Extra Touch Button Do?
The Extra Touch button on Hotpoint washing machines is a button you can press that provides added customisation options to your laundry cycles. By pressing this button, you can access two key features:
Rapid Option (press once)
Pressing the Extra Touch button once activates the Rapid Option. This feature allows you to reduce the duration of your wash cycle by up to 50%
Steam Hygiene (press twice)
To activate the Steam Hygiene function, simply press the Extra Touch button twice. This initiates a 20-minute steam cycle that helps eliminate up to 99.9% of the most common bacteria from your laundry.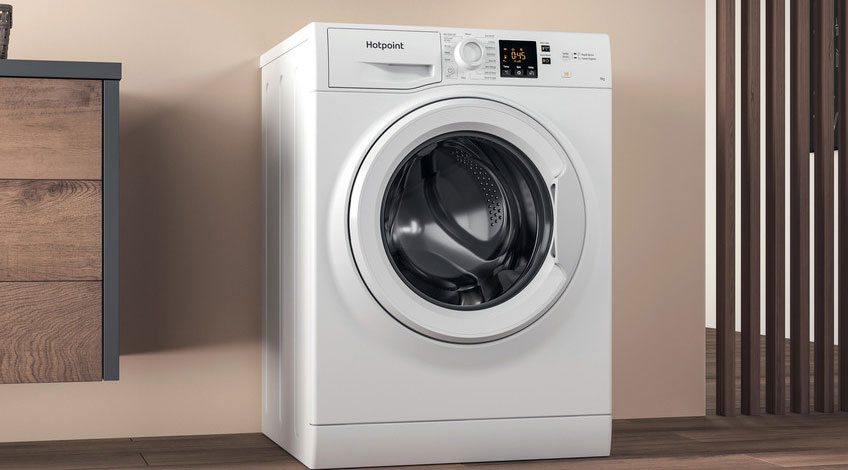 What Is The Rapid Option?
The Rapid Option lets you reduce the length of the wash cycle by up to 50%, while still giving you great washing results. It's perfect for those moments when you're in a hurry and need a shirt done quickly – you can just press the Extra Touch button once and you'll get it done in around half the time.
This gives you a lot more flexibility, allowing you to adapt the washing program to suit your individual preferences.
What Is The Steam Hygiene Option?
The Steam Hygiene option uses steam to deeply clean your laundry and eliminates bacteria.
During the washing cycle, steam is injected into the drum, effectively removing up to 99.9% of bacteria and viruses without the need for chemical additives.
And all you have to do is press the Extra Touch button twice to activate it.
SEE ALSO: What Is Steam Hygiene & Steam Refresh On Hotpoint Washing Machines?
Is It Hard To Use The Extra Touch Button?
This might seem like a silly topic to cover (is it hard to press a button), but we thought it's worth pointing out that Hotpoint washers with the extra touch button really aren't that complicated to use.
Some competing washing machines can get a little bit confusing to navigate but with this particular button, it really is as simple as press it once and you've selected the rapid option, which it'll show you on the display.
And press it twice and you've selected the steam hygiene option, which it will also show you on the display.
That's pretty easy in our eyes.
Is The Extra Touch Button Worth Getting Excited About?
In our opinion it is a pretty good feature to have on your washer as it helps speed up your laundry and gives you the ability to get a really good, hygienic clean wash quickly.
There's a lot of good brands out there but one of the things we like about Hotpoint is that they're not usually too expensive. And to be able to get these functions on a fairly priced washer is certainly something we get excited about.
What Do You Think?
Is the Extra touch Button worth it to you? Let us know in the comments! And if you're looking for help finding the best Hotpoint washers, check out our article here.