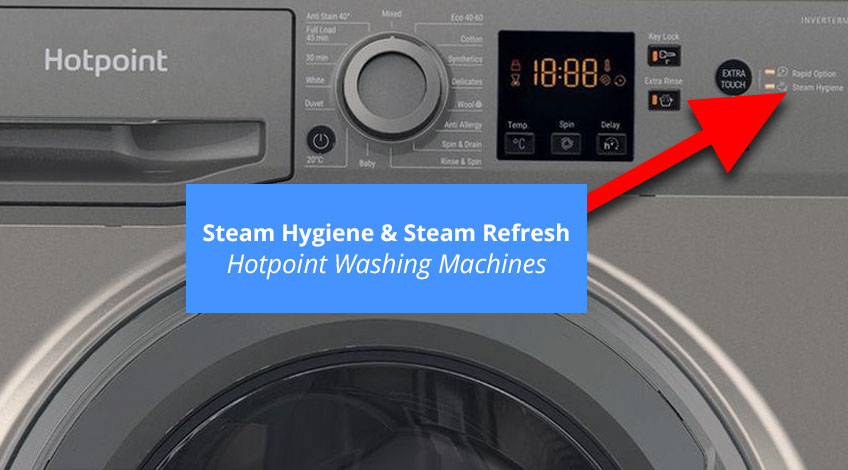 What Is Steam Hygiene & Steam Refresh On Hotpoint Washing Machines?
Extra Touch, Steam Hygiene, Steam Refresh, Rapid Mode – there's so many terms you need to know when buying a washing machine now days that it can get a bit overwhelming.
Well if you're wondering what these steam related terms mean on Hotpoint washers like these ones, this article is here to help!
What Is Steam Hygiene?
The Steam Hygiene cycle on Hotpoint washing machines uses the power of steam to provide thorough cleaning and eliminate common bacteria from your laundry.
It works by injecting steam into the drum at the end of the washing cycle. This steam penetrates deep into the fabrics, effectively removing up to 99.9% of the most common bacteria and viruses.
And the best part is that this process doesn't require the use of any chemical additives, giving you a natural and hygienic clean that's not going to irritate your skin.
By choosing a compatible program and selecting the 'Steam Hygiene' option, you can enhance the washing performance and ensure that your clothes are not only clean but also free from harmful bacteria.
It is important to note that the steam generated during the operation of the washing machine may cause the porthole door to become hazy. This is a normal occurrence and doesn't affect the overall performance or hygiene of the machine.
This feature is endorsed by Allergy UK, which should give you a bit of confidence in its effectiveness.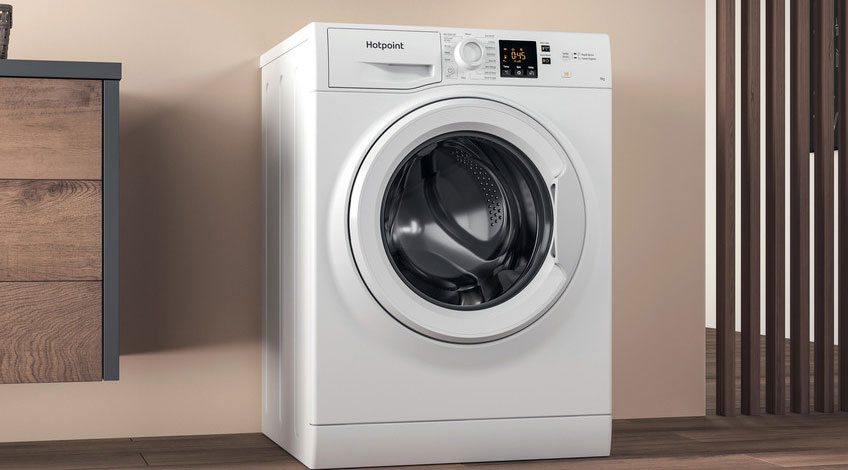 What Is Steam Refresh?
Another convenient feature offered by Hotpoint washing machines is Steam Refresh. This cycle allows you to freshen your clothes without the need for a full wash, saving you time and energy.
It's especially useful when you want to remove odours or reduce wrinkles from lightly worn garments, but don't feel it justifies a full wash.
The Steam Refresh cycle is designed to be quick, taking just 20 minutes to complete. During this cycle, steam is released into the drum, penetrating the fabric and making it slightly damp. This dampness helps reduce creases – making ironing easier and more efficient.
After you've ran a quick steam refresh cycle, you can simply hang the slightly damp garments out to dry for a while – and you'll be amazed at the results.
This is a very convenient option for those times when you want to refresh your clothes quickly without going through the full washing process.
Note: you do not need to add any softeners or detergents during this cycle, and it's also not suitable for wool or silk garments.
Are The Hotpoint Steam Features Worth It?
The steam features on Hotpoint washers are very good and something we'd certainly say to go for if you can since they provide you with the tools to make your laundry routine easier, while ensuring that your clothes are fresh and hygienically clean.
The Steam Hygiene harnesses the power of steam to remove up to 99.9% of bacteria and viruses, without the use of chemical additives.
And the Steam Refresh offers a quick and efficient way to freshen your clothes, reducing wrinkles and odours in just 20 minutes.
But What Do You Think?
Is Steam Refresh & Steam Hygiene worth it? Let us know in the comments below!
And if you're looking for a guide to Hotpoint washers, check out our page here.
Thanks for reading.