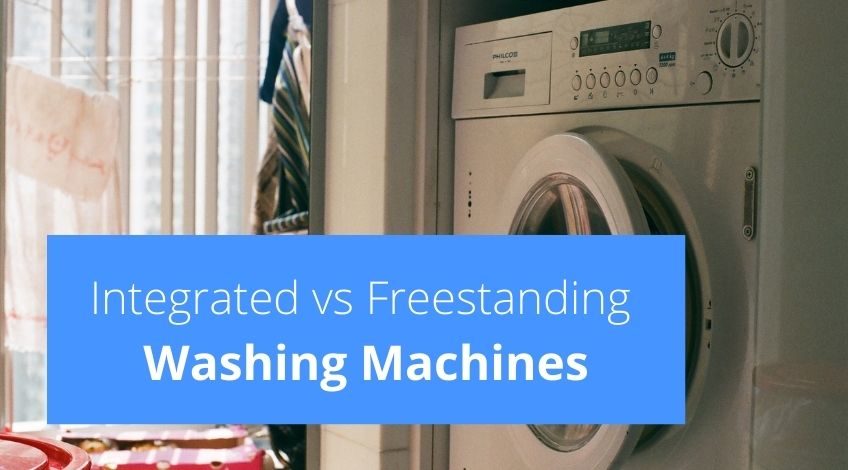 Integrated vs Freestanding Washing Machines
What's the difference between a freestanding washing machine and an integrated washing machine? A freestanding machine can be placed anywhere, has a larger load capacity and higher spin speed. An integrated washing machine is designed to hide in a cupboard, to make that possible it has to be designed smaller. A smaller base to facilitate the smooth line of the plinth on the cupboards and less depth to stop from protruding into the room. 
By making the integrated machine smaller, it is necessary to lose some functionality, smaller wash loads and lower spin speeds are the main  casualties but they do fit into a small space and keep everything neat and tidy.
Integrated Washing Machines Are:
Able To Fit Into A Fitted Kitchen
Integrated washing machines are designed to sit behind the door of a standard kitchen cupboard. This keeps the kitchen looking uniform with sleek lines and uniform designs.
Quieter Than Freestanding Washing Machines
As integrated machines are smaller, they are quieter by design, having a closed cupboard door and a cupboard encasing them dampens the sound down even further.
Allows A Uniform Floor Space In The Kitchen
As they are designed to fit into the cupboard the machine will not protrude into the room and take up floor space.
Bestseller No. 1
Sale
Bestseller No. 2
Sale
Bestseller No. 3
Hoover H-WASH HBWS 49D3ACBE/80 9Kg 1400 Rpm Integrated Washing Machine, Quick Wash, Eco Wash, Black with Chrome door
The Hoover HBWS 49D3ACBE comes packed with programs to make washing your clothes effortless. Perfect for a medium household, this machine comes with a 9kg load capacity and a 1400 spin speed. There are 16 wash cycles to choose from, including a 14-minute quick wash. Variable spin and temperature settings allow you to adjust the spin speed and temperature on all cycles to suit the load. This machine also comes with the option to delay the cycle start time for up to 24 hours.
This Hoover washing machine comes with a Hygiene cycle. This programme washes at 60C, clearing any bacteria or dirt from your clothing. The additional use of water ensures a full and thorough clean. And with Hoover's All in One technology, you can wash different fabrics and colours together on a quick wash or low temperature wash, without the worry of the colours running!
Choose the most suitable programme for your wash and the KG detector will adjust the amount of water and lathering based on your wash load and type of fabric selected, so you always get the best, most efficient wash. With our machines, a half-load can require up to 70% less water, time and electricity!
This appliance has a number of quick wash programmes under 60 minutes, (14, 30 and 44 minutes), which ensure that your clothes are thoroughly cleaned in the quickest time possible. With 3 different rapid washes available you are able to quickly clean lightly soiled clothes in a fraction of time of a standard wash cycle.
With a delay start the laundry will be ready just when you want it. It allows you to programme the start of the washing cycle with a maximum delay of 24 hours. No more worries of unpleasant odours created by wet laundry that has been left inside the machine.
What's Better Integrated Or Freestanding?
This depends on your preference, the size of your home, and to some extent your budget. If you live in a small flat, studio flat, bedsit, or small apartment and space is at a premium, an integrated washing machine will probably be the best choice for you. If you have more space then you'll probably be better off with a freestanding machine. Let's look at the comparisons between the 2 and take it from there.
There is really no contest here, freestanding washing machines win on every comparison test. Let's look at the advantages of a Freestanding washing machine. 
Freestanding Washing Machines Are:
Cheaper To Buy
We have found that the average freestanding machine is about £120 cheaper than an integrated model on average.
Hold More Washing
The largest capacity integrated machine is around 8 kg, whereas freestanding models have a capacity of around 12 kg.
Easier To Install
It is far easier to access the pipe work on a freestanding machine than on an integrated model.
Easily Transported
If you were to move it is easier to remove a freestanding machine and take it with you, than scrabbling around in a kitchen cupboard feeling for pipes etc.
Much More Choice
There are 80% more freestanding models available than integrated machines. Most companies make 1 or 2 integrated washing machines but those same companies will make 5 or sometimes upto 8 freestanding models.
Sale
Bestseller No. 1
Midea MF10EW70B Energy-Saving Freestanding Washing Machine, BLDC Motor, Bright LED Display, Steam Care, Quick Wash, Various temp options, Prewash, 1400RPM, 7kg load, White
【Steam care】 improve the cleanliness of laundry by removing up to 99.9% of bacteria and odours, and reduces wrinkles too!
【Cold-water wash】decreases colour-fading, protects clothes fabric and saves energy
【Various temp options】The 4 temp options (Cold, 20℃, 40℃, & 60℃) enable you to wash a variety or different clothing materials worry-free to keep them looking brand new!
【Prewash function】an additional extra wash is added to the cycle to clean heavier stains.
【Quick wash】15min & 45min quick wash options get your clothes washed when you are in a hurry, saving time and energy.
Bestseller No. 2
Bosch WAU28T64GB Serie 6 Freestanding Washing Machine with AllergyPlus, Drum Clean and SpeedPerfect, 9kg load, 1400rpm spin, White, Decibel rating: 72, EU Acoustic Class: A
Decibel rating: 72, EU Acoustic Class: A
EcoSilence Drive: Delivering an efficient cleaning performance, by using the EcoSilence Drive for a powerful and quiet wash cycle, with a 10 year guarantee.
SpeedPerfect: takes 65% less time or uses 50% less energy – delivers total flexibility
Reload Function: Flexibility in adding laundry items into the drum, even after the wash cycle has started.
AllergyPlus: specially developed for the needs of allergy sufferers and sensitive skin.
Bestseller No. 3
Hotpoint 8kg 1400rpm Freestanding Washing Machine - Graphite
8kg drum capacity means it'll easily tackle the laundry pile in a medium-sized household
D energy rating means it's the least efficient that's currently available, but it's better for the environment than many older models
Thanks to its maximum spin speed of 1400RPM, you'll never be waiting too long for items to dry
Take your pick from 16 programmes, so you'll always find one that'll care for the fabrics you're washing
This model's measurements are 850 (H) x 595 (W) x 605 (D) (cm) – so make sure you size up before buying
With all that said, if it's integrated or nothing, then an integrated machine will do the job.
Some people prefer the fact that everything is hidden from view and so even if they had the space they would still go for an integrated machine.
Ultimately the choice is yours unless your apartment is too small to house a freestanding washing machine.
Frequently Asked Questions
Are integrated appliances a good idea?
Integrated appliances are a good idea if space is at a premium or if you prefer a minimalist lifestyle.
How do I stop my integrated washing machine moving?
Be sure the floor and the washing machine are level if they are, try adding non-slip anti-vibration pads to the feet of the machine.