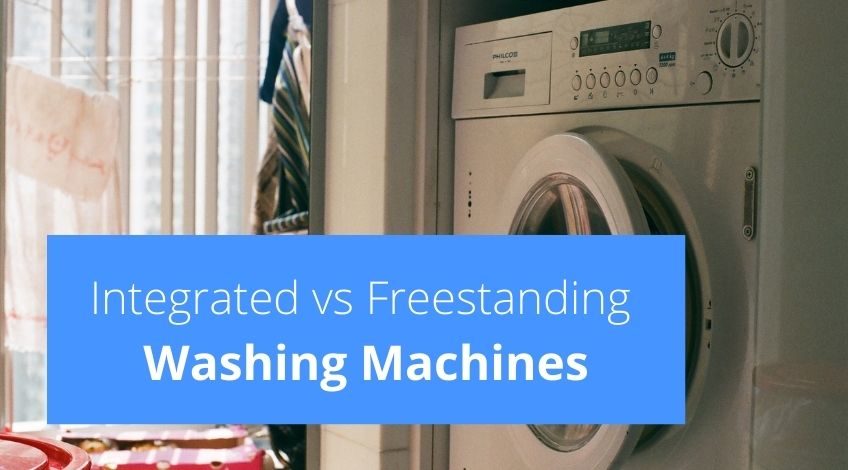 Integrated vs Freestanding Washing Machines
What's the difference between a freestanding washing machine and an integrated washing machine? A freestanding machine can be placed anywhere, has a larger load capacity and higher spin speed. An integrated washing machine is designed to hide in a cupboard, to make that possible it has to be designed smaller. A smaller base to facilitate the smooth line of the plinth on the cupboards and less depth to stop from protruding into the room. 
By making the integrated machine smaller, it is necessary to lose some functionality, smaller wash loads and lower spin speeds are the main  casualties but they do fit into a small space and keep everything neat and tidy.
Integrated Washing Machines Are:
Able To Fit Into A Fitted Kitchen
Integrated washing machines are designed to sit behind the door of a standard kitchen cupboard. This keeps the kitchen looking uniform with sleek lines and uniform designs.
Quieter Than Freestanding Washing Machines
As integrated machines are smaller, they are quieter by design, having a closed cupboard door and a cupboard encasing them dampens the sound down even further.
Allows A Uniform Floor Space In The Kitchen
As they are designed to fit into the cupboard the machine will not protrude into the room and take up floor space.
Bestseller No. 1
Sale
Bestseller No. 2
Bestseller No. 3
What's Better Integrated Or Freestanding?
This depends on your preference, the size of your home, and to some extent your budget. If you live in a small flat, studio flat, bedsit, or small apartment and space is at a premium, an integrated washing machine will probably be the best choice for you. If you have more space then you'll probably be better off with a freestanding machine. Let's look at the comparisons between the 2 and take it from there.
There is really no contest here, freestanding washing machines win on every comparison test. Let's look at the advantages of a Freestanding washing machine. 
Freestanding Washing Machines Are:
Cheaper To Buy
We have found that the average freestanding machine is about £120 cheaper than an integrated model on average.
Hold More Washing
The largest capacity integrated machine is around 8 kg, whereas freestanding models have a capacity of around 12 kg.
Easier To Install
It is far easier to access the pipe work on a freestanding machine than on an integrated model.
Easily Transported
If you were to move it is easier to remove a freestanding machine and take it with you, than scrabbling around in a kitchen cupboard feeling for pipes etc.
Much More Choice
There are 80% more freestanding models available than integrated machines. Most companies make 1 or 2 integrated washing machines but those same companies will make 5 or sometimes upto 8 freestanding models.
Sale
Bestseller No. 1
Sale
Bestseller No. 2
Sale
Bestseller No. 3
CANDY Ultra HCU1482DBBE Freestanding Washing Machine, 8kg Load, 1400 rpm, Android App Enabled, Eco Cycles, Water&Energy auto sensing, Black
This Candy washing machine from the Ultra range is perfect for a medium household and comes with an 8kg capacity and a 1400 spin speed. There are 16 wash cycles to choose from, with multiple cycles below 60 minutes, including a full load in 59 minutes, and a 14-minute quick wash. Variable spin and temperature settings allow you to adjust the spin speed and temperature on all cycles to suit the load.
Fitted with NFC technology, you can connect your Android smartphone to the machine via the Candy Simply Fi app, giving you the ability to download additional programmes and run diagnostic checks on your machine.
With all that said, if it's integrated or nothing, then an integrated machine will do the job.
Some people prefer the fact that everything is hidden from view and so even if they had the space they would still go for an integrated machine.
Ultimately the choice is yours unless your apartment is too small to house a freestanding washing machine.
Frequently Asked Questions
Are integrated appliances a good idea?
Integrated appliances are a good idea if space is at a premium or if you prefer a minimalist lifestyle.
How do I stop my integrated washing machine moving?
Be sure the floor and the washing machine are level if they are, try adding non-slip anti-vibration pads to the feet of the machine.