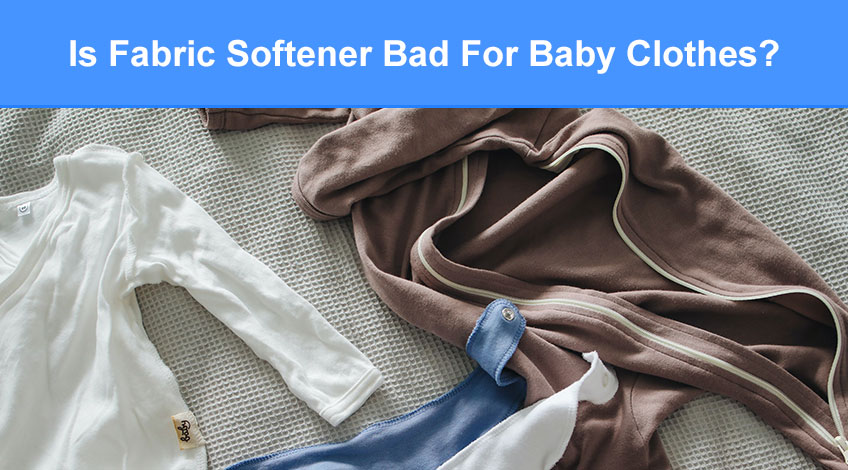 Is Fabric Softener Bad For Baby Clothes? (use these instead!)
It never ceases to amaze us just how many clothes a baby needs, it's not really so surprising when you think how many times a day they need changing. This leads to big piles of baby clothes in the wash basket. 
Naturally you want to keep baby's clothes as clean and as soft as possible which leads to the question, is fabric softener bad for baby clothes?
If this is a question that's bothering you, keep reading.
What Is Fabric Softener?
Fabric softener is a chemically produced substance that is added to the washing machine to keep your clothes soft, static free and smelling fresh. 
So far so good, right? Reducing static, making clothes feel soft and smell good too is a good thing especially for baby clothes, right?
What's Wrong With Using Fabric Softener On Baby Clothes?
On the surface it seems like a great idea however, the reality can be somewhat different. You see, the chemicals used to make fabric softener have been reported to not be that good from a health perspective (see below).
Plus there have been many experts that agree that fabric softeners are not good for use with fabrics that have been treated with a flame retardant substance. Many baby clothes are treated with such a substance to help slow down the progress of any flames if the worst was to ever happen.
Some of The Chemicals Present In Fabric Softeners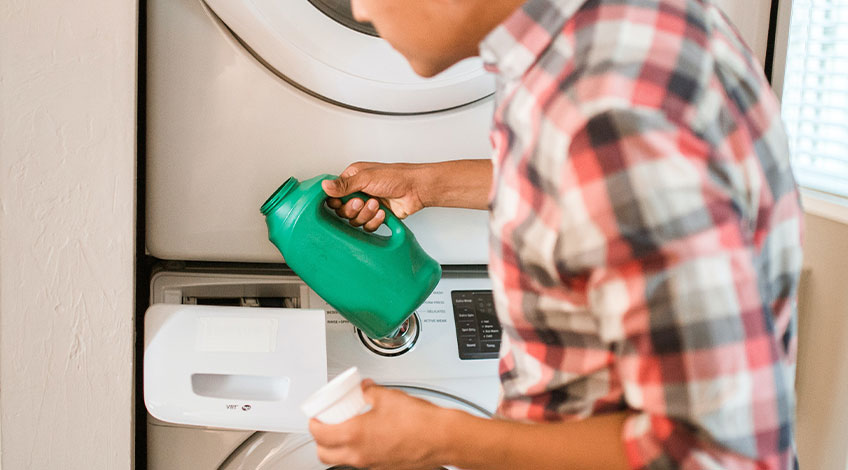 Before deciding on whether to use a fabric softener on your baby's clothes you might want to consider the following. In fact, not just your baby's clothes, this affects the whole family!
Some of the more harmful chemicals found in many fabric softeners include;
Ethanol
There has been some scientific evidence that ethanol is linked to disorders of the central nervous system.
Benzyl Acetate
There have been links between benzyl acetate and pancreatic cancer.
Hexylene Glycol
This product has been linked with causing skin, eyes and breathing irritations. This is most likely to be the cause of many allergic reactions to fabric softeners.
Glutaraldehyde
Also known as glutaral, this chemical has been linked with causing skin allergies and asthma.
Benzyl Alcohol
This has been linked with respiratory irritations and can cause coughs or even trigger asthma attacks.
When it comes to harmful chemicals found in fabric softeners, the above are the most common but it's not a fully inclusive list. Other chemicals that have also been found in fabric softeners include;
Chloroform
Linalool
Formaldehyde
Limonene
Alpha terpineol
Camphor
You need to ask yourself would you knowingly expose your baby to any of the above chemicals? Especially when they have links to skin irritations, respiratory problems including asthma and certain types of cancers.
What About Dryer Sheets?
Dryer sheets use the same chemicals as the liquid softeners only impregnated into a sheet. The softener is released once the temperature reaches a certain level.
But it's the same types of chemicals capable of doing the same damage.
How Can You Safely Soften Baby Clothes?
After reading all of the above, there will be many people that will be wary of using any fabric softener at all. However, there are some that are hypoallergenic and designed specifically for use on baby clothes.
You should always check the wash care label before using any type of fabric softener on baby clothes.
There are several hypoallergenic fabric softeners that should be safe for use on baby clothes. We would suggest that you check the ingredients first before buying if possible. They include;
ATTITUDE Natural Baby Fabric Softener
ATTITUDE Natural Baby Fabric Softener, Hypoallergenic, Biodegradable, Vegan and Cruelty-free, Unscented, 1 Liter, 40 Washes
SAFE BABY FABRIC SOFTENER: Developed specifically for babies and formulated with plant and mineral-based ingredients, our cold-water fabric softener will leave your baby's clothes soft and fresh, all day long
NON-TOXIC LAUNDRY SOFTENER: our EWG safe liquid fabric softener does not contain harsch chemicals and is free of parabens, MIT, dyes, phenoxyethanol, formaldehyde and formaldehyde releasers
This product is specially formulated with plant and mineral based ingredients and is guaranteed safe for use on baby clothes.
Comfort Pure Dermatologically Tested Fabric Conditioner
Sale
This product is hypoallergenic and dermatologically tested to be gentle on baby's skin. It is recommended by the British Skin Foundation and is guaranteed not to cause irritation.
Soupline Concentrated Hypoallergenic Fabric Softener
Soupline Concentrated Hypoallergenic Fabric Softener 27 Washes 100% Recycled 630 ml
Soft and fragrant laundry: with Soupline fabric softener, enjoy incredibly soft and intensely fresh clothes all day for an intense feeling of well-being wherever you go
MINIMIMISE THE RISK OF ALLERGIES: Soupline hypoallergenic fabric softener is specially formulated from ingredients that are friendly to sensitive skin and your health
This is a hypoallergenic product that is formulated to be gentle on baby's skin.
Fairy Non Bio Fabric Softener
This product is hypoallergenic and dermatologically tested and has been awarded the Skin Health Alliance seal of approval.
Are There Any Natural Alternatives To Fabric Softeners?
There are a few natural products that can be successfully used to soften clothes and baby clothes too. These include;
Distilled White Vinegar
Sale
½ a cupful of distilled white vinegar added to the rinse cycle will naturally soften baby's clothes without damaging any fire retardant coating or causing any allergic reactions.
Bicarbonate Of Soda
Sale
Grow Chem Baking Soda, Sodium Bicarbonate (1KG Bucket) UK MADE Pure Baking Soda for Cleaning, Baking, Bath Bombs, Odours and Teeth
ECO-FRIENDLY: Sodium Bicarbonate / Baking Soda is one of the top eco-friendly , safe and inexpensive cleaning, baking and household products available.
CLEANING: Baking Soda is particularly useful in food preparation, cleaning surfaces, ovens, grills, microwaves and fridges whilst also deodorising and freshening without leaving any harsh chemical smells.
This is another natural ingredient that can often be found around the home, usually in the kitchen. Just add ½ a cup of bicarbonate of soda in with the wash cycle to soften baby's clothes.
Wool Dryer Balls 
Instead of using dryer sheets in the tumble dryer which are treated with the same chemicals as fabric softener, add a few wool dryer balls. They will get the clothes dry in 25% less time and help to remove static as well as soften your baby clothes.
They're reusable and can be sprinkled with your favourite essential oil to add a pleasant fragrance if you desire.
Natural Sunlight
Whenever possible, drying your baby clothes in natural sunlight is a great way to soften the fabric. Your baby clothes will be static free, fragrance free and soft as well as dry.
You do need to bear in mind that sometimes clothes can get over dried in sunlight which can lead to them feeling slightly hard. Just squeeze the clothes with your hands to remove this hard feeling.
It's caused by the clothes drying too fast which leaves some water molecules trapped inside the dried fabric. By squeezing the fabric you break those molecules allowing the softness to return. 
Another way to prevent this is to dry the baby clothes for around 10 minutes first in the tumble dryer.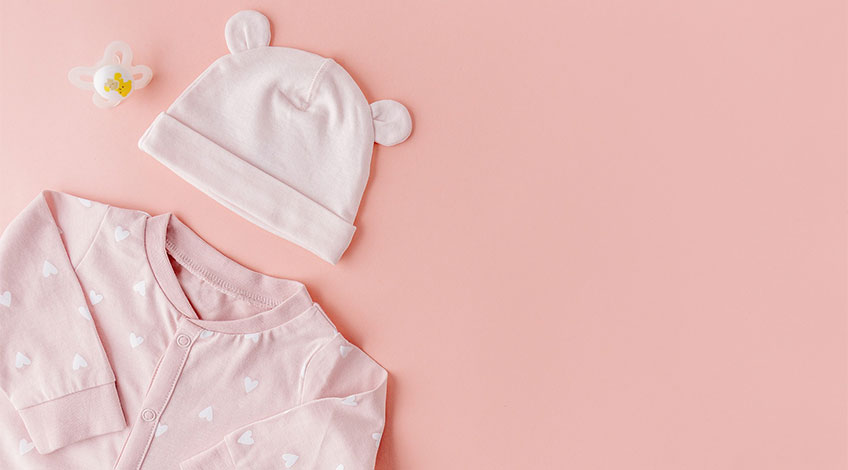 Fabric Softeners: Good Or Bad For Baby Clothes?
Many of the most popular and most advertised fabric softeners contain chemicals that are dubious to say the least. With some being linked to skin allergies, respiratory problems and even cancer. These would obviously be a bad choice for using on baby clothes.
There are some fabric softeners that are specifically designed for use on baby clothes. These are more likely to be perfectly safe but if you're still not convinced, we'd recommend going for a natural option.
SEE ALSO: How To Use White Vinegar In The Washing Machine (and why!)
Frequently Asked Questions
Is it OK to use fabric softener on newborn clothes?
As babies often have sensitive delicate skin, we wouldn't recommend using fabric softener on baby clothes. Also many baby clothes are treated with flame retardant chemicals that could be damaged by fabric softener.
How do you keep baby clothes soft without fabric softener?
To keep baby clothes soft without using fabric softener, you can; use white vinegar in the rinse cycle, use bicarbonate of soda in the wash cycle, use wool dryer balls in the tumble dryer or air dry baby clothes in sunlight.
Is fairy fabric softener safe for babies?
The whole fairy non-bio range has been awarded the Skin Health Alliance seal of approval. Which means it is considered to be safe for use on baby clothes.