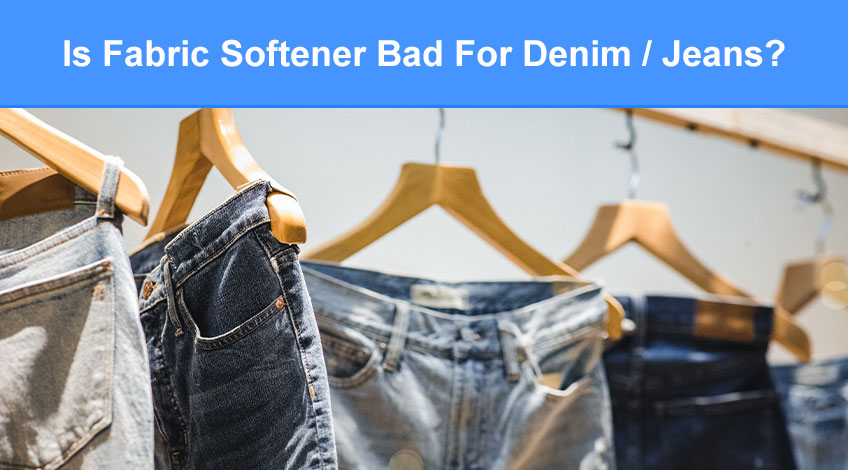 Is Fabric Softener Bad For Denim / Jeans?
We all have a favourite pair of jeans that we wear as often as we can. There's currently a debate going on in the fashion industry about how often denim jeans should be washed. So we thought we'd add to this by asking, is fabric softener bad for denim jeans?
The short answer is yes, in most cases fabric softener is bad for denim jeans. But that's not the full story, to find out more, keep reading.
What Is Fabric Softener & What Does It Do?
Fabric softener is a mixture of various chemicals that soften fabrics, reduce static and make clothes smell nice. However, many of the chemicals used to make fabric softener have been found to have serious health implications, environmental issues and can cause fires in some cases.
Health Implications
There have been links between fabric softeners and allergic skin reactions, respiratory problems including asthma and some types of Cancer.
Some of the better known harmful chemicals often found in fabric softeners include;
Benzyl Acetate
There have been some links between benzyl acetate and pancreatic cancer.
Benzyl Alcohol
This has been linked with many respiratory problems including coughs, breathing issues and asthma.
Ethanol
Ethanol has been linked with disorders affecting the central nervous system.
Glutaraldehyde
Also known as glutaral, this chemical is said to have been the cause of many skin allergies as well as asthma.
Hexylene Glycol
There are links with skin allergies, eye irritations and breathing problems with hexylene glycol and it is one of the main irritants associated with fabric softeners.
Fabric softeners also contain compounds collectively known as quats which is short for quaternary ammonium cations which are best known for their anti-static properties. Unfortunately they are also linked with causing many respiratory problems, allergic skin reactions, possible reproductive issues and anaphylactic reactions.
The chemicals used to make fabric softeners have also been found to damage aquatic life in our rivers and oceans because they do not biodegrade. Which means they hang around causing problems for many years.
Many of our clothes are now treated with a fire retardant to help impede the spread of any fire. Fabric softeners are known to impede this retardant by coating it with even more flammable chemicals.
Should You Use Fabric Softener On Denim Jeans?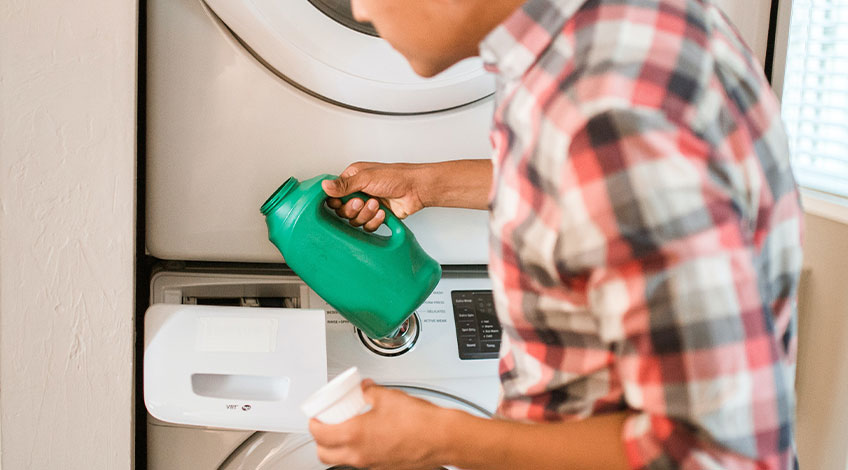 Using fabric softener on denim can be problematic but it can also be a good thing. The problems come from the way fabric softener coats the fibres of the material with a silicone based oil which makes the fibres less able to absorb water.
This means that when you wash your jeans they don't get cleaned properly. This is a particular problem with denim jeans because many experts say that denim jeans shouldn't be washed too often anyway.
Denim jeans were originally designed for 19th century mine workers. They were made from cotton that was woven in such a way to make a robust material that would last for ages without becoming damaged whilst enduring some of the harshest working conditions known at that time.
Frequent washing damages the fibres which leads to wear and tear as well as colour loss too. From this perspective, using fabric softener makes good sense. The fibres are protected and the colour is less likely to run.
However, over time, the chemicals from the fabric softener build up in the fabric and allow less water to be absorbed which means the jeans don't get fully cleaned.
The chemical coating also wears the fibres down causing the jeans to wear out faster. You could also find white or blue/grey stains on the fabric from the fabric softener. These stains are difficult to remove because they are effectively semi-waterproof.
If your jeans have shrunk in the wash, soaking them in fabric softener can restore the fabric to its original size. As we said, fabric softener is both good and bad for denim jeans.
What About Skinny Jeans?
Skinny jeans present more of a problem because they're not made from 100% cotton like regular jeans. They are partially cotton but mixed with a synthetic fabric like nylon or spandex.
Fabric softeners don't work very well with synthetic fabrics and so you should definitely leave the fabric softener alone when washing skinny jeans.
This is equally as true for stretch jeans which are made from a similar blended fabric.
What About Raw Denim?
For those of you that prefer the benefits of raw denim, You might consider using fabric softener because raw denim isn't washed as frequently. 
However, you should never use fabric softener because it will alter the unique fading patterns associated with this particular fabric.
Fabric Softener Or Dryer Sheets; What's The Difference?
Liquid fabric softeners were first introduced in the 1950s and are made up of various chemicals that can be detrimental to our health, the environment and our clothes.
In the 1970s, dryer sheets were introduced which were designed to be used in the tumble dryer. They are made from a form of plastic sheeting that is coated in liquid fabric softener which is released when exposed to heat.
So apart from the actual application and the fact that one is a liquid and the other is a plastic sheet, there's no real difference between a liquid fabric softener or a dryer sheet.
Eco-Friendly Fabric Softeners
If you still want to use a fabric softener on your denim jeans, we would suggest using an eco-friendly product. There are many eco-friendly fabric softeners available here are a few of the more popular ones.
Miniml Eco Fabric Softener
Sale
This product is derived from plants and is all natural. It is designed to protect fibres and is hypoallergenic.
Eco-Mate Fabric Conditioner
Eco-Mate Lavender Concentrated Fabric Conditioner, Plant-based, 100% Biodegradable Paper Bottle & Contents, Natural, Hypoallergenic, Plastic Free, Lavender Essential Oil, Pack of 3
【 LAVENDER CONCENTRATED FABRIC CONDITIONER】: Our 100% plant based, Lavender fabric conditioner has a sweet and calming scent, delicately fragranced with pure lavender essential oil. Protects fibres and leaves laundry soft and static free. Our best-selling fabric conditioner!
【 POWERFUL AND EFFECTIVE PLANT BASED CLEANING 】: For Automatics, just follow the manufacturer's recommended programme, adding 50ml of Conditioner to the machine dispenser. For Twin Tubs, just add 50ml of Conditioner to a 1L jug of water, pour over the wash and spin. For Hand Rinse, just add 50ml of Conditioner to a 1L jug of water and pour over the wash. Allow to soak before rinsing thoroughly in clean water.
This product is plant based, 100% biodegradable (including the packaging) and hypoallergenic.
Tru Earth Eco-Strips Fabric Softener
Tru Earth Eco-Strips Fabric Softener 32 Strips. Eco-Friendly, Plastic Free Packaging, Ultra-Concentrated, Pre-Measured Strips, Easy Storage. For Machine & Hand Washing, Fresh Linen Scent Booster
IN-WASH FABRIC SOFTENERS: Enjoy a happier, healthier, and cleaner home with the Tru Earth Fabric Softener+ Eco-Strips that give you the softest, clean laundry with reduced wrinkles. Add a pleasant scent with the Fresh Linen Scent Booster version
NO MORE MESS: Tru Earth's fabric softener strips have also helped eliminate the unwanted mess from powders and liquid softener spills that leave a mess all over counters, cupboards, and floors. Comes in easy-to-use and easy-to-store packs of 32 strips
This product comes supplied in dose sized strips which are biodegradable, hypoallergenic, paraben-free, phosphate-free, and cruelty-free.
Are There Any Natural Alternatives?
If you don't want to risk damaging your denim jeans with a fabric softener, there are a few safe natural alternatives that can be used. These include;
White Vinegar
Sale
Add ½ a cup of white vinegar to the rinse cycle when washing your jeans to naturally soften the fabric whilst helping the colour to stay fast.
Bicarbonate Of Soda
Grow Chem Baking Soda, Sodium Bicarbonate (1KG Bucket) UK MADE Pure Baking Soda for Cleaning, Baking, Bath Bombs, Odours and Teeth
ECO-FRIENDLY: Sodium Bicarbonate / Baking Soda is one of the top eco-friendly , safe and inexpensive cleaning, baking and household products available.
CLEANING: Baking Soda is particularly useful in food preparation, cleaning surfaces, ovens, grills, microwaves and fridges whilst also deodorising and freshening without leaving any harsh chemical smells.
Most households have this versatile ingredient stored somewhere. It has many good uses around the home and helping to soften laundry is one of them.
Just add ½ a cup in with the wash to soften the water and the jeans.
Wool Dryer Balls 
Instead of using dryer sheets in the tumble dryer, use wool dryer balls. These will bounce around the drum colliding with the jeans and naturally break down any clumps of hard fibres.
An added bonus is drying times will be reduced by at least 25% when using wool dryer balls. If you don't have any wool dryer balls, you can use clean tennis balls instead.
How Should You Wash Jeans?
Denim jeans need washing less frequently than many other fabrics but that doesn't mean they don't need washing at all. You should always select a delicate or gentle cycle and use cold water.
This will help prevent the jeans from shrinking. And also help to prevent colour fade or bleeding.
They should also be turned inside out to again help with preserving their colour.
When it comes to drying, they should either be air dried or dried on a low heat setting.
Using Fabric Softener On Jeans: Is It Worth It?
There are good and bad points when it comes to using fabric softener on jeans. So it's a purely personal choice, all we can do is present you with the facts and the rest is up to you.
What did you decide? Please let us know in the comments.
SEE ALSO: Is Fabric Softener Bad For Your Washing Machine?
Frequently Asked Questions
Does fabric softener ruin denim?
In some ways, fabric softener can damage denim due to the chemicals used to formulate it. The softener coats the fibres which can make them abrasive and more likely to become damaged. However, there is another school of thought that says that coating the fibres makes them less likely to catch on other fabrics which makes them last longer.
How do you keep jeans soft after washing?
To keep jeans soft they can be rinsed using white vinegar or washed using bicarbonate of soda. After washing they can be dried on a low heat in a tumble dryer with wool dryer balls or clean tennis balls.
Why shouldn't you wash your jeans every time you wear them?
You shouldn't wash jeans every time you wear them because; as they're thick, they won't need it and washing jeans too often can break the fibres which leads to them wearing out faster.