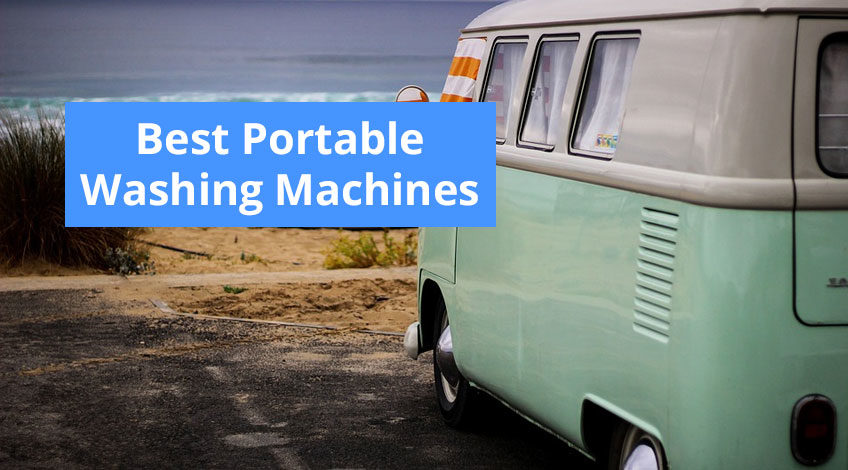 Last

Updated: Oct 2023
Best Portable Washing Machine 2023
Most houses have a washing machine that's plumbed into the main water supply and is therefore a permanent fixture. If you live in a studio flat or enjoy getting away for long camping trips, you might not have the space for a full sized washing machine. Maybe it's time to buy a portable washing machine.
They are called portable washing machines but that doesn't mean you can carry them around in a suitcase. What it does mean is they can be lifted easily, used and then stored away out of sight when not in use. And although a portable washing machine is much smaller than it's full size counterpart, they can wash a surprising amount of clothes at a time.
Some even incorporate a spin dryer so you can wash and dry your clothes at the same time. They also come with a choice of power options, either electric, or manual. The choices don't end there though, you can get portable twin tubs, toploaders, front loaders, cold water washers, and some have hot water washers.
We've put together this guide to give you all the information you'll need to make an informed choice of which portable washing machine is best suited to your lifestyle. So whether you live in a small flat, apartment,shared house, or whether you spend most of your time camping or living in a campervan, you'll choose the best portable washing machine for your needs.
Best Selling Portable Washing Machine UK
Sale
Bestseller No. 1
Bestseller No. 2
COSTWAY 2 in 1 Portable Washing Machine - 6 Modes, Adjustable Water Level, Fully Automatic Compact Washer Spin Dryer with Drain Pump, for Apartment, Hotel, Dorm
【Fully Automatic & Energy-efficient Design】Our washing machine design with a fully automatic programmed, you can easily set the washing/spinning program and water levels according your demand, which saves water and electricity. Once you set the washing machine program, just leave it alone to work and do your own staffs.
【Multiple Programs】With a computer control panel that allows you to set your own cycle, 6 programs, 3 water level selections, start/pause, power button and LED display are listed on the control panel clearly. Different clothes have different washing and water level requirement, you can choose the washing mode and water level to meet your demand. Besides, the LED display will show you the washing time and trouble warning.
Bestseller No. 3
Think Gizmos Portable Washing Machine – Twin Tub Washer Machine with Wash and Spin Cycle Compartments - Includes Lint Filter & Small Laundry Bag…
AWESOME CLEANING: The strong and durable Portable Washing Machines features two tubs 1 for washing and 1 for spinning. It has a capacity of 3.6kg wash and 2kg spin. Wash face masks quickly and easily, ideal for keeping face masks fresh and clean with the quick spin dry feature. Now includes a free small laundry bag to hold socks, underwear and other small items.
COMPACT AND LIGHTWEIGHT: The compact and lightweight design of the Portable Washing Machine makes this ideal for places where space is limited such as for camping or in a caravan. It does not require plumbing and only requires access to water and a drain area.
Bestseller No. 4
8L Portable washing machine, Camping washing machine, Mini washing machine for Washing Baby Clothes, Underwear, Suitable for Camping, RV, Travel, Small Spaces, Lightweight(UK power)
🎽【Portable washing machine】Our washing machine is 26*26*27CM/10.23 x 10.23 x 10.63 inches when unfolded and 26*26*14CM/10.23 x 10.23 x 5.51 inches when folded, Weight is 2KG/4.44 LB. Made of environmentally friendly ABS and TPR materials. It has an internal capacity of 8L, Can carry 2 kg (water) clothing weight.
🎽【SAFE AND ENERGY SAVING】Portable washer machine using TPE and food grade silicone material is a great choice for your personal items, baby items, patients' families! The washing machine only needs 0.01 kWh of electricity for 1 hour, With a power of only 10 watts, it is not a replacement for a large washing machine. Please lower your expectations of her.
Sale
Bestseller No. 5
Portable Washing Machines, 10L Foldable Mini Washing Machine, Compact Washing Machine for Baby Clothes, Underwear or Small Items, Apartment, Dorm, Camping, RV Travel Laundry- Gift Choice, Purple
👕【Foldable Washing Machine】Portable washing machine is 11.8*8.3*12.6 inches large when unfolded and 11.8*8.3*5.9 inches small when folded. Capacity is 10L. [Please note] Small washers do not have a spin basket.
👕【Mini Washing Machine】The washing machine is recommended for washing: socks, underwear, nappies, swimwear, single T-shirts and other small items of clothing. Not recommended] For washing the following types of clothing: jeans, long skirts, bathrobes and other bulky items.
How Do Portable Washing Machines Work
Portable washing machines work in a similar way to plumbed washing machines, but with a few differences. Firstly as they are not plumbed in (connected to the mains for water feed and drainage) most come with hose attachments. You fit the hose to either the hot or cold tap, or both in some cases, with another hose that is placed in the sink for drainage. 
Others have no hoses and these have to be filled with a bucket or large jug, and emptied by tipping the water out after the washed clothes have been removed. Whether they have a drainage pipe or you have to tip the water out, the portable washing machine relies on gravity to empty. So the models with drainage pipes fitted will need to be sat on a surface that's higher than the sink to drain the water away.
Most are powered by electricity so as well as placing near a water supply they also need an electrical socket close by. Others however, are powered manually, by means of a turning handle on top of the machine, or on the side, that you have to turn by hand. Other manual models are operated by means of a foot pedal that needs to be pumped to work the machine.
What Are The Benefits Of A Portable Washing Machine
Let's have a look at the many benefits of having a portable washing machine. In no particular order the benefits are,
Space Saving
The first benefit has to be the space saving design of a portable washing machine, once you've finished using it, just store it away out of sight. If you are tight for space and don't have room for a full size washing machine a portable is the obvious choice. 
Energy Saving
Depending on the make and model, and whether you choose electric or manual, you will always be saving energy. Portable electric washing machines tend to have smaller capacities which means it takes less energy to turn the drum. Plus they also have shorter wash cycles which also means less electricity usage.
Manual models use no electricity at all, so the only power you use will be your own physical power, which takes nothing from the national grid.
Water Saving
As portable washing machines are much smaller than their full size relatives, they use less water. In fact as you have to fill them manually, you are in full control of the temperature and the quantity of water used.
Portability
Many portable washing machines are on wheels, making them easy to maneuver around the home. As they are portable they are also comparatively light as well.
Cost
Portable washing machines are much cheaper to purchase than a full size washing machine. They also use less power and less water. Plus there are no installation costs to worry about either.
Convenience
No need to visit crowded launderettes, with a portable washing machine you can do your laundry in the comfort of your own home.
Ideal For Camping
Whether you camp under canvas or in a camper van(RV) taking a portable washer with you Allows you to pack less clothes. There are even portable washing machines that attach to the wall or inside the door of a campervan.
Ideal For Use On A Boat
Another place that usually doesn't have room for a full size washing machine is a boat. 2 weeks cruising around the canals, or mediterranean sounds like fun, but you'll still appreciate the convenience of a portable washing machine. Especially one that has a spin dryer as well.
Portable washing machines For Student Accommodation
If you are in temporary accommodation or a student, changing home regularly, then a portable washing machine is much more convenient to move than a full size, plumbed in model.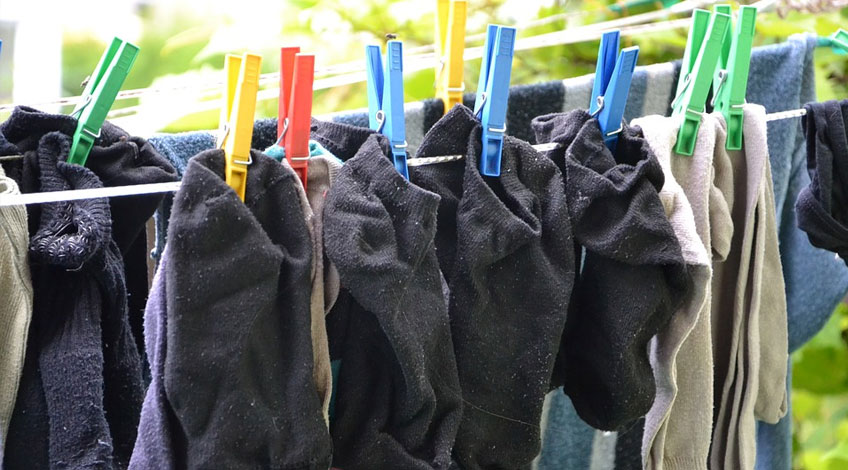 What Are The Disadvantages Of A Portable Washing Machine
The portable washing machine has a few disadvantages, most of which are pretty obvious. Their compact design means they have less clothes capacity than a full size washing machine. Manual machines are time consuming and sometimes hard work.
Electric models have less programs than conventional washers and you have to manually control temperatures too.
You also have the inconvenience of attaching the hoses to taps and arranging the drainage hose, or manually filling and emptying. But if the alternative is either hand washing or a trip to the laundrette a portable washing machine is a great option.
How To Use A Portable Washing Machine
Once you get the hang of it portable electric washing machines are simple to use. Just connect the hose to a tap, usually the cold tap,(sometimes both hot and cold taps are connected to the appropriate taps). Drape the open end of the drainage pipe into the sink (or bath), plug into the power socket, fill with washing, add detergent, select cycle, and turn on.
Manual machines differ slightly, as there is no outside power, you have to provide this yourself. Either by turning a handle on the top of the machine, cranking a handle on the side, or some models are operated by a foot pedal.
The smaller portable machines don't connect to the water supply at all, but are filled using a bucket, and emptied by pouring after the washing has finished and been removed.
Pulsator Vs Agitator Vs Drum Washing Systems
Pulsator is a relatively new innovation in the world of washing machines, and that technology is being featured in the portable washing machine market too. But what's better? Pulsator, drum or Agitator That's for you to decide, but here are the facts.
How Does The Drum Washing System Work
This is the traditional way of washing clothes in a washing machine. The spinning action causes the clothes to continually tumble and the system of ribs on the surface of the drum causes the washing to remain untangled until the washing cycle is complete and the clothes are clean. 
The advantages of this system are less water consumption, and there is less risk of clothing becoming tangled.
The disadvantages are, they are noisy, use a lot of power and take a long time to run through their program.
How Does The Agitator System Work
Agitator machines work by the rotation of a central rod in the centre of the tub, backwards and forwards agitating the washing in the process. 
The advantages of this system are that clothes are thoroughly cleaned but they are noisy, create heavy vibrations and can damage some delicate clothing.
How Does The Pulsator Washing System Work
Pulsator washing machines use a small disk that pulsates, creating movement in the water. The disk rotates much like an agitator but is much smaller. This system is very quiet and produces a small amount of vibration. They are also relatively inexpensive and the problems encountered in earlier models like laundry damage and tangling have been overcome by using a direct drive system as opposed to the original clutch driven systems.
Portable Washing Machine Buyers Guide
Before purchasing a portable washing machine there are a few points worth considering, we've listed them in no particular order.
Capacity
For obvious reasons the portable washing machine has a smaller capacity than a regular machine. They tend to range from a capacity of 1 kg to around 7.5 kg this is dependent on make and model. Plus twin tubs tend to have a larger capacity for washing. All portable washer dryers can dry less washing than they wash.
Manual portable washers tend to have less capacity than electric, and as a general rule manuals don't have a dryer.
Types
Apart from manual and electric portable washing machines, there is also the design to consider. The 2 main types are:
Twin Tubs
These have 2 compartments, one for washing clothes and another for spin drying.
Single Tub
These generally don't have spin drying capabilities but just a single washing drum.
Other Design Features To Consider
There are 4 types of design that you will need to consider, they are
Top Loading Portable washing Machines
The door to load the clothes in the machine is located at the top of the machine. This type of machine doesn't usually come with a glass door so it's not possible to see the washing when in use.
Portable Front Loading Washing Machine
These tend to have glass doors and the door is situated in the front of the machine. Front loaders also tend to use less water, and as the drum has no agitator (as mentioned above) more items of clothing can be washed at one time.
Sonic Soak-Ultrasonic Wave Washing Unit
Not strictly a washing machine this one, but definitely portable. It comprises a hand held unit and a head unit connected by a cable that produces ultrasonic waves that can be used for washing clothes and much more. Extremely portable, this unit will fit in a suitcase and not take up any more space than an electric razor.
It uses up to 40 times less water,15 times less energy, removes 99.9% of the dirt and bacteria, it's quiet, and gentler than hand washing.The main downside to this unit is it's a relatively new technology so it can lack a reliable warranty.
Portable Manual Washers
These are the most energy efficient when it comes to portable washing machines, as they use no power at all. Apart from human power, either a crank handle on the side of the machine, a handle on the top that has to be turned, or a pedal at the base that has to be used like a treadle.
There are also some collapsible portable washing machines available for the ultimate space saving especially useful when camping.
Durability
The durability of the machine is dependent on a number of things, the make and model but also the materials it's been manufactured from. 
The most durable have a stainless steel drum, these can also stand high speed spinning, a very useful feature in washer dryers.
Next comes those with plastic drums, these tend to be lighter but won't last as long as a stainless steel drum.
Lastly are the porcelain-enamel drums that tend to rust easily and the porcelain coating tends to chip as well.
Functionality
Portable washing machines are available with either manual controls or digital controls. Some have LED display panels, some have temperature controls, end of cycle alarms, delay cycles, and energy efficiency. Some have multiple wash cycle options and some have only one cycle.
You need to decide what functions are important for you, if for instance, you're only going to use the machine for holidays, do you need multifunctions? The frequency you're planning to use the machine will also play an important factor in the functions, if it's to be your main source of washing machine then maybe the higher priced multifunction machine with spin dryer is most suitable.
Water Supply
Some portable washing machines are supplied with water by means of hoses attached to taps, and drain via a hose placed in the sink. Others have to be manually filled with a bucket and emptied by hand. As with most products, convenience comes at a price so the more hands on machines tend to be cheaper than the more automated ones.
Size
Portable washing machines come in a variety of sizes, and some are more portable than others. Consider how much washing you generate, how much space you have, and how much you can physically lift. Portable washing machines vary in weight by some considerable amount, from around 2 kg to a whopping 18 kg.
The drum size tends to dictate the load capacity, with larger drums holding more washing, but remember, all load weights quoted are dry weights and will be quite a lot heavier when wet.
Brand
Buying a portable washing machine from a well known manufacturer is always recommended, as they have many years of experience and usually have better customer service departments in case of any faults.
Warranty
Any warranty or guarantee is only as good as the company that issues it. An unheard of company will often go out of business and disappear leaving any warranty no more than useless. Which is why it's always better to buy from a reputable brand.
 How Much Is A Portable Washing Machine
Prices for portable washing machines start at around £11 for a turbine washer that has to be placed in your own barrel or bucket. Rising to a staggering £4730 for a top of the range fully automatic portable washing machine and dryer. Sensibly priced portable washing machines can be purchased from around £100 for a decent twin tub with a wash load capacity of 21lbs and a dryer capacity of 13lbs.
With ultrasonic wave washing units starting at around £15 and rising to around £360 depending on functions and brand.The lowest priced ultrasonic models are commonly made by unknown companies and powered by USB cables, and the dearer models often feature wireless charging,99.9% cleaning in 10 minutes, and no need to use detergents at all.
Frequently Asked Questions
What is a portable washer machine?
Portable washing machines are similar to regular washing machines but can be stored away tidily as they are not connected to the main water supply.
Is there such thing as a portable washer and dryer?
Portable washer dryers are popular with campers and campervan owners. As they are compact, easy to use and need no main water supply.
Are washer dryer combos worth it?
If you live in a small flat, a washer dryer combo could be the perfect solution for your laundry needs.
How does a portable washer drain?
Portable washers fill with water via a hose or by bucket, and drain either by a drainage hose or by manually tipping the water away. This is dependent on particular models.
What are the disadvantages of a front loading washing machine?
You need to bend to load a front loader, and the way the door seals, can cause mold to grow.
Do all front load washers have mold problems?
Mold problems with front loading washing machines are very common but regular cleaning of the seal and door will go a long way to preventing this.
Which is better top loader or front?
Front loading portable washing machines tend to clean better and be more energy efficient than top loaders.
Should you leave your washing machine door open or closed?
After your washing machine finishes, always leave the door open to allow moisture to evaporate. Leave open for at least 4-5 hours.
Is washing machine mold dangerous?
Like all mold, mold in the washing machine can make you ill. Depending on the variety of mold, it can cause lung infections and if left untreated, death.
What kills black mold naturally?
Pour white vinegar into a spray bottle and spray all areas affected by mold. Leave for a few hours and rinse with water.