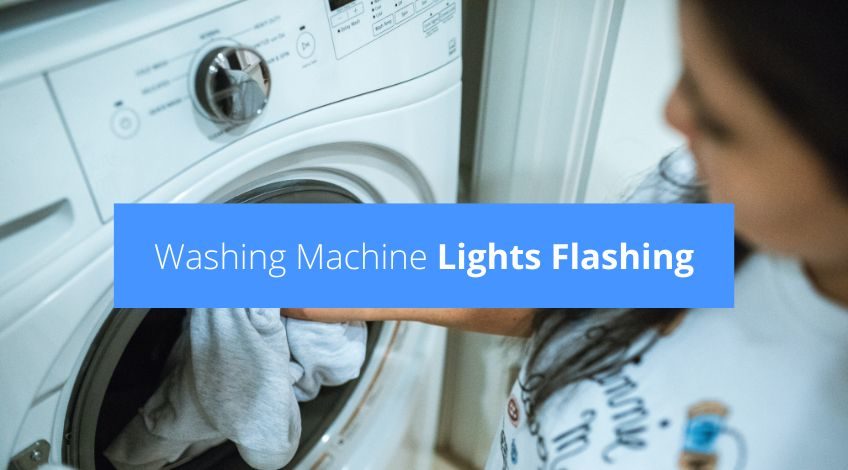 Washing Machine Lights Flashing? (here's why)
Most modern washing machines display error codes if they have a fault but this is often in a code specific to that particular manufacturer. Which doesn't necessarily make any sense to the user. Basic models often don't use error codes at all but rely on flashing lights to indicate faults.
The flashing light system also doesn't usually mean much to the user and in some cases user manuals are not so helpful either. In some cases, you will need to count the number of times the light flashes to find out which fault is being identified. 
For example, The locked door light might flash 7 times, leave a gap, and then flash another 7 times. If this is happening continuously it would indicate error code 7. 
However don't expect there to always be a sequence, on some machines any of the lights could flash continuously which could mean there's a problem. But your guess is as good as anyone else's as to what's wrong with it.
Reporting The Problem To An Engineer
If your user manual doesn't specify what a particular light flashing indicates and you need to contact an engineer, they will give each light a number. This will work as follows; LED 1 with LED 3 or LED 2 with LED 4 so when you speak to the engineer there's no point telling them "extra rinse" with "delay timer".
If you need to convey which light or combination of lights are flashing, engineers number them from left to right starting at number 1. If your lights are displayed vertically as opposed to horizontally, they will be numbered from 1 at the top and going down to higher numbers.
It's important that you get the right numbers and combination of lights when you report it to an engineer. This is so the engineer can get some understanding of what's wrong before he comes to look at your machine.
What Does It Mean If All The Lights Are Flashing?
This is a fairly common problem and can mean different things to different brands of washing machines. However, in many cases if all of the lights are flashing continuously it could indicate a problem with the control board rather than with any component parts.
If you suspect this is the problem with your machine, we recommend calling in an engineer. It is not only dangerous to tamper with electrical appliances, but it could invalidate your warranty.
Error Codes
Even if your washing machine does display error codes, they're not always that easy for the user to understand. For example, if you own a Zanussi washing machine and it displays the error code E40 it could mean any number of things, it could be that;
The door is not closed fully
There is laundry caught between the door glass and door seal
The machine is overloaded
The child safety lock is on
The door latch is broken
The door lock is broken
In some cases all that is needed to clear this error code is to turn the machine off and on again.
That's just a simple error code to demonstrate just how many issues could be covered by one error code. 
This is why it is vitally important to report all flashing light sequences and/or error codes when contacting an engineer.
If you own a Hotpoint washing machine check out this article which details what all of the error codes and flashing lights indicate.
What Is The Problem With Error Codes?
Back in the good old days, washing machines never had error codes or internal chips which analyse every last turn of the drum. When things went wrong, a decent washing machine engineer knew exactly what questions to ask to get to the bottom of your washing machine's problem.
Jump forward to today and most of the important error codes are not even listed in the user manual. More worryingly they're not even listed for fully qualified engineers. 
This shouldn't be such a surprise really, because they are called codes, and codes by their very nature are secretive.
Limited Repair Available
The problem is this does limit exactly where you can go to get a repair. It usually means contacting the manufacturer which usually means paying dearer for any repairs. 
Plus of course in the old days you could at least describe the fault, but nowadays the machine just shuts down as soon as any fault is detected. This means you have hardly anything to tell the engineer apart from a flashing light sequence or an error code. This gives an independent engineer even less chance of being able to even diagnose what the problem is, let alone fixing it.
On The Plus Side
The one good thing about this modern system is the fact that the machine shuts down as soon as a fault is detected. This at least means that there's less damage to the machine or the home. Gone are the days when washing machines flooded homes or cooked the washing.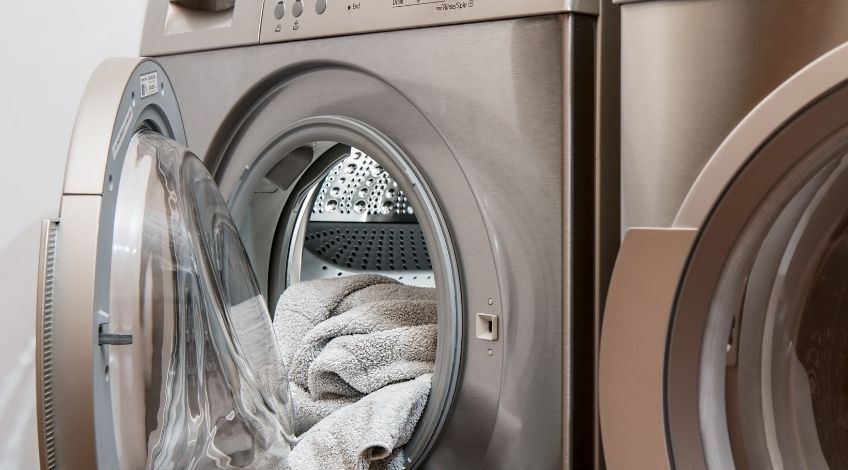 Washing Machine Manufacturer Contact Details
If you live in the UK and own one of the more popular brands of washing machine and need to speak to the manufacturer, we have listed their contact details below.
Frequently Asked Questions
What does it mean when all of the lights flash on my Indesit washing machine?
If all of the lights are flashing on your Indesit washing machine it means the machine is not draining. This could be because the filter is blocked or the waste or drain pipe is blocked.
What does it mean when the spin light is flashing on my Hotpoint washing machine?
If the spin light is flashing on your Hotpoint washing machine it means the machine detects excessive weight in the drum or the load is unbalanced.
Why is my LG washing machine flashing all six lights?
If your LG washing machine is flashing all lights from 1 to 6, it means the machine has detected excessive weight in the drum or an unbalanced load.