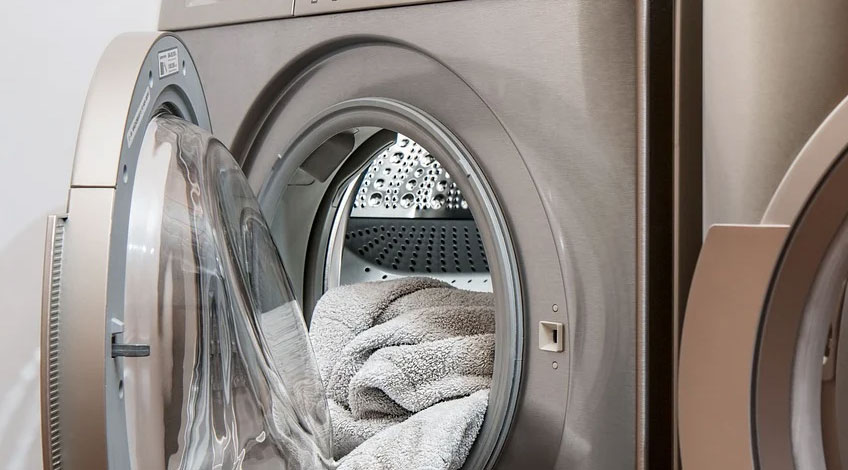 Best Vented Tumble Dryers 2022
A good tumble dryer is far more convenient than putting laundry on a washing line (especially during winter) or trying to dry clothes over the radiator and making your house damp.
Whether it's your first time buying a tumble dryer, or you're simply looking for a better machine than you currently have – vented tumble dryers are a great option as they are: cheaper to run, affordably priced and easy to use.
They're also more convenient once setup, as you don't have to routinely empty the dryers' reservoir. And so in this guide we are going to have a look at some of the best tumble dryers available on the UK market and also explain some of the things you need to look out for when buying a new tumble dryer.
Best Vented Tumble Dryers
Bestseller No. 1
Bestseller No. 2
Hoover HLEV10DG 10kg Vented Tumble Dryer, White, Digital Display
Large capacity - The large 10 kg capacity makes the Link HLEV10DG Tumble Dryer ideal for family households. You'll be able to dry even larger items, like curtains, sheets and tablecloths.
Control the appliance from your phone - You can manage your laundry directly from your phone. Simply touch your Android phone against the Hoover Link HLEV10DG NFC 10 kg Vented Tumble Dryer like you would with a contactless payment system. With the Hoover Wizard app, you'll be able to control, monitor and manage the tumble dryer, no matter where you are.
START DELAY - The Start Delay option gives you the choice for the best starting cycle time, according to your needs. The drying cycle can be put off for up to 23 hours.
Range of programs to suit your needs - If you're not sure what settings to use, there are 4 Sensor Dry levels to help you achieve the ideal levels for every load. The tumble dryer will automatically switch off at the desired level, so there's no risk of over-drying your clothes. In a hurry? Use the Rapid 45-minute program to get everything dry in less time. There's also a Pre-iron cycle to relax folds and creases.
Dimensions - Product height with worktop (mm) 850 Width of the product (mm) 596 Product depth (mm) 585
Bestseller No. 3
Candy CSEV9DF 9KG Vented Tumble Dryer, White, White Door
Product Dimensions - (HxWxD) (mm) 850 x 596 x 585 (depth excludes knobs and door)
Sensor Drying - Monitors the drying performance using sensors to prevent overheating and over drying
Time Delay gives you the freedom to get on with your day, knowing your drying will be finished at a time that suits you
Large Capacity - With a 9kg capacity this vented dryer is suitable for large households
With 15 programmes available you`ll soon find the perfect one for you
Bestseller No. 4
Hoover HLEV8LG 8kg Vented Tumble Dryer, White, LED Display
SENSOR DRYING SYSTEM - Sensor drying system uses sensors to monitor moisture and temperature levels inside the dryer and automatically stops when it reaches the chosen level of dryness you require.
ONE TOUCH TECHNOLGY - This appliance is equipped with One Touch Technology which allows you to control, download new cycles, discover tips via an App, on Android smartphones with NFC connectivity. For other Android devices and iOS operating systems, the App gives access to information only.
Manufacturer Warranty - 10 years parts and 1 year labour (must be regisered within 28 days of purchase)
Product Dimensions - (HxWxD) (mm) 850 x 596 x 585 (depth excludes knobs and door)
15 Drying Programmes + Delay Timer
Bestseller No. 5
Vented Tumble Dryer Buying Guide
If it's your first time buying a vented tumble dryer, or you've previously bought one that didn't perfectly suit your needs, you're going to want to pay close attention to this section. Because here we're going to discuss some of the most important attributes you need to be checking before buying a tumble dryer.
The Drum Size
One of the most critical factors in choosing the right appliance is the drum size. This is what the manufacturers are referring to when they say the dryer is a "8kg tumble dryer" – the drum can fit 8 kg of dry laundry inside.
A very simple way to figure out which drum size is right for you is to simply buy a vented tumble dryer that has the same size drum as your washing machine, as it's unlikely you'll be drying more laundry than you wash.
With that being said, if you're constantly maxing out your washing machine you may want to consider purchasing a slightly larger dryer, as having more free space inside the drum will make your laundry less creased (making them easier to iron).
Drum Size Comparison Table
If you're still not sure which size vented tumble dryer is the best for you, take a look at the table below that shows how much laundry you can roughly fit inside each drum size.
| Drum Size | T Shirts | Bulky Items | Idea For |
| --- | --- | --- | --- |
| 4kg | 20 | Sheets & Towels | Individual |
| 5kg | 25 | Sheets & Towels | Individual/Couple |
| 6kg | 30 | Single Duvet | Couple |
| 7kg | 35 | Double Duvet | Small Family |
| 8kg | 40 | Queen Size Duvet | Medium Family |
| 9kg | 45 | Medium King Size Duvet | Large Family |
| 10kg | 50 | Heavy King Size Duvet | Large Family |
| 11kg | 55 | Heavy King Size Duvet | Very Large Family |
| 12kg | 60 | Heavy King Size Duvet | Very Large Family |
| 13kg | 65 | Heavy King Size Duvet | Business |
Manual or Automatic?
Most modern vented tumble dryers are now automatic, which means they use moisture sensors to determine when your laundry is dry. This saves you money on running costs, speeds up the drying process and prevents over-drying which can damage your laundry in some instances. 
However, there are still a lot of popular manual dryers available on the market as they are often considerably cheaper to buy.
The main determining factor you should consider when choosing between the two is how long you want your garments to last for. If you spend a lot of money on designer clothes, you may want to consider investing in a tumble dryer with moisture sensors as it will help protect the life of your garments. Otherwise you may be better off getting a manual dryer and saving yourself a few quid.
A final point we should make is that some customers claim automatic tumble dryers turn off too early, meaning the laundry comes out still damp. This isn't something we've ever experienced, but it's worth checking the reviews of the machine first to ensure it's not a common complaint with the particular model you're looking at.
Energy Efficiency 
The energy efficiency of the tumble dryer may also play an important role in your decision-making process. And not just to protect the planet (although that's always good), but to protect your pocket too!
This point is most important to consider if you need to use the dryer a lot more than the average family. Maybe your family is incredibly sporty and goes through clothes like there's no tomorrow, or maybe you've got a lot of young children in the household – whatever the reason: if you need to use it a lot, go for an energy efficient tumble dryer.
In some cases, a tumble dryer with a poor energy rating will cost over £100 per year extra to run! Compound that with the extra use your family may have over the year and times that by 5 years or so and you've saved yourself a tidy sum by buying the more energy-efficient vented dryer.
The Design
The overall look of the vented tumble dryer may not seem important initially, but take a second to consider how it's going to actually look in your home.
Let's be honest, although we shouldn't judge others it's hard to believe others aren't judging us. And that's why we never recommend buying an appliance that we would personally feel comfortable having in our own home.
Seeing "lifestyle" photos of the machine it's a great way to help you visualise how it will affect your home before making a purchase.
Frequently Asked Questions
What does vented mean on a tumble dryer?
Vented tumble dryers vent out moisture the machine takes from your laundry through a hose. This is why it's important to have a window or door near the location you're planning to place your vented dryer.
Which is better vented or condenser tumble dryer?
A standard vented tumble dryer uses considerably less electricity than a standard condenser dryer. A vented dryer is also cheaper (on average) to buy, and you don't have to empty the machine's reservoir (like you do on a condenser model). But with that said, you will need a nearby window or door to stick the hose through as they do require ventilation. The one that's best for you will be determined by your scenario. Have a nearby window, door or existing vent fitted through your wall? Then get a vented dryer. If not, get a condenser dryer.
Can I use vented tumble dryer without hose?
Most vented tumble dryers will work without a hose, but it's not recommended as it will cause the room to get damp (which leads to mold). Wet laundry will hold multiple litres of water which you'll be expelling into your house. The machine will also expel a lot of fluff and other bits of material that'd make whoever is in charge of keeping that room tidy's life a nightmare! We highly advise you buy a hose before using your dryer or use a good vent hose condenser kit.
What happens if you use your dryer without a vent?
Water and fluff will be expelled around the room, causing damp, dirt and potentially damage to the surrounding area.
Is there a way to vent a dryer inside?
Many people use vent hose condenser kits to enable them to use their vented dryer without adequate ventilation. It's a good solution if you have an existing vented dryer, but we would recommend buying a condenser dryer if you've not yet made a purchase.
Are vented dryers any good?
Vented tumble dryers are great! They are affordable, energy efficient and save you having to manually dry laundry on the washing line or use your radiators and make your house damp. Just make sure to read through our buying guide to ensure you get the right one for you.