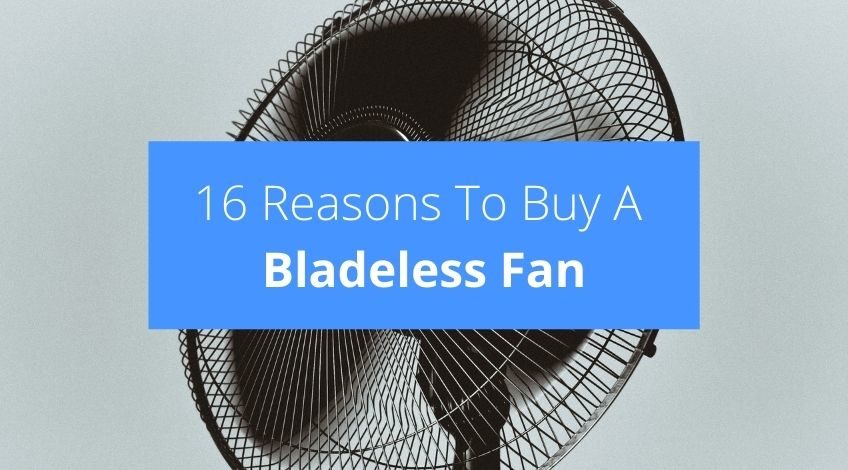 16 Reasons To Buy A Bladeless Fan
Once the temperature rises indoors most of us reach for a fan, it's a fast and convenient way to feel cooler. Fans are cheaper to operate than air conditioning units and in many cases fans are quieter too. But why bladeless fans as opposed to conventional fans?
Since 2009 when the bladeless fan was first introduced, their popularity has been rising year on year. As we seem to be experiencing hotter summers, more and more people are buying fans, and in particular, bladeless fans. 
One of the main contributing factors to the operational profit of the Dyson company doubling in the year ending 2009 was the bladeless fan. In 2015 the Dyson company made a profit of £367,000,000 despite spending more than £3,000,000 per week on development and research.
Why Is There Such A High Demand For Bladeless Fans?
Even though they cost more to buy than conventional fans, many people are turning to the bladeless fan to cool their homes. Here are some of the reasons why:
Designed To Please The Eye
Fans aren't that decorative as a rule. Bladeless fans however, are much more aesthetically pleasing. More like a piece of modern art than a fan. Functionality and style – perfect.
Lower Noise Levels
With many models claiming to be 60% quieter than conventional fans, bladeless fans are suitable for use in any room. Even the bedroom of a light-sleeper.
Energy-Efficient
Compared to air conditioning units or even conventional fans, bladeless fans cool the air faster and use significantly less energy.
Safe
With no visible moving parts, bladeless fans are safe enough to operate even when young children are present. In the unlikely event of a bladeless fan getting overturned or knocked down, it will cause no damage, unlike a conventional fan.
Moveable
Due to their lightweight design and relatively small size, bladeless fans can be moved from room to room without any overt struggle or undue strain.
Lightweight
Conventional fans that are large enough to make any difference have to counteract the fan's blade size and velocity, by adding a heavy base plate. Because of the way bladeless fans work, this is unnecessary. Allowing bladeless fans to be considerably lighter and easier to move.
Easy To Keep Clean
Conventional room fans (and ceiling fans) have large blades that attract dust, these need to be regularly cleaned to remove all of that dust. With many models this entails removing the blade guard – By removing a series of screws first (and inevitably losing a few along the way). With a bladeless fan, there are no visible moving parts, so much less to dust.
Cools And Heats The Air
Unlike a conventional fan that just pushes the air around it, a bladeless fan distributes the air internally first. This allows it to incorporate a heating element so when it's cold, the bladeless fan becomes a bladeless fan heater.
Easy To Operate Anywhere
Bladeless fans operate at the flick of a switch, as do conventional fans. But bladeless fans can be operated in many circumstances where conventional fans could not. Like:

Children's rooms
Bedrooms
Libraries
Anywhere that a conventional fan would be too noisy or too bulky.

Timer Function
Many bladeless fans have a preset timer function, allowing you to set when it will operate and when it will stop. This is very convenient for those of us who don't want any disturbances from whatever we are doing.
A Range Of Sizes To Choose From
Some bladeless fans are smaller than standard desk fans, others can replace a ceiling fan. There is a bladeless fan to suit almost any circumstance.
Long Guarantee
Many bladeless fans come with a 15-year guarantee, that shows the confidence the manufacturer has in their product. Even though the cost price might seem slightly exorbitant, when divided over a 15-year period, it doesn't work out too bad.
Purer Air (Some Models)
There are bladeless fans that incorporate an air purifier to remove dust and other particulates from the air whilst the fan is operating.
Cheaper Running Costs
Regular, conventional fans are usually powered by a 50-Watt motor, whereas a bladeless fan is commonly powered by a 26-Watt motor. Bladeless fans consume around 50% less energy than conventional fans. This means it will cost half the amount of the conventional fans running costs to run a bladeless fan.
Brand Confidence
A brand like Dyson, that offers a 15-year guarantee on their air multiplier fans, and has been a familiar name for many years, is far more likely to honour any warranty. You can buy their products with full confidence in the workmanship, reliability and integrity of the company.
Smaller Overall Size
Bladeless fans are far smaller than their bladed counterparts. This means they can be used in many more places, and are much more convenient to move or store away.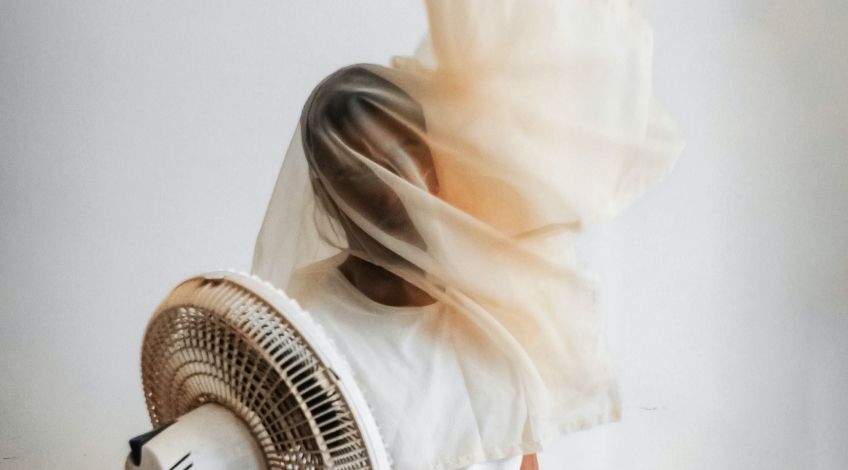 Bladeless Fans Have Fan Blades
They are called bladeless but that's not an accurate description, they should possibly be called hidden blade fans. They work so well due to the efficiency of the design. Inside the base part of the fan is a small compressor that compresses air that's sucked into the unit. The compressed air is then forced via an internal fan, through vents in the top ring of the fan unit. The air then passes over an aerofoil (much like an aeroplane wing), which creates negative pressure that effectively sucks fresh air into the airflow.
The airflow can hit speeds of up to 55 miles per hour (MPH) and due to that aeroplane shaped aerofoil, more air is sucked in.  That's why Dyson called it an air multiplier. 15 times more air leaves the top of the unit than is drawn in through the bottom. So bladeless fans have fan blades, they are just concealed.
Dyson markets theirs as air multipliers because that's what they actually are – They multiply the amount of air forced through the room. Many other companies have now copied the technology but cannot call them air multipliers because that's been patented by the Dyson company. These copies are 10 times cheaper than a Dyson in some cases, but they are often not as good as the Dyson.
Frequently Asked Questions
What manufacturer bladeless fan should I order?
There are a number of manufacturers producing bladeless fans, but the only one offering a 15-year warranty is Dyson. Other popular brands include, EZSMART,Ocean Loong, electriQ and many more.
Is it safe to shop for a bladeless fan online?
It is safe to shop for a bladeless fan online, as long as you use a reputable, well-known retailer.
Can I buy a bladeless fan on finance?
You can buy a bladeless fan on finance with many retailers offering their own finance deals.
How long do bladeless fans take to be delivered?
It is possible to get next day delivery on bladeless fans from many retailers including: Amazon Prime, Appliances direct, Currys, AO.com, and many more.
Are bladeless fans worth buying?
Bladeless fans are worth it because they are energy-efficient, cheap to run, lightweight, quiet, safe, portable, easy to clean and many come with a 15-year guarantee.