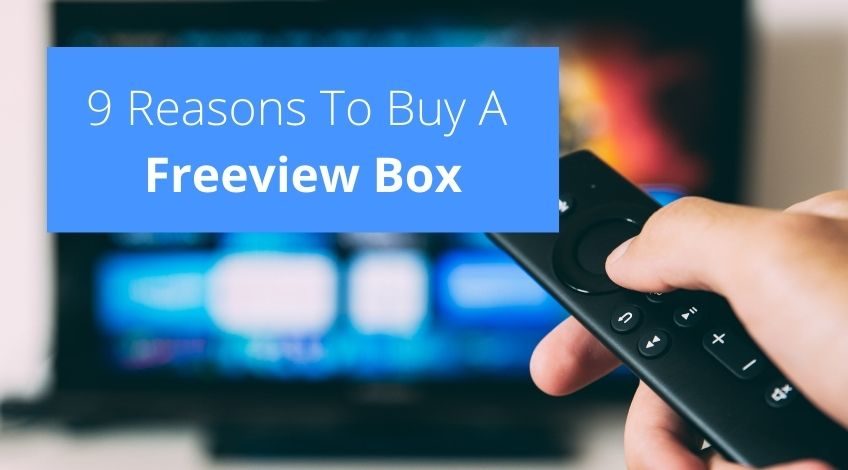 9 Reasons To Buy A Freeview Box
Freeview is a free digital TV service. It has been around since 2002 , and after the great digital switch over in 2012, Freeview has become the best way to receive basic TV.  Many new TVs have Freeview tuners integrated into their circuits but if you want more than just the basic features, it's best to buy a Freeview box.
Buying a more advanced set top box, will allow you access to: Recording, catch-up TV and apps including BBC sport. These set top boxes cost anywhere between £20 to £200 and include extras like larger memory storage (up to 2 TB).
Why Get A Freeview Box?
There are many reasons for getting a Freeview box, here are some of the main reasons.
1. No Subscription Charges
Apart from the initial outlay of buying the Freeview box, there are no other costs at all. No subscription charges and no hidden costs either.
2. Large Area Coverage
Up to 98% of the British Isles can access Freeview. Making Freeview the most accessible TV supplier in the Country.
3. Catch-up TV
The 7 day catch up service allows you to go back and watch many programs from the main channels, from a week ago.
4. Easy To Use Program Guide
Freeviews Electronic Program Guide (EPG) is a simple to use, user friendly guide, designed to give you easy access to current programs, programs you might have missed over the last 7 days, and programs you want to record.
5. Pause, Rewind, And Record Live TV
This is a great feature to have, even if you only use it to pause long enough to go and make a cup of tea. Never miss the action again, if something happened in the plot of the drama you're watching and you missed it, just rewind and watch it again.
6. On Demand
Via an internet connection (either WiFi or ethernet cable), you can access all the major catch-up on demand channels, like BBC i player, ITV hub, All 4, Demand 5 UKTV play and many more.
7. Many HD Channels Available
HD gives clearer images and an all round better watching experience. With up to 15 HD channels, Freeview gives you the best of both worlds.
8. Large Choice Of Channels Available
With access to so many free-to-air channels, Freeview is a great way to get mainstream TV into your home.
9. Stylish Box Design
Set top boxes have come a long way in a few short years, these modern Freeview set top boxes have been designed to look  sleek, stylish and unobtrusive. After a few days, you forget they're even there.
What Channels Are Available With Freeview?
Depending on where you are in the country, you can access up to 70+ channels, plus around 30 radio stations. These channels include all of the standard TV channels available in the UK including, BBC1, BBC2, BBC 4, ITV 1, ITV 2, ITV 3, ITV 4, Channel 4, and Channel 5.
 Along with many other free-to air channels including Pick, Dave, More4, Really, Yesterday, Drama, 5USA, ITV4, Home, ITVBe, E4, 5STAR, Spike, Quest, Food Network, Challenge, Four7, My5, True Entertainment, CBS Action, CBS Reality, Tru TV, TCC, 5SELECT, Horror Channel, CBS Drama, Sony Crime Channel, Paramount Network, Your TV, Blaze, Community Channel, Travel Channel and Travelxp.
Film Channels Available On Freeview
Film channels are a bit light, but represented with Film4, Sony Movie Channel, Movies4Men, True Movies, Talking Pictures TV Plus kids channels including CBBC, Cbeebies, CITV, Pop, Tiny Pop and Pop Max.
Shopping Channels On Freeview
There are also shopping channels including QVC, Ideal World, Create and Craft, QVC Beauty, QVC Style, Rocks and Co, Gems, The Jewellery Channel, Jewellery Maker, Hochanda and Sewing Quarter.
Featured News Channels On Freeview
Plus news channels like BBC news, Sky news, RT, and BBC parliament, and a token religious channel, TBN UK.
Extra Channels
There are also around 15 HD channels available, many +1 channels, and some local channels too.
Frequently Asked Questions
What manufacturer of Freeview boxes should I order?
There are many decent Freeview box manufacturers including: Manhattan, Humax, Panasonic, Bush, and many more.
Is it safe to shop for a Free view box online?
It is safe to shop for a Freeview box online, as long as you shop with a well-known, reputable retailer.
Can I buy a Freeview box on finance?
You can buy a Freeview box on finance, with many of the top electrical retailers offering great finance deals.
How long does a Freeview box take to be delivered?
Many retailers offer next day delivery these include, Amazon Prime, Argos, Currys, AO.com and many more.
Are Freeview boxes worth buying?
If you are looking for cheap access to over 70 free-to-air channels, no subscription costs, pause, rewind and record live TV more than 15 HD channels and on demand services then a Freeview box is well worth buying.