17 Reasons To Buy A Halogen Heater
The latest advancement in the world of electrical heaters, halogen heaters are becoming more and more popular. They are cheap to buy, cheap to run, and portable. But there's more to their popularity than that. If you are unfamiliar with halogen technology it is a very energy-efficient form of heating, and incredibly safe to use.
What Makes Halogen Heaters So Popular?
With more people switching to halogen heaters as their choice of portable heater, more manufacturers are producing more halogen heaters. Giving us, the general public, more choice than ever before. Halogen heaters are a great choice of heating because:
A Safe Source Of Heating
As halogen heaters produce no smoke, exhausts or fumes, they are safe to use in any room from nurseries, childrens playrooms, bedrooms, in fact, anywhere there's a plug socket will be safe enough for a halogen heater to be installed.
Long Lasting Energy Production
Halogen bulbs are made from quartz, unlike glass, quartz is more robust and will not break easily. A tungsten element and halogen gas create the perfect long-term heating environment.
Instant Heat
Halogen and tungsten are both highly conductive materials, as soon as the heater is switched on, it starts producing heat.
Simple To Use
Just plug in, and switch on, you will now have a warm room in no time.
Inexpensive Purchase Price
Halogen heaters start at around £10 for a 1200 Watt model with an oscillating feature for even heat distribution.
Cheap Running Costs
That same 1200 Watt halogen heater will cost around 19 pence per hour to heat a room. That's around £1.14 per day, assuming an average of 6 hours per day usage and electricity charged at 16 pence per unit.
Pleasant To Look At
Many earlier halogen heaters were quite ugly to look at, these modern halogen heaters are much more easy on the eye. Some even look like traditional fireplaces.
Portable – Move With Ease
Due to their compact, lightweight design, halogen heaters are easily transported from room to room. Allowing you the freedom to warm up just the areas you need.
No Heat Loss-Full Control
Due to the way halogen and tungsten work, once you cut the power the unit cools down immediately. So there's no slow heat loss, the heat is turned off and stops pumping heat out at the same time. 
More Energy-Efficient Than Any Other Form Of Heater In Its Class
According to the Centre for Sustainable Energy (CSE) Halogen heaters are more economical than fan heaters, bar fires, oil-filled radiators,and convector heaters of comparable size.
Clean Air
Halogen heaters produce no gas or other harmful pollutants. No smoke, carbon dioxide, carbon monoxide etc.
Cool To The Touch
Halogen heaters radiate heat, that means they heat objects rather than the air. So there is no heat loss into the room and the heater itself stays cool to the touch.
Preset Timers
This is a welcome function, you can preset the heater to come on just before you get up in the morning, or just before you get home in the evening. Ensuring your home is warm when you are there but not wasting energy or heat when you are out.
Versatile Designs
Halogen heaters are available as free standing fires, wall mounted, and even ceiling mounted. Whatever your situation, there will be a halogen heater to fit in.
Outdoor Usage Too
Halogen heaters have also been designed as patio heaters nowadays, to create that nice warm ambient feeling when the late summer nights start drawing in.
Variable Heat Settings
Some models have up to 4 heat settings allowing you to be in full control of the level of heat in your home.
A Full Range Of Sizes
Halogen heaters come in 4 sizes, small, medium, large and extra large. Ranging in power from 800 Watts to 3000 Watts. So you have the choice of size and power capability to suit your home, room size and budget.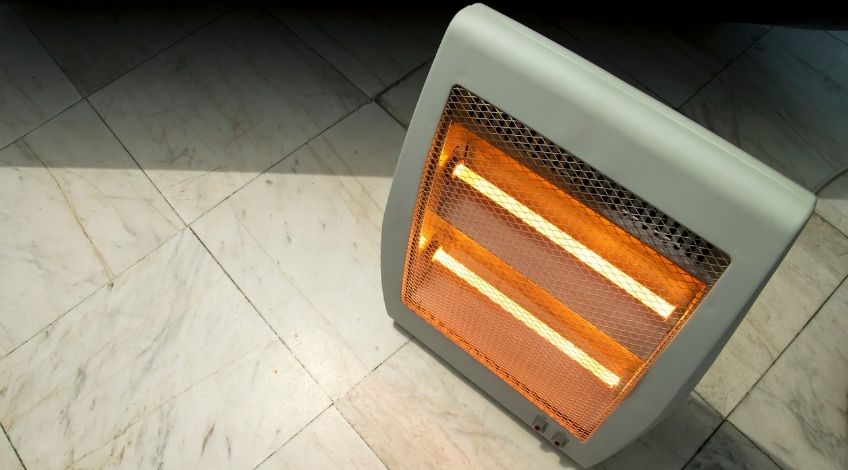 Average Running Costs For Various Sized Halogen Heaters
Assuming electricity is charged at 14 pence per unit, the average costings are as shown below.
| Halogen Heater Size | Power Rating | Maximum Area Heated | Energy Cost Per Hour In Pence |
| --- | --- | --- | --- |
| Small | Up To 800 Watts | Up To 100 Square Foot | 9.3 Pence Per Hour |
| Medium | Up To 1200 Watts | Up To 150 Square Foot | 17 Pence Per Hour |
| Large | Up To 1600 Watts | Up To 200 Square Foot | 22.5 Pence Per Hour |
| Extra Large | Up To 3000 Watts | Large Garage Or Shed | 42 Pence Per Hour |
Frequently Asked Questions
How long do halogen heaters take to be delivered?
Depending where you order your halogen heater from, you can get next day delivery. Amazon Prime, Toolstation, CEF, Appliances direct, Wilkinsons, all offer next day delivery, as do many others.
Are halogen heaters worth buying?
Halogen heaters are definitely worth buying, they are cheap to buy, cheap to run, create instant heat, safe and reliable.
What manufacturer of halogen heaters should I order?
There are many manufacturers making halogen heaters, some of the popular are Daewoo, Belaco, Beldray, Warmlite and many more.
Is it safe to shop for a halogen heater online?
It is safe to shop for halogen heaters online, as long as you do your research, and choose a well-known retailer you should find the best deals on brands, delivery and finance.
Can I buy a halogen heater on finance?
You can buy a halogen heater on finance, with many retailers offering their own financing deals. Many at 0%.