How To Clean A Boat With A Pressure Washer
If you're a boat owner, you don't need me to tell you just how much fun you can have out on the open water. Lazy days in the sunshine fishing, swimming, and generally enjoying yourself. You also don't need me to tell you how difficult cleaning a boat can be either.
Over time saltwater can attack the underside of the boat. There's also the possibility of algae and weed growth, and water creatures like barnacles that can attach to the hull. All of these things not only make the boat unsightly, they can all cause structural damage as well. Freshwater boating is no different, although you don't have to deal with salt damage, there are plenty of other factors that can cause problems.
For example, narrowboats travel on rivers and canals and never touch salt water, but still need their hulls maintaining. They need to be coated in a bituminous paint or an epoxy paint to prevent corrosion of the steel hull, to ensure these coatings adhere to the hull properly the boats need cleaning before application. 
Whether you own a boat made from steel, wood or plastic, it will need to be removed from the water for routine maintenance at some point. While it is out of the water is a good time to inspect the hull. The only way to successfully inspect the hull is if it is clean. This is where the pressure washer comes in.
Pressure Washing A Boat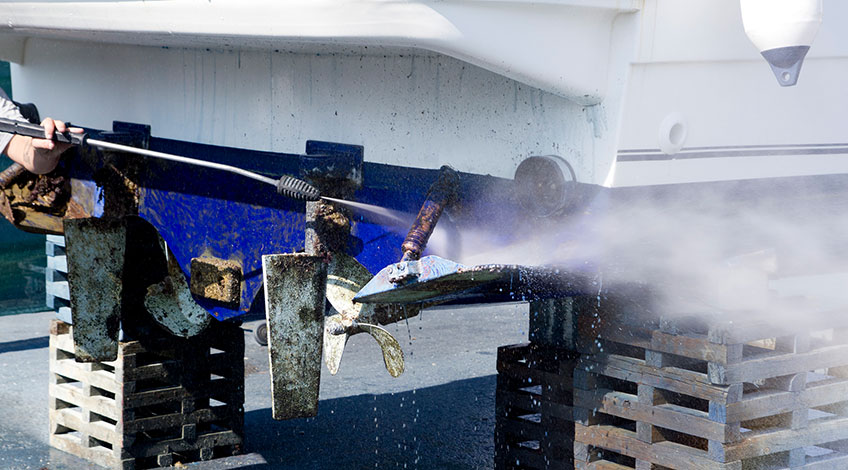 Now your boat is out of the water and is ready to be pressure washed clean. Here is our easy step by step guide for a quick, easy and successful boat cleaning process using a pressure washer.
Start your pressure washer in the usual way (as stated in your operators manual).
Use the recommended detergent for your pressure washer.
Using the black nozzle, spray the detergent from the bottom to the top.
Allow 5-10 minutes for the soap to do its work. Make sure to keep the surface wet during this time.
For hard to remove stains, algae and barnacles use a rotating brush attachment to really get to grips with the stains.
Attach the white nozzle to the spray gun and flush all detergents from the pressure washer.
Rinse the boat from the top to the bottom. 
It's best practice to wash the trailer and the boats outboard engine as well as this will prevent any build-up of any problem causing foreign bodies.
When washing the wheels, take care to move further away from them to lower the water pressure so as not to damage them.
Take extra care around any stuck on signs or decals on the boat when using the pressure washer. Use the gun so that the spray hits the surface at a 90-degree angle so as not to damage the decal. Work from the centre of the sticker out and stand back slightly to lower the pressure of the water.
Remember to flush the outboard boat engine when finished to remove any detergent.
Safety Instructions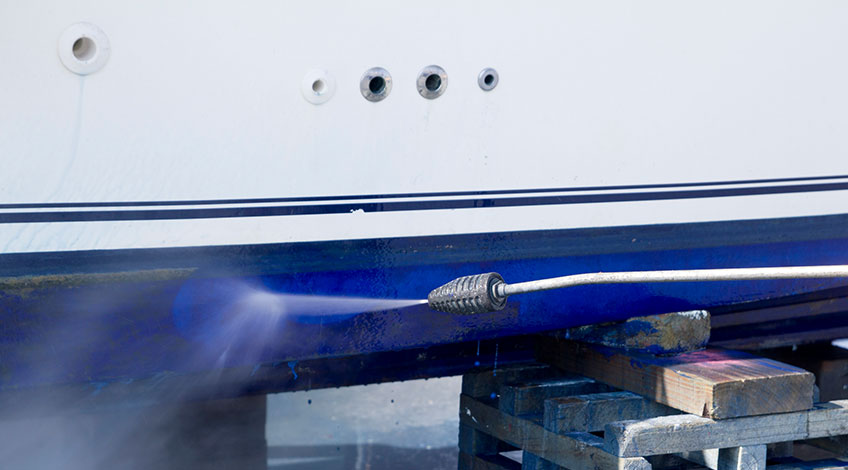 These are important reminders on safety matters, not just for the boat but also for you.
Before pressure washing your boat, remove all canvas hoods, seats, furnishings or other items that can be damaged by a pressurised water washer. 
Protect any exposed electrical components by covering with plastic sheeting held in place with masking tape.
Wear appropriate footwear. Never wear opened toe shoes or sandals when operating a pressure washer.
Wear appropriate eye protection. It's not just the pressurised water that can cause injury, it's the minute (or not so minute) particles that can fly from the surface while pressure washing.
Never pressure wash your boat in an area where grit or gravel is present. Under the immense pressure from a pressure washer, those tiny pieces of gravel can become as dangerous as a bullet. Not only capable of damaging your boat, but also causing personal injury too.
Never allow the pressure washer to be pointed directly at a person, animal or plant. To do so can cause serious damage.
How To Protect The Boats Hull After Pressure Washing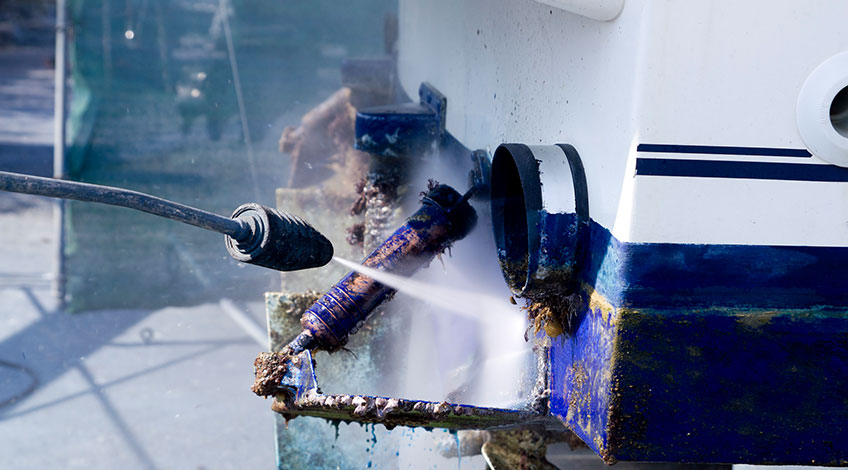 Allow a full 48 hours of drying time after pressure washing your boat. Then apply marine wax to the hull of the boat to give added protection and to maintain that showroom finish. Most marine waxes contain a UV protector to help prevent sun damage.  
It is generally recommended that boats are waxed at least every 6 months to protect the paint and to keep the boat looking as good as new. Always wash the boat before waxing, following our step by step guide. This will ensure you have removed all of the dirt and debris, allowing you to apply the wax without causing any damage to the boat. 
Frequently Asked Questions
Is it OK to pressure wash a boat?
Pressure washing a boat is a great way to clean the boat quickly and efficiently, as long as you follow proper safety guidelines.
How much psi do I need to wash my boat?
Pressure washing a boat is very similar to pressure washing a car. The recommended PSI for both car and boat pressure washing is between 1200 and 1900PSi with a 1.4 to 1.6 GPM.
Can you pressure wash gel coat?
Fibreglass components are often coated with a gel coat to protect them. If washing with a pressure washer, use low power nozzles (either black or white nozzles) and stand well back to lower the pressure even more.
How often should I clean the bottom of my boat?
The bottom of a boat should be cleaned and waxed at least every 6 months, more if necessary.
Can you pressure wash a pontoon boat?
As long as you are careful and use the correct nozzle and pressure rating, pressure washing is a great way to clean a pontoon boat.
What is the best pressure washer to use on a boat?
Most pressure washers can be used to wash a boat including petrol and electric models. To see a full list of our recommended pressure washers click here.