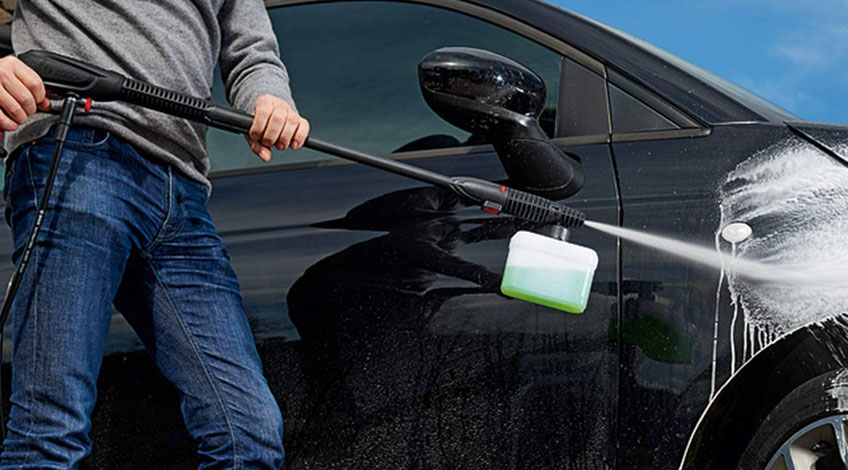 Last

Updated: Oct 2023
Best Pressure Washers 2023
There are many chores that we have to do that are just that, a chore, no fun at all, but something that has to be done. So we put them off, until they're so bad we have no choice but to get on with them. I'm talking about chores like cleaning that greasy, burnt mess that's stuck on the barbeque.
Or that grime encrusted garden furniture, the filthy patio, muddy drive, car that's so dirty you're not sure what colour it is anymore… The list is endless, all the dirty jobs that we keep putting off and as a result they get worse, building up and increasing. What if those chores were something fun to do?
If something is fun, we look forward to doing it, can't wait for the opportunity to get out in the fresh air and get on with it. If this is you, then it's time to start thinking about investing in a pressure washer.
Pressure washers make short work of all those dirty jobs, and as they clean so quickly and effectively, it's an absolute pleasure using one and watching the cleaning power in action. I mentioned some of the tasks that are usually considered as chores, but it doesn't stop there. The applications for a pressure washer are limitless, maybe you have a boat that's picked up muck and grime from the river bed or sea bed.
Or how about that algae growth that seems to appear from nowhere, dirty pools or pathways, even garden walls will look great after a quick blast from a pressure washer. After just one use, you'll see just how satisfying it is to watch filth become clean in seconds. Welcome to the wonderful world of pressure washers.
Best Selling Pressure Washers
Sale
Bestseller No. 1
Sale
Bestseller No. 2
Sale
Bestseller No. 3
Nilfisk Core 140 Power Control, Car Edition, Blue, (128471303)
On-Board Storage: 6m flexible hose is safety stowed away in the internal reel, so no twisting, wrapping, or mess. Also includes storage for high-pressure lance, trigger gun, foam sprayer, mains cable, and accessories.
Ideal for cleaning your bike and car with adaptable nozzles and pressure settings
How Do Pressure Washers Work
Pressure washers take tap water which is normally around 4 bar of pressure, and pump it out at between 130-160 bar of pressure. But it's not just the pressure that's important, it's also the volume of water, on average around 300-500 litres an hour. It's the volume of water and the amount of pressure that make light work of all your outdoor cleaning chores.
Turning a chore into an absolute pleasure is the only way to describe it, no more putting the tasks off, what you'll actually find is you can't wait to see something that needs cleaning. So you can get out there and give it a blast.
What Are The Benefits Of Pressure Washers
One of the main benefits of owning and using a pressure washer is just how much time you can save. Chores that used to take an absolute age are now completed in next to no time. Coupled with the intense cleaning power of the pressure washer without the need for harsh chemical detergents and a range of attachments perfect for most cleaning tasks.
Another benefit that you'll notice on your first use apart from just how quick a pressure washer cleans, is how you don't have the aches and pains usually associated with these particular chores. Gone is the aching back, the knee pain from crawling around on the floor with a scrubbing brush for hours. Plus there's no more arm or shoulder pain from all that scrubbing either.
And when you're sitting back in your favourite chair, drink in hand after the shortest outdoor clean ever, just take a minute to remember that were it not for the pressure washer, you'd only just be starting to get to grips with the dirt and grime. By the time you're on your 5th drink you might have been halfway through your cleaning chores before.
What Are The Disadvantages Of Pressure Washers
From the viewpoint of disadvantages, we have to consider the amount of water they use. We often hear about water shortages and if this is a concern to you then maybe you should stick with the hard work and dirty patios. There's also the matter of detergents, most dirt and grime will be removed with just water and pressure, but sometimes for an even quicker clean you can add detergents and of course any chemical cleaner is not necessarily good for the environment.
With that said the detergents are a choice and not a necessity so not really a disadvantage.
All domestic pressure washers are noisy, this is a definite disadvantage and the only way to solve this problem is by wearing some sort of ear protector, so this cost needs to be added to the overall price you pay.
Another thing that could be considered as a disadvantage might be the price, but in this modern world can you put a price on cleaning power and ease of use. Plus at the lower end of the range of pressure washers prices start at around £50 not really expensive in the grand scheme of things.
The cheaper models tend to have a shorter warranty period and this could be a problem, but if it lasts for a year it means it'll cost you around £1 per week.
Pressure Washers Buyers Guide
So I'm guessing if you've got this far, you're sold on the idea of a pressure washer. Let's look at what you need to consider before choosing the make and model to buy. When you know what to look for, it's so much easier to make the right choice for your needs.
Water Flow
This Is just the way the rate of water is measured, and it gives you an idea of how much water you'll use every time you use the pressure washer.The water flow plus the water pressure governs the intensity of the water that blasts the dirt. So the higher the flow, the more water and the quicker it cleans.
Water flow is measured in litres per hour and dependent on price and model chosen, at the cheaper end of the scale the flow rate is around 300-350 litres per hour. Whereas the dearer models usually have a flow rate of around 450-500 litres per hour.
Water Pressure
The way this works is the higher the water pressure, the greater the cleaning power, this is basic physics. The higher the pressure, the faster the water flow, and the greater energy that water will have. This means the dirt will have less resistance leading to cleaner surfaces in a shorter time scale.
Water pressure is measured in bars, with 1 bar defined as the amount of force needed to raise water to 10 metres high. High pressure water systems in the home are usually between 1-1.99 bar with anything over 2 bar considered extra high pressure.
Looking at pressure washers, the cheaper models tend to have a pressure value of around 100-110 bar and the top of the range models tend to average around the 140-150 bar.
Adjustable Pressure
On all pressure washers there is the ability to adjust water pressure, on lower priced or budget models this is usually done by twisting the nozzle and restricting the flow of water. Much like squeezing the end of a water hose to increase the force of water.
On dearer models you can adjust the flow by means of a button,and some have the bar rating displayed on the handle, and some models have adjustable flow as well as pressure.
Ability To Clean
The only true way to evaluate the pressure washers ability to clean is to use it, of course this isn't possible in most cases before you buy. The best that you can do is consider the flow rate, water pressure and power. The higher the flow, and water pressure the more powerful the ability to clean.
Overall Design
The design is probably one of the most important factors when considering which unit to buy. points to consider include the stability of the pressure washer, will it stand up on it's own? The ease of storage when not in use, do the accessories store on the pressure washer when it's not in use?
The Motor
The way pressure washers are powered is by an electric motor. To operate you plug into a standard earthed socket and the motor powers the internal pump to increase water pressure. Always remember to turn on the water supply before starting the motor, because if the motor starts and there's no water, the pump can create a vacuum which will damage the machinery.
The Handle
You will be holding the handle all the time you're using the pressure washer, so it needs to be comfortable and fit your grip properly. You also need to be able to use it whilst standing upright, if you are stooped over for instance, you will create pain in your shoulders, back and legs.
Most models have telescopic handles that can be adjusted to suit the height you need, but another consideration is how short it can be adjusted because there will be circumstances where you need close up work. For instance if you are up a ladder cleaning out guttering you need to work close with a short nozzle.
Also how easy is it to attach and remove the attachments to the pressure washer, currently the standard is a simple click in and click out function.
Power
As a general rule the more power the pressure washer uses, the higher the flow rate and water pressure are. Of course the higher the power the more electricity it consumes, but higher power units clean quicker and therefore use that power for less time. This means higher power washers are more energy efficient due to time to power ratios.
Accessories
The range and number of accessories supplied with your pressure washer are different  for each model. But generally the more expensive models have more tools than the cheaper ones. There are nozzle adjustments for increasing or reducing power of water flow depending on the integrity of the materials being cleaned.
For example, decking is made of wood, some high powered pressure washers at full power could cause that wood to splinter, but will clean perfectly at lower pressures.
Some include a foam nozzle that allows you to add foam just at the very end of the nozzle so cleaning foam from the entire system is eliminated. Choose your machine based on it's individual specifications and your needs, but if there's an attachment you think is useful that doesn't come with the model of your choosing, it can probably be purchased separately from the manufacturer.
Some accessories are exclusively for certain tasks like car cleaning brushes etc, so look at what you want to use your power washer for before deciding which unit to buy.
Noise
Unfortunately most pressure washers are noisy, you can't really do anything about it. Apart from possibly using ear protectors in which case the noise becomes less of a problem.
The Hose
The hose is another very important part of a pressure washer and should be given careful consideration before purchasing a pressure washer. You need to consider the length of the hose and the flexibility.
 It should be long enough to extend but not too long that it tips the pressure washer over when extended. And flexible enough to move where you need it without coiling up on you.
But it needs to be able to coil for storage.
Ability To Use Alternative Water Supplies
There are some models of pressure washers that are able to utilise water from wells, rain barrels and such like. This is particularly handy if you live in an area with rules on water usage or a hose ban.
Guarantee
As with all electrical items, a guarantee is only as good as the company that issues it. That's why it's important to buy from a reputable company with a good brand name. A company that's been around for years and is well known for their robust products.
With pressure washers the guarantee is usually split between the actual machine and the spraying equipment. One important point to note is that most guarantees do not cover damage by freezing. So always store your pressure washer in a frost free place.
How Much Is A Pressure Washer
The cost of a pressure washer varies from around £50-£550 depending on the make, model and functions available. Before you decide on either a cheap, basic model or a top of the range high price model, consider what you want to use the pressure washer for. Some of the higher priced models will have functions you just don't need, so why pay extra to get them?
That said some of the basic models will not have enough power to do the jobs you need so again consider all things before buying.
Frequently Asked Questions
Are Pressure Washers Any Good?
Yes they clean quickly, and can handle almost all cleaning jobs a homeowner can present them with. Obviously the better the make and model the better they are.
What Should I Look For When Buying A Pressure Washer?
You need to consider the flow and pressure rate, the wattage, design accessories, hose, handle. Also any specific needs you have like can it be used from a standing water system like a well or rain barrel for instance.
What Does BAR Mean In Pressure Washers?
BAR is the way water force is measured, with 1 bar defined as the amount of force needed to raise water to 10 metres high. 
Is Pressure Washing Bad For Concrete?
It is possible to damage concrete by applying too much pressure when using a pressure washer to clean concrete. So be sure to use the right nozzle attachment at the right power level to preserve the integrity of your concrete.
Should You Pressure Wash Your Deck?
Yes it is ok to pressure wash decking, but always remember that wood can be damaged and wet wood even more so. Use the correct attachment with the correct amount of pressure when cleaning decking with a pressure washer.
Can You Adjust Psi On A Pressure Washer?
Yes you can some pressure washers have dials to regulate pressure, others have adjustments on the wand attachment plus you can even change the nozzle tips to change the pressure too.
Do I Need Soap To Pressure Wash My Driveway?
General dirt and debris can be removed with just water under pressure, but for grease and oil stains use a detergent.
Is It Illegal To Pressure Wash My Driveway?
In some areas it is illegal to allow polluted runoff filled with chemicals, grease, oils etc that can be released by using a pressure washer. Check your local authorities statutes, in most cases it is perfectly legal to pressure wash cars on driveways.
Why Does My Pressure Washer Keep Losing Pressure?
The most common cause for pressure loss is when a nozzle becomes either worn or partially blocked. Worn nozzles lose pressure over a period of time so it's often not noticeable for some time.
What Is The Difference Between A Power Washer And A Pressure Washer?
The jet wash in a power washer uses heat, whereas a pressure washer uses cold, unheated water.
Will A Pressure Washer Remove Mold?
When used correctly a  pressure washer will effectively remove mold from any outdoor surface. Wood, brick, concrete, or vinyl, the best way to completely remove mold is with a pressure washer.
Where Can I Buy A Pressure Washer?
Pressure washers can be purchased at most electrical retailers including Argos, Screwfix, Amazon, B&Q, Homebase, Halfords, Wickes, The Range, and many more. It's worth doing your homework with retailers too, as once you've decided on the make and model you want prices can vary by quite a lot in some cases.