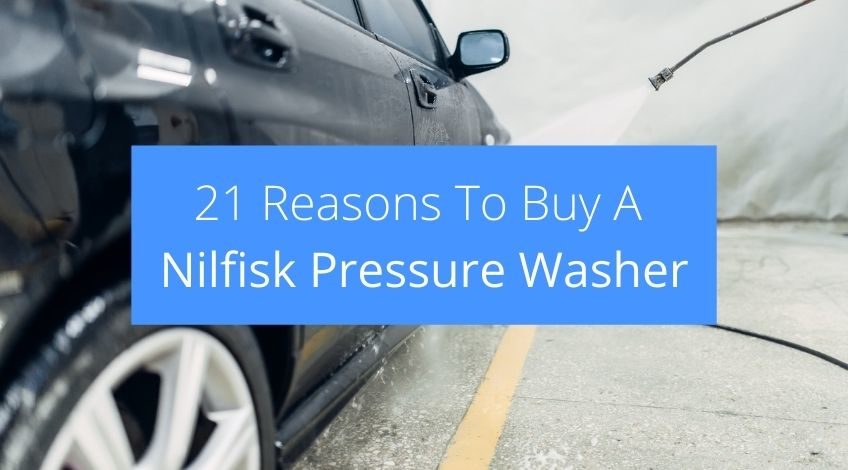 21 Reasons To Buy A Nilfisk Pressure Washer
If you are undecided which type of pressure washer to buy, you could do a lot worse than a Nilfisk. The company was established in 1906, and since that time they have proved themselves to be excellent engineers. And with a range of more than 15 models split into 3 groups, you'll definitely find a pressure washer to suit you.
They split their pressure washers into 3 groups :
The Compact Range
This is their smaller models, less powerful, but with plenty of useful features including, easy to connect "snap couplings" to attach the power hose to the spray bar., and the "click and clean" nozzle for changing nozzles for different tasks in a hurry.
The Excellent Range
This is their mid-range selection. More powerful than the Compact models, plus telescopic handles, "snap couplings" and "click and clean" nozzles. 
The Pro Range
This is their premium range, featuring all of the benefits and features of the previous 2 ranges plus higher power, a steel reinforced power-hose, and a brass cylinder head for extra power and strength. They also recommend the Pro Range for semi-professional use.
Why Are Nilfisk Pressure Washers So Popular?
With so much engineering experience, over 15 models to choose from, and a 2-year guarantee on every model, it's no wonder they are so well-known and respected. There are many reasons people replace Nilfisk pressure washers with Nilfisk pressure washers when the time comes to renew. Let's have a look at some of those reasons.
Brand Reputation
Nilfisk has been in the engineering industry since 1906 and they have been making pressure washers since 1985. In that time they have earned their highly valued reputation for efficiency, reliability, and value for money.
Tidy Storage
All Nilfisk pressure washers in the Compact and Excellent range are supplied with a wall mounting for ease of storage and saving space when not in use.
A Host Of Accessories
Nilfisk have thought of everything, quick coupling between hose and handle, click and clean for quick changes of accessories, tornado and powerspeed nozzles,automatic start/stop, easy storage of tools, hose and handle, foam sprayer and reliable metal pump. And that's just the compact range.

Go up to the mid-range Excellent models to enjoy all of the above plus pressure regulation, telescopic handle and soft grip on the spray gun.

The Pro models have all of the above plus a brass cylinder head on the pump, removable integrated detergent tank, and a steel reinforced pressure hose.
2-Year Guarantee
Every Nilfisk pressure washer carries a 2-year manufacturers guarantee 
Powerful Cleaning
The water pressure is measured in bars, and it's the amount of force required to lift water 10 metres high, that's equal to one bar. Most high-pressure water systems in the home are usually rated somewhere between 1 to 2 bars. Nilfisk pressure washers are rated between 100 to 130 bar for their compact range, 130 to 140 bar for their Excellent range and 150 bar for the Pro range.

Just to put that into perspective, Nilfisks lowest rated pressure washer has between 98 to 99 bar more power than your mains water pressure at home. Their highest range has 148 to 149 bar more than your water pressure at home.
Easy To Use
Whether you buy the cheapest, lowest graded nilfisk pressure washer, or the dearest, highest graded Nilfisk pressure washer, it will be incredibly easy to use.
Ease Of Movement
Whatever Nilfisk model you buy it will be easy to operate, maneuver and handle. Many models have wide wheels which allow easier mobility. The Compact range are the smallest and lightest but all ranges are easy to maneuver.
Extra Accessories To Make All Tasks Easier
Nilfisk have pretty much thought of everything when it comes to extra accessories you can purchase:
Power Patio Attachment
This can be used on wood, tiles, brick,and  concrete. Features adjustable power suitable for soft and hard surfaces. Can be used horizontally and vertically. So it's perfect for walls, fences, floors etc.
Super Foam Sprayer
This features fast coverage, adjustable dosage, compatible with Nilfisk detergents, saves up to 30% detergent compared to the standard Nilfisk foam sprayer. The foam remains on the surface longer (less need to wet it down), and allows easy access to the filter to deal with any blockages.
Multibrush Garden Furniture
A powerful rotating brush action to remove stuck fast dirt and algae, adjustable detergent dosing to allow the option for soaking in a stronger detergent if needed. If not it's easy to regulate the detergent flow.
Multibrush With Car Cleaning Brush
Features a softer brush that rotates to remove dirt and grime without damaging the car's paintwork. Adjustable detergent dispenser allowing increased or decreased detergent levels depending on the amount of grime to be lifted.
Multibrush With Wheel And Rim Brush
Featuring softer brush bristles to gently clean the wheels and rims.
Rotary Brush
Ideal for cleaning caravans, camper vans and garden furniture for fast, powerful cleaning of those hard to reach areas. The rotary brush is powered by the water pressure and has an adjustable neck and a 2 in1 rinse and scrub function.
Roof Cleaner
Features an extractable pole with a soft and gentle nozzle, for easy distribution of detergent on roofs. Extends up to 2 storey heights.
Drain And Tube Cleaner
This is ideal for clearing blocked drains, pipes and gutters. Powerful enough to remove mortar from the drain. Simple to use, just attach it to the pressure washer and feed it into the drain. Different lengths available for different pipes.
Power Nozzle
A powerful nozzle for those ingrained stains, grease, oil, barbeque gunk. Up to 50% more efficiency than the regular nozzle.
Multi Angle Adapter
This adapter has an adjustable angle from 0 to 90-degrees. This creates less splashing, and less cleaning up afterwards. 
Short Fixed Brush
Perfect for precision cleaning on delicate and hard to reach places. Car headlights etc. Long bristled brush for soft powerful cleaning.
Water Inlet Suction Hose
This can be used to use water from rain barrels, wells, and water butts. Features include a filter to remove any debris to prevent clogging and damaging your pressure washer.
Under Chassis Spray Lance
Wide angled spray allows you to get to those hard to reach places under the car with minimum effort. Also useful for flushing roof gutters and other hard to access places.
Frequently Asked Questions
How long do Nilfisk pressure washers take to be delivered?
Depending on where you buy your Nilfisk pressure washer you can get next day delivery from Amazon Prime, Argos, other companies offer a 3-day delivery service these include toolstation, clean store, and machine mart, and many other retailers.
Where can I buy a Nilfisk pressure washer?
You can buy a Nilsfisk pressure washer from Argos, Amazon, toolstation, clean store, machine mart and many more.
Are Nilfisk pressure washers worth buying?
Nilfisk pressure washers are worth buying, they have had many years experience in the engineering industry and they have a proven track record for value for money and reliability.
Is it safe to shop for a Nilfisk pressure washer online?
It is safe to shop for a Nilfisk pressure washer online as long as you buy from a well-known reputable retailer.
Can I buy a Nilfisk pressure washer on finance?
You can buy a Nilfisk pressure washer on finance, check with as many companies as you can to see what deals they are doing on delivery, price and finance.