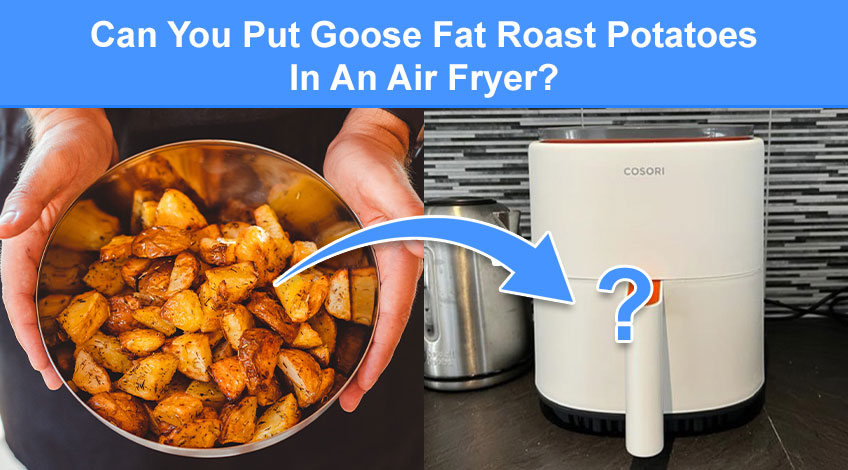 Can You Put Goose Fat Roast Potatoes In An Air Fryer? (read this first)
Many British food lovers are waking up to the benefits of cooking with goose fat. Goose fat makes the best roast potatoes, but more importantly, goose fat is surprisingly good for you.
Compared to other animal fats, goose fat is high in monounsaturated fats which can lower the level of cholesterol in the blood. It is also a good source of energy with 1 gram of fat providing 9 Kcal. The British government recommends that fat should make up a third of our dietary intake. 
That means around 76g per day for women and around 100g per day for men.
What Are The Health Benefits Of Goose Fat?
There are several health benefits to consuming goose fat which include;
Vitamin Content
Goose fat contains fat soluble vitamins including;

Vitamin A
Vitamin D
Vitamin E
Vitamin K

Less Saturated Fats
Compared to other animal fats like lard or butter, goose fat contains less than 33g of saturated fat per 100g (butter 54g, lard 40.8g)
Heart Healthy
Goose fat contains a high percentage of monounsaturated fat and oleic acid. Both of which are known to lower blood cholesterol levels.
Can You Cook Goose Fat Roast Potatoes In An Air Fryer?
You can cook goose fat roast potatoes in an air fryer and your family will be glad you did.
Ingredients
750g (1.5 lb) Roasting Potatoes (King Edwards, Maris Pipers or similar)
1 teaspoon of Salt
1 ½ tablespoons of Plain Flour
5 tablespoons of Goose Fat
Method
Peel and cut the potatoes into large chunky pieces
Place the cut potatoes into a saucepan of cold water
Add the salt and bring to the boil
Allow the potatoes to boil for around 8 to 10 minutes or until soft but not falling apart
Preheat the air fryer to 180 C (350 F)
Drain the potatoes and allow to dry for around 5 minutes
Sprinkle the flour over the potatoes
Replace the saucepan lid and shake the pan to ensure all of the potato pieces get covered in flour
Melt the goose fat in a small pan
Pour the melted goose fat over the potatoes
Close the lid and shake to ensure all of the potato pieces gets coated in goose fat
Place the potatoes in the air fryer basket  in a single layer
Air fry for 15 minutes
Turn the potatoes and air fry for a further 5 to 10 minutes or until crispy and golden
Serve
Air Fryer Goose Fat Roast Potatoes Cooking Tips
For best results use a floury potato like Maris Pipers or King Edwards
Cooking times will vary depending on the make and model of air fryer you own
Always preheat the air fryer before cooking
Only place the potatoes in a single layer
Remember to turn halfway through the cooking process
Always boil the potatoes before roasting them to ensure they are fluffy on the inside
Air Fryer Goose Fat Roast Potatoes Serving Suggestions
Traditionally cooked for Christmas dinner, air fryer goose fat potatoes can be served with any of your favourite meals including;
Roast Beef
Roast Pork
Roast Chicken
Roast Lamb
Roast Turkey
Do you have a favourite meal that you like to serve with goose fat roast potatoes? Let us know in the comments below.
What language do geese speak?
Portu-geese! 😂
SEE ALSO: 
Frequently Asked Questions
How long do roast potatoes take in an air fryer?
Depending on the make and model of air fryer you own, it will take around 20 to 25 minutes to roast parboiled potatoes in an air fryer.
What temperature should I set the air fryer at for roast potatoes?
You should set the air fryer temperature at 180 C (350 F) for roasting potatoes.
Which is better for roasting potatoes; duck fat or goose fat?
Both duck fat and goose fat work well for roasting potatoes. The answer depends on your preference.