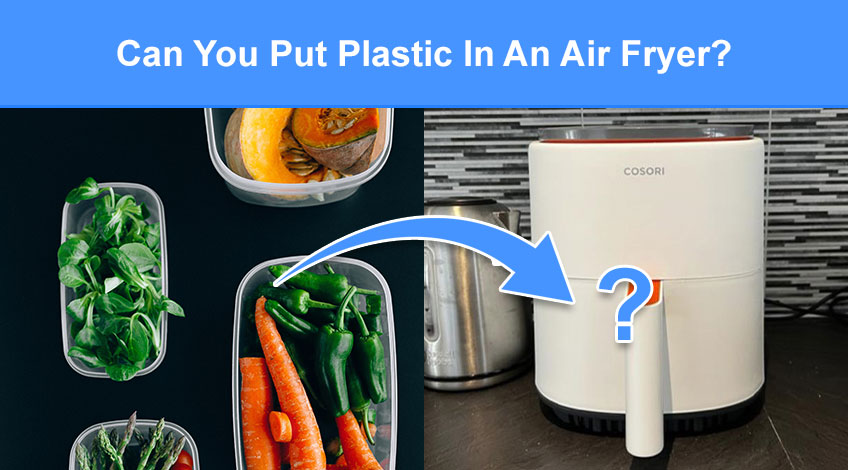 Can You Put Plastic In An Air Fryer? (read this first)
It may seem as if air fryers have been around for years, but they were only introduced onto the market in 2010. Which makes air frying a very new way of cooking food.
Which means we're all still learning what works in the air fryer and what doesn't. Half of the fun in the kitchen is experimenting with new ways to cook food.
The beauty of an air fryer is that it cooks food quickly and is a far healthier alternative to using a conventional oven or hob to cook food for your family. 
As part of that experimentation, you might have been tempted to use a plastic container in your air fryer. Which is what led you to this article, so let's get straight into it.
Can You Put Plastic In An Air Fryer?
The short answer is no, you can't put plastic in an air fryer. To understand why, you need to know a little about how air fryers work.
How Does An Air Fryer Work?
Air fryers work in a very similar way to convection ovens. There's an electric element that heats the air which is then pushed around the air fryer (and your food) via a fan.
This allows the air fryer to achieve relatively high temperatures and cook your food quickly and evenly. The temperatures achievable in an air fryer range from 94 C (200 F) to 204 C (400 F).
The air fryer basket (or shelf) is perforated to allow that heat to reach every part of the food that's being cooked. Which is how an air fryer can cook your food so quickly.
So Why Can't You Use Plastic In An Air Fryer?
The main reason why you can't use plastic in an air fryer is because the average melting point of plastic is 130 C (266 F) at which point the plastic container or whatever will start to melt.
What Happens To Plastic When It Melts?
When plastic starts to melt it will spread onto the interior surface of the air fryer. This will completely ruin your air fryer. In some cases, it will be contained in the air fryer's basket.
But then the basket will be ruined and in many cases, you can not buy new baskets, you'll need to replace the air fryer.
If the temperature becomes too high, the plastic will start to burn which leads to two more potential problems;
You will have a fire start in the air fryer which is extremely dangerous.
The plastic will start to leach harmful chemicals into the air.
Obviously, if a fire were to break out inside your air fryer it is going to be dangerous enough without the added risk of the ingestion of harmful chemicals.
The chemicals produced by burning plastic are known to cause respiratory problems, the weakening of the immune system and are also linked to some cancers[1].
Plus if even a minute amount of plastic melts onto the grill basket or shelf in your air fryer, it will leach harmful chemicals every time you use the air fryer.
To be fair, there are some plastics that can withstand more heat than others but all plastic containers will melt in the air fryer at high temperatures.
Plus if there is even the slightest chance of harmful chemicals leaching into your family's food, would you risk it?
This includes all types of plastic including clingfilm (plastic wrap), plastic cups, bowls, plates, containers, etc.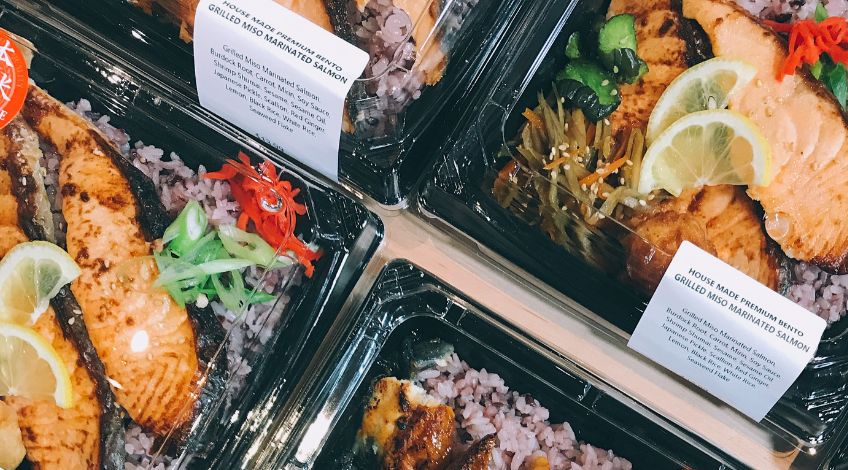 Can You Put Ready Meals In An Air Fryer?
Ready meals are usually designed to be cooked primarily in a microwave oven. The container that the ready meal is supplied in is likely to melt in an air fryer.
Even some oven ready, ready meals come in containers which are likely to melt under the extreme heat of an air fryer.
So the answer is no, you can't put ready meals in an air fryer unless they are sold in foil containers.
Can You Put Microwavable Plastic In An Air Fryer?
No, it is not safe to put microwavable plastic in an air fryer. Microwave ovens work in a totally different way to air fryers when cooking food. 
Air fryers use highly heated air which passes over the food at all angles to cook the food fast. Microwave ovens concentrate on heating the food, or more specifically the moisture in the food and not the container.
So while it's safe to use some plastic containers in a microwave, it is definitely not safe to use those same containers in an air fryer. Microwavable plastic containers are made from a plastic that has been made to be transparent to microwave energy and not the intense heat produced in an air fryer.
They could leach harmful chemicals into your food at best or catch fire at worst. 
What Can You Use In An Air Fryer Instead Of Plastic?
Fortunately there are many containers made from materials that are suitable for use in an air fryer without the risk of releasing harmful chemicals into your food. For more information check out this article. These include;
Pyrex Bowls
Sale
Pyrex bowls are specially made glass containers also known as borosilicate glass bowls. Borosilicate glass is a type of glass made from silica and boron trioxide.
It is able to withstand the high temperatures it will be exposed to in an air fryer. 
However, you should never put a pyrex (borosilicate) dish in the air fryer if it has been in the fridge as the sudden change in temperature could cause it to break.
You should also inspect the dish thoroughly to ensure it has no cracks or fractures that could expand under extreme heat.
Don't use any glass bowl in the air fryer, it needs to be borosilicate glass.
Metal Bowls
FineDine Mixing Bowls Set - 5-Piece, Easy-Grip, Stainless Steel Mixing Bowls for Baking, Cooking, Salad & Food Prep - Large, Medium and Small Metal Nesting Bowls
FAB FIVE - This premium, all-purpose metal mixing bowl set with lids has all your cooking and baking needs contained. It includes 700ml, 900ml, 1.4ltr, 2.8ltr, and 4.7ltr bowls, perfect for making dough, mixing salads, and marinating meat.
WON'T CHIP, BREAK OR WARP - Crafted from unbeatable stainless steel, this large mixing bowl set won't chip, break, or warp, like glass or plastic. Durable, lightweight, and professional, they're sure to add a dash of cool to the kitchen.
Bowls and dishes made from food grade metals like steel or iron are safe to use in an air fryer. But it's best to check with the manufacturer's recommendations before using them in an air fryer.
There are purpose built air fryer metal accessory kits available like this:
Air Fryer Accessory Set, 5piece Air Fryer Accessory Set, Cake Bucket, Pizza Pan, Metal Stand, Multi-Purpose Tilting Rack, Silicone Mat, Non-Stick Pan, Washable.
What you will receive: 5 pieces of air fryer accessories, 1 cake bucket, 1 pizza pan, 1 metal stand, 1 multipurpose tilting rack, 1 silicone mat, simple and practical for your air fryer's basic needs.
Quality materials: The air fryer accessories are made of stainless steel and food grade silicone, it is hard wearing, durable, rust free, safe and fast, heat resistant, enjoy cooking and they are easy to clean through the dishwasher.
Which include pretty much every type of container you're likely to need to use in the air fryer.
Aluminium Foil Trays
Merrwon Aluminum Foil Tray Round,50pcs Round Aluminum Disposable Foil Pans Oil-Proof Aluminum Foil Tin Box,Pie Plates Foil Trays for Baking,Cooking,Oven,Air Fryer
🌟【Oil-Proof Aluminum Foil Tin Box Design】It will be a lot of oily residue during baking, which is difficult to clean.These foil dishes can effectively keep food residue away from fryer and make it as clean as unused,saving time and effort to keep your air fryer clean.
🌟【Safety Material】The foil trays container using recyclable aluminium,which is waterproof,oil-proof,non-stick,100% healthy and with nice heat resistant,can withstand temperatures up to 660 degrees fahrenheit,which is suitable for all your baking needs.
You can buy disposable aluminium foil trays that will fit either in your air fryer's basket or on the shelf (depending on which type of air fryer you own).
You should be aware that aluminium is known to react with certain acidic foods like tomatoes, peppers, citrus, vinegar, wine or any sauce or marinade containing these foods. It causes the aluminium to leach into the food.
There have been scientific studies linking aluminium with Alzheimer's so only use aluminium foil trays or aluminium foil with non-acidic foods.
Silicone Liners
4 Pack Air Fryer Silicone Pot, 7.8'' Reusable Round Dishwasher Safe Replacement Basket Air Fryer Liners/ Accessory for Home Kitchen
🍖【Food Grade Silicone Material】The air fryer silicone pot is made of safe food-grade silicone, BPA free, Non-toxic, Non-stick, and high-temperature heat resistant up to 464 ℉ (240℃). Air fryer accessories will not affect the food The taste ensures the original taste of the food itself.
🍖【Silicone Air Fryer Pot】Compared to parchment paper liners, our silicone liners can be used many of times without deformation or damage, which is more eco-friendly. The air fryer baskets will serve your family a safe, healthy, and low-fat fried meals.
These silicone liners are the nearest container to resemble a plastic container that is safe for use in an air fryer. They are made from a food grade silicone which is BPA free, non toxic, non-stick and able to withstand temperatures up to 240 C (464 F).
They leave no aftertaste and can be reused time after time. This makes them an environmentally friendly container.
Disposable Liners
Sale
MOFELON 100pcsParchment Paper Liners for Ninja Dual Air Fryer,Disposable, Accessories,Compatible with Ninja AF300UK AF400UK,Salter and Other Dual Zone Air Fryer
【For Various Dual Air Fryers】The size of air fryer liners for ninja is 14cm*22cm*4.5 cm, in sufficient quantity of 100pcs. Especially suitable for ninja foodi dual zone AF300UK/AF400UK air fryer. Also compatible with EMtronics EMDAF9LD/EMDAF9LD+, Instant Vortex Plus dual basket air fryer, Salter EK4548 and more. A must have air fryer accessories and the airfryer liners are light and practical.
【Premium Food Grade Paper】Made from food grade pulp with nonstick coating, healthy, nonstick, grease-proof, water-proof. The upgraded and thickened parchment paper less likely to break with nice heat resistant and can withstand temperatures up to 428 degrees Fahrenheit. And ensure the original taste of the food itself. Please rest assured when choosing our air fryer liner.
These disposable liners are made from thickened parchment (baking) paper. They can withstand temperatures of up to 220 C (428 F) and are non-stick, greaseproof and can be thrown away after use which saves on washing up.
They can also be used in microwave ovens as well so if you do use a microwave there's no need to use harmful plastics ever again.
Many local authorities accept these in the recycling (check with your local council).
Having used these, we can vouch for just how good they are (plus you don't need to clean up after use).
Ceramic Bowls
Ceramic Air Fryer Liners Reusable, 2Pcs Ceramic Air Fryer Pans, Ceramic Pots for Air Fryer 5 QT or Larger, Easy to Wash Airfryer Ceramic Bowls (8" Round: Yellow+Green)
✔【Easy to Clean & Dishwasher Safe】 Our ceramic air fryer liners reusable are much easier to clean than air fryer silicone liners, you can say goodbye to the annoying food residue and grease in your air fryer basket. The ceramic air fryer pans are completely dishwasher safe, allowing you to spend more time enjoying cooking and eating with your loved ones.
✔【Wide Range of Applications】Our ceramic pots for air fryer are must-have air fryer accessories for every household, they are not only suitable for air fryer, but also for microwave, oven, instant pot and freezer. Since our air fryer ceramic bowls look really beautiful, they can also make great serving dishes.
If you prefer using a ceramic bowl, ensure it is air fryer safe before use. Many are also dishwasher safe which takes all of the work out of cleaning them after use.
They are reusable time after time and can withstand the extreme temperatures experienced in an air fryer.
Understanding The Coding On Plastics
There are various types of plastic and they are coded using a Resin Identification Code (RIC) symbol. This can be found on the base of the container inside a triangle and will be as follows;
| RIC Number | Type Of Plastic |
| --- | --- |
| 1  | PET/PETE (polyethylene terephthalate) |
| 2 | HDPE (High-Density Polyethylene) |
| 3 | PVC (Polyvinyl Chloride) |
| 4 | LDPE (Low-Density Polyethylene) |
| 5 | PP (Polypropylene) |
| 6 | PS (Polystyrene) |
| 7 | O or OTHER (Other Plastics) |
RIC number 1 (PETE) is used to make;
Polyester fibres like fleece 
Soft drink bottles
Tote bags
Furniture
Carpets
RIC number 2 (HDPE) is used to make;
Bottles
Grocery bags
Milk jugs
Recycle bins
Playground equipment
Agricultural pipe
RIC number 3 (PVC) is used to make;
Pipe
Fences
Flooring
Shower curtains
Non-food bottles
Toys
Garden furniture
RIC number 4 (LDPE) is used to make;
Six-pack rings
Plastic bags
Tubing
Moulded laboratory equipment
RIC number 5 (PP) is used to make;
Car parts
Food containers
Dishes, bowls etc
RIC number 6 (PS) is used to make;
Video cassettes
Toys
Trays
Plastic knives, forks and spoons
Insulation
Packaging
RIC number 7 (OTHER) is used to make;
Acrylic
Nylon
Polycarbonate
Other plastics
Out of those 7 groups there are only 2 that are potentially safe for use in an air fryer, which are RIC number 2 HDPE and RIC number 4 LDPE. However, given the potential risks, we would recommend never using any plastic containers in an air fryer.
SEE ALSO:
Frequently Asked Questions
Can you put plastic ready meals in an air fryer?
No you should never put plastic ready meals in an air fryer. You should regard an air fryer just like a conventional oven. Any container that cannot be put in an oven, cannot be put in an air fryer.
Will a plastic container melt in an air fryer?
There is a high probability that a plastic container will melt in an air fryer. Plus even if it does not melt, it is likely to leach harmful chemicals into the food.
What containers can you put in an air fryer?
Basically, any container that you can put in a conventional oven, can be used in an air fryer. This includes pyrex dishes, metal oven pans, some ceramic bowls, aluminium foil trays, silicone liners and disposable liners made from reinforced baking paper.
Can I put a paper plate in the air fryer?
No, you cannot put a paper plate in an air fryer. It will not be able to withstand the intense heat produced in an air fryer and the paper plate will catch fire.
Can I put a glass plate in the air fryer?
It is possible to use some glass plates in an air fryer. However they need to be made from borosilicate glass which is better known under the brand name of Pyrex. Ordinary glass is likely to shatter under the extreme heat from an air fryer. Borosilicate glass is strong enough to withstand the intense heat produced by an air fryer as long as the Pyrex has not been stored somewhere extremely cold. If it has, allow it to return to room temperature before using in the air fryer.