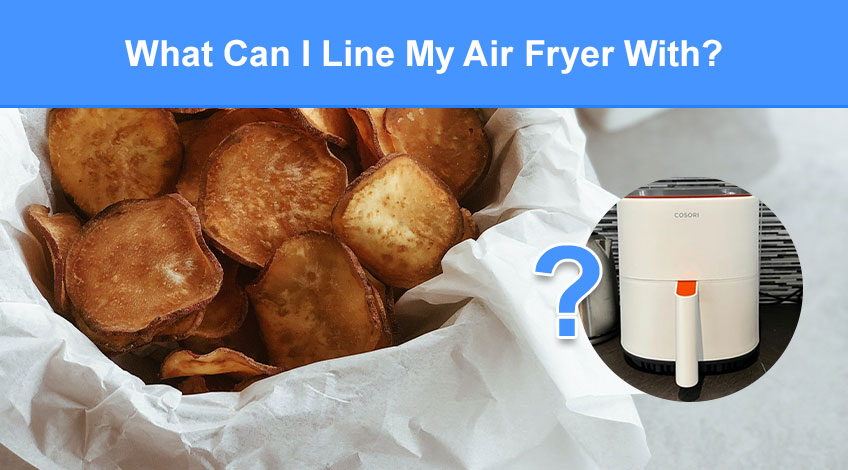 What Can I Line My Air Fryer With? (to save on cleaning time)
Air fryers have to be the best new kitchen appliance of the 21st century. You can cook a whole frozen chicken in 65 minutes-that's faster than the amount of time it would take to defrost! Chicken breasts can be cooked from frozen in as little as 15 minutes, and as for chips, they are cooked just the way I like them, fast and crispy.
The only downside of air fryer cooking is the cleaning up afterwards. OK, there's not so much to wash up, just the basket (or shelves depending on the type of air fryer you own) and a quick wiping down of the interior.
But any marinade or sauce that's got burnt onto the basket or in those small holes in the basket, can be difficult to clean. The same with any small pieces of meat that got stuck to the basket.
Which leads us quickly onto products that can be used to line the air fryer with to cut down on cleaning time.
What Can You Line The Air Fryer With To Save On Cleaning Time?
Air fryers are ideal for modern life, they produce tasty food in a fraction of the time of a conventional oven and this speed of cooking makes them energy efficient too.
Cleaning the air fryer after dinner, well, that can be a different matter. However, it doesn't need to be. There are a number of products available which can be used to line the air fryer and help cut down on cleaning.
These include;
Baking Paper (parchment paper)
Baking paper is a form of oven safe paper which is designed to be used in cooking. It can be used in the air fryer when cooking particularly sticky or greasy items. As well as foods likely to stick to your air fryer like chicken wings for example.
You'll need to cut the baking paper to size to fit your air fryer basket or shelf and never add the baking paper until the preheat is complete and always anchor it down with your food or use pastry weights to prevent the paper from getting blown onto the heating element.
Sale
Disposable Air Fryer Liners
Air Fryer Liners, 100PCS Air Fryer Disposable Paper, Air Fryer Parchment Paper Liners, Oil-Proof, Water-Proof, Food Grade Baking Paper, for Air Fryer, Steamer, Microwave(6.3in)
🍗【Healthy Material】Air fryer liners Using food grade parchment, it is waterproof, oil-proof, non-stick, 100% healthy and with nice heat resistant, environmentally friendly degradable,And can withstand temperatures up to 450 degrees FahrenheitAnd it has no effect on the taste of food.
🍟【Keep Fryer Clean】Air fryer accessories keep the fryer as clean as it was before use, preventing food scraps and greasy stains from being left on the cookware. Extend fryer life and reduce cleaning time.home baking, camping, barbecue,BBQ, party can not be without greaseproof paper.
There are several companies manufacturing these disposable air fryer liners and they are available in many sizes. They are made from baking paper or something similar but reinforced to maintain their shape.
They can be used in much the same way as baking paper, for roasting, baking and air frying. They can also be used in the microwave too.
Once the food is cooked you simply remove the liner with the food inside. This ensures that there's less mess in the air fryer and in many cases the air fryer will be spotless and won't need to be cleaned after every use.
In our opinion, this is the best thing out there you can buy to line your air fryer with as it's very cheap and convenient. 
For more information on disposable air fryer liners click here.
Reusable Silicone Air Fryer Liners
Silicone Air Fryer Liners Reusable Air Fryer Silicone Liner Air Fryer Accessories Compatible with Philips Tower Ninja Air Fryer Accessories (6.3 inch, Blue+ Gray)
🍟 【 Waterproof & Oil-Proof & Non-Stick 】- Our silicone air fryer liners are made from high quality silicone material, air fryer silicone baking tray is waterproof, oil proof, non-stick bottom, and the raised edge of the air fryer silicone liner protects the sides of the air fryer from food grease splash, saves us cleaning time tremendously.
🍔【Easy to Clean & Practical Design】- We all know that cleaning up after baking is the last thing those of us who love to bake want to do, so please use our air fryer liners that will make cleaning your fryer even easier, these air fryer liners are a kitchen staple. Our air fryer silicone liner is designed with intimate handles on both sides to protect your hands from burns when removing the silicone pot.
These reusable silicone air fryer liners are similar in design to the paper liners. They come in a variety of shapes and sizes to fit almost any air fryer.
Just like the paper versions, these silicone liners can be used for air frying, baking and roasting, plus they can be used in the microwave oven and steamer.
They're more environmentally friendly than the disposable liners as they can be washed and reused. However, as we were looking to cut down on washing up, they're not as practical as the disposable ones.
Pyrex Dishes
Sale
Don't go thinking you can use any glass or ceramic dish in the air fryer. You can, however, use Pyrex or any other borosilicate glass dishes in the air fryer.
As they are quite dense, you might have to increase your cooking time slightly. Plus, of course this doesn't really lessen the washing up as you now have a dish to clean as well.
Foil Trays
Sale
You can also buy aluminium foil trays which are often shaped to fit the air fryer basket or shelf. These will definitely prevent any food from becoming stuck to the air fryer.
However, there is some scientific evidence which links aluminium to Alzheimer's [1]. So if you do choose to use foil trays be careful to not cook anything that is acidic.
Any acidic foods like tomatoes, peppers, citrus (like lemons, lemon juice etc) or any vinegar, wine or any sauce or marinade containing any acidic ingredients, can cause a reaction with aluminium which allows the aluminium to leach into the food.
Aluminium Foil
Sale
If you don't have any foil trays, you can fashion a tray shape out of kitchen foil and use that in the air fryer to prevent messy deposits.
However, all of the warnings that apply to foil trays, also apply to tin foil, kitchen foil, silver foil and aluminium foil.
You should always hold the foil down to prevent it from touching the heating element as this could be dangerous. So make sure you have food in the foil before you operate the air fryer.
What Should You Never Use In An Air Fryer?
Above we've listed all of the items that can safely (or relatively safely) be used in an air fryer to help save on cleaning time. Below are the items that should never be used in an air fryer. They include;
Plastic Containers
Many air fryers look a bit like microwave ovens, but they work in entirely different ways. Due to the intense heat produced in an air fryer any plastic containers or any plastic at all, is likely to melt at best and catch fire at worst.
Plastic should never be used in an air fryer.
Wax Paper
Never use wax paper in the air fryer as it will start to smoke and in extreme cases, it will catch fire. Wax paper is a paper that is impregnated with paraffin wax. It will often say on the packet that it is food safe, but it's most definitely not air fryer safe.
Kitchen Paper
Most kitchens have a roll of kitchen paper. It's handy for clearing spills etc around the kitchen. However, kitchen paper should never be used in an air fryer. 
Kitchen paper will catch fire extremely fast in such a hot environment as an air fryer.
Cleaning The Air Fryer
Most air fryers are designed to be easy to clean with many having non-stick surfaces. This does make them relatively easy to clean and if you do get stuck with cleaning yours, we have a few tips.
Firstly, you should always consult your user manual for any specific instructions when it comes to cleaning your air fryer. In the absence of any specific cleaning instructions we recommend that you do the following;
Allow the air fryer to cool down after use and remove the plug from the mains supply.
Remove the basket, pan, shelf or tray and wash it in the sink using warm water and washing up liquid.
Leave the washed items on the drainer to fully dry,
Using a damp soapy cloth or sponge, wipe down the interior of the air fryer. Be sure to include the heating element when cleaning the interior of the air fryer.
Wipe the exterior with a soft, lint-free cloth.
Once all of the washed parts are dry, put them back in the air fryer.
Frequently Asked Questions
What type of liners are best for an air fryer?
You can use disposable parchment liners in your air fryer. These are great for saving on cleaning time after eating but are not as environmentally friendly as reusable silicone air fryer liners. You could also use baking paper or foil trays or even kitchen foil.
Can you line an air fryer with a baking sheet?
You can line an air fryer with a baking sheet as long as you weigh it down and don't put it in the air fryer until after the preheat cycle has finished. Be sure to cut the sheet to the correct size before placing it in the air fryer.
Do air fryers need liners?
Air fryers don't need liners, in fact they will increase the overall cooking time of your food. However, using a liner in an air fryer will drastically cut down on any mess in the air fryer. Thus making it far easier to clean.
Is it OK to use silicone liners in an air fryer?
It is OK to use silicone liners in an air fryer. As they are reusable, silicone liners are a good environmental choice compared to disposable air fryer liners.
What paper can I put in an air fryer?
You can put parchment or baking paper in an air fryer. However it should never be added until after the preheat has completed and it needs to be weighed down either by the food or by using pastry weights.