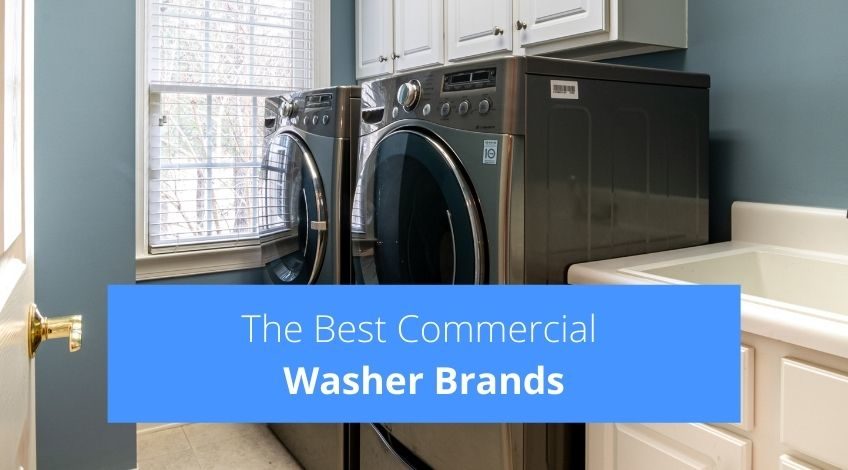 The Best Commercial Washer Brands (that won't let you down)
If you're running a business and you need to rely on a commercial washing machine you need to read this article. We understand the importance of a reliable washer in your business, you don't have the time for constant breakdowns, washing coming out soaking wet, washing not cleaning or inefficiency of any type. We have searched the commercial washers market and come up with the best of the best.
Miele Commercial Washers
Miele have been in the electrical appliance industry since 1899 and in all that time they've remained an independent, family run business. Their commercial and domestic machines are sustainably built, strong and reliable. Just because they're an old company doesn't mean they're not at the forefront of technology.
Due to their attention to detail and consistent high standards Miele always feature as one of the top commercial washer companies worldwide. Some of the innovative features that keep Miele at the top of their game include;
Miele's Honeycomb Drum which is designed to treat all of your washing with a gentleness that won't damage even the most gentle of fabrics.
An Advanced water extraction system which ensures your washing is cleaner and dryer which means less need for tumble drying and shorter drying times.
Stronger drum bearings and reinforced shock absorbers for a smoother, quieter wash.
The highest levels in quality as you would expect from this highly efficient German company. All of Miele's parts are manufactured at their own plants to ensure the very best quality control.
LG Commercial Washers
LG has been around since 1947 based in South Korea, the company has gone from strength to strength. Their technology and research department are always coming up with new and innovative ways to improve their products. Some of the features of their commercial washers include;
Their Gyro Balancing System which creates low noise and low vibration which means a more pleasant working environment for your employees.
10 degree tilting drum which saves water while still providing a premium washing performance.
Twin spray rinses which continuously rinse your clothes while spinning this cuts down on rinse times and overall washing times too.
The inverter direct drive drums are attached directly to the motor which means less working parts and therefore less to go wrong and less down time due to repairs.
LGs Premium powder coating works in exactly the same way as car paint works meaning less chance of rust and an extended lifetime of the washing machine.
Tub cleaning system that prevents dirt accumulating in the wash tub which can cause some washing machines to not clean as efficiently and effectively as LG washers do.
Whirlpool Commercial Washers
Whirlpool is a well known and trusted brand and has been around since 1911. Whirlpool's innovation meant they were the first to introduce efficient and sustainable washing machines which in turn, led to the eco-friendly washing machines we expect nowadays. They feature;
Sanitise cycle that raises the water temperature high enough to kill 99.9% of bacteria.
Prewash cycle to help prevent heavy staining.
Intuitive touch controls that make finding the correct program that senses the size of the load and automatically adjusts spin speeds and water levels.
Energy star certification that saves on electricity and water costs.
A 12-hour fan fresh option that keeps circulating air through the machine for up to 12 hours after last usage to keep the drum fresh.
An option for colours to help preserve the bright colours of your washing.
Speed Queen Commercial Washers
Speed Queen is an American company founded in 1908 in Wisconsin. Well known for their innovative technology, Speed Queen is still one of the top commercial washer manufacturers in the world. Features include;
Quantum control system which allows users to customise and control their machine's functionality via a touch screen
Wash alerts which alert users to the availability of machines so there's no need to queue.
Notification via mobile phone on the progress of their washing via a downloadable app.
Smartphone connectivity to pay for usage and alert users of any service issues via a downloadable app.
Maytag Commercial Washers
Established in 1893, this American company still designs and manufactures all of their products in the USA. Their machines are tough and reliable and among the best of the best commercial washers in the world. They are well known for their excellent cleaning ability which coupled with their shorter wash cycles and high speed cleaning performance, explains why Maytag are at the top of their game. Their commercial machines feature;
Extra Power selection which starts with a cold water cycle which is followed by a warm wash cycle for the removal of tougher, ingrained stains.
Power Wash cycle which assists with the removal of deeply ingrained stains which is where their reputation as one of the leading commercial washers for stain removal comes from.
Soil level selection which lets the machine adjust; the amount of water used, the number of rinses, the spin speed and adjust the temperature for a better controlled clean.
FreshHold cycle which releases steam continuously that helps prevent clothes from smelling until you can remove them from the machine.
Duracore Drive system which is designed and tested to run for 15,000 cycles which makes for a reliable machine and less expenditure for your company.
Electrolux Commercial Washer
The electrolux company was formed in 1919 when the Swedish firm Svenska Elektron acquired  Elektromekaniska. They changed the name to Electrolux in 1957 and now the company owns many branded companies including Flymo, Elektra, Danish Atlas and Finnish Slev. Their commercial washers are well known for their ecological detail and include features like;
Intelligent dosing which automatically adds the correct amount of detergent, softener and other chemicals based on the exact weight of the load.
Clarus Vibe control which makes it easy to use and automatically notifies you if you overload the machine.
Clarus Vibe washers have been awarded the ERGOCERT 4-star rating, the highest available rating for ergonomics. This means you will effortlessly manage your laundry demands.
OnE Connected allows you to access your machine via your smartphone or device.
Why Buy A Commercial Washer?
If you own a hotel, B&B, restaurant, care home or anywhere that has a significant amount of laundry, it can work out far more cost effective to install a commercial washer than to use a specialist linen company. There is also the convenience of being able to access clean clothes etc whenever you need them instead of relying on a delivery service with all the logistical problems that can entail.
Frequently Asked Questions
Is a commercial washer worth it?
A commercial washer is definitely worth it if you can afford the extra outlay, a commercial washer will last far longer than a domestic washer and save you money overall.
What is the lifespan of a commercial washer?
The average lifespan of a commercial washer is anywhere between 10 to 14 years. If you consider how often commercial washers are used, that's an exceptional lifespan.
Which type of washing machine is best for commercial use?
The best type of commercial washer is a commercial front loader as these are the most efficient machines available. In some cases you can save up to 50% of the water used per cycle in a commercial front loader.
Can you put a commercial washer in your home?
You can put a commercial washer in your home as long as it is installed correctly.