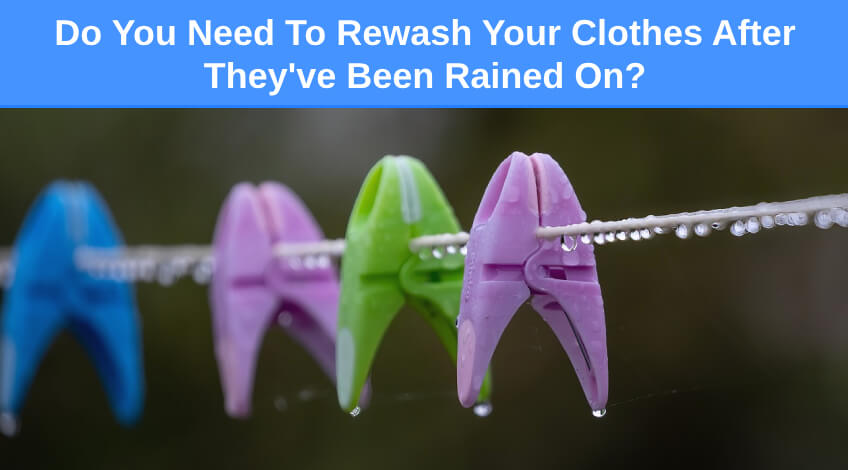 Do You Need To Rewash Your Clothes After They've Been Rained On?
Love it, hate it, we know how UK weather can be very frustrating. One minute, there's the sun shining so brightly that you'll want to have a picnic. The next, you'll hear the pitter-patter of rain before you even prepare that picnic basket.
When you air out your clothes to dry, there's always a chance they'll get rained on. If they get wet by the drizzle, the question is, do you have to rewash your clothing? Or will it be fine to just leave it be and wait for them to get dry once the rain stops?
Is it really necessary to rewash clothes when it gets rained on?
If you dry your clothes outdoors, rain is always an annoyance. After all, you spent all that time hanging your garments only for them to get wet again. When it does, do you have to start all over with washing them?
Most of the time, there's no need to rewash your clothes if they do get wet from the rain. This is because rain is basically just water and will not make your fabrics extremely dirty after a drizzle.
However, it all boils down to several factors, mainly your preference.
If you're a fan of having your laundry smell like detergent or fabric conditioner, you may want to put them in the wash again. There are also other things to consider, such as where you live, how long it's been rained on, and more.
To help you decide if you'll need to rewash, let's go through the things we need to consider one by one. Ask yourself the following questions:
Have your clothes been wet for a long time?
When you have just finished doing your laundry and it gets wet the same day due to the rain, there's no need to wash it again.
Just think of the rain as an additional wash to your clothes. After all, did you know that rainwater can make your clothing softer? Since it contains more acid[1], it'll serve as a fabric conditioner that will leave your clothes fluffy once they dry.
On the other hand, if your clothes have been rained on for more than a day, you may want to think about washing them again. This is because when they have been damp for too long, there's a possibility that mould and bacteria have already started to grow on the fabrics.
Tip: When rewashing clothes that have been wet for days, add white vinegar to your next laundry cycle. This way, you'll disinfect your clothes and get rid of the mouldy smell.
Do your clothes already smell?
Remember how wet clothing encourages mould and bacteria growth?
If you notice that your clothes are already starting to smell, chances are that the odour is already caused by growing mould.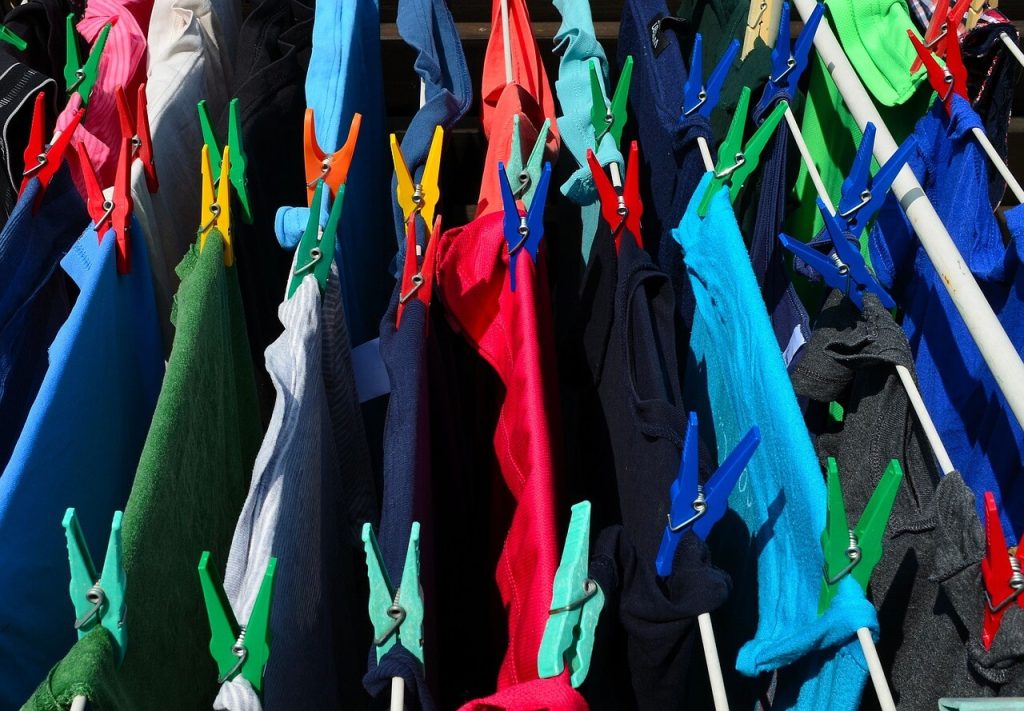 Once your clothes smell musty, it may be time to rewash them. This is especially the case if they've been wet for many days and there's still no sun in sight.
Do you live in an area that has high pollution levels?
Since rain and wind are natural weather conditions, there's really no way to filter the contaminants or pollutants that they may get in contact with before they dampen your clothing.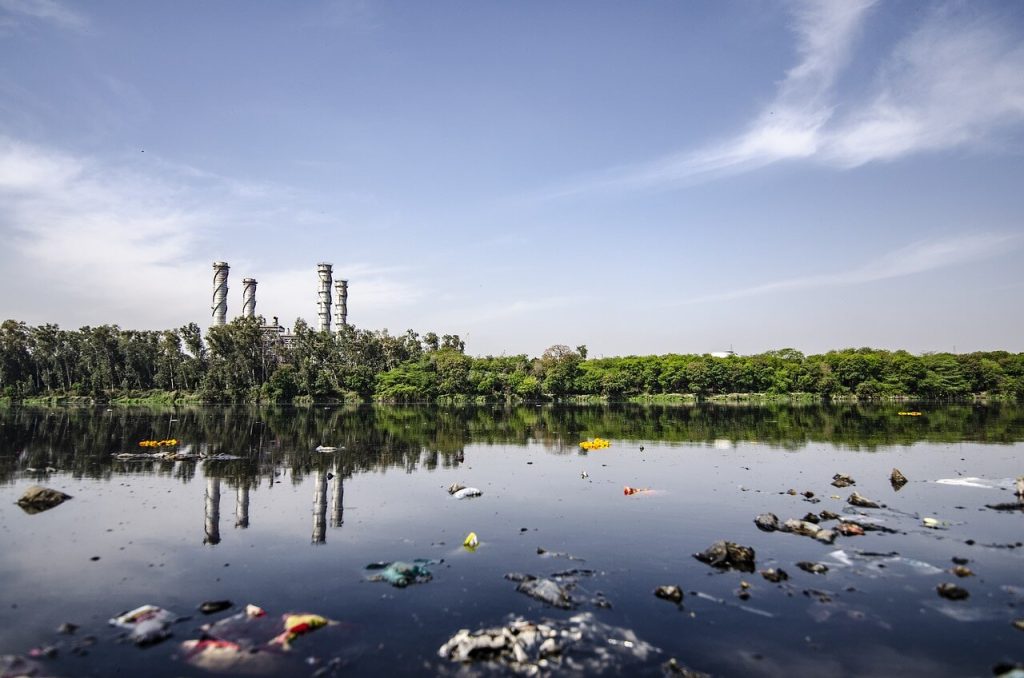 If you live in an area that is high in pollution or is prone to dust, there's a huge chance that it'll also affect your clothes. Hence, you may want to assess whether you'll have to rewash rained-on garments or not.
What type of fabric are your clothes made of?
Lastly, to determine if you'll have to wash your garments again once they were rained on, check what kind of fabric they are made of.
For example, if your clothes are made of cotton or other thin material, there's usually no need to rewash them. This is because they dry quickly and it's better to just wait for them to dry in natural circumstances.
On the other hand, if your garments are made with delicate fabrics or are bulky, they may get out of shape when left wet for too long. Aside from getting deformed, clothes such as trousers and sweaters could get mouldy fast if not dried properly.
If you want to preserve your clothing's lifespan, it's better to air dry thick garments or tumble dry them to discourage mould growth.
Tip: If the weather in your area continues to be wet, never leave your damp clothes sitting on a pile. Doing so makes them smell musty. Hang them on a clothes rack instead.
SEE ALSO: Best Clothes Drying Racks & Airers (Clothes Horses Reviewed)
Should you do your laundry when it's raining?
Ideally, if you dry your clothes outside, it's always best to avoid putting them in the wash when it's raining.
However, we all know that we can't control the weather, and what will we do if it continues to rain for days or even weeks?
If you really need to do your laundry when it's raining, don't hesitate to use your tumble dryer. This way, you'll get dry clothes without having to hang them outside when the sun is not present.
On the other hand, if you still prefer to air dry your garments, make sure to turn on your dehumidifier indoors. This is to discourage mould growth in your home which is likely to happen when there's high humidity in it.
Dehumidifiers, Aiusevo Dehumidifiers for Home Up to 700 Sq ft with 68OZ Capacity, Ultra Quiet Dehumidifier with 3 Light Modes, 2 Speed Modes, Portable Dehumidifiers for Basements, RV, Trailer
EFFECTIVE DEHUMIDIFICATION: Our 2023 Upgraded Dehumidifiers are equipped with double dehumidification condensers, capable of extracting up to 1000ml of water daily in a humid environment of 86°F and 80% RH. Ideal for use in your home, bedroom, bathroom, basement, closet, RV, and more.
ULTRA QUIET & SAFE DEHUMIDIFIERS: Our AIUSEVO dehumidifier has two working modes - powerful and quiet mode meeting all your dehumidification needs. It operates at below 30db, ensuring peaceful sleep during the quiet mode. This dehumidifier also comes with an auto shut-off function, fire-proof materials, and auto defrost for safety concerns. A red light indicates and the dehumidifier stops working when the tank needs to be emptied.
SEE ALSO: Does A Dehumidifier Kill Mould?
Do you have tips to share for drying your clothes outdoors?
There are many benefits to drying your clothes outdoors.
You'll have freshly laundered clothing that is clean, smells great, and you'll even save your money.
When the weather's unpredictable, though, the drying process will take more time than usual.
Do you have more tips for drying your wet clothes after they have already been rained on?
Feel free to share them below!
Frequently Asked Questions
What should you do with clothes that have been rained on?
If your clothes have been rained on, you can tumble dry if the weather Is still wet to avoid mould. However, if the weather permits, you can continue leaving them outdoors until they dry completely.
How long can you leave clothes in the rain?
It's best to not leave your clothes in the rain for more than a day, as there is a huge chance that they'll get mouldy.
Will my clothes smell if I leave them in the rain?
Contrary to popular belief, rain itself is not making the clothes smell, but the musty odour comes from mould growth. If you allow the clothes to be damp for two days, this is often the time that they'll start to smell.
How do you dry clothes faster after rain?
If your clothes have been wet by the rain, try squeezing out extra water before putting them in the tumble dryer. However, if you don't want to use your machine, use a clothing rack to air dry them instead.
How do you rewash wet clothes?
To rewash wet clothes, try air drying them before putting them in the washing machine as normal. This removes the musty smell from the fabric. You can also use white vinegar to soften the clothes and make them smell fresh again.