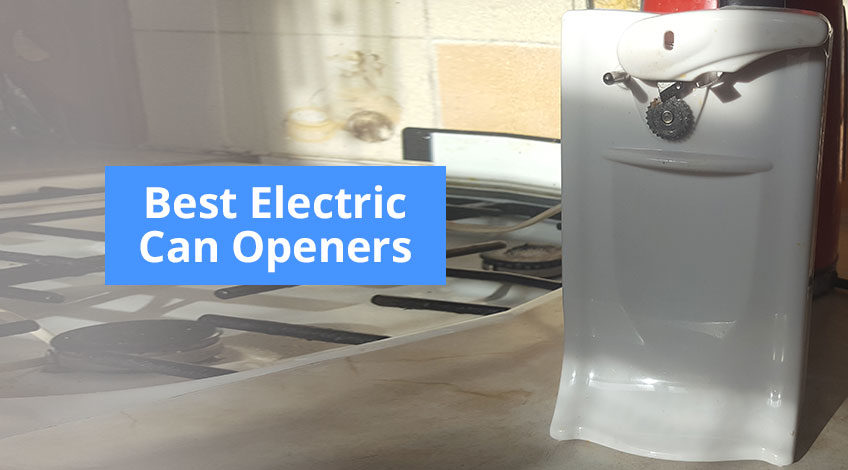 Last

Updated: Nov 2023
Best Electric Can Openers 2023
If you've ever used one of those cheap metal can openers, with the wind-up butterfly-shaped operator, you'll know just how trying it can be to get a simple can of beans open for lunch. Sometimes the cutting edge doesn't bite, and you have to start again after already taking one full turn around the can. Or the cutter bites but the spindle just doesn't catch the can and no matter how long you twist nothing happens.
These problems are an annoyance and a waste of time if you are able-bodied but if you have restricted hand mobility, arthritis, rheumatism or a hand or arm injury using a manual can opener can be an impossible task. To try to overcome this problem, tin can manufacturers have been introducing cans which open with a ring pull. These are still difficult to open for those of us with limited dexterity, and they restrict the choice of brands and types of canned food that can be used.
It also tends to be the more expensive tins have ring pulls and the cheaper brands still require a tin opener to use them. We all want the freedom of choice but if you struggle using a can opener, your choice is limited. The solution to this is of course the electric can opener.
Best Selling Electric Can Openers UK
Bestseller No. 1
Bestseller No. 2
Sale
Bestseller No. 3
Progress EK4634P 3 in 1 Electric Tin Can Opener, Bottle Opener, Knife Sharpener, Stainless Steel Blade, Arthritis and Seniors, Automatic, Safe Cleaning, Quick and Easy, Black, 70 W
Speed up kitchen tasks with the Progress 3-in-1 Electric Can Opener, which operates as a knife sharpener, tin opener and bottle opener.
Perfect for users who struggle to open tins manually, like the elderly and people with arthritis, this tool offers optimal convenience.
Bestseller No. 4
Bestseller No. 5
Electric Can Opener, No Sharp Edges Automatic Can Open with Touch Switch, Safe to Use and Does Not Hurt Hands, Easy to Carry Electric Tin Openers for Arthritic Hands Suitable for Most Cans
♡ ONE TOUCH ELECTRIC CAN OPENER ♡ Place the tin openers on the jar, and press the start button, the tin openers electric can rotate 360 degrees, complete and stop smoothly, completely protect your hands, and save time and effort.
♡ PRODUCT MATERIAL ♡ Our kitchen can opener is made of food-grade material with smooth edges and no sharp metal residue, which makes cutting safer than ordinary handheld can openers. The can opener electric is an essential kitchen appliance for any home, apartment, or camping trip.
Electric Can Openers Vs One Touch Can Openers
The battery-operated one touch can openers are relatively easy to use, you just place them on the can, and the opener will puncture it automatically so you need to apply no pressure. One-touch can openers don't remove the lid completely from the can, this can make pouring the contents out dangerous especially if you have limited mobility.
They are much noisier and slower than electric can openers, and the battery life can be limited. Plus removing and replacing the batteries can be difficult which is another problem for sufferers of arthritis and rheumatism. 
Electric can openers are more reliable, cut safer, quieter, and faster than one-touch can openers, but a one-touch might suit someone on a boat or who enjoys camping as they are easier to use than a manual can opener.
What Are The Benefits Of An Electric Can Opener?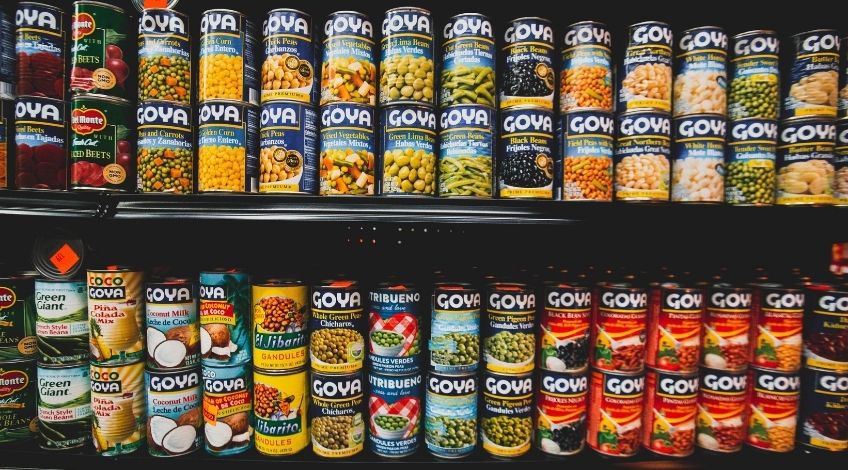 The benefits of owning an electric tin opener are:
Ease of use – Just place the can in the machine and it opens it for you, no more struggling to hold the can whilst wrestling with the opener in your other hand.
Clean Tin edges – Using a good electric can opener gives you perfectly smooth, clean open cans every time.
Speed of operation – As the electric can opener uses power to open the can, it is fast and efficient.
Less spillage – The can is supported in the electric can opener at an exact, level position. So once the can is open it will not spill any contents from the opening.
Safer handling – As the lid is suspended via a magnet, and completely removed from the can, there is much less risk of injury when removing the can.
Portability – Electric can openers plug into a socket as and when needed, they are small and relatively lightweight, this allows absolute portability and ease of storage.
Low energy consumption – as an electric can opener doesn't heat up, or cool down, and as it is only in use for seconds at a time it barely uses any power at all. Making it cheap to run and environmentally friendly too.
What Are The Disadvantages Of An Electric Can Opener?
There are some limitations in the size of cans you can open with an electric can opener, they tend to be primarily designed for opening the 15-ounce cans and some can struggle with smaller 7-ounce cans and larger 32-ounce cans. Also as they rely on an electric motor there is the scope for faults and breakdowns to occur. If you happen to have a power cut, obviously the electric can opener won't function.
 Electric can openers tend to be more difficult to clean than manual tin openers, the old manual tin opener can just be washed in the sink with the dishes. This is not possible with an electric can opener, it's a case of wiping it over with a cloth and possibly a cotton bud for the difficult to reach places.
Electric Can Opener Buyers Guide
There are many different makes and models of electric tin openers on the market and, although similar, they can have many variations. We've put together the main points to consider before buying an electric can opener.
Ease Of Operation
As most electric can openers work in a similar way it's easy to think they're all the same, but some are easier to operate than others. Consider your abilities, limitations and needs before making your final choice.
Easy Access For Cleaning
Some models have removable levers to make them easier to clean if this is something that interests you look for models offering this option.
Automatic Shut Off
This function is very handy, it means that once the lid has been completely removed the can opener will stop operating.
Hand Free Operation
There are some models that hold the can in place, all you need to do is press the switch and the opener does the rest. As you remove the can, the lid will be held in position via a magnet. Take care not to cut yourself on the lid as it will still be sharp.
Retractable Power Cord
Some models have the cord dangling at all times, others have a retractable cord for ease of storage.
Stability
Some designs are more stable than others, there's no point investing in an electric can opener if it's going to spill the contents of the opened can because it wasn't sturdy enough to support it.
Clean-Cut Cans
All electric can openers will open cans, but some leave debris (either paper or metal) in the can after opening. Check the specifications for your intended model and see if they feature a comment that this doesn't happen.
Electric Can Opener Price
Although electric can openers are relatively cheap to buy, we all have individual budgets and with electric can openers it's not always the case that most expensive means best can opener.
Design
Electric tin can openers are all similar in design but there are different models with different features, choose the model that best suits your decor and lifestyle.
Brand
It's always favourable to buy electrical goods from a reputable retailer, as they usually only stock brands they know to be reliable. It's in their own interest as they don't want or need the hassle of dealing with returns or refunds. Choose a well-known brand and you have a better chance of reliability.
Warranty
Some electric can opener manufacturers give a 3-year warranty subject to the usual terms and conditions. Any guarantee or warranty is only as good as the company that offers it, this is why it's best to buy from a well-known company, as not only will the warranty be valid but they're more likely to have a good customer service department should you encounter any difficulties with your can opener.
How Much Is An Electric Can Opener?
To give you all the facts before you make that final decision, here are the prices of all 3 types of can openers available on the market at this time.
Manual tin openers cost between 50p for a basic metal can opener and rise to around £10 for a manual can opener with ergonomic easy-grip handles and an easy-grip, easy turn spindle.
One-touch can openers start at around £5 for a basic model from an unknown company and rise to around £50 for a top of the range model with combined automatic bottle opener.
Electric can openers start at around £12 for a basic model with one year's guarantee, and rise to around £25 for a top of the range model that will fit all can sizes from 7-ounce up to 32-ounce cans.
Frequently Asked Questions
Are electric can openers worth it?
If you suffer from arthritis, rheumatism or have weak or damaged hands, electric can openers are a great choice. They do all the hard work for you automatically saving mess, time and painful hands.
How Much Does It Cost To Buy An Electric Can Opener?
Depending on make and model, electric can openers range in price from around £12 to £25 in the UK.
What is the function of an electric can opener?
The main function of an electric can opener is to open cans quickly, easily and safely. Many electric can openers have knife sharpeners built-in and this is classed as a secondary function.
Do Can openers with a lifetime warranty?
Some manual can openers come with a lifetime warranty, but to our knowledge, there are currently no electric can openers made that offer a lifetime warranty.