15 Reasons To Buy An Electric Can Opener
If you're still using one of those manual tin openers to open your cans, this will interest you. Think about how many manual tin openers you've gone through, "it doesn't matter," You think, "They're only cheap". And that's true, a basic can opener can be bought for 50 pence in our leading supermarkets.
In our experience they break and need replacing every 6 to 8 weeks. That means you're having to buy a new can opener every 6 weeks at around 50 pence per time, that's around £4.50 per year on tin openers, That might not sound like much money, but it's not so much the money as the inconvenience. 
Not only trawling round the shops looking for a replacement, but how do you open cans with the old one broken and the replacement not, well, replaced yet. It might be time to start to think about buying an electric can opener. Since owning an electric can opener, we have found it to be a very useful kitchen gadget. Which is probably why so many electric can openers are bought each year worldwide.
Why You Should Own An Electric Can Opener
Tinned food is still an inexpensive way of supplying food that has many years potential storage life, here's the reasons you should own a decent electric can opener.
Easy To Use
An electric can opener takes all the work out of opening tins. No need to hit the can with a hammer and chisel, No need to hurt your fingers struggling to twist the handle to operate the cutting wheel.
Safe To Use
Using an electric can opener keeps your fingers away from the sharp can edges. Even the lid is removed automatically, so no chance of cutting yourself on that sharp lid rim.
Fast Can Opening
Manual tin openers only work as fast as the operator can twist the handle. Electric can openers work at a set speed, a constant set speed. Usually fairly fast.
SmoothTin Edges
A decent electric can opener will leave the edges of the tin and the lid perfectly smooth. So less chance from cut injuries, and no pieces of metal in the food.
Clean And Tidy
Electric can openers support the can in place, and the lid is held into position using a magnet. Even once the lid is completely removed, the can will still remain in the upright position, so no spillage at all.
Keeps Your Hands Safe
The easiest way to cut your hands using a tin opener used to be from grappling with the lid to get it free from the edge of the tin. An electric tin opener removes the lid completely and holds it in position using a magnet, From where it can be easily and safely disposed of.
Portable – Easy To Move
Electric can openers are lightweight, reasonably small and easy to operate. Being small and lightweight allows you to move them wherever you like. They don't have to remain on the worktop when not in use, they can be stored in a cupboard out of sight.
Safe, Sturdy Design
The electric can opener has been designed with the safety of the user very much in mind. From the rubber feet that gives added grip to the magnetic lid holder, and automatic spin cutter. 
Energy-Efficient Design
Electric tin openers don't heat up, don't cool down, and are only operated for a few seconds at a time. Add to this their power rating of between 40 to 60 Watts, making an electric can opener cost approximately 0.0016 pence per minute to run.
Inhibited Dexterity Friendly
If you have difficulty using your hands, whether it's arthritis, rheumatism, RSI, weak hands or arms, the electric can opener will make your life easier.
Hands Free Operation
Some electric can openers have this function. It just makes using the device so much simpler. Just secure the can into position, press the button and watch the can opener do all the work. Once opened carefully remove the lid (suspended by a magnet) and use the contents of the can.
Inexpensive To Buy
With a starting price of around £10 and some models having lifetime guarantees, an electric can opener will cost around 2 pence per week for its first year and miniscule amounts from then on.
Good Quality
Leading on from that last point, companies don't issue lifetimes guarantees unless they are pretty confident of their design and durability.
Stylish Design
Although they all perform the same function, electric can openers are not identical to look at. They come in a range of colours and styles. 
Relatively Quiet
According to a recent study, an electric can opener's noise level is 66 Decibels, that's around the average level of a loud conversation. 
Some Interesting Can Opener Facts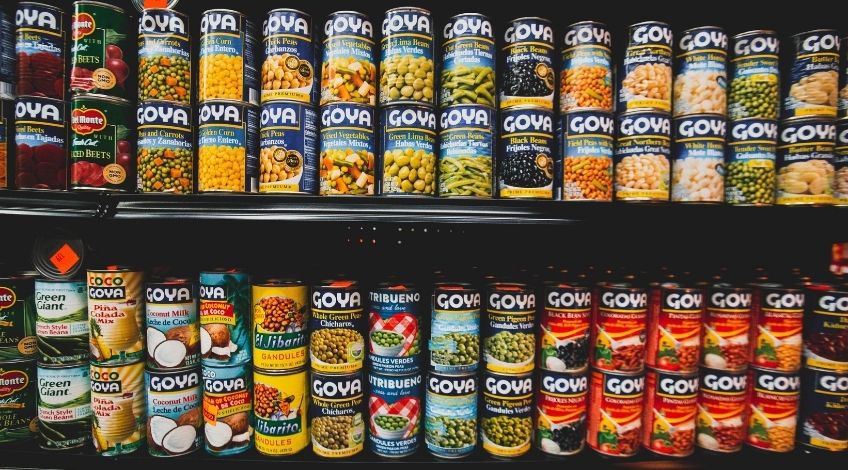 We've found a few interesting facts about can openers and so we thought we'd share them with you just for fun. Did you know?
The First Tin Can Was Used In 1772
Developed in the Netherlands, these first tin cans were constructed of wrought iron with a tin liner.
The First Tin Opener Wasn't Invented Until 80 Years After The First Tin.
The original way to open the can was using a hammer and chisel. This was the manufacturers guidelines.
The First Can Opener Patented Was In 1855
You can still buy this type of can opener, but they're not very popular as they can be quite dangerous. The design is basically a curved blade on a handle, the point of the knife blade punctures the lid of the can, and the edge of the blade is worked around the lid edge. The result is an open can with sharp, jagged sides and lid.
The First Can Opener With A Rotating Cutting Wheel Was Invented In 1870
This first design of the now popular manual can opener was difficult to use as it only had one wheel, the cutting wheel.
In 1925 The Modern Manual Can Opener Was Invented
This used the design of the 1870 model with the rotating cutting wheel but added a second wheel with a serrated edge to hold the cutting wheel on the rim of the can.
In 1931 The First Electric Can Opener Was Invented
But they never proved to be popular until in 1956 when the electric can opener was redesigned.
In 1942 The American Army Issued The P-38 To All Their Troops
This single blade type can opener was nicknamed the John Wayne by the troops. The legend says that they called it the John Wayne because of its toughness or because he was the actor used to demonstrate how to use it in an army training film. The P-38 was in many ways the American equivalent of the Swiss Army knife. The P-38 could be used to open cans, clean mud from boots, double up as a screwdriver, letter opener, wire stripper, pencil sharpener,  it could also be used for trimming threads on their uniforms, open cardboard ration boxes, and to set points on car engines.
In 1956 The First Successful Electric Can Opener Was Developed
The Udico brand as it was known was developed by Walter Hess Bodle working in his garage alongside his daughter Elizabeth. It was manufactured by the Union Die Casting Company and soon became a very popular kitchen appliance.
More Canning Companies Produce Self Opening Cans Since 1981
Some experts believe the can opener to be obsolete due to the rise in self opening – ring-pull cans. Up to yet, the ring pulls are often faulty and snap off before opening the can, and they're limited to more selected, often more expensive products.

We see can openers being in vogue and in need for many decades to come. Especially electric can openers that take all of the work from opening the can.And are invaluable for people with dexterity problems.
Frequently Asked Questions
How long do electric can openers take to be delivered?
Many companies now offer next day delivery, these include: Amazon Prime, Argos, and many more.
Are electric can openers worth buying?
Electric can openers are worth buying, as they are easy to use, safe, fast, and convenient.
What manufacturer electric can opener should I order?
You should order an electric can opener from the manufacturer of your choice, be sure they are well-know, more popular makes include: Kenwood, Morphy Richards, Culinairs, Cookworks and many more.
Is it safe to shop for an electric can opener online?
Is it safe to shop for an electric can opener online as long as you use a well-known and trusted retailer, some of the more popular retailers include: Amazon, Argos, Currys, Robert Dyas, John Lewis and many more.
Can I buy an electric can opener on finance?
You can buy an electric can opener on finance, many retailers have their own finance deals, some currently have 0% deals. Check with your preferred retailer and see what deals they have to suit you.