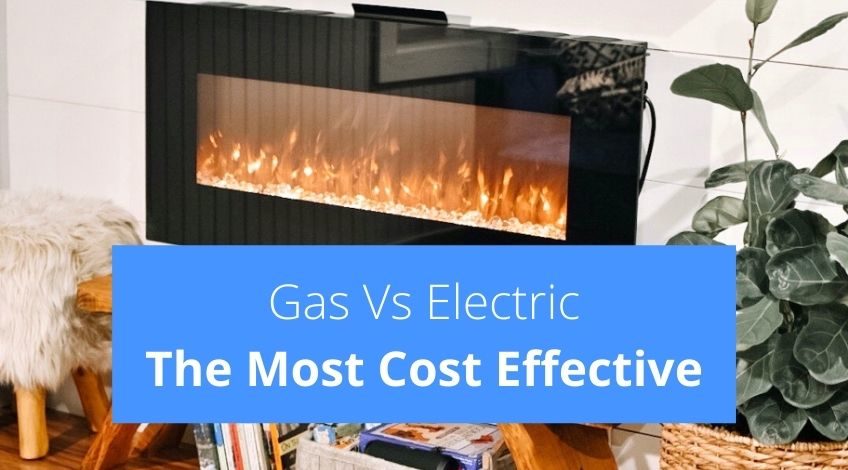 Last

Updated: Oct 2023
Gas Or Electric Fire? Which Is Best?
Having a fireplace in your home, gives you a warm, glowing focal point. There's something about a fire, it always draws the eyes. Even fake flames from an electric fire have the same soporific effect, causing you to relax and forget any problems.
But which is the best choice? Back in the day, gas fires were the most popular type of heating for houses. But with the introduction of electric fires, many people started to replace their gas fires with electric fires. 
What Are The Benefits Of Gas Fires
Sale
Sale
To make a truly informed decision we need to weigh up the pros and cons of each type of fire, let's start with gas fires.
What Are The Pros Of Gas Fires?
The pros of gas fires are in no particular order:
Cost Efficient
As they use natural gas, gas fires are cheaper to run, cause less environmental damage – releasing 45% fewer carbon emissions than coal or oil. Gas can be transported easily through pipelines, gas is in plentiful supply on the earth and that's what keeps the price down.
Produces Heat And Real Flames
Although electric fires have improved greatly, with gas the flames are real not fake.
Good Fuel-Efficiency
Uses low amounts of gas to heat a large area.
Can Still Be Used In A Power Cut
Whether it's caused by climatic conditions or strike action, we sometimes lose our electricity. Usually in winter when we rely on it most. Gas doesn't get cut. The supply is constant.
Costs ¼ Of The Price Of Electricity To Run
Gas is on average 4 times cheaper than electricity.
What Are The Cons Of Gas Fires
There are a few pros in favour of gas fires but on the other hand they are:
Highly Flammable
If you are unfortunate enough to have a gas leak, it could lead to an explosion.
Poisonous
Gas fumes are toxic.
Expensive To Purchase
Compared to electric fires, gas fires cost much more to buy. 
Hard To detect
If gas does leak it's hard to detect, because unless an odorant is added gas has no smell.
Gas Causes Dangerous Pollutants
Once burnt, gas releases carbon dioxide which is harmful to the planet, and carbon monoxide which is harmful to people.
Gas Fires Need An Exhaust
Due to the harmful pollutants, gas fires need a chimney or a flue to allow the poisonous air to escape safely from your home.
 Chimneys And Flues Cause Heat Loss
If there is a way for heat to escape then the fire is not energy efficient. Gas fires need to have an exhaust as stated above, but this leads to a more wasteful heat than electric fires.
Have To Have Expert Installation
As gas can be a quite volatile fuel, you cannot, or should not install a gas fire unless you are qualified to do so.
Need Regular Servicing
Gas fires need servicing and safety checks every year by a qualified expert.

What Are The Benefits Of Electric Fires?
Now let's look at the pros and cons of electric fires.
What Are The Pros Of Electric Fires?
Here in no particular order are the pros of electric fires:
No Need For A Chimney
As electricity creates no emissions, there is no need for a chimney, flue or exhaust.
Easy To Install
Most electric fires can be placed in any room, plugged in and switched on. No expensive installation costs or renovations needed.
No Maintenance Needed
No need to pay an expert to service an electric fire, no safety checks required, the only maintenance required is a wipe over with a duster occasionally and a bulb replacement every 2 years or so.
Low Purchase Cost
A decent electric fire can be bought for as little as £30 pounds, and with no installation costs, that's the only outlay apart from running costs.
Portable
Not restricted by pipes, flues, chimneys, etc. Can be placed in any room.
Various Designs
There are so many designs, you will definitely be able to find an electric fire to suit your style and decor.
Child Friendly
As there are no real flames, and the heat is created inside, electric fires are safe for young children to touch without fear of burning.
Space Saving
Electric fires come in a range of sizes, and size doesn't necessarily affect power or heating capacity.
Durable
Electric fires last for up to 20-years. With no maintenance apart from an occasional light bulb replacement.
Controllability
Many electric fires come with remote controls and some have smart capabilities. Allowing them to be controlled remotely. If it turns cold all of a sudden, you can set the electric fire to heat the room before you get home.
Energy-Efficiency
Electric fires convert all of the power used into heat; they are 100% energy-efficient.
Safe Air
Electric fires create no emissions, so no carbon monoxide poisoning risks.
What Are The Cons Of Electric Fires
That's the pros dealt with, now let's look at the cons, they include:
Reliant On One Power Source
If there's a power cut for any reason, you have no heat if you are relying on an electric fire for heat.
Fake Flames
Although modern electric fires are much improved, some of the cheaper, or older models have flame effects that look decidedly fake – That said there are many that are extremely life-like.
Socket Overload
As electric fires draw large amounts of power, you can run the risk of overloading the circuit. Be sure your electrical circuits are all up to date and safe.
Power Cables
Some electric fires look so real nowadays, but the let down is the cable trailing from the fire. This can be disguised or hidden, but it's extra work.
Cable Length
It is never advisable to use an extension cord with electric fires, this can limit where they can be sited. Especially if they have a short power cable.
Noisy
Some models can be noisy due to the fan that circulates the hot air around the room.
Can Aggravate Allergies
Electric fires tend to attract dust to the heating element. This dust gets blown into the room along with the hot air. Which can cause asthma sufferers to have a flair up. As well as hay fever sufferers.
Dry Heat
There is absolutely no moisture in electric heat (for obvious reasons) and this can cause sinus issues, dry throats etc.
Gas Vs Electric, Which Fire Is The Most Cost Effective?
Gas is 4 times cheaper than electricity on average, but gas fires can lose up to 50% of their heat up the chimney. Plus the installation costs, purchase costs, and maintenance costs are much higher with a gas fire. So whichever way the slick salesman tries to sell it to you, there's really not much in it. 
That said, many electrical power plants burn gas to produce electricity. In fact, in 2016 42% of the UKs electricity was produced by burning natural gas. By 2020 47% of the UKs electricity was produced from renewable sources in the first 3 months of 2020.
So Which Is Better Electric Fires Or Gas Fires?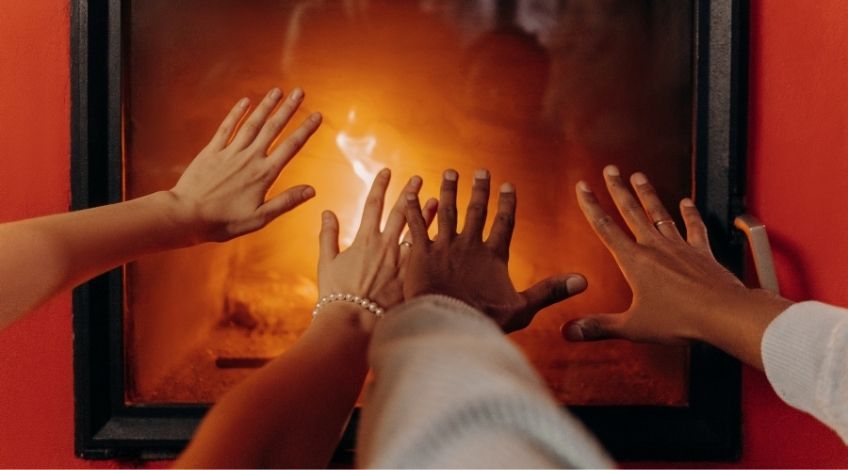 In reality, it comes down to personal choice really. If you prefer a stylish yet traditional focal point, which is easy to control, costs nothing to maintain, is better for your health, environmentally friendly, portable, cheap to purchase, and gives you the effect of a fire with no heat on a warm spring evening, then an electric fire is your best choice.
If, however, you prefer real flames, reliable heat source with no power outages, cheaper fuel bills and uses less power to heat a larger area, then a gas fire might be your best choice.
It really does come down to your preferences, style and functionality over price and reliability. 
Frequently Asked Questions
Are modern electric fires expensive to run?
Modern electric fires are not expensive to run, costing on average 16 pence per hour to run.
Are gas fires bad for your health?
Gas fires can be bad for your health, as they produce carbon dioxide, carbon monoxide, and nitrogen oxide.
What is the safest type of fireplace?
The safest type of fireplace is an electric fireplace, they produce no harmful emissions, and do not get hot enough to burn if you accidentally touch them.
Can a pilot light cause carbon monoxide?
A pilot light can cause carbon monoxide if it is not burning correctly. That's why it's important to have gas fires serviced regularly.
Which fire is more energy-efficient gas or electric?
The most energy-efficient fire is an electric fire. Electric fires are 100% energy-efficient, gas fires are between 75 and 85 % energy-efficient.