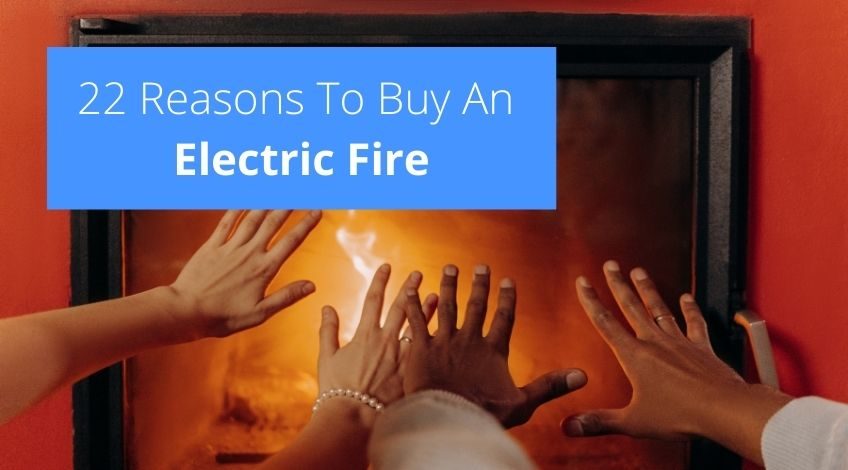 22 Reasons To Buy An Electric Fire
We live in an energy-efficient world nowadays, central heating, double glazing, loft insulation, cavity wall insulation, you name it and we probably already have it installed. Sadly many rooms look featureless, and apart from the TV there's no focal point. Which probably explains the increased popularity of the electric fire.
Back in the dark old days of design and technology, electric fires all looked cheap and nasty, obviously fake flames rising from obviously fake logs or pieces of coal. But there's been a revolution in the design of electric fires, they now look so realistic, and in some cases even sound realistic too.
Why Are Electric Fires Having Such A Revival?
As mentioned above, electric fires have undergone so many changes in recent years, that they look more like real fires than some real fires do. But that's not the only reason for their renewed popularity, electric fires are popular because:
Realistic Looking
Some electric fires have realistic logs, others have realistic coal, and they all have realistic looking flames. There are some models that even simulate the effect of smoke. Some of the more expensive models have video footage of flames playing on a loop complete with crackling log sounds.
Energy-Efficient
Electric fires are 100% energy-efficient. That means all of the energy they draw is used to heat the room. Unlike gas fires which can lose up to 50% of their heat up the chimney. Or log burning stoves which can lose up to 25% of their heat through the exhaust , and open fires that can lose as much as 90% of the heat produced, straight up the chimney.
Low Maintenance Costs
After the initial purchase price, there are virtually no maintenance costs. Whereas gas fires need servicing by a registered gas engineer every year, as do log burners and open fires.
Don't Require A Chimney, Flue Or Exhaust
As electric fires produce no emissions at all, they don't need a chimney exhaust or a flue to remove any harmful pollutants.
No Poisonous Gases
Carbon monoxide is labelled as the silent killer because it is almost impossible to detect it without an actual detector. Unmaintained gas fires can produce carbon monoxide which is potentially life threatening. Electric fires produce no emissions at all.
No Pollutants
Once again electricity produces no emissions therefore no pollutants.
No Need For Professional Installation (In Most Cases)
Electric fires can be installed in any room with a plug socket. No need for an engineer, plumber, or builder just unbox, place in position, plug in and switch on.
No Mess
Log burning stoves, coal fires and open fires produce ash, charcoal and soot. Electric fires give all of the benefits without the mess and inconvenience.
Welcoming Flame Effect without Uncomfortable Heat
Sometimes it's nice to sit in front of a cosy fire and relax. Even in summertime, it's nice to see an open fire burning. With an electric fire it's possible to have the flame effect without producing any heat.
Work In Any Room
Electric fires can be placed in any room with a plug socket. Unlike gas, coal or log burners which are connected to a chimney, or flue and cannot be moved.
Fast Heat Up Time
There's no delay with an electric fire, once it's switched on, it starts producing heat. No waiting for the wood or coal to catch and no endless pressing the pilot light to get a gas flame.
Accurately Controlled Heat
Once the room is warm enough, either, a thermostat will automatically cut the heat off, or you can turn it off via the switch. With hardly any cool down time required, electric fires keep the room more comfortable. Obviously coal and log burners cannot be turned off at all. You have to wait for them to burn through the fuel, which means the room will be getting hotter and hotter.
Inexpensive To Buy
For just £30 you can buy a 1000-Watt realistic looking log burner, and for around £100 you can buy a 2000-Watt wall-mounted, flat screen, glass panel radiant heater with a realistic log burning flame effect plus remote control.
Relatively Low Running Costs
A 2000-Watt electric fire will cost just 30 pence per hour to run, and a 1000-Watt electric fire will cost 15 pence per hour to run assuming that your electricity is charged at 15 pence per hour.

Most electric fires run for an average of 6 hours per day. This gives a daily total running cost of £1.80 or 90 pence per day respectively.
Safe To Use In Any Room (With The Exception Of Bathrooms)
With no fumes, no exposed heat or flames, no need to add a chimney, or any installation to worry about – as long as there is a plug socket, you can use an electric fire.

Although it's not usually considered safe to operate anything electrical in a wet environment, there are electric fires specifically designed to run in bathrooms. They have splash guards to help prevent any water access and should always be fitted with a Residual Current Device( RCD) which will cut the power immediately if there is any problem.
Many Styles And Designs
With so many types, styles and designs available, there will definitely be an electric fire to suit your requirements.
A Variety Of Sizes
Electric fires come in all shapes and sizes, from mini portable heaters, to full surround fire places with a really lifelike fire in the hearth.
Remote Controls
Many modern electric fires are available with a remote control function.This allows you full control of heat and lighting effect from the comfort of your armchair.
Smart Technology
Many modern electric fires have smart technology, this allows you to preheat the room before you even get home. Controlled from your mobile phone, laptop or tablet, this function is a welcome feature on cold winters evenings. 
Thermostatically Controlled Heat
Heaters using a thermostat, can be controlled to a precise heat. They save energy and money as they will cut out as soon as the correct temperature is reached. Heat levels are maintained by the heater cutting back in as soon as the temperature drops below the preset level.
Decorative Fire Surrounds
From realistic looking stoves and fireplaces, to fully integrated fire places in a realistic surround, including a mantlepiece. 
Preset Timer
Preset timers will automatically start the fire at the chosen time, they will then cut out once the timer reaches the end of its cycle. This is a very handy feature if you get home at, let's say, 6 pm, and you want the room warm as soon as you enter. Preset the timer to around 5.45 pm and the room will be at a comfortable heat level when you return.
Frequently Asked Questions
What electric fire manufacturer should I order?
There are many manufacturers making reliable electric fires, some of the more popular are Beldray, Dimplex, Adam, Warmlite, Von Haus, and many more.
Is it safe to shop for an electric fire online?
It is safe to shop for an electric fire online, as long as you buy from a reliable retailer.
Can I buy an electric fire on finance?
You can buy an electric fire on finance, with many retailers offering their own finance deals.
How long do electric fires take to be delivered?
Many companies offer next day delivery on electric fires these include: Amazon Prime, Fireplaces 4-life, Appliances direct, flames.co.uk, direct-fireplaces, The Range and many more.
Are electric fires worth buying?
Electric fires are worth buying because they are safe, stylish, inexpensive, cheap to run, look great with styles to suit any room, totally controllable, fast heating, and 100% energy-efficient.