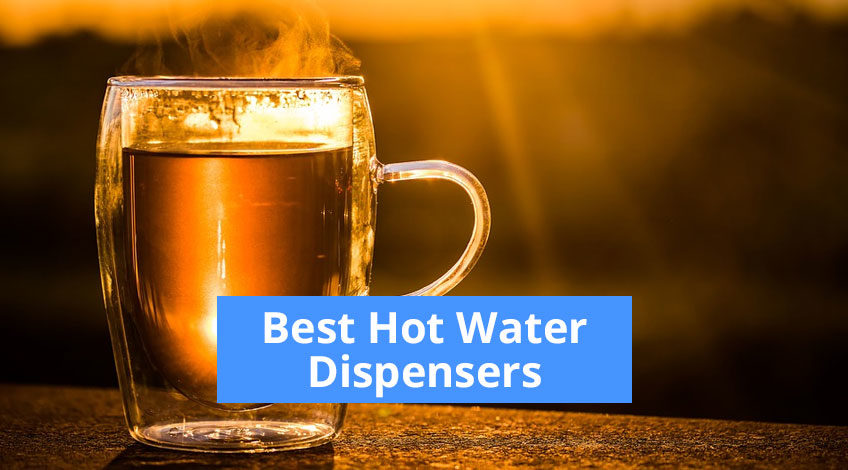 Last

Updated: Oct 2023
Best Hot Water Dispensers 2023
If you're like me, and can't function without your morning coffee, and you like a nice cup of tea in the afternoon, but are fed up with waiting for the kettle to boil you're in good company. Maybe you've already considered a hot water dispenser, or maybe you've never heard of one. Well that's all about to become much clearer, for here is the review you've been looking for.
Here's the best hot water dispensers 2023. Your guide into what to look for in a hot water dispenser.In this guide you will find information about the size of water tanks, filtration systems, how durable the machines are, which features each dispenser has, and all about the various brands.
So if you are interested in one of the latest must haves for the kitchen but you don't know whether to buy a hot water dispenser or stay with the old kettle, read on for the information you need to make an informed choice about the best hot water dispenser for you.
Best Selling Hot Water Dispensers
Bestseller No. 1
Sale
Bestseller No. 2
Bestseller No. 3
Bestseller No. 4
Sale
Bestseller No. 5
Hot Water Dispenser vs Kettle
Firstly, let's look at what a kettle is and how it's used. Put simply, a kettle is a container that is either heated on the stove or heated by means of electricity until the water boils. So every time you want a hot cup of coffee, tea, hot chocolate, or whatever beverage you prefer, you have to go through the same process. Fill the kettle, wait for the water to boil then make your drink.
Which is fine, and it's the way we've always done things. However, when you look into it, this system is wasteful, you never boil the correct amount of liquid for the amount of drinks you're making. So not only do you waste water, and energy, but also you're wasting time.
Which Boils Water Fastest?
Every time you make a hot drink, you go through the same process, filling up the kettle, waiting for it to boil, and so on. And with the average consumption of hot beverages being 3 per person per day, that's a lot of waste.
With a hot water dispenser the function is the same, you fill up the tank  (with upto 5 litres on some models),then keep on dispensing hot water until the tank runs out. So the average cup is between 150-300 mls which will give you anywhere between 5-10 cups of hot water per 1.5 litre fill.
So using a hot water dispenser has the advantage of saving time, not only on waiting for the water to get hot, but also on refilling the kettle. Plus there's another advantage too, you place the cup in the hot water dispenser and at the press of a button the hot water pours into the cup.
For the elderly or infirm this can be the difference between a hot drink or not. 
Benefits Of Using A Hot Water Dispenser In The Workplace
If you work in an office, you'll know the problems that being the tea maker can bring. Loss of production, time away from the desk, maybe missing that all important call while the time ticks by and the kettle still hasn't boiled. Not with a hot water dispenser, at the click of a switch the hot water's ready to pour.
So no more long delays with someone away from the office making tea, no more missed calls and more productivity.
Is A Hot Water Dispenser Worth Getting?
So when adding all the pros and cons, by using a hot water dispenser, you are saving time, energy, water, and if you are infirm or elderly, or have mobility issues a hot water dispenser is probably the way forward.
That said, there are situations where a larger amount of boiling hot water is needed. Maybe you want to fill a bucket for mopping the floor, or even getting  a pan of boiling water for cooking pasta quickly.
In these cases a kettle is a necessary kitchen appliance, but maybe there is room for both.
Hot Water Dispenser Buying Guide
Now we come to the heart of the matter. When it comes to boiling water, a hot water dispenser is up to 4 times faster than a kettle, depending on the model. The basic design of hot water dispensers are all much the same.
They all consist of a water tank, an electric element to heat the water, some sort of mechanism for dispensing water, and a drip tray to catch any spillage. This is where it gets interesting though, because the various manufacturers have developed variations in design to suit individual needs and requirements. Variations like:
Water Tank Size
This might sound obvious but the larger the water tank, the more water it will hold. And that means it doesn't have to be filled as often. So considering the whole idea of a hot water dispenser is convenience the bigger its capacity to hold water the better.
Adjustable Dispense Settings
This is an important feature and should be considered an essential in my opinion. The better machines will have an adjustment feature which allows you to control the amount of water boiled that is exact to your cup size.
Another consideration related to this is a separate button to stop the waterflow just in case you've overestimated your cup size. That said most modern machines have a stop button that allows you to override its functions in the case of emergency.
Filtration Systems
Some dispensers have an inline water filter included to filter the water before it gets to the boiling chamber. Others don't have this filter and again it's very much a matter of choice. If you're someone who prefers filtered water, presumably you'll already have a filtration system and won't require this feature in your dispenser.
Another point to consider is if you do have an inline filter, the actual filter will need replacing at regular intervals. This goes back to convenience, time saving, and waste again.
Durability
Hot water dispensers are made of either plastic or stainless steel, or a combination of both. The stainless steel models seem to last longer.Most models come with a 1 or 2 year warranty, the most high quality machines will last up to 5 years or more.
Brand Name
There is no shortage of brands making hot water dispensers, with more appearing every month. The top brands are usually well known companies like Breville, Morphy Richards, Andrew James, Cooks Professional, and Vonshef. 
Frequently Asked Questions
What Is A Hot Water Dispenser?
Hot water dispensers are an easier way to boil and pour hot water compared to conventional kettles. Faster, more controlled, and economical to run.
Where Can I Buy A Hot Water Dispenser?
Most reputable electrical stores sell hot water dispensers, including Currys, Argos, and Amazon. 
What Is The Best Instant Hot Water Dispenser?
This is a subjective question, there are various models from various companies, all with different features. The best hot water dispenser very much depends on your personal requirements.
How Do Instant Hot Water Dispensers Work?
Hot water dispensers work like electric water heaters. The internal water tank has a thermostatically controlled element that heats water to your required temperature. Then at the push of a button pours that hot water into your cup.
How To Clean Instant Hot Water Dispensers?
To clean the outside of the hot water dispenser, all that's needed is a soft, damp cloth, just gently rub the surface and dry with a soft towel. Depending on the model, you may be able to remove the drip tray to clean it. Do this the same way as the main body of the machine. Some models allow you to remove the water reservoir for cleaning, follow manufacturers advice for this process.
Do Hot Water Dispensers Need Descaling?
If you live in a hard water area, and the chances are you do, then yes your hot water dispenser will need to be descaled. You will have instructions with your machine that will tell you which descaler they recommend, some machines even have a descaling cycle. 
Is A Hot Water Dispenser Better Than A Kettle?
For making hot drinks, heating water fast, saving energy, and convenience yes hot water dispensers are better than kettles.
Are Instant Hot Water Dispensers Worth It?
The short answer is yes. When compared to a kettle, they heat up water faster, using less power and with no waste. They are relatively inexpensive to buy (depending on model), and last as long if not longer than most electric kettles.
Do Water Dispensers Use A Lot Of Electricity?
Hot water dispensers use less electricity than kettles. According to N Power a hot water dispenser can boil a litre of water for 1p, whereas a kettle will cost 1.5-2.5 p per litre.