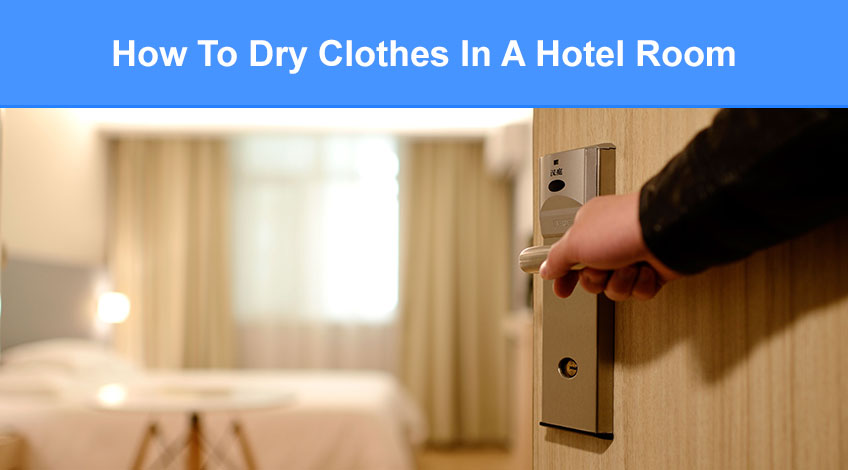 How To Dry Clothes In A Hotel Room (fast)
When you're staying at a hotel and the weather treats you to a soaking, it can be difficult to get your clothes dry. Sometimes you realise you never brought enough clothes with you and you need to wash out a few things to see you through the week. 
Either way, you now have soaking wet clothes and you need to find a way to get them dry. If this is the dilemma you find yourself in, keep reading because in this article we give you 10 ways that you can get your sopping wet clothes dry in a hotel room.
Drying clothes in a hotel room uses similar principles to drying clothes at home. Except that you don't have access to proper drying facilities in a hotel room, and you probably need to dry clothes in a hurry!
How To Get Clothes Dry In A Hotel Room
The most important part of drying clothes in a hotel room is airflow. You need some way of moving the damp air that's full of water molecules away from the clothes to allow them to dry.
Opening a window or the bathroom door is a good place to start. Hotel bathrooms also often have pretty good extractor fans which can be very helpful in removing damp air. 
The damp clothes can't release water molecules until the air around them is dry enough to accept more moisture. That's basic physics and that's why you need adequate ventilation and as much airflow as possible.
The 10 Ways To Dry Clothes In Your Hotel Room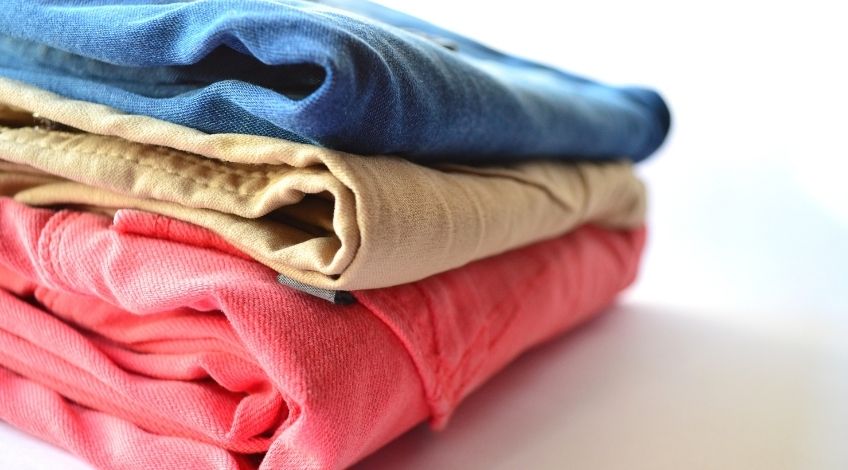 We promised you 10 ways to get your clothes dry in a hotel room so let's get started.
1. Make A Towel Burrito
This method involves rolling the wet item up in a towel to remove excess water. All you need to do is;
Lay the towel flat
Place the wet item on the towel (also flat)
Starting at one end, roll the towel (with the wet item inside it) up
Once you have rolled the towel up, press down all along the length of the towel to force water from the wet item of clothing.The moisture will be absorbed by the towel. 
Once you have pressed all along the towel a few times, unroll the towel
Remove the now damp item 
The item of clothing should now only be damp and can either be draped over a radiator, ironing board or even hung on a hanger overnight. By morning it's likely to be dry. 
Or, if you're in a hot country, you could wear it slightly damp. You'll be surprised just how quickly damp fabrics dry in hot climates.
Please Note: This method is not advised for delicate items as they can become misshapen or damaged.
2. Use The Towel Radiator In The Bathroom
Most hotel rooms have a towel radiator usually in the bathroom. All you have to do is turn the radiator on and after removing as much excess water as possible, simply place the item(s) directly on the rails of the radiator. 
You need to ensure that as much of the wet clothing is exposed to the actual bars on the radiator as possible. This will make the items dry faster. You will find they dry better if you turn them over every hour or so to be sure of getting all the wet parts.
3. Use A Hair Dryer
Most hotels provide a hair dryer in the room and this can be used to great effect when trying to get clothes dry. The best way to do this is to keep the nozzle of the hair dryer constantly moving and never allow it to remain in one area for too long.
You should select the high heat setting and position the nozzle about a hand's length away from the wet clothing, keep the nozzle moving from side to side to prevent burning.
You will need to turn the item inside out to ensure you cover all parts and concentrate on the seams as these are thicker and will take more time.
Please Note: you should always take care when using an electrical appliance that is not known to you. In all likelihood it will be perfectly safe, but it's always best to be cautious.
4. Use The Shower Curtain Rail
This is a pretty good drying option as it uses the bathroom's extractor fan to help remove water molecules. If your room has regular coat hangers, these can be hung on the shower curtain rail. 
If not you'll need to drape the item(s) over the rail. You will almost certainly need to wipe the rail first as this is one area that often gets missed by hotel cleaners.
You should spread the items out so that they can get adequate airflow to dry.
5. Iron The Clothes Dry
Many hotels provide an iron and ironing board. If your room has these items, you can get your wet clothes dry in no time. Simply place the wet item on the ironing board, place a dry towel on top of the item and iron the item through the towel.
As with the hair dryer method, you need to keep the iron moving constantly to prevent damage to the clothes or the towel.
The towel will absorb moisture as the clothes get hot which means the clothes will dry fast.
As we said with the hair dryer, any electrical appliance that is not your own has the potential to be dangerous so extra care should be taken when using a hotel's iron. 
Also check the sole plate for any stains or the ironing board itself as any stains could be easily transferred to the clothes. Plus you should never leave an iron unattended and always ensure it is turned off and unplugged after use.
6. Fan Dry The Wet Clothes
Many hotel rooms provide a desktop fan for your convenience. This can be used to help provide enough airflow to remove water molecules away from the wet clothes. 
Just hang the clothes up and place the fan about 3ft (1 metre) away. Select the fastest setting on the fan this will have a similar effect as a breeze and force water molecules away from the drying clothes.
7. Use The Room's Radiator
Turn the radiator on and either place the clothes directly onto the radiator. Or if the clothes are not suitable for being placed on a direct heat source, place a chair in front of the radiator and drape the wet clothes on the chair.
Whichever of the two you decide on you will still need to turn the item(s) every once in a while to ensure both sides get dry.
8. Use The Sink To Create A "Mini Tumble Dryer"
This one works well and is quite a fast way to get clothes dry, but it is the most labour intensive. All you need to do is place the wet item in the sink and cover the sink with a towel.
Then put the nozzle from the hair dryer under the towel and turn it on. What you have effectively done is created a mini dryer. The hot air has nowhere to escape to apart from the towel which absorbs the water molecules trapped in that hot air. 
This allows more water molecules to be released from the clothing, which in turn, gets dry quicker. There are a few things to watch out for using this method.
Firstly, you need to ensure that the sink is clean and chemical free, cleaners use many chemical cleaners when getting hotel bathrooms clean. These chemicals can sometimes cause damage to clothes.
Secondly, you need to check that the hair dryer isn't full of hair as this could potentially catch fire under the towel.
Thirdly, you'll need to turn the clothes over every few minutes to ensure you dry all sides evenly and the hair dryer doesn't overheat.
9. Use The Air Conditioning
Air conditioning works by removing moisture from the air and this can be used to dry your clothes. All you need to do is turn the A/C on and drape your wet clothes over a chair or anywhere that will allow air to pass around them.
This should get the clothes dry in a short time especially if you used the burrito method first (method 1 from above).
This can be particularly helpful in times of high humidity. Humidity is water molecules in the air and so trying to dry clothes when the humidity is high can be challenging. Which is where using the A/C can be a great help.
10. Use The Hotel's Laundry Service
This is not always an option as some hotels don't provide a laundry service and those that do often take a long while to get your clothes back to you.
However, in many places this could be a possible option especially if you're staying for a while. 
Bonus Tips
If you regularly stay in hotels you're almost certainly going to need to get at least a few items dry every once in a while. By packing the following you could get your clothes dry quicker and easier.
Take A Travel Clothesline
Sale
Portable Clothesline,Retractable Clothesline for Travel,Clothing line with 12 Clothes Clips,for Indoor Laundry Drying line,Outdoor Camping Accessories (colorful)
【Strong & Durable】:heavy duty clothesline Easy to fasten by two strong stainless steel material hooks and easy removable,Our pegless Clothesline can be attached anywhere:house、balcony、bathroom、backyard、Hotel、students' dormitory,laundry,is a good camping item for inside or outside,Facilitates the washing,storage and organization of clothes.
【Anti-slip Creative Design】:Portable Clothesline with 12 Colorful Clothespins,13 Anti-Skid Clips can windproof,Design with Positioning Bead,Can move smoothly from left to right,the black rope is stretchy can be stretch up to 10 ~ 12 feet,no need to worry that clothes bunching up together due to weight or wind and improves drying effect.
As you will know, many hotel rooms have limited space available for hanging clothes to get them dry. Let's face it, hotel rooms aren't exactly designed with getting laundry done in mind.
This is why packing a small travel clothesline could save you a whole load of problems. These travel clotheslines come supplied with pegs to attach clothes to the line and clips to attach the line from one side of the room to the other.
Pack Easy To Dry Clothes
Another way to ensure clothes dry fast especially when you're staying in a hotel is to pack clothes that dry fast. Clothes made from synthetic fabrics like polyester for example.
These fabrics don't absorb water and so will dry extremely fast without any mechanical intervention. Most polyester items will dry overnight if left with enough airflow.
SEE ALSO: Tumble Dryer Alternatives: How to dry clothes indoors without a Dryer
Frequently Asked Questions
Where can I dry clothes in a hotel room?
There are often a few places in a hotel room where you can dry clothes. These include; The shower curtain rail, the towel radiator, the room's radiator, a chair, on a hanger, in front of the A/C unit or in front of a desk fan.
How long does it take to dry clothes in a hotel room?
Depending on how wet the clothes are and how hot the room is, it can take anywhere between a few hours to overnight to dry clothes in a hotel room.
How do you dry clothes fast when travelling?
A good way to speed up the drying process on your clothes when travelling is to employ the burrito method. All you need to do is roll the wet item up in a towel and press down on the towel. Much of the moisture will be absorbed by the towel, leaving your clothes much easier to dry.