Last

Updated: Oct 2023
Best Pond Pumps 2023
Your garden is an extension on your home, it's been described as an outside room. The beauty of a garden is the scenery changes constantly with plants, birds and wildlife constantly on the move. To enhance this outdoor room have you ever considered installing a pond?
Maybe with a few aquatic plants to add another dimension to your garden. Ponds are a great addition to any garden especially if you like to sit and watch the wildlife. Once the pond is established many birds will come to bathe or just drink from your pond.
The problem is, over time still pond water will stagnate and start to smell. There's also the very real possibility of mosquitos starting to appear in your garden. Mosquitos breed in stagnant, still water, and then fly off in search of food, unfortunately, you are that food.
Don't despair, there is a way for you to have the pond with the wildlife but no mosquitos. You see mosquitos breed in stagnant water if you keep the water from stagnating, there won't be anywhere for them to breed. All you need to do is install a pond pump.
Best Selling Pond Pumps UK
Sale
Bestseller No. 1
Bestseller No. 2
Bestseller No. 3
Bestseller No. 4
Bestseller No. 5
What Are The Benefits Of Pond Pumps?
So now we know all about the different types of pond pumps available let's look at why you need to install a pond pump. There are many advantages of a pond pump, let's have a look at them in no particular order.
Improved Water Quality
The pump will clean, filter and agitate the water. This prevents sediment build-up and the associated pollutants like heavy metals and gases. Plus the agitation increases oxygen absorption in the water making it a healthier environment for fish and plants.
Cleaner Smelling Water
If water stagnates, it begins to smell too. This smell is a combination of a lack of oxygen and an increase in hydrogen sulphide gas. As the pump agitates the water, it releases more oxygen and removes hydrogen sulphide. Keeping the pond water smelling fresher, because it is fresher.
Keeps Algae At Bay
Algae thrive in stagnant or slow-moving water and sunlight. Before very long that small patch of algae growth can cover the entire surface of the pond. This can kill fish and cause plants to die through lack of oxygen and nutrients. As the water from the pump is circulating it causes the water to move, preventing the algae to bloom. The algae spores are dragged into the filter and removed from the pond without being allowed to grow.
 Prevents Mosquitos From Breeding
Mosquitos breed in warm, stagnant water, look at any stagnant body of water in warm weather, and you'll see hundreds, if not thousands of mosquito larvae swimming around in the water. Once they mature they'll be on the hunt for warm-blooded mammals to feed on. Namely you and your family unless you have a pond pump installed. The pump keeps the water moving which makes it difficult for the mosquitos to lay their eggs. The filter will remove any eggs or larvae that hatch keeping your pond and your garden mosquito-free.
Pond Pump Buyers Guide
Before buying a pond pump there are many things worth considering, they are in no particular order:
Pond Pump Motor Types
We discussed all of the types of pond pumps above, consider which type will best suit your pond and any other water features you have or plan on installing. The pumps drive is another consideration to be taken into account. There are 2 types of drive for pond pumps, let's look at them in more detail.
Magnetic Drive Motors
These motors are energy-efficient, quiet, and easy to repair. They run on an oil-free electromagnetic field that drives the impeller that powers the pump. No oil means no chance of spillage to harm the aquatic life in your pond. They tend to be more expensive than direct-drive pumps and as they can't generate much vertical force they can't be used for fountains.
Direct-Drive Motors
These pumps have more power, making them perfect for waterfalls and fountains. They are cheaper to run but as the motor contains oil, there is a chance of polluting the pond if there's a malfunction with the pump. They also tend to be sealed units making maintenance and repair almost impossible.
Pump Capacity
This is how much water the pump can move per hour. For an average pond up to 4000-gallons or less, a 900 to 1900-gallons per hour (GPH) pumping power will be sufficient. Another factor is the pumps head height. This is how much height the pump can push water vertically.
To obtain maximum GPH you will need to operate it without any head height, for instance, a 1900-GPH pump with a 3-foot head height might only achieve 600-GPH. This needs to be factored in when buying the pump.
Size Of The Pond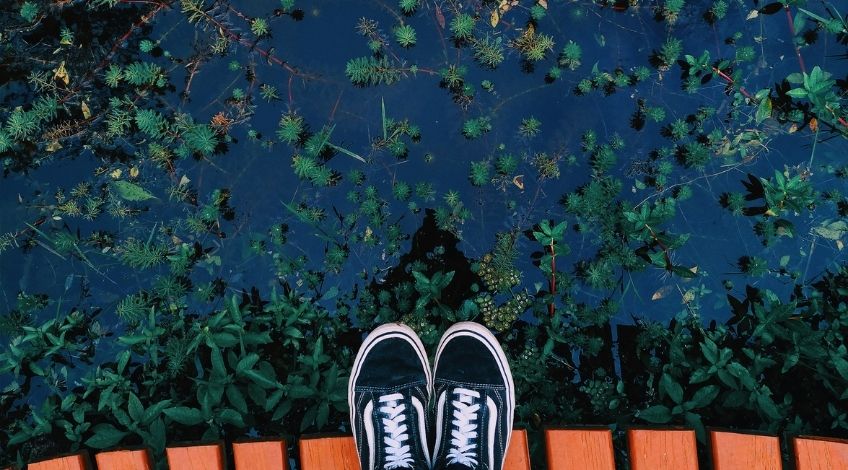 Pumping capacity is linked to the size of the pump. If you install too low a pump capacity the water won't flow efficiently, which can result in pockets of stagnant water or thermal stratification. Thermal stratification is pockets of warm or cold water that can seriously affect fish health. 
The general rule is the pump should circulate the whole volume of the ponds water every 2 hours. So if you have a 2000-gallon pond the correct pump flow rating should be 1000-GPH.
Suitability For Use With Fish
Not all pond pumps are suitable for aquatic life. Check before purchase that the pump you choose is suitable for fish and plants, and preferably runs with an oil-free motor.
Corrosion Resistance
Is the pump casing and components made from rust and corrosion-resistant materials?
Robust
How well made is the pump? Will it withstand the rigours of a British winter say, and how long is it expected to last?
Vibration
Some pond pumps vibrate more than others, although this doesn't affect the way they operate, it can be problematic for some fish. If you are planning on keeping fish, check out the vibration level of the pump before purchasing.
Length Of The Power Cord
Once you've decided where the pond is to be situated you need to look at how far away your power supply is. Will the power cord reach? Some pumps have longer power cords than others.
Suitability For Saltwater
Some pumps can only be used in freshwater systems, you might not be buying the pump for a pond. You might be looking at setting up a saltwater aquarium, in which case, you need to check the pump is suitable for saltwater usage.
Suitable For Indoor And Outdoor Usage
If you are looking at setting up an aquarium indoors, you need to check that the pump you choose is suitable for use indoors.
Adjustable Flowrate
Some models have 2-speed flowrates to give faster stream effects, is this something that interests you?
Pond Features
If you have a basic pond which you just want to create water flow in, almost any pump will suit your needs. If you decide on adding a fountain, or a waterfall or cascade, you will need to be sure the pump you purchase will be able to cope with all of those features. You'll need to take head height into consideration as well.
Pump Versatility
Depending on the positioning of the pump and the depth of the water, can the pump be situated horizontally and/or vertically, and still operate correctly?
Noise
Pump noise levels can be variable, most submersibles are relatively quiet and only get loud if they are malfunctioning in some way. External pond pumps are considerably noisier so look for a model that features a quiet running motor.
Brand
It's always best to buy a well-known brand of pond pump from a reputable retailer. This will usually ensure a good quality and reliable pump. If things do go wrong, a reputable brand will have a decent customer service department that will be able to offer good advice and also honour any guarantee.
Warranty
Most pond pumps have a 12-month warranty, some have 3 years, but any warranty is only as good as the company that issues it. That's why we recommend buying from an established manufacturer and a reputable retailer.
Pond Pump Running Costs
The cost of running the pump should also be considered, it will in all probability be running 24 hours a day  7 days a week, how much power does it use, how much does that power cost etc. A 1000 Watts pump is the equivalent of a 1 KiloWatt pump. If electricity costs 16 pence per Kw/h then that pump will cost 16 pence per hour to run, that's £3.84 per day or £26.88 per week, or £1397.76 per year.
Most pumps with a flow rate of 1000 to 5000 GPH run on wattage between 100 to 400-watt. Pumps with a flow rate of 6000 to 10000 GPH run on between 500 to 1000-watts. So our price quote is the worst-case scenario. A 100-watt pump will use 0.016 pence per hour, just over 38 pence per day, £2.68 per week and £139.77 per year. 
There are now solar-powered pond pumps available but they tend to be low-powered, and of course, they rely on sunlight. Not an easily found commodity in the UK.
Pond Pump Price
Depending on make, model and pump size, pond pumps range from around
£10 for a floating solar-powered fountain
£12 for a 330-GPH electric submersible pump
£50 for a 550-GPH electric submersible pump
£100 for a 2200-GPH electric submersible pump
£450 for a dry mounted pump 
£550 for a floating pond fountain.
Over £4000 for a top of the range pump capable of dealing with any size pond and head height.
Pond Size To Pump Water Flow Ratio
If you know the size of your pond, use our handy guide to see the correct size pump to install.
| Pond size in gallons | Pump size in Gallons Per Hour (GPH) |
| --- | --- |
| Up to 100 gallons | 50 GPH |
| Up to 200 gallons | 100 GPH |
| Up to 400 gallons | 200 GPH |
| Up to 700 gallons | 350 GPH |
| Up to 900 gallons | 450 GPH |
| Up to 1100 gallons | 550 GPH |
| Up to 1500 gallons | 750 GPH |
| Up to 2000 gallons | 1000 GPH |
As you can see the easy way to work this out is the pump should have a flow rate of ½ the volume of water in the pond per hour.
Matters Of Safety 
Running an electric pump in water has the potential to be dangerous. Not just to you as you install the pump, but also to any aquatic life. To ensure complete safety for all concerned be sure to install a Residual Current Device (RCD). These devices are also known as Residual Current Circuit Breakers (RCCB) and Ground Fault Circuit Interrupters (GFCI). Their function is to cut power immediately there is a fault or short. This prevents serious harm to the user, the fish, and the electrical circuits of the home. An RCD plug adapter will cost around £18 which is a small price to pay for peace of mind.
Frequently Asked Questions
How long do pond pumps last?
A decent pond pump running 24 hours a day 7 days per week should last at least 3 years, some last much longer up to 5 times longer in fact.
Does a pond pump use a lot of electricity?
Pond pumps don't use a lot of electricity, they have been improved considerably over recent years to be much more energy-efficient. A small submersible pond pump will use around 8 pence worth of electricity per day.
Why do pond pumps stop working?
Pond pumps stop working due to a few things, it could be the electricity is off, the inlet or outlet pipe could be blocked, the filter could be clogged or the impeller might be obstructed or broken. It could also be the motor has burned out.
Why is my pond pump tripping the RCD?
Your RCD could be tripping because of water entering the caps where the cable connects to the pump. Check and repair never by-pass the RCD, if it's cut out it's doing its job. The fault needs to be identified and repaired or replaced.