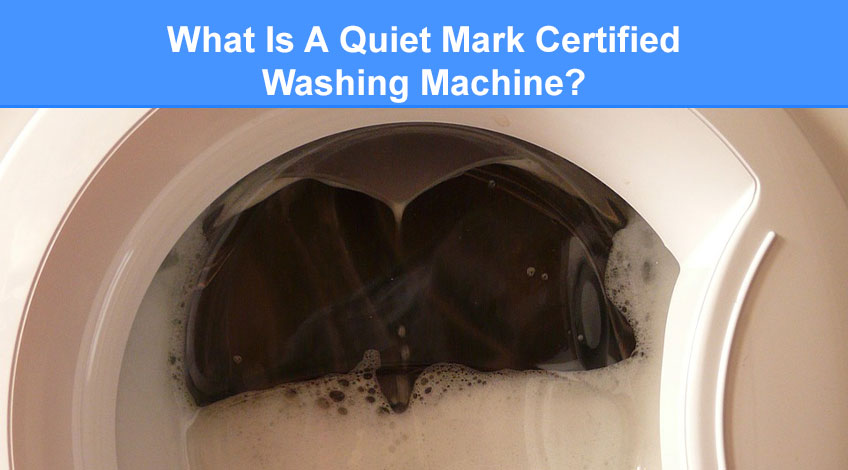 What Is A Quiet Mark Certified Washing Machine?
You may have noticed that many washing machines now carry a Quiet Mark certification. If you're wondering what a Quiet Mark certification means and where it comes from, keep reading.
In this article we look into the "Quiet Mark" which can be seen on washers like these and how it will affect your life.
What Is Quiet Mark?
Quiet Mark is a worldwide independent certification program with links to the UK's Noise Abatement Society. By a process of scientific tests and assessments, Quiet Mark identifies the quietest products in many categories and sectors. Including building materials, commercial products, technology and home appliances.
Quiet Mark certification is a recognised seal of approval with consumers and trade groups. It provides information about the amount of noise a product makes and how much noise reduction has been applied to that product.
The information provided by the Quiet Mark certification is independent which means it can be relied on to give an unbiased report on the actual noise any given product produces.
This information will allow you to purchase a product that will not adversely affect your health due to excessive noise pollution. Due to the respect within the industry, the Quiet Mark is a certificate that many manufacturers around the world are striving to be awarded. 
The Quiet Mark is therefore, having a positive influence on current and future products.
Why Is Quiet Mark Important?
The effects of noise pollution on our health can not be overlooked. Too much noise can;
Increase stress levels
Disturb sleep
Slow health recovery
Reduce productivity
Affect our relationships with others
By creating a quieter home through quieter technology and effective sound dampening, your home can become a bastion of peace and tranquillity.
With more and more people working from home, it's become ever more important that the home is not subject to noise levels that could endanger our health.
What Is The Problem With Noise?
According to the World Health Organisation, environmental noise pollution has an adverse affect on physical and mental health. They identify noise as unwanted sound and it is the second largest cause of fatal pollutants (air pollution is first).
We all lead such busy lives nowadays and noise plays a part in that. However, in the interests of our health and well being, we all need some areas of quiet in our lives.
The problem is that if a noise is considered to be too loud, or too irritating, or cannot be stopped it can cause physical and mental harm to our well being. In fact noise pollution has been linked to;
Depression
Anxiety
Stress
High Blood Pressure
Cardiovascular Disease
How Does Quiet Mark Work?
The scientists at Quiet Mark work under strictly controlled conditions using the leading acoustic technology to test many everyday products including washing machines. 
At the conclusion of those tests only the top 10 to 20% quietest from all current tests of similar appliances are awarded a Quiet Mark Certification. Every year each product category is retested to accommodate any new models or improvements to existing models.
Washing Machines And Noise
Our homes should be our safe place, the one quiet sanctuary in a world of noise and pressure. If our washing machine is producing as much noise as a busy city street (80 decibels) when spinning it could be seriously detrimental to our health and well being.
Scientific studies have shown that background noise has serious consequences for our levels of stress, our mood and our concentration levels too. If you work from home, this could impact on your work by lowering your output by as much as two thirds (or 66%).
The Quiet Mark certified washing machines are four times quieter than their noisier counterparts. This means you work and live in a far more peaceful environment if you have a washing machine with a Quiet Mark certificate.
Washer Dryers & Noise
Some washer dryers can run for as long as seven hours from start to finish. Which makes it even more important that you find a model that is not going to be so loud as to impact on your well being.
Fortunately there are several washer dryers that have Quiet Mark certification.
Which Companies Are Working With Quiet Mark?
In the UK there are a number of companies that have allied themselves with Quiet Mark these companies include;
Argos
Currys PC World
VERY
John Lewis & Partners
Lakeland
Appliance City
To find a quiet washing machine, tumble dryer or washer dryer look for a model that displays the distinctive purple Quiet Mark "Q" logo. This will give you peace of mind in knowing you have purchased one of an elite group of appliances that are amongst the quietest in the world.
Which Washing Machines Have Quiet Mark Certification?
This is where it gets interesting because there is no one particular washing machine brand or company that has been awarded a Quiet Mark certificate – it is all based on the performance of each individual machine.
There are washing machines displaying the Quiet Mark purple "Q" logo from all of the major players in the washing machine industry including;
AEG
LG
Miele
Samsung
Zanussi
Bosch
Haier
Fisher & Paykel
NEFF
Siemens
If you are concerned with the effect that the noise pollution from your washing machine is having on your families health, consider upgrading to one of the Quiet Mark certified appliances.
What's a washing machine's favourite US state to live in?
Washington! 😂
SEE ALSO:
Frequently Asked Questions
What does a quiet mark mean on a washing machine?
Quiet Mark is an independent global organisation committed to finding the quietest appliances to help promote health and well being in our homes and beyond. If a washing machine displays a Quiet Mark purple "Q" logo it means it is one of the highest rated quiet washing machines available worldwide.
What is quiet mark approval?
Quiet Mark approval means the appliance in question has been rated in the top 10 to 20% of quiet operating appliances in the world.
What is a quiet wash?
Any washing machine that produces less than 75 decibels is considered to be quiet.