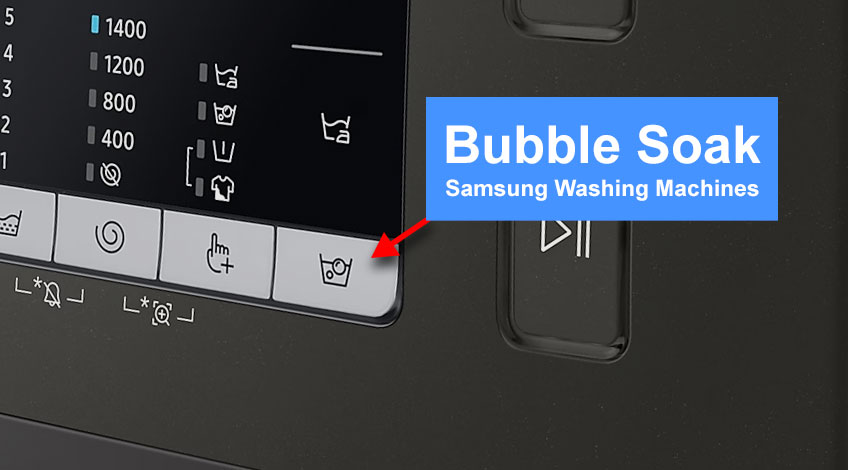 What Is Bubble Soak On Samsung Washing Machines?
When you're trying to buy a washing machine, you expect it to be a simple process. But when you start looking you get hit with terms like: Bubble Soak, EcoBubble, VarioDrum etc and are left wondering what on earth it all means.
Well in this article, we're going to be taking a look into the term Bubble Soak in relation to these types of washing machines and explain exactly what it is, whether it's worth getting excited about and how to use it.
So keep reading to find out more!
What Does Bubble Soak Mean On Samsung Washing Machines?
Bubble Soak is an new pre-wash treatment available on many Samsung washing machines that helps to remove stubborn stains from your laundry.
It is designed to improve the effectiveness of the washing process by thoroughly soaking your clothes in water bubbles and detergent before the actual wash cycle begins.
How Does Bubble Soak Work?
When you select the Bubble Soak option on your Samsung washing machine, the clothes are immersed in a bubbling mixture of water and detergent. This pre-wash treatment soaks the clothes in bubbles before the actual wash cycle starts – loosening stubborn stains and dirt, and ensuring a better all round clean.
The Bubble Soak program is available for several wash cycles, including: Cotton, Synthetics, Denim, and Baby Care. It adds approximately 30 minutes to the selected cycle, providing just enough time for the bubbles to work their magic on your clothes.
The Benefits Of Samsung's Bubble Soak Technology
Bubble Soak offers several advantages that make it a valuable feature on Samsung washing machines:
1. It's A Great Help For Stain Removal
Bubble Soak helps to loosen and remove various types of stubborn stains, including those mealtime messes your little one (or big one) makes, grass stains and more.
Whether you're washing cotton, synthetics or baby clothes – the 30-minute bubble soak treatment ensures brilliant results, especially for white garments!
2. It Saves A Lot Of Time & Energy
By incorporating Bubble Soak into your washing routine, you can save time, energy, and detergent that would otherwise be spent on separate soaking or multiple washes.
This feature eliminates the need for an additional pre-soak step, streamlining your laundry process.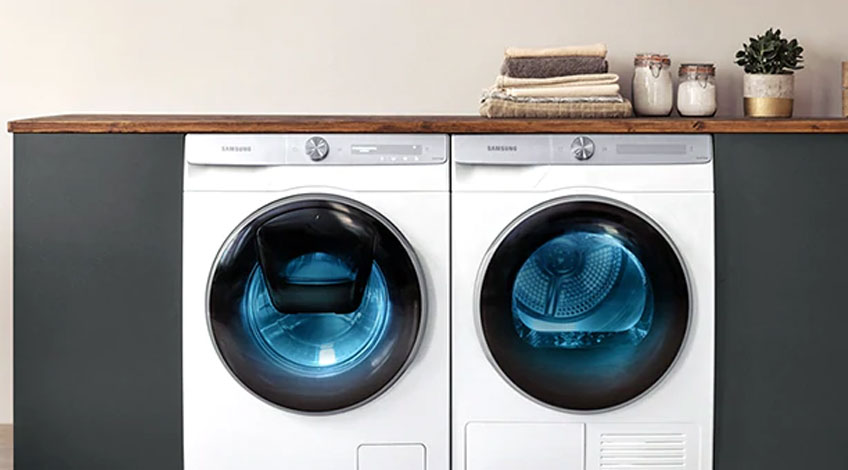 3. It's Suitable For Delicate Items Too
Bubble Soak technology is gentle on delicate fabrics.
It offers cushioned protection to your clothes, minimising the risk of damage during the wash cycle. This makes it an ideal choice for handling delicate and important garments you don't want to risk getting ruined.
4. It's Energy Efficient
Samsung's Bubble Soak technology is designed to be energy-efficient. Unlike traditional methods that require hot water for soaking, Bubble Soak can work effectively with water temperatures as low as 15°C.
This reduces energy consumption, keeps your garments safe and helps lower your utility bills.
How to Use Bubble Soak on Samsung Washing Machines
Using Bubble Soak on Samsung washing machines is a simple process. Here's a step-by-step guide for how to use it if you do get one:
Fill the soap dispenser in the washing machine with your preferred detergent
Select the 'Bubble soak' program on the Samsung washing machine (you can look at the machine's manual for assistance if needed)
Once you've selected your wash cycle, press the bubble soak option to activate the feature
Start the wash cycle and let it work it's magic
Remember that the Bubble Soak feature works best with specific wash cycles such as Cotton, Daily wash, Denim, Synthetics, Baby care and more.
The duration of the Bubble Soak cycle is typically around 30 minutes, allowing sufficient time for the bubbles to work their magic.
Is Bubble Soak Worth It?
Bubble Soak is definitely worth considering if you want to effectively remove stubborn stains from your laundry while keeping them safe.
It saves you time and energy by eliminating the need for separate soaking and its gentle yet powerful cleaning action makes it suitable for delicate items as well.
SEE ALSO: What Is Hygiene Steam On Samsung Washing Machines?
What's Your Thoughts?
Does it sound like something you're interested in? Let us know in the comments below!
And if you need help finding the best Samsung washer for your home, check out our guide here.