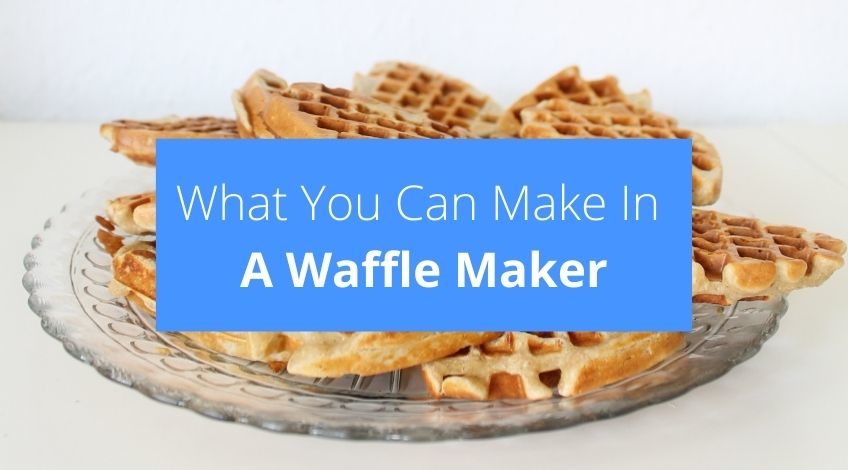 What Can You Make In A Waffle Maker
The most obvious and therefore most annoying answer is waffles. It is true, waffles can and should be made in a waffle maker, but you can do so much more with the waffle maker than make waffles. Read on to change the way you make brunches, lunches and more for the rest of your life.
Waffle makers are a convenient way to cook many of the classic favourite meals, but with a twist. Plus waffle makers are easy to clean making them even more convenient. Let's have a look at just what you can make in a waffle maker.
Using The Waffle Maker To Use Up Leftovers
Gone are the days when all you could expect from leftovers were bubble and squeak or some weird heavily spiced casserole. Using the waffle maker you can create some truly memorable, soon to become classic combinations. 
Leftover Mashed Potato Waffles
Just spread leftover mashed potatoes in the waffle maker and close the lid, cook until golden brown. As soon as you remove them from the waffle maker cover with grated cheese and allow to melt. If you want to spice it up a bit add some chopped chives.
Leftover Chicken Mash And Cheese Waffles
Finley chop the chicken and any cooked vegetables mix with some flour, cheese and eggs, and some tasty herbs and spices and another boring leftover becomes a tasty meal.
Other Foods That Can Be Waffled
Hash Brown Waffles
Make the hash brown mixture as normal, but cook in a waffle maker, try adding oregano or chilli flakes and topping with a fried egg.
Waffled Omelette
Eggs and milk is all that's really needed for this one but try adding a few chopped up vegetables like sweet peppers,onions, potatoes, etc, just be sure to cut the vegetables up small so they fit in the grooves. And remember to coat the waffle griddles with oil to prevent sticking.
Waffled Frittata
Taking the Waffled omelette a stage further, add bacon and cheese into the mix and it's now a frittata style waffle. 
Waffled Cheese And Pickle Sandwiches
Place some slices of cheese on a slice of bread, spread ploughmans sweet pickle over the cheese, top with another slice of bread, and waffle. You can experiment with cheese and jam, brie with fig jam, etc the combinations are endless.
Aubergine Parmesan
Sliced Aubergines sprinkled with parmesan cheese then cooked in the waffle maker and served on a bed of pasta covered in marinara sauce.
Falafel Waffles
Just make the falafel mix in the usual way using chickpeas and parsley, and cook in the waffle maker to give a crisp almost fried texture.
Cinnamon Roll Waffles
Just take a tin of refrigerator cinnamon rolls, wait for the waffle maker to preheat, place one roll on each section. Close the lid and wait until it's done, roughly 3 to 4 minutes. Remove from the waffle maker and cover in the frosting supplied in the tin.
Strawberry And Cream Waffles
Cook the waffles in the usual way then make into sandwiches with layers of fresh strawberries and whipped cream. For extra luxury try whipping the cream with maple syrup.
Baked Apple Slices
Just preheat your waffle maker, place ¼ inch thick rings of apple in each section of the waffle maker (remember to grease the waffle maker first). Lightly dust the slices of apple with caster sugar and cinnamon and bake for 1 minute.
Waffled Cheese And Ham Toasted Sandwich
Place one slice of bread on one section of the waffle maker, add ham and cheese and top with another slice of bread. Close the lid and let the waffle maker do it's stuff. The result will be the best cheese and ham toastie you ever had.
Waffled Pizza Using Muffins
Slice the muffins and place a half on each section of the waffle maker. Spread lightly with tomato puree sprinkle with grated cheese and add the other half of the muffin. Close the waffle maker lid and wait. After no more than 2 minutes you will be tucking into these gorgeous mini pizzas made in the waffle maker.
Rump Steak A La Waffle Maker
Spray the griddles with oil, place the rump on the waffle maker, close the lid and cook for around 8 minutes.
The Only Restrictions Are Your Imaginations
As you can see from above, there's not many things you can think of that cannot be adapted to being made in the waffle maker. What recipes have you adapted? And how did they turn out?
Frequently Asked Questions
Can you cook meat in a waffle maker?
You can cook meat in a waffle maker just remember to lightly oil the griddle before cooking. A rump steak will take around 8 minutes in a waffle maker.
How do you keep waffles from sticking to the waffle maker?
To keep waffles from sticking to the waffle maker oil the plates before adding the waffle batter.
What can you make in a waffle maker besides waffles?
With a little lateral thinking, you can make almost anything in a waffle maker.
How can I remove batter stains from my waffle maker?
Pour a small amount of vegetable oil onto the stains, close the lid, leave for a few minutes and then remove the stain with a soft cloth or kitchen paper.