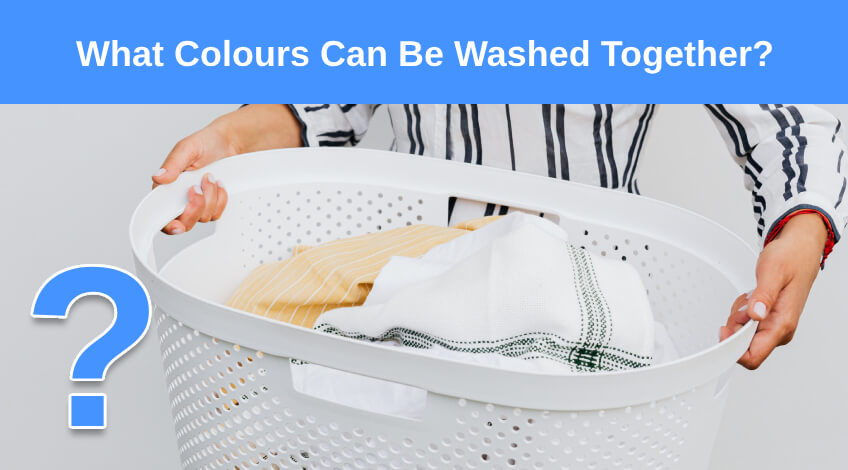 What Colours Can Be Washed Together? (laundry colour guide)
To prevent ruining your clothes, many of us know the general rule: never, ever, wash light-coloured and dark-coloured garments together. 
This is because there's always the possibility of the darker clothes bleeding dye, staining the light garments. But there's more to it than just separating lights and darks. 
In this article, we'll look into the laundry colour guide, helping you understand what colours can be washed together to keep your clothes looking fresh and vibrant.
Laundry Colour Guide For Washing Fabrics Together
To keep it simple, you only really need to sort your colours into three groups: Whites, Lights, and Darks. Why, you ask? 
Well, many households don't have enough variety in their wardrobe to fill an entire wash load with a single colour category. Hence, combining similarly-coloured garments can help you make the most of your laundry sessions without wasting resources. 
But if you do have loads of clothes in different colours, sorting is recommended to keep your fabrics in their original shade.
Here are the four categories you should sort your garments into when it comes to their colour:
1. Pure Whites
White fabrics are best washed in high temperatures, also known as hot washes. 
In most machines, the temperature for hot washes is around 60 to 90 degrees Celsius. This allows the whites to be brighter and removes any dirt or stains that may be on the fabrics. 
If you have loads of white socks, shirts, and dresses, feel free to wash them together. Just make sure to read the care labels of each garment to avoid ruining the fabrics.
TIP: When washing your whites, feel free to use bleach if necessary. There are also other alternatives to keep them bright, such as white vinegar or baking soda.  
2. Pastels And Light Colours
Pastels and light-coloured garments should be separated from your whites. 
Even though they are light, there's still a chance that their dye might bleed, potentially staining your white clothes. 
For light-coloured garments, lower temperatures around 30 degrees Celsius would be best. This is to make them keep their shade and reduce the risk of fading their colour fast.
TIP: Always wash new clothes separately. Most new garments still have unstable dye and will need a few washes to stop the colour from bleeding. 
3. Bright Colours
Vivid, neon colours like neon orange and bright yellow demand special attention. 
For items that are vivid in colour, it's normal for you to want to keep them that way. Hence, using a detergent that's formulated for coloured garments will help keep their bright appearance. 
Use a lower temperature (30 degrees Celsius) as hot washes tend to break down dye at a faster rate.
Sale
4. Dark Colours
Dark shades such as black, red, and orange should be washed separately. This is because these reactive dyes are often the culprits behind colour bleeding. 
If you've ever had a white shirt turn pink before, it's likely that a red hanky or sock may have caused the disaster to happen. Use low temperatures at 30°C on your washer to keep the dye on your darks stable.
TIP: Wash your clothes inside out! Not only will they get cleaned better, but it will also preserve the appearance of your clothing.  
Other Ways To Sort Your Fabrics
Aside from sorting your clothes by colour, it's best to also group them using the following categories:
Delicate Fabrics
Wool, silk, and cashmere are fabrics that have to be washed carefully to avoid ruining them. 
Hence, even if that silk scarf is pure white, it's highly advisable not to add it to your regular white garments. After all, the "Delicate Setting" on your washer is there for a reason.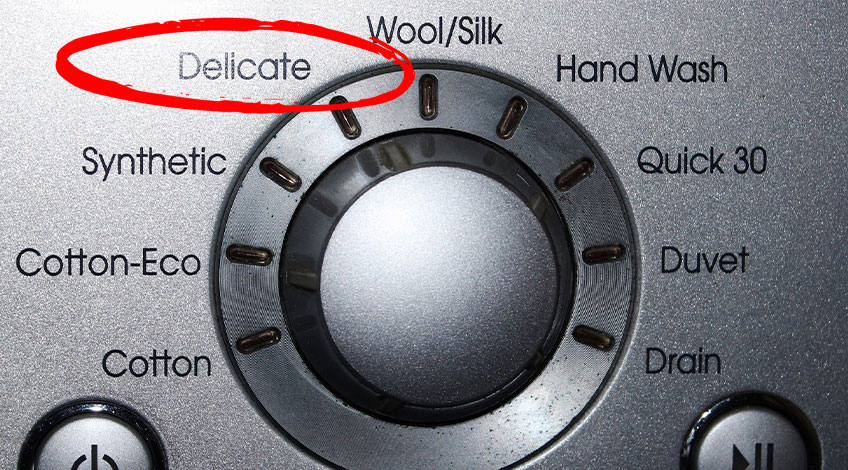 What About Blended Fabrics?
Blended fabrics are garments made up of different fabrics.
An example of a garment that's made with blended fabric is a dress that's 80% silk and 20% polyester. 
If you're confused about how to wash your blended fabrics, the general rule is to follow the washing instructions for the material with the biggest percentage.
With a dress that's 80% silk and 20% polyester, the safest action is to wash the item using the instructions for washing silk. Of course, you can always check your garment's care labels to be sure.
Embellished Fabrics
Garments with graphics, glitter, clasps, sequins, and other decorations should be separated from your regular clothing. 
These materials can snag and damage your other garments. If you only have one or two embellished garments, putting them in a mesh laundry bag will help protect your clothes from damage.
Heavily Soiled Fabrics
If you have stained garments in your laundry basket, never combine them with your regular clothes. 
Not only will it be possible to stain your clothing, but you're also exposing your garments to various germs and bacteria.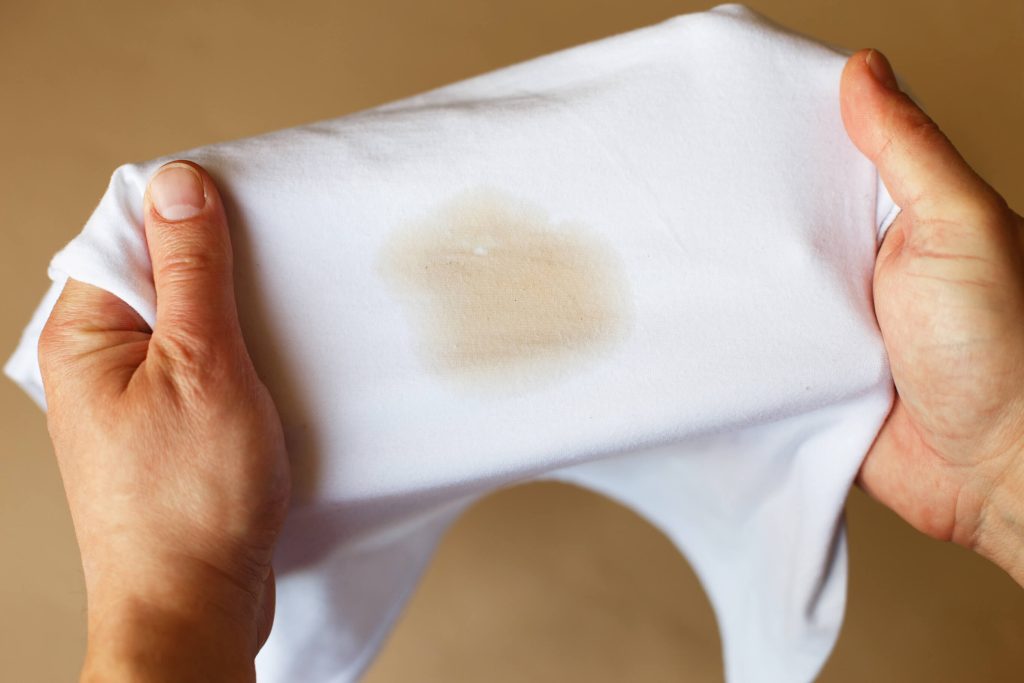 Make sure to wash heavily-soiled fabrics in a separate load or better yet, pre-treat any stains using products such as a commercial stain remover before putting them in the washer.
Sale
Thick And Heavy Fabrics
Finally, another group you should sort separately from your regular garments are thick and heavy fabrics. 
This includes bedding, towels, and other items that can heavily agitate your garments. Also, most bedding is best washed at hot temperatures (60 degrees Celsius or higher) to sanitise them and kill any bacteria or dust mites.
Make Your Laundry Day More Efficient!
Sorting your laundry may seem like a small task, but it can significantly extend the lifespan of your clothes and keep them looking their best. 
By following this laundry colour guide, you'll ensure that your garments remain fresh, vibrant, and in tip-top condition. So, next laundry day, remember to sort wisely, and your clothes will thank you!
Do you have any questions? Feel free to ask them below!
Frequently Asked Questions
What colours are safe to wash together?
You can generally wash white and pastel colours together, and bright colours with similar shades. Dark colours should be washed separately.
Can you mix all colours in the wash?
It's not recommended to mix white and dark colours as they can cause colour bleeding and staining. Sort your laundry into whites, lights, and darks for better results.
What fabric can be washed together?
Fabrics like cotton, linen, and synthetic blends can often be washed together. Delicate fabrics like silk and wool should be washed separately.
What colours are safe to wash with black?
Dark colours like navy, deep red, and dark green can be washed with black clothing as they are less likely to bleed onto each other.
Can I wash grey with black?
Yes, you can usually wash grey clothing with black as long as the grey doesn't have light or pastel undertones that might bleed.