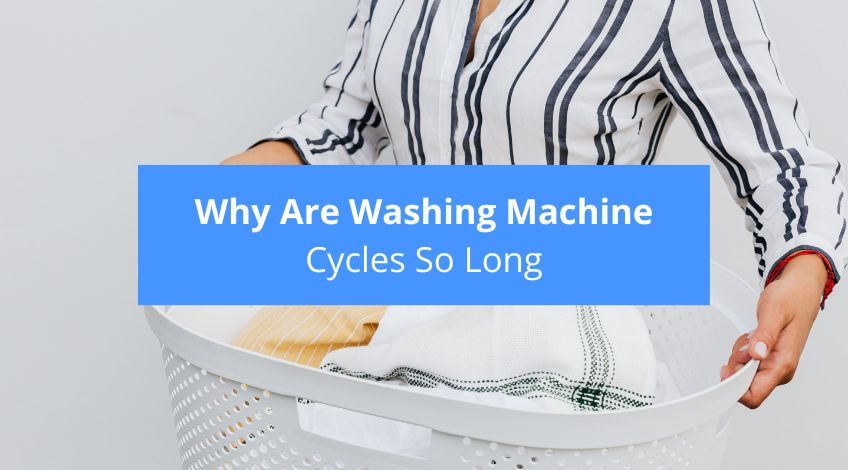 Why Are Washing Machine Cycles So Long? (& how long it should take)
It doesn't matter which brand of washing machine you buy, they all take a lot longer to wash your clothes than they used to. It's a well known fact that modern washing machines take longer than older machines. In this article we look at why new machines take longer and how can something that takes so long use less electricity?
If you have been wondering why the washing machine takes longer and especially why the machine takes even longer on the economy wash, keep reading.
Why Does The Wash Cycle Take So Long?
The reason washing machines take so long to wash clothes is all down to the amount of water they use. We live in an age of energy efficiency, which overall can't be a bad thing. But the trade off is that using less water means it takes longer to wash your laundry. 
As machines use less water to wash clothes, they take longer to rinse and this is why modern machines take longer than older, less energy efficient models.
The emphasis nowadays is reducing our carbon footprints and washing machine manufacturers have gotten on board with that by designing machines that use less energy and less water. However, because the machine uses less water, the rinse cycle takes longer.
EU Legislation
Under EU law the efficiency of electrical appliances is regulated to ensure they are energy efficient. The UK is no longer a member of the EU but we are still subject to those same energy efficiency rules.
Energy Efficiency Ratings
With the new stricter energy efficiency ratings which came into operation in 2021 you will find all washing machines will take longer to complete their cycle than before. You will also find that anything with an energy rating of D or above will be energy efficient but will take longer to finish a wash cycle.
Why Does The Door Take So Long To Open Once The Cycle Has Finished?
If you've ever stood waiting for the machine to finish, you'll understand what we're talking about. It's not uncommon to have a 1000 things to do on your only day off this week, and you're wasting what seems to be an absolute age for the washing machine door to open. In reality it's usually no more than 90 seconds, but why does it take so long?
The reason the door takes such a long time to open after the machine has finished is for reasons of safety. The washing machine manufacturers apply this setting to allow the machine time to have fully drained the machine of water, and also to ensure the drum has stopped spinning.
How Long Should A Washing Machine Cycle Take?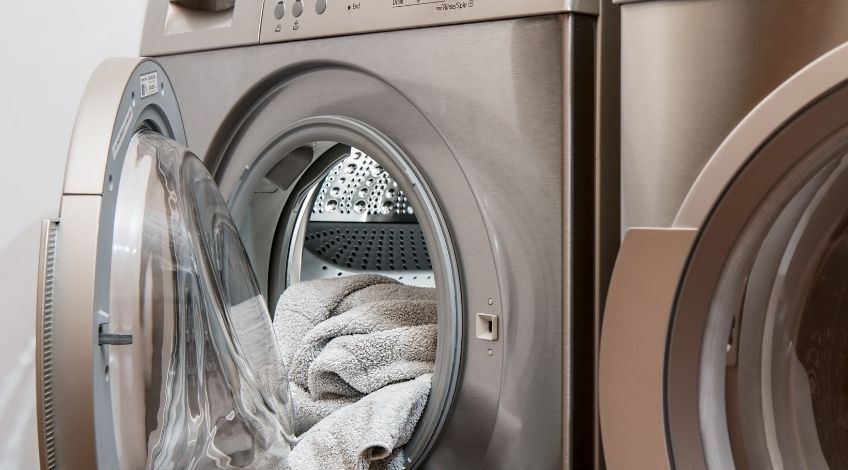 We have looked at several washing machines from various manufacturers and have compiled an average time for each of the most common programs available.
| Wash Program | Minimum Time | Maximum Time |
| --- | --- | --- |
| Quick Wash | 14 minutes | 1 hour |
| Cotton | 1.5 hours | 4+ hours |
| Synthetic | 2.5 hours | 3 hours |
| Delicates & hand Wash | 45 minutes | 1.5 hours |
| Temperature | Variable | Variable |
Quick Wash
The quick wash is designed to wash a few lightly soiled items and is not suitable for delicate items or extremely dirty items. The cycle can last for anything between 14 minutes and an hour depending on the brand and model and it's worth bearing in mind that the quick wash also has a fast spin at the end of the cycle which could easily cause damage to delicate items.
Cotton Wash
The cotton wash is designed for washing cotton based items like towels, bedding, cotton shirts etc. The cycle can last for anywhere between an hour and a half to 4 hours or more. During a cotton wash the laundry is exposed to high temperatures and agitated considerably which makes this cycle unsuitable for most other types of laundry.
Synthetics Wash
The synthetics wash is used for materials other than cotton, materials like polyester, mixed fabrics, acrylics etc. This wash is usually far gentler on washing than the cotton wash cycle and is therefore a commonly used wash cycle. 
The synthetics wash is also often used for ½ wash loads, for example an 8kg drum is often only run with 4kg of synthetic laundry. The average run time for a synthetics wash is typically 2.5 to 3 hours but can take more or less time in some cases.
Delicates & Hand Wash
The delicate cycle is used for delicate items which are not synthetics, items like lace or silk for example. This is typically a gentle wash with a minimal amount of agitation and low water temperatures as a rule.

The hand wash cycle is used for items which are hand wash only and is even more gentle with even less agitation than a delicate wash. The average time for delicate & hand wash cycles is between 45 to 90 minutes.
Temperature Cycle
Temperature cycles are cycles in which you select the temperature of the wash and run from 20 degree C (68 F) up to a high of 95 degree C (203 F).
The times taken for all of these wash programs can vary depending not only on the make and model, but also on the amount of washing in each load.
Each manufacturer makes their machines in their own way. Which means that any timings for a particular program will vary from brand to brand. In fact many wash times can vary from model to model of the same brand. All of the above timings are averages and not absolutes.
Also as machines become more technological, with sensors which can tell if a load is balanced or not, timings can vary for the same wash cycle. Just depending on how level that load is and how much it weighs.
Are There Any Ways To Shorten Wash Cycle Times?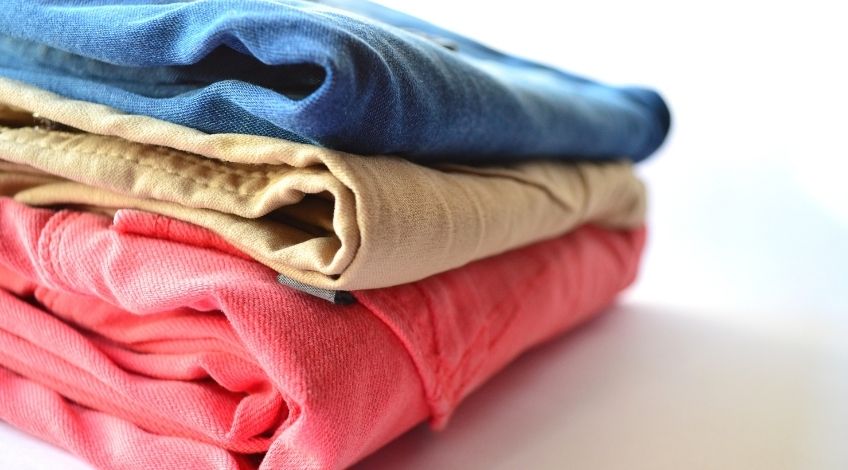 Although modern washing machines take longer than older machines, there are several things that can be done to decrease the amount of time taken per wash cycle. Steps like;
Select a quick wash cycle – When possible.
Never overload your washing machine – Overloading your machine will eventually cause damage to the machine, but more importantly, it could prevent the machine from operating as it senses the overweight wash load.
Check that water pressure is full – Lower water pressure will take longer to fill and rinse.
Wash similar items at the same time – Put heavy items like towels, sweatshirts, hoodies etc in one wash and underwear, socks and T-shirts in a separate wash. Modern machines are constantly checking for weight etc, and wet washing weighs more which means certain loads will take longer as they become heavier.
Replace your washing machine with one with a larger capacity drum – This won't save any time as such, but at least you'll get more done at one time which will decrease the amount of wash loads you have overall.
However, you should never select a quick wash for large loads or heavy loads as this could damage the machine. If you only ever use a quick wash, you're likely to cause problems with detergent buildup in the dispenser drawer. Plus it is always best practice to use the correct wash cycle for the type of laundry you are washing even if it does take longer.
By-passing the correct program just to save time could significantly shorten the lifespan of your washing machine. Plus using short wash cycles at low temperatures could also cause a buildup of detergent and slime inside the machine's working parts which can ruin the machine and affect how clean your washing is.
Why Do Economy Washes Take So Long?
The question we often get asked is how can it be an economy wash when it takes so long? It does sound a bit counterintuitive doesn't it. But the truth is the thing that uses the most energy when washing clothes in a machine is heating the water. So economy programs use cooler temperatures but need extra time to get the laundry as clean as it would have been using hotter water.
Economy wash programs use far less energy running for upwards of 4 hours than they would heating the water in the machine for 15 to 20 minutes. It's the amount of agitation that the laundry receives which determines how clean the clothes become, not necessarily the amount of heat used or the amount of detergent.
Plus as they use less water too, it takes longer to rinse all of the detergent from the laundry as well.
Frequently Asked Questions
Why do new washers take so long to wash?
New washing machines take longer to wash clothes because they use less water and less electricity than older machines which means it takes longer to wash and rinse clothes, especially at cooler temperatures.
What is the quickest wash cycle?
The quickest wash cycle is the quick wash cycle. Depending on the make and model of your machine, a quick wash will take anywhere between 14 minutes and 1 hour.
Is a 15 minute wash enough?
Whether a 15 minute wash is long enough depends on how much laundry you have to do and just how soiled it is. A 15 minute wash is usually sufficient for a few items which are not heavily stained.